Note: Supplemental materials are not guaranteed with Rental or Used book purchases.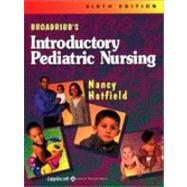 Broadribb's Introductory Pediatric Nursing
ISBN13:
9780781737784
by
Hatfield, Nancy
Related Products
Summary
This full-color revision of LPN/LVN level pediatrics text condenses prenatal and newborn coverage and features expanded asthma coverage and care of the well child. The text is organized as follows: chapters on developmental stages (age groups) are followed by chapters covering related and common diseases within each stage/age group. The final unit of the text includes the child with chronic health problems and the dying child. New recurring features include Web activities, pediatric triage checklists, and case studies. Connection Website: connection.LWW.com/go/lpnresources.
Table of Contents
UNIT 1 Foundations of Pediatric and Family Health Care
1
(106)

| | |
| --- | --- |
| | The Nurse's Role in a Changing Child Health Care Environment |

3
(16)

| | |
| --- | --- |
| | Changing Concepts in Child Health Care |

4
(3)

| | |
| --- | --- |
| | Health of the Child Today |

7
(3)

| | |
| --- | --- |
| | The Nurse's Changing Role in Child Health Care |

10
(1)
10
(3)
13
(1)
13
(1)
14
(5)
19
(13)

| | |
| --- | --- |
| | The Family as a Social Unit |

20
(4)

| | |
| --- | --- |
| | Concepts of Child Development |

24
(8)

| | |
| --- | --- |
| | Community-Based Care of the Child |

32
(10)

| | |
| --- | --- |
| | Health Care Shift: From Hospital to Community |

33
(3)

| | |
| --- | --- |
| | Skills of the Community-Based Nurse |

36
(3)

| | |
| --- | --- |
| | The Challenge of Community-Based Nursing |

39
(3)

| | |
| --- | --- |
| | Care of the Hospitalized Child |

42
(17)

| | |
| --- | --- |
| | The Pediatric Hospital Setting |

43
(4)

| | |
| --- | --- |
| | Admission and Discharge Planning |

47
(2)

| | |
| --- | --- |
| | The Child Undergoing Surgery |

49
(4)

| | |
| --- | --- |
| | The Hospital Play Program |

53
(3)
56
(3)

| | |
| --- | --- |
| | Assessment of the Child (Data Collection) |

59
(18)

| | |
| --- | --- |
| | Collecting Subjective Data |

60
(4)

| | |
| --- | --- |
| | Collecting Objective Data |

64
(13)

| | |
| --- | --- |
| | Procedures and Treatments |

77
(15)

| | |
| --- | --- |
| | Nurse's Role in Preparation and Follow-Up |

78
(1)

| | |
| --- | --- |
| | Performing Procedures Related to Position |

79
(1)

| | |
| --- | --- |
| | Performing Procedures Related to Elevated Body Temperature |

80
(2)

| | |
| --- | --- |
| | Performing Procedures Related to Feeding and Nutrition |

82
(2)

| | |
| --- | --- |
| | Performing Procedures Related to Respiration |

84
(1)

| | |
| --- | --- |
| | Performing Procedures Related to Circulation |

85
(1)

| | |
| --- | --- |
| | Performing Procedures Related to Elimination |

86
(1)

| | |
| --- | --- |
| | Performing Procedures for Specimen Collection |

86
(2)

| | |
| --- | --- |
| | Assisting With Procedures Related to Collection of Blood and Spinal Fluid |

88
(1)

| | |
| --- | --- |
| | Assisting With Procedures Related to Diagnostic Tests and Studies |

89
(3)

| | |
| --- | --- |
| | Medication Administration and IV Therapy |

92
(15)

| | |
| --- | --- |
| | Medication Administration |

93
(8)
101
(6)
UNIT 2 Care of the Newborn
107
(62)
109
(20)

| | |
| --- | --- |
| | Physiologic Characteristics of the Newborn |

110
(8)
118
(1)
119
(3)
122
(1)
122
(7)

| | |
| --- | --- |
| | Health Problems of the Newborn |

129
(40)
130
(31)

| | |
| --- | --- |
| | Nursing Process for the Infant With Cleft Lip and Cleft Palate |

132
(9)

| | |
| --- | --- |
| | Nursing Process for the Infant With Myelomeningocele |

141
(4)

| | |
| --- | --- |
| | Nursing Process for the Postoperative Infant With Hydrocephalus |

145
(8)

| | |
| --- | --- |
| | Nursing Process for the Infant With Congestive Heart Failure |

153
(4)

| | |
| --- | --- |
| | Nursing Process for the Infant in an Orthopedic Device or Cast |

157
(4)
161
(8)
UNIT 3 Care of the Child
169
(296)

| | |
| --- | --- |
| | Growth and Development of the Infant: 28 Days to 1 Year |

171
(19)
172
(3)
175
(3)
178
(4)

| | |
| --- | --- |
| | Health Promotion and Maintenance |

182
(5)

| | |
| --- | --- |
| | The Infant in the Health Care Facility |

187
(3)

| | |
| --- | --- |
| | Health Problems of the Infant |

190
(49)

| | |
| --- | --- |
| | Special Nursing Considerations |

192
(1)
192
(3)

| | |
| --- | --- |
| | Nursing Process for the Infant With Nonorganic Failure to Thrive |

193
(2)

| | |
| --- | --- |
| | Gastrointestinal Disorders |

195
(16)

| | |
| --- | --- |
| | Nursing Process for the Nutritionally Deprived Infant |

197
(3)

| | |
| --- | --- |
| | Nursing Process for the Infant With Diarrhea and Gastroenteritis |

200
(5)

| | |
| --- | --- |
| | Nursing Process for the Infant With Pyloric Stenosis |

205
(3)

| | |
| --- | --- |
| | Nursing Process for the Infant Undergoing Surgery for Congenital Megacolon |

208
(3)

| | |
| --- | --- |
| | Circulatory System Disorders |

211
(4)

| | |
| --- | --- |
| | Nursing Process for the Child With Sickle Cell Crisis |

214
(1)

| | |
| --- | --- |
| | Respiratory System Disorders |

215
(9)

| | |
| --- | --- |
| | Nursing Process for the Infant With a Respiratory Disorder |

219
(5)
224
(2)

| | |
| --- | --- |
| | Nursing Process for the Child With a Urinary Tract Infection |

225
(1)
226
(5)

| | |
| --- | --- |
| | Nursing Process for the Child at Risk for Seizures |

227
(2)

| | |
| --- | --- |
| | Nursing Process for the Child With Meningitis |

229
(2)

| | |
| --- | --- |
| | Skin And Mucous Membrane Disorders |

231
(8)

| | |
| --- | --- |
| | Nursing Process for the Infant/Child With Infantile Eczema |

234
(5)

| | |
| --- | --- |
| | Growth and Development of the Toddler: 1 to 3 Years |

239
(17)
240
(2)
242
(2)
244
(2)

| | |
| --- | --- |
| | Health Promotion and Maintenance |

246
(6)

| | |
| --- | --- |
| | The Toddler in the Health Care Facility |

252
(4)

| | |
| --- | --- |
| | Health Problems of the Toddler |

256
(36)
257
(1)
258
(3)

| | |
| --- | --- |
| | Gastrointestinal System Disorders |

261
(1)

| | |
| --- | --- |
| | Respiratory System Disorders |

262
(9)

| | |
| --- | --- |
| | Nursing Process for the Toddler With an Upper Respiratory Disorder |

263
(4)

| | |
| --- | --- |
| | Nursing Process for the Child With Cystic Fibrosis |

267
(4)
271
(21)

| | |
| --- | --- |
| | Nursing Process for the Child With a Burn |

283
(9)

| | |
| --- | --- |
| | Growth and Development of the Preschool Child: 3 to 6 Years |

292
(14)
293
(1)
293
(6)
299
(1)

| | |
| --- | --- |
| | Health Promotion and Maintenance |

300
(2)

| | |
| --- | --- |
| | The Hospitalized Preschooler |

302
(4)

| | |
| --- | --- |
| | Health Problems of the Preschool Child |

306
(39)
307
(1)
307
(9)

| | |
| --- | --- |
| | Central Nervous System Disorders |

316
(10)

| | |
| --- | --- |
| | Nursing Process for the Child With Cognitive Impairment |

322
(4)

| | |
| --- | --- |
| | Respiratory System Disorders |

326
(3)

| | |
| --- | --- |
| | Nursing Process for the Child Having a Tonsillectomy |

327
(2)
329
(8)

| | |
| --- | --- |
| | Nursing Process for the Child With Leukemia |

330
(4)

| | |
| --- | --- |
| | Nursing Process for the Child With Hemophilia |

334
(3)

| | |
| --- | --- |
| | Genitourinary System Disorders |

337
(8)

| | |
| --- | --- |
| | Nursing Process for the Child With Nephrotic Syndrome |

338
(7)

| | |
| --- | --- |
| | Growth and Development of the School-Age Child: 6 to 10 Years |

345
(16)
346
(1)
347
(3)
350
(1)

| | |
| --- | --- |
| | Health Promotion and Maintenance |

351
(4)

| | |
| --- | --- |
| | The School-Age Child in the Health Care Facility |

355
(6)

| | |
| --- | --- |
| | Health Problems of the School-Age Child |

361
(52)
362
(1)

| | |
| --- | --- |
| | Central Nervous System Disorders |

362
(5)
367
(8)

| | |
| --- | --- |
| | Nursing Process for the Child With Asthma |

370
(5)

| | |
| --- | --- |
| | Gastrointestinal System Disorders |

375
(3)

| | |
| --- | --- |
| | Nursing Process for the Child With Appendicitis |

375
(3)
378
(1)

| | |
| --- | --- |
| | Cardiovascular System Disorders |

379
(4)

| | |
| --- | --- |
| | Nursing Process for the Child With Rheumatic Fever |

381
(2)

| | |
| --- | --- |
| | Endocrine System Disorders |

383
(9)

| | |
| --- | --- |
| | Nursing Process for the Child With Type 1 Diabetes Mellitus |

387
(5)

| | |
| --- | --- |
| | Musculoskeletal System Disorders |

392
(12)

| | |
| --- | --- |
| | Nursing Process for the Child With Scoliosis |

395
(9)
404
(9)

| | |
| --- | --- |
| | Growth and Development of the Adolescent: 11 to 18 Years |

413
(18)

| | |
| --- | --- |
| | Preadolescent Development |

414
(1)
415
(3)
418
(2)

| | |
| --- | --- |
| | Health Promotion and Maintenance |

420
(7)

| | |
| --- | --- |
| | The Adolescent in the Health Care Facility |

427
(4)

| | |
| --- | --- |
| | Health Problems of the Adolescent |

431
(34)
432
(5)

| | |
| --- | --- |
| | Nursing Process for the Adolescent With Anorexia Nervosa or Bulimia |

435
(2)
437
(4)
441
(1)
442
(2)

| | |
| --- | --- |
| | The Sexually Active Adolescent |

444
(10)

| | |
| --- | --- |
| | Nursing Process for the Adolescent With AIDS |

448
(6)

| | |
| --- | --- |
| | Maladaptive Responses to the Stresses of Adolescence |

454
(11)
UNIT 4 Care of the At-Risk Child
465
(48)

| | |
| --- | --- |
| | The Child in a Stressed Family |

467
(17)

| | |
| --- | --- |
| | The Infant of a Substance-Abusing Mother |

468
(2)

| | |
| --- | --- |
| | Parents Addicted to Drugs or Alcohol |

470
(1)
471
(6)

| | |
| --- | --- |
| | Nursing Process for the Care of an Abused Child |

475
(2)
477
(1)
478
(1)
479
(1)
480
(4)

| | |
| --- | --- |
| | The Child With a Chronic Health Problem |

484
(13)

| | |
| --- | --- |
| | Common Problems in Chronic Illness |

485
(1)

| | |
| --- | --- |
| | Effects of Chronic Illness on the Family |

485
(12)

| | |
| --- | --- |
| | Nursing Process in Caring for a Child With a Chronic Illness |

488
(9)
497
(16)

| | |
| --- | --- |
| | The Nurse's Reaction to Death and Dying |

498
(1)

| | |
| --- | --- |
| | The Child's Understanding of Death |

499
(4)

| | |
| --- | --- |
| | The Family's Reaction to Dying and Death |

503
(2)

| | |
| --- | --- |
| | Settings for Care of the Dying Child |

505
(8)

| | |
| --- | --- |
| | Nursing Process for the Dying Child |

506
(7)
Glossary
513
(10)
Answers to NCLEX-Style Review Questions
523
(2)
Appendix A Growth Charts
525
(6)
Appendix B Pulse, Respiration, and Blood Pressure Values for Children
531
(1)
Appendix C Conversion Chart: Fahrenheit to Celsius
532
(1)
Appendix D Good Sources of Essential Nutrients
533
(1)
Appendix E Standard Precautions
534
(2)
Index
536