Note: Supplemental materials are not guaranteed with Rental or Used book purchases.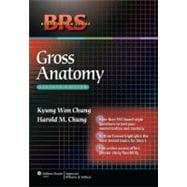 Summary
This revised seventh edition prepares students for first-year anatomy courses and the USMLE Step 1. Written in the popular Board Review Series outline format, this text presents the essentials of human anatomy through concise descriptions and full-color illustrations. USMLE-style questions at the end of each chapter emphasize board-relevant information and allow for self-testing to confirm strengths and uncover areas of weakness. The 100-question comprehensive exam at the end of the book is a great prep tool for the actual exam!
Table of Contents
Preface
p. vii
Acknowledgments
p. x
Introduction
p. 1
Skeletal System
p. 1
Muscular System
p. 4
Nervous System
p. 5
Circulatory System
p. 10
Organ Systems
p. 12
Review Test
p. 15
Upper Limb
p. 19
Bones and Joints of the Upper Limb
p. 19
Cutaneous Nerves, Superficial Veins, and Lymphatics
p. 27
Axilla and Breast
p. 30
Muscles of the Upper Limb
p. 36
Nerves of the Upper Limb
p. 47
Blood vessels of The Upper Limb
p. 53
Review Test
p. 63
Lower Limb
p. 80
Bones of the lower limb
p. 80
Joints and Ligaments of the Lower Limb
p. 86
Cutaneous Nerves, Superficial Veins, and Lymphatics
p. 93
Muscles of the Lower Limb
p. 97
Nerves of the Lower Limb
p. 106
Blood vessels of the Lower Limb
p. 110
Review Test
p. 118
Thorax
p. 132
Thoracic Wall
p. 132
Mediastinum, Pleura, and Organs of Respiration
p. 137
Pericardium and Heart
p. 148
Structures in the Posterior Mediastinum
p. 163
Review Test
p. 172
Abdomen
p. 184
Anterior Abdominal Wall
p. 184
Peritoneum and Peritoneal Cavity
p. 192
Gastrointestinal (GI) Viscera
p. 195
Retroperitoneal Viscera, Diaphragm, and Posterior Abdominal Wall
p. 213
Review Test
p. 230
Perineum and Pelvis
p. 244
Perineal Region
p. 244
Pelvis
p. 255
Review Test
p. 283
Back
p. 296
Vertebral Column
p. 296
Soft Tissues of the Back
p. 304
Spinal Cord and Associated Structures
p. 309
Review Test
p. 317
Head and Neck
p. 325
Structures of the Neck
p. 325
Deep Neck and Prevertebral Region
p. 336
Face and Scalp
p. 341
Temporal and Infratemporal Fossae
p. 348
Skull and Cranial Cavity
p. 355
Nerves of the Head and Neck
p. 366
Orbit
p. 378
Oral Cavity and Palate
p. 391
Pharynx and Tonsils
p. 397
Nasal Cavity and Paranasal Sinuses
p. 403
Pterygopalatine Fossa
p. 408
Larynx
p. 410
Ear
p. 415
Review Test
p. 427
Comprehensive Examination
p. 447
Index
p. 469
Table of Contents provided by Ingram. All Rights Reserved.