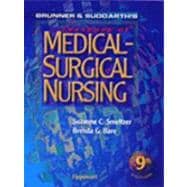 Questions About This Book?
Why should I rent this book?
Renting is easy, fast, and cheap! Renting from eCampus.com can save you hundreds of dollars compared to the cost of new or used books each semester. At the end of the semester, simply ship the book back to us with a free UPS shipping label! No need to worry about selling it back.
How do rental returns work?
Returning books is as easy as possible. As your rental due date approaches, we will email you several courtesy reminders. When you are ready to return, you can print a free UPS shipping label from our website at any time. Then, just return the book to your UPS driver or any staffed UPS location. You can even use the same box we shipped it in!
What version or edition is this?
This is the 10th edition with a publication date of 7/12/2003.
What is included with this book?
The Used copy of this book is not guaranteed to include any supplemental materials. Typically, only the book itself is included.
The Rental copy of this book is not guaranteed to include any supplemental materials. You may receive a brand new copy, but typically, only the book itself.
Summary
Numerous updates and a state-of-the-art ancillary package make the Tenth Edition of this best-selling textbook the most up-to-date book of its kind. New chapters include: End-of-Life Care, Genetics Perspectives in Nursing Practice, and Management of Patients Affected by Terrorism, Mass Casualty, and Disaster. New features include: Concept Maps relating NANDA diagnoses with NIC and NOC classification systems; boxed charts alerting nurses to genetics perspectives in practice; and new, specialized content on elderly patients and those with disabilities.
A free CD-ROM in the text includes over 3,500 general student-study questions, 500 unit review questions, 3-dimensional animations that illustrate disease processes, and interactive clinical simulations covering asthma and congestive heart failure.
For more information, visit connection.LWW.com/go/smeltzer.
Table of Contents
| | |
| --- | --- |
| | Unit 1 Basic Concepts in Nursing |

2
(76)

| | |
| --- | --- |
| | Health Care Delivery and Nursing Practice |

4
(15)

| | |
| --- | --- |
| | The Health Care Industry and The Nursing Profession |

5
(1)
5
(1)

| | |
| --- | --- |
| | The Patient/Client: Consumer of Nursing and Health Care |

5
(1)

| | |
| --- | --- |
| | Health Care in Transition |

6
(1)

| | |
| --- | --- |
| | Health, Wellness, and Health Promotion |

6
(1)
6
(1)
6
(1)
6
(1)

| | |
| --- | --- |
| | Influences on Health Care Delivery |

6
(8)
7
(1)

| | |
| --- | --- |
| | Changing Patterns of Disease |

7
(1)

| | |
| --- | --- |
| | Advances in Technology and Genetics |

8
(1)
8
(1)
8
(1)

| | |
| --- | --- |
| | Alternative Health Care Delivery Systems |

9
(5)
14
(1)
14
(1)
15
(1)
15
(1)

| | |
| --- | --- |
| | Models of Nursing Care Delivery |

15
(1)
15
(1)
15
(1)

| | |
| --- | --- |
| | Community-Based Nursing and Community Health-Public Health Nursing |

16
(1)
16
(3)
17
(2)

| | |
| --- | --- |
| | Community-Based Nursing Practice |

19
(7)

| | |
| --- | --- |
| | The Growing Need for Community-Based Health Care |

20
(1)
20
(1)
21
(1)

| | |
| --- | --- |
| | Hospital and Community-Based Nursing |

21
(1)

| | |
| --- | --- |
| | Discharge Planning for Home Care |

22
(1)

| | |
| --- | --- |
| | Community Resources and Referrals |

22
(1)

| | |
| --- | --- |
| | Preparing for a Home Visit |

22
(1)
22
(2)

| | |
| --- | --- |
| | Personal Safety Precautions |

22
(1)
23
(1)

| | |
| --- | --- |
| | Determining the Need for Future Visits |

23
(1)
24
(1)

| | |
| --- | --- |
| | Other Community-Based Health Care Settings |

24
(2)
24
(1)

| | |
| --- | --- |
| | Occupational Health Programs |

24
(1)
24
(1)
25
(1)

| | |
| --- | --- |
| | Critical Thinking, Ethical Decision Making, and the Nursing Process |

26
(19)

| | |
| --- | --- |
| | Definition of Critical Thinking |

27
(1)

| | |
| --- | --- |
| | Critical Thinking Process |

27
(1)
27
(1)

| | |
| --- | --- |
| | Components of Critical Thinking |

27
(1)

| | |
| --- | --- |
| | Critical Thinking in Nursing Practice |

27
(1)
28
(1)
28
(5)
28
(1)
29
(1)
29
(1)
30
(1)

| | |
| --- | --- |
| | Types of Ethical Problems in Nursing |

30
(3)
33
(1)
33
(1)
34
(1)

| | |
| --- | --- |
| | Steps of the Nursing Process |

34
(1)

| | |
| --- | --- |
| | Using the Nursing Process |

34
(11)
34
(3)
37
(1)
37
(3)
40
(1)
40
(1)

| | |
| --- | --- |
| | Documentation of Outcomes and Revision of Plan |

41
(4)

| | |
| --- | --- |
| | Health Education and Health Promotion |

45
(14)
46
(1)

| | |
| --- | --- |
| | The Purpose of Health Education |

46
(1)

| | |
| --- | --- |
| | Adherence to the Therapeutic Regimen |

46
(1)

| | |
| --- | --- |
| | The Nature of Teaching and Learning |

47
(4)
47
(1)
48
(1)
49
(1)

| | |
| --- | --- |
| | Teaching People with Disabilities |

49
(2)

| | |
| --- | --- |
| | The Nursing Process in Patient Teaching |

51
(1)
51
(1)
51
(1)
51
(1)
52
(1)
52
(1)
52
(2)
53
(1)
53
(1)

| | |
| --- | --- |
| | Definition of Health Promotion |

53
(1)

| | |
| --- | --- |
| | Health Promotion Principles |

54
(1)

| | |
| --- | --- |
| | Health Promotion Throughout the Life Span |

54
(2)
55
(1)

| | |
| --- | --- |
| | Young and Middle-Aged Adults |

55
(1)
55
(1)
56
(3)
59
(19)

| | |
| --- | --- |
| | The Role of the Nurse in Assessment |

60
(1)

| | |
| --- | --- |
| | Basic Guidelines for Conducting a Health Assessment |

60
(1)

| | |
| --- | --- |
| | Ethical Use of History or Physical Examination Data |

60
(1)
60
(7)
61
(1)
61
(1)

| | |
| --- | --- |
| | Content of the Health History |

61
(1)

| | |
| --- | --- |
| | Past Life Events Related to Health |

62
(1)
63
(1)
63
(2)
65
(1)

| | |
| --- | --- |
| | Physical or Mental Disability |

65
(1)
65
(1)
65
(1)
66
(1)

| | |
| --- | --- |
| | Stress and Coping Responses |

66
(1)

| | |
| --- | --- |
| | Other Health History Formats |

66
(1)
67
(2)
67
(1)
68
(1)
68
(1)
69
(1)
69
(5)
70
(1)
71
(1)
71
(1)
71
(1)

| | |
| --- | --- |
| | Conducting the Dietary Interview |

71
(1)

| | |
| --- | --- |
| | Evaluating the Dietary Information |

72
(1)

| | |
| --- | --- |
| | Factors Influencing Nutritional Status in Varied Situations |

72
(2)

| | |
| --- | --- |
| | Analysis of Nutritional Status |

74
(1)

| | |
| --- | --- |
| | Assessment in the Home and Community |

74
(4)

| | |
| --- | --- |
| | Unit 2 Biophysical and Psychosocial Concepts in Nursing Practice |

78
(136)

| | |
| --- | --- |
| | Homeostasis, Stress, and Adaptation |

80
(19)
81
(1)

| | |
| --- | --- |
| | Dynamic Balance: The Steady State |

81
(1)

| | |
| --- | --- |
| | Historical Theories of the Steady State |

82
(1)
82
(1)

| | |
| --- | --- |
| | Stressors: Threats to the Steady State |

82
(6)
82
(1)

| | |
| --- | --- |
| | Stress as a Stimulus for Disease |

83
(1)

| | |
| --- | --- |
| | Psychological Responses to Stress |

83
(1)

| | |
| --- | --- |
| | Physiologic Response to Stress |

84
(3)

| | |
| --- | --- |
| | Maladaptive Responses to Stress |

87
(1)
87
(1)
88
(1)

| | |
| --- | --- |
| | Stress at the Cellular Level |

88
(5)

| | |
| --- | --- |
| | Control of the Steady State |

88
(1)
89
(1)
90
(2)

| | |
| --- | --- |
| | Cellular Response to Injury: Inflammation |

92
(1)
93
(1)
93
(1)

| | |
| --- | --- |
| | Stress Management: Nursing Interventions |

93
(6)

| | |
| --- | --- |
| | Promoting a Healthy Lifestyle |

94
(1)

| | |
| --- | --- |
| | Enhancing Coping Strategies |

94
(1)

| | |
| --- | --- |
| | Teaching Relaxation Techniques |

94
(1)

| | |
| --- | --- |
| | Educating About Stress Management |

95
(1)
96
(1)

| | |
| --- | --- |
| | Recommending Support and Therapy Groups |

96
(3)

| | |
| --- | --- |
| | Individual and Family Considerations Related to Illness |

99
(14)

| | |
| --- | --- |
| | Holistic Approach to Health and Health Care |

100
(1)

| | |
| --- | --- |
| | The Brain and Physical and Emotional Health |

100
(1)

| | |
| --- | --- |
| | Emotional Health and Emotional Distress |

101
(1)

| | |
| --- | --- |
| | Family Health and Distress |

102
(1)
103
(1)

| | |
| --- | --- |
| | Posttraumatic Stress Disorder |

104
(1)
105
(2)
107
(1)
108
(1)
109
(1)

| | |
| --- | --- |
| | Spirituality and Spiritual Distress |

109
(4)

| | |
| --- | --- |
| | Perspectives in Transcultural Nursing |

113
(10)
114
(1)

| | |
| --- | --- |
| | Subcultures and Minorities |

114
(1)
115
(1)

| | |
| --- | --- |
| | Culturally Competent Nursing Care |

115
(1)

| | |
| --- | --- |
| | Cross-Cultural Communication |

115
(1)

| | |
| --- | --- |
| | Culturally Mediated Characteristics |

116
(3)
116
(1)
117
(1)
117
(1)
117
(1)
118
(1)
118
(1)
118
(1)
119
(1)

| | |
| --- | --- |
| | Complementary and Alternative Therapies |

119
(1)
119
(1)
119
(1)
120
(1)
120
(1)
120
(1)
120
(1)

| | |
| --- | --- |
| | Additional Cultural Considerations: Know Thyself |

121
(1)

| | |
| --- | --- |
| | The Future of Transcultural Nursing Care |

121
(2)

| | |
| --- | --- |
| | Genetics Perspectives in Nursing |

123
(23)

| | |
| --- | --- |
| | A Framework for Integrating Genetics Into Nursing Practice |

124
(1)
125
(7)

| | |
| --- | --- |
| | Genes and Their Role in Human Variation |

126
(2)

| | |
| --- | --- |
| | Inheritance Patterns in Families |

128
(4)

| | |
| --- | --- |
| | Chromosomal Differences and Genetic Conditions |

132
(1)

| | |
| --- | --- |
| | Clinical Applications of Genetics |

132
(5)
132
(1)
133
(1)

| | |
| --- | --- |
| | Testing and Screening for Adult-Onset Conditions |

133
(4)

| | |
| --- | --- |
| | Individualizing Genetic Profiles |

137
(1)

| | |
| --- | --- |
| | Applications of Genetics in Nursing Practice |

137
(6)

| | |
| --- | --- |
| | Genetics and Health Assessment |

138
(2)

| | |
| --- | --- |
| | Genetic Counseling and Evaluation Services |

140
(3)
143
(3)
146
(12)

| | |
| --- | --- |
| | The Phenomenon of Chronicity |

147
(2)

| | |
| --- | --- |
| | Definition of Chronic Conditions |

147
(1)

| | |
| --- | --- |
| | Prevalence and Causes of Chronic Conditions |

147
(2)

| | |
| --- | --- |
| | The Characteristics of Chronic Conditions |

149
(6)

| | |
| --- | --- |
| | The Problems of Managing Chronic Conditions |

150
(1)
151
(1)

| | |
| --- | --- |
| | Phases of Chronic Illness |

151
(1)

| | |
| --- | --- |
| | Care by Phase: Applying the Nursing Process |

152
(3)

| | |
| --- | --- |
| | Promoting Home and Community-Based Care |

155
(3)

| | |
| --- | --- |
| | Teaching Patients Self-Care |

155
(1)
155
(1)

| | |
| --- | --- |
| | Nursing Care for Special Populations With Chronic Illness |

155
(3)

| | |
| --- | --- |
| | Principles and Practices of Rehabilitation |

158
(30)

| | |
| --- | --- |
| | Americans with Disabilities Act |

159
(1)

| | |
| --- | --- |
| | Right to Access to Health Care and Health Promotion |

160
(1)
160
(1)
161
(1)

| | |
| --- | --- |
| | Areas of Specialty Practice |

162
(1)

| | |
| --- | --- |
| | Assessment of Functional Abilities |

163
(20)

| | |
| --- | --- |
| | Nursing Process: The Patient With Self-Care Deficits in Activities of Daily Living |

163
(2)

| | |
| --- | --- |
| | Nursing Process: The Patient with Impaired Physical Mobility |

165
(10)

| | |
| --- | --- |
| | Nursing Process: The Patient with Impaired Skin Integrity |

175
(6)

| | |
| --- | --- |
| | Nursing Process: The Patient with Altered Elimination Patterns |

181
(2)

| | |
| --- | --- |
| | Disability and Sexuality Issues |

183
(1)
183
(1)

| | |
| --- | --- |
| | Home and Community-Based Care |

183
(1)
184
(1)
184
(4)

| | |
| --- | --- |
| | Health Care of the Older Adult |

188
(26)
189
(2)
189
(1)

| | |
| --- | --- |
| | Health Care Costs of Aging |

189
(1)

| | |
| --- | --- |
| | Ethical and Legal Issues Affecting the Older Adult |

190
(1)

| | |
| --- | --- |
| | Nursing Care of Older Adults |

191
(1)

| | |
| --- | --- |
| | Normal Age-Related Changes and Health Promotion Activities |

191
(10)

| | |
| --- | --- |
| | Physical Aspects of Aging |

191
(6)

| | |
| --- | --- |
| | Psychosocial Aspects of Aging |

197
(1)

| | |
| --- | --- |
| | Cognitive Aspects of Aging |

198
(1)

| | |
| --- | --- |
| | Environmental Aspects of Aging |

198
(3)

| | |
| --- | --- |
| | Pharmacologic Aspects of Aging |

201
(1)

| | |
| --- | --- |
| | Physical Health Problems in Older Populations |

201
(3)

| | |
| --- | --- |
| | Geriatric Syndromes: Multiple Problems with Multiple Etiologic Factors |

201
(2)

| | |
| --- | --- |
| | Acquired Immunodeficiency Syndrome in Older Adults |

203
(1)

| | |
| --- | --- |
| | Common Mental Health Problems in Older Populations |

204
(6)
204
(1)
204
(1)

| | |
| --- | --- |
| | The Dementias: Multi-Infarct Dementia and Alzheimer's Disease |

205
(5)

| | |
| --- | --- |
| | The Older Adult in an Acute Care Setting: Altered Responses to Illness |

210
(4)

| | |
| --- | --- |
| | Increased Susceptibility to Infection |

210
(1)

| | |
| --- | --- |
| | Altered Pain and Febrile Responses |

211
(1)
211
(1)

| | |
| --- | --- |
| | Altered Systemic Response |

211
(3)

| | |
| --- | --- |
| | Unit 3 Concepts and Challenges in Patient Management |

214
(182)
216
(33)
217
(1)
217
(1)
218
(1)

| | |
| --- | --- |
| | Chronic (Nonmalignant) Pain |

218
(1)
218
(1)

| | |
| --- | --- |
| | Pain Classified by Location |

218
(1)

| | |
| --- | --- |
| | Pain Classified by Etiology |

218
(1)
218
(2)
218
(1)
218
(2)
220
(6)
220
(3)

| | |
| --- | --- |
| | Factors Influencing the Pain Response |

223
(3)

| | |
| --- | --- |
| | Nursing Assessment of Pain |

226
(6)
226
(2)

| | |
| --- | --- |
| | Instruments for Assessing the Perception of Pain |

228
(2)

| | |
| --- | --- |
| | Nurse's Role in Pain Management |

230
(2)

| | |
| --- | --- |
| | Pain Management Strategies |

232
(9)

| | |
| --- | --- |
| | Pharmacologic Interventions |

232
(5)
237
(3)

| | |
| --- | --- |
| | Nonpharmacologic Interventions |

240
(1)

| | |
| --- | --- |
| | Neurologic and Neurosurgical Approaches to Pain Management |

241
(2)
242
(1)
243
(1)

| | |
| --- | --- |
| | Promoting Home and Community-Based Care |

243
(1)

| | |
| --- | --- |
| | Teaching Patients Self-Care |

243
(1)
244
(1)

| | |
| --- | --- |
| | Evaluating Pain Management Strategies |

244
(5)
245
(4)

| | |
| --- | --- |
| | Fluid and Electrolytes: Balance and Distribution |

249
(46)
250
(6)

| | |
| --- | --- |
| | Amount and Composition of Body Fluids |

250
(1)

| | |
| --- | --- |
| | Regulation of Body Fluid Compartments |

251
(1)

| | |
| --- | --- |
| | Routes of Gains and Losses |

252
(1)

| | |
| --- | --- |
| | Laboratory Tests for Evaluating Fluid Status |

252
(1)
253
(3)

| | |
| --- | --- |
| | Fluid Volume Disturbances |

256
(5)

| | |
| --- | --- |
| | Fluid Volume Deficit (Hypovolemia) |

256
(4)

| | |
| --- | --- |
| | Fluid Volume Excess (Hypervolemia) |

260
(1)
261
(17)
261
(2)

| | |
| --- | --- |
| | Sodium Deficit (Hyponatremia) |

263
(2)

| | |
| --- | --- |
| | Sodium Excess (Hypernatremia) |

265
(1)

| | |
| --- | --- |
| | Significance of Potassium |

266
(1)

| | |
| --- | --- |
| | Potassium Deficit (Hypokalemia) |

266
(2)

| | |
| --- | --- |
| | Potassium Excess (Hyperkalemia) |

268
(2)
270
(1)

| | |
| --- | --- |
| | Calcium Deficit (Hypocalcemia) |

270
(2)

| | |
| --- | --- |
| | Calcium Excess (Hypercalcemia) |

272
(1)

| | |
| --- | --- |
| | Significance of Magnesium |

273
(1)

| | |
| --- | --- |
| | Magnesium Deficit (Hypomagnesemia) |

273
(1)

| | |
| --- | --- |
| | Magnesium Excess (Hypermagnesemia) |

274
(1)

| | |
| --- | --- |
| | Significance of Phosphorus |

275
(1)

| | |
| --- | --- |
| | Phosphorus Deficit (Hypophosphatemia) |

275
(1)

| | |
| --- | --- |
| | Phosphorus Excess (Hyperphosphatemia) |

276
(1)
277
(1)

| | |
| --- | --- |
| | Chloride Deficit (Hypochloremia) |

277
(1)

| | |
| --- | --- |
| | Chloride Excess (Hyperchloremia) |

277
(1)
278
(4)
278
(1)

| | |
| --- | --- |
| | Acute and Chronic Metabolic Acidosis (Base Bicarbonate Deficit) |

278
(1)

| | |
| --- | --- |
| | Acute and Chronic Metabolic Alkalosis (Base Bicarbonate Excess) |

279
(1)

| | |
| --- | --- |
| | Acute and Chronic Respiratory Acidosis (Carbonic Acid Excess) |

280
(1)

| | |
| --- | --- |
| | Acute and Chronic Respiratory Alkalosis (Carbonic Acid Deficit) |

281
(1)

| | |
| --- | --- |
| | Mixed Acid-Base Disorders |

281
(1)
281
(1)
281
(1)
282
(13)
282
(1)
282
(13)

| | |
| --- | --- |
| | Shock and Multisystem Failure |

295
(20)
296
(1)

| | |
| --- | --- |
| | Conditions Precipitating Shock |

296
(2)
296
(1)
296
(1)
296
(2)
298
(4)
299
(1)
300
(1)
301
(1)

| | |
| --- | --- |
| | Overall Management Strategies in Shock |

302
(2)
302
(1)

| | |
| --- | --- |
| | Vasoactive Medication Therapy |

303
(1)
303
(1)
304
(2)
306
(3)
309
(3)
309
(2)
311
(1)
311
(1)

| | |
| --- | --- |
| | Multiple Organ Dysfunction Syndrome |

312
(3)

| | |
| --- | --- |
| | Oncology: Nursing Management in Cancer Care |

315
(54)
316
(1)

| | |
| --- | --- |
| | Pathophysiology of the Malignant Process |

316
(6)
316
(1)

| | |
| --- | --- |
| | Characteristics of Malignant Cells |

317
(1)
318
(2)
320
(1)

| | |
| --- | --- |
| | Role of the Immune System |

321
(1)

| | |
| --- | --- |
| | Detection and Prevention of Cancer |

322
(1)
322
(1)
322
(1)

| | |
| --- | --- |
| | Diagnosis of Cancer and Related Nursing Considerations |

323
(2)

| | |
| --- | --- |
| | Tumor Staging and Grading |

323
(2)
325
(33)
325
(3)
328
(1)
329
(14)

| | |
| --- | --- |
| | Bone Marrow Transplantation |

343
(2)
345
(1)

| | |
| --- | --- |
| | Biologic Response Modifiers |

345
(4)
349
(1)
349
(1)

| | |
| --- | --- |
| | Unproven and Unconventional Therapies |

349
(1)

| | |
| --- | --- |
| | Nursing Process: The Patient with Cancer |

350
(8)
358
(2)

| | |
| --- | --- |
| | Care of the Patient with Advanced Cancer |

360
(1)
361
(1)
361
(8)
369
(27)

| | |
| --- | --- |
| | Nursing and End-of-Life Care |

370
(3)

| | |
| --- | --- |
| | The Context for Death and Dying in America |

370
(1)

| | |
| --- | --- |
| | Technology and End-of-Life Care |

370
(1)
371
(2)

| | |
| --- | --- |
| | Settings for End-of-Life Care: Palliative Care Programs and Hospice |

373
(2)
373
(1)
374
(1)

| | |
| --- | --- |
| | Nursing Care of the Terminally Ill Patient |

375
(12)
376
(1)
376
(2)

| | |
| --- | --- |
| | Providing Culturally Sensitive Care at the End of Life |

378
(2)

| | |
| --- | --- |
| | Goal Setting in Palliative Care at the End of Life |

380
(1)
380
(2)
382
(1)

| | |
| --- | --- |
| | Managing Physiologic Responses to Illness |

382
(4)

| | |
| --- | --- |
| | Palliative Sedation at the End of Life |

386
(1)

| | |
| --- | --- |
| | Nursing Care of the Patient Who is Close to Death |

387
(4)

| | |
| --- | --- |
| | Expected Physiologic Changes When the Patient is Close to Death |

387
(1)
387
(1)
387
(2)

| | |
| --- | --- |
| | Grief, Mourning, and Bereavement |

389
(2)

| | |
| --- | --- |
| | Coping with Death and Dying: Professional Caregiver Issues |

391
(5)

| | |
| --- | --- |
| | Unit 4 Perioperative Concepts and Nursing Management |

396
(64)

| | |
| --- | --- |
| | Preoperative Nursing Management |

398
(19)

| | |
| --- | --- |
| | Perioperative and Perianesthesia Nursing |

399
(3)
399
(1)
399
(1)
400
(2)
402
(1)
402
(5)
402
(1)

| | |
| --- | --- |
| | Assessment of Health Factors That Affect Patients Preoperatively |

403
(4)
407
(2)

| | |
| --- | --- |
| | The Ambulatory Surgery Patient |

408
(1)
408
(1)
408
(1)

| | |
| --- | --- |
| | Patients with Disabilities |

408
(1)

| | |
| --- | --- |
| | Patients Undergoing Emergency Surgery |

409
(1)

| | |
| --- | --- |
| | Preoperative Nursing Interventions |

409
(8)
409
(3)

| | |
| --- | --- |
| | Preoperative Psychosocial Interventions |

412
(1)

| | |
| --- | --- |
| | General Preoperative Nursing Interventions |

412
(1)

| | |
| --- | --- |
| | Immediate Preoperative Nursing Interventions |

412
(2)

| | |
| --- | --- |
| | Nursing Process: Care of the Patient in the Preoperative Period |

414
(3)

| | |
| --- | --- |
| | Intraoperative Nursing Management |

417
(19)
418
(2)
418
(1)
419
(1)
419
(1)
419
(1)

| | |
| --- | --- |
| | The Registered Nurse First Assistant |

419
(1)

| | |
| --- | --- |
| | The Anesthesiologist and Anesthetist |

420
(1)
420
(3)

| | |
| --- | --- |
| | Principles of Surgical Asepsis |

421
(1)

| | |
| --- | --- |
| | Health Hazards Associated With the Surgical Environment |

422
(1)
423
(6)
423
(1)

| | |
| --- | --- |
| | Methods of Anesthesia Administration |

424
(5)

| | |
| --- | --- |
| | Potential Intraoperative Complications |

429
(7)
429
(1)
430
(1)

| | |
| --- | --- |
| | Hypoxia and Other Respiratory Complications |

430
(1)
431
(1)
431
(1)

| | |
| --- | --- |
| | Disseminated Intravascular Coagulopathy |

431
(1)

| | |
| --- | --- |
| | Nursing Process: The Patient During Surgery |

431
(5)

| | |
| --- | --- |
| | Postoperative Nursing Management |

436
(24)

| | |
| --- | --- |
| | The Postanesthesia Care Unit |

437
(5)

| | |
| --- | --- |
| | Phases of Postanesthesia Care |

437
(1)

| | |
| --- | --- |
| | Admitting the Patient to the PACU |

437
(1)

| | |
| --- | --- |
| | Nursing Management in the PACU |

438
(4)

| | |
| --- | --- |
| | The Hospitalized Postoperative Patient |

442
(18)

| | |
| --- | --- |
| | Receiving the Patient in the Clinical Unit |

443
(1)

| | |
| --- | --- |
| | Nursing Management After Surgery |

443
(1)

| | |
| --- | --- |
| | Nursing Process: The Hospitalized Patient Recovering From Surgery |

444
(16)

| | |
| --- | --- |
| | Unit 5 Gas Exchange and Respiratory Function |

460
(184)

| | |
| --- | --- |
| | Assessment of Respiratory Function |

462
(30)

| | |
| --- | --- |
| | Anatomic and Physiologic Overview |

463
(8)

| | |
| --- | --- |
| | Anatomy of the Upper Respiratory Tract |

463
(1)

| | |
| --- | --- |
| | Anatomy of the Lower Respiratory Tract: Lungs |

464
(2)

| | |
| --- | --- |
| | Function of the Respiratory System |

466
(5)
471
(12)
471
(4)

| | |
| --- | --- |
| | Physical Assessment of the Upper Respiratory Structures |

475
(1)

| | |
| --- | --- |
| | Physical Assessment of the Lower Respiratory Structures and Breathing |

476
(6)

| | |
| --- | --- |
| | Physical Assessment of Breathing Ability in the Acutely Ill Patient |

482
(1)
483
(9)
483
(1)

| | |
| --- | --- |
| | Arterial Blood Gas Studies |

484
(1)
484
(1)
485
(1)
485
(1)
485
(1)
486
(2)
488
(1)
488
(4)

| | |
| --- | --- |
| | Management of Patients with Upper Respiratory Tract Disorders |

492
(24)
493
(10)
493
(1)

| | |
| --- | --- |
| | Viral Rhinitis (Common Cold) |

494
(1)
495
(2)
497
(1)
498
(1)
499
(1)

| | |
| --- | --- |
| | Tonsillitis and Adenoiditis |

499
(1)
500
(1)
500
(1)

| | |
| --- | --- |
| | Nursing Process: The Patient With Upper Airway Infection |

501
(2)

| | |
| --- | --- |
| | Obstruction and Trauma of the Upper Respiratory Airway |

503
(3)
503
(1)
504
(1)
505
(1)
505
(1)
505
(1)
506
(10)

| | |
| --- | --- |
| | Nursing Process: The Patient Undergoing Laryngectomy |

510
(6)

| | |
| --- | --- |
| | Management of Patients with Chest and Lower Respiratory Tract Disorders |

516
(52)
517
(2)
519
(21)
519
(1)
520
(9)

| | |
| --- | --- |
| | Nursing Process: The Patient With Pneumonia |

529
(3)
532
(4)

| | |
| --- | --- |
| | Nursing Process: The Patient With Tuberculosis |

536
(2)
538
(2)
540
(2)
540
(1)
540
(1)
541
(1)
542
(1)

| | |
| --- | --- |
| | Acute Respiratory Failure |

543
(1)

| | |
| --- | --- |
| | Acute Respiratory Distress Syndrome |

544
(2)
546
(1)

| | |
| --- | --- |
| | Pulmonary Heart Disease (Cor Pulmonale) |

547
(1)
548
(4)
552
(1)

| | |
| --- | --- |
| | Occupational Lung Diseases: Pneumoconioses |

552
(2)
553
(1)
553
(1)

| | |
| --- | --- |
| | Coal Workers' Pneumoconiosis |

553
(1)
554
(3)

| | |
| --- | --- |
| | Lung Cancer (Bronchogenic Carcinoma) |

554
(3)

| | |
| --- | --- |
| | Tumors of the Mediastinum |

557
(1)
557
(6)
558
(2)

| | |
| --- | --- |
| | Penetrating Trauma: Gunshot and Stab Wounds |

560
(1)
561
(1)
562
(1)
563
(1)
563
(5)

| | |
| --- | --- |
| | Management of Patients With Chronic Obstructive Pulmonary Disease |

568
(31)

| | |
| --- | --- |
| | Chronic Obstructive Pulmonary Disease |

569
(12)

| | |
| --- | --- |
| | Nursing Process: The Patient with COPD |

578
(3)
581
(6)
587
(8)
595
(1)
595
(4)

| | |
| --- | --- |
| | Respiratory Care Modalities |

599
(45)

| | |
| --- | --- |
| | Noninvasive Respiratory Therapies |

600
(10)
600
(5)

| | |
| --- | --- |
| | Intermittent Positive-Pressure Breathing |

605
(1)
605
(1)

| | |
| --- | --- |
| | Incentive Spirometry (Sustained Maximal Inspiration) |

606
(1)
606
(4)
610
(3)

| | |
| --- | --- |
| | Emergency Management of Upper Airway Obstruction |

610
(1)
610
(2)
612
(1)
613
(13)

| | |
| --- | --- |
| | Indications for Mechanical Ventilation |

613
(1)

| | |
| --- | --- |
| | Classification of Ventilators |

613
(4)
617
(1)
617
(1)

| | |
| --- | --- |
| | Problems with Mechanical Ventilation |

618
(2)

| | |
| --- | --- |
| | Nursing Process: The Patient on a Ventilator |

620
(2)

| | |
| --- | --- |
| | Weaning the Patient From the Ventilator |

622
(4)

| | |
| --- | --- |
| | The Patient Undergoing Thoracic Surgery |

626
(18)
626
(1)

| | |
| --- | --- |
| | Preoperative Nursing Management |

626
(2)
628
(5)

| | |
| --- | --- |
| | Nursing Process: The Patient Undergoing Thoracic Surgery |

633
(11)

| | |
| --- | --- |
| | Unit 6 Cardiovascular, Circulatory, and Hematologic Function |

644
(294)

| | |
| --- | --- |
| | Assessment of Cardiovascular Function |

646
(36)

| | |
| --- | --- |
| | Anatomic and Physiologic Overview |

647
(6)
647
(2)

| | |
| --- | --- |
| | Function of the Heart: Conduction System |

649
(4)

| | |
| --- | --- |
| | Gender Differences in Cardiac Structure and Function |

653
(1)
653
(15)

| | |
| --- | --- |
| | Health History and Clinical Manifestations |

654
(7)
661
(7)
668
(14)
668
(2)

| | |
| --- | --- |
| | Chest X-ray and Fluoroscopy |

670
(1)
670
(1)
671
(1)
672
(1)
673
(2)
675
(1)
675
(1)

| | |
| --- | --- |
| | Electrophysiologic Testing |

676
(1)
677
(5)

| | |
| --- | --- |
| | Management of Patients With Dysrhythmias and Conduction Problems |

682
(30)
683
(16)

| | |
| --- | --- |
| | Normal Electrical Conduction |

683
(1)

| | |
| --- | --- |
| | Interpretation of the Electrocardiogram |

684
(3)

| | |
| --- | --- |
| | Analyzing the Electrocardiogram Rhythm Strip |

687
(11)

| | |
| --- | --- |
| | Nursing Process: The Patient With a Dysrhythmia |

698
(1)

| | |
| --- | --- |
| | Adjunctive Modalities and Management |

699
(13)
700
(3)

| | |
| --- | --- |
| | Nursing Process: The Patient With a Pacemaker |

703
(2)

| | |
| --- | --- |
| | Cardioversion and Defibrillation |

705
(3)

| | |
| --- | --- |
| | Electrophysiologic Studies |

708
(1)

| | |
| --- | --- |
| | Cardiac Conduction Surgery |

709
(3)

| | |
| --- | --- |
| | Management of Patients With Coronary Vascular Disorders |

712
(51)
713
(20)
713
(6)
719
(4)

| | |
| --- | --- |
| | Nursing Process: The Patient With Angina Pectoris |

723
(2)
725
(4)

| | |
| --- | --- |
| | Nursing Process: The Patient With Myocardial Infarction |

729
(4)

| | |
| --- | --- |
| | Invasive Coronary Artery Procedures |

733
(30)

| | |
| --- | --- |
| | Invasive Interventional Procedures |

733
(4)
737
(2)

| | |
| --- | --- |
| | Nursing Process: The Patient Awaiting Cardiac Surgery |

739
(9)

| | |
| --- | --- |
| | Intraoperative Nursing Management |

748
(1)

| | |
| --- | --- |
| | Nursing Process: The Patient Who Has Had Cardiac Surgery |

748
(15)

| | |
| --- | --- |
| | Management of Patients With Structural, Infectious, and Inflammatory Cardiac Disorders |

763
(24)

| | |
| --- | --- |
| | Acquired Valvular Disorders |

764
(4)
764
(2)
766
(1)
767
(1)
767
(1)
767
(1)

| | |
| --- | --- |
| | Valvular Heart Disorders: Nursing Management |

768
(1)

| | |
| --- | --- |
| | Valve Repair and Replacement Procedures |

768
(4)
768
(2)
770
(2)

| | |
| --- | --- |
| | Valvuloplasty and Replacement: Nursing Management |

772
(1)
772
(1)
772
(6)

| | |
| --- | --- |
| | Nursing Process: The Patient With Cardiomyopathy |

776
(2)

| | |
| --- | --- |
| | Cardiac Tumor and Trauma Surgery |

778
(1)
778
(1)
778
(1)

| | |
| --- | --- |
| | Infectious Diseases of the Heart |

778
(9)
778
(2)
780
(2)
782
(1)
783
(1)

| | |
| --- | --- |
| | Nursing Process: The Patient With Pericarditis |

784
(3)

| | |
| --- | --- |
| | Management of Patients With Complications From Heart Disease |

787
(28)
788
(1)

| | |
| --- | --- |
| | Noninvasive Assessment of Cardiac Hemodynamics |

789
(1)

| | |
| --- | --- |
| | Invasive Assessment of Cardiac Hemodynamics |

789
(1)
789
(17)
789
(12)

| | |
| --- | --- |
| | Nursing Process: The Patient With Heart Failure |

801
(4)

| | |
| --- | --- |
| | Acute Heart Failure (Pulmonary Edema) |

805
(1)
806
(9)
806
(2)
808
(1)

| | |
| --- | --- |
| | Pericardial Effusion and Cardiac Tamponade |

809
(1)
810
(1)
810
(5)

| | |
| --- | --- |
| | Assessment and Management of Patients With Vascular Disorders and Problems of Peripheral Circulation |

815
(39)

| | |
| --- | --- |
| | Anatomic and Physiologic Overview |

816
(4)

| | |
| --- | --- |
| | Anatomy of the Vascular System |

816
(1)

| | |
| --- | --- |
| | Function of the Vascular System |

817
(2)

| | |
| --- | --- |
| | Pathophysiology of the Vascular System |

819
(1)
820
(1)

| | |
| --- | --- |
| | Health History and Clinical Manifestations |

820
(1)
821
(3)

| | |
| --- | --- |
| | Doppler Ultrasound Flow Studies |

821
(1)
822
(1)
822
(1)
823
(1)
823
(1)
824
(1)
824
(1)
824
(1)
824
(1)

| | |
| --- | --- |
| | Management of Arterial Disorders |

824
(18)

| | |
| --- | --- |
| | Arteriosclerosis and Atherosclerosis |

824
(2)

| | |
| --- | --- |
| | Nursing Process: The Patient Who Has Peripheral Arterial Insufficiency of the Extremities |

826
(4)

| | |
| --- | --- |
| | Peripheral Arterial Occlusive Disease |

830
(4)

| | |
| --- | --- |
| | Thromboangiitis Obliterans (Buerger's Disease) |

834
(1)
835
(1)
835
(1)
836
(3)
839
(1)
839
(1)

| | |
| --- | --- |
| | Arterial Embolism and Arterial Thrombosis |

840
(1)
841
(1)

| | |
| --- | --- |
| | Management of Venous Disorders |

842
(8)

| | |
| --- | --- |
| | Venous Thrombosis, Deep Vein Thrombosis (DVT), Thrombophlebitis, and Phlebothrombosis |

842
(3)

| | |
| --- | --- |
| | Chronic Venous Insufficiency |

845
(1)
846
(2)

| | |
| --- | --- |
| | Nursing Process: The Patient Who Has Leg Ulcers |

848
(1)
849
(1)
850
(1)

| | |
| --- | --- |
| | Management of Lymphatic Disorders |

851
(3)

| | |
| --- | --- |
| | Lymphangitis and Lymphadenitis |

851
(1)

| | |
| --- | --- |
| | Lymphedema and Elephantiasis |

851
(3)

| | |
| --- | --- |
| | Assessment and Management of Patients With Hypertension |

854
(13)
855
(1)
855
(10)

| | |
| --- | --- |
| | Nursing Process: The Patient With Hypertension |

858
(7)
865
(2)
865
(1)
865
(2)

| | |
| --- | --- |
| | Assessment and Management of Patients With Hematologic Disorders |

867
(71)

| | |
| --- | --- |
| | Anatomic And Physiologic Overview |

868
(9)
869
(1)
869
(1)
869
(4)

| | |
| --- | --- |
| | Plasma and Plasma Proteins |

873
(1)

| | |
| --- | --- |
| | Reticuloendothelial System (RES) |

874
(1)
874
(1)

| | |
| --- | --- |
| | Pathophysiology of the Hematologic System |

875
(2)

| | |
| --- | --- |
| | Management of Hematologic Disorders |

877
(4)
877
(2)

| | |
| --- | --- |
| | Nursing Process: The Patient With Anemia |

879
(2)

| | |
| --- | --- |
| | Hypoproliferative Anemias |

881
(5)
886
(8)
886
(3)

| | |
| --- | --- |
| | Nursing Process: The Patient With Sickle Cell Crisis |

889
(2)
891
(1)

| | |
| --- | --- |
| | Glucose-6-Phosphate Dehydrogenase Deficiency |

891
(1)
892
(1)
892
(1)

| | |
| --- | --- |
| | Hereditary Hemochromatosis |

893
(1)
894
(1)
894
(1)
895
(1)

| | |
| --- | --- |
| | Leukopenia and Neutropenia |

895
(1)

| | |
| --- | --- |
| | Leukocytosis and the Leukemias |

896
(10)

| | |
| --- | --- |
| | Acute Myeloid Leukemia (AML) |

897
(3)

| | |
| --- | --- |
| | Chronic Myeloid Leukemia (CML) |

900
(1)

| | |
| --- | --- |
| | Acute Lymphocytic Leukemia (ALL) |

900
(1)

| | |
| --- | --- |
| | Chronic Lymphocytic Leukemia (CLL) |

901
(1)

| | |
| --- | --- |
| | Nursing Process: The Patient With Acute Leukemia |

902
(3)

| | |
| --- | --- |
| | Agnogenic Myeloid Metaplasia (AMM) |

905
(1)
906
(3)
906
(1)

| | |
| --- | --- |
| | Non-Hodgkin's Lymphomas (NHLs) |

907
(1)
908
(1)
909
(6)
910
(1)
911
(1)
911
(1)

| | |
| --- | --- |
| | Idiopathic Thrombocytopenic Purpura (ITP) |

912
(1)
913
(1)
913
(2)
915
(1)

| | |
| --- | --- |
| | Acquired Coagulation Disorders |

915
(7)
915
(1)
915
(1)

| | |
| --- | --- |
| | Complications of Anticoagulant Therapy |

916
(1)

| | |
| --- | --- |
| | Disseminated Intravascular Coagulation (DIC) |

916
(1)

| | |
| --- | --- |
| | Nursing Process: The Patient With Disseminated Intravascular Coagulation (DIC) |

916
(3)
919
(3)

| | |
| --- | --- |
| | Therapies for Blood Disorders |

922
(2)
922
(1)
923
(1)
923
(1)

| | |
| --- | --- |
| | Blood and Blood Component Therapy |

923
(1)
923
(1)

| | |
| --- | --- |
| | Procuring Blood and Blood Products |

924
(4)
924
(2)

| | |
| --- | --- |
| | Complications of Blood Donation |

926
(1)
926
(1)
926
(2)

| | |
| --- | --- |
| | Transfusion Complications |

928
(10)

| | |
| --- | --- |
| | Diseases Transmitted by Blood Transfusion |

930
(1)

| | |
| --- | --- |
| | Complications of Long-Term Transfusion Therapy |

930
(1)

| | |
| --- | --- |
| | Nursing Management for Transfusion Reactions |

930
(1)

| | |
| --- | --- |
| | Pharmacologic Alternatives to Blood Transfusions |

931
(1)

| | |
| --- | --- |
| | Peripheral Blood Stem Cell Transplantation (PBSCT) and Bone Marrow Transplantation (BMT) |

931
(7)

| | |
| --- | --- |
| | Unit 7 Digestive and Gastrointestinal Function |

938
(134)

| | |
| --- | --- |
| | Assessment of Digestive and Gastrointestinal Function |

940
(18)

| | |
| --- | --- |
| | Anatomic and Physiologic Overview |

941
(4)

| | |
| --- | --- |
| | Anatomy of the Gastrointestinal Tract |

941
(1)

| | |
| --- | --- |
| | Function of the Digestive System |

941
(4)
945
(2)

| | |
| --- | --- |
| | Health History and Clinical Manifestations |

945
(1)
946
(1)
947
(9)
947
(1)
948
(1)

| | |
| --- | --- |
| | Abdominal Ultrasonography |

948
(1)
949
(1)
949
(2)
951
(3)

| | |
| --- | --- |
| | Manometry and Electrophysiologic Studies |

954
(1)

| | |
| --- | --- |
| | Gastric Analysis, Gastric Acid Stimulation Test, and pH Monitoring |

955
(1)

| | |
| --- | --- |
| | Laparoscopy (Peritoneoscopy) |

955
(1)

| | |
| --- | --- |
| | Pathophysiologic and Psychological Considerations |

956
(2)

| | |
| --- | --- |
| | Management of Patients With Oral and Esophageal Disorders |

958
(26)
959
(3)
959
(2)

| | |
| --- | --- |
| | Dentoalveolar Abscess or Periapical Abscess |

961
(1)
962
(1)
962
(1)

| | |
| --- | --- |
| | Temporomandibular Disorders |

962
(1)

| | |
| --- | --- |
| | Disorders of the Salivary Glands |

963
(1)
963
(1)
963
(1)

| | |
| --- | --- |
| | Salivary Calculus (Sialolithiasis) |

963
(1)
964
(1)

| | |
| --- | --- |
| | Cancer of the Oral Cavity |

964
(4)

| | |
| --- | --- |
| | Nursing Process: The Patient With Conditions of the Oral Cavity |

965
(3)
968
(4)

| | |
| --- | --- |
| | Nursing Process: The Patient Undergoing a Neck Dissection |

969
(3)

| | |
| --- | --- |
| | Disorders of the Esophagus |

972
(12)
972
(1)
972
(3)
975
(2)
977
(1)
977
(1)
978
(1)
978
(1)
978
(1)

| | |
| --- | --- |
| | Gastroesophageal Reflux Disease |

979
(1)
979
(1)

| | |
| --- | --- |
| | Benign Tumors of the Esophagus |

979
(1)
979
(2)

| | |
| --- | --- |
| | Nursing Process: The Patient With a Condition of the Esophagus |

981
(3)

| | |
| --- | --- |
| | Gastrointestinal Intubation and Special Nutritional Modalities |

984
(26)

| | |
| --- | --- |
| | Gastrointestinal Intubation |

985
(7)
985
(1)
986
(1)
986
(1)

| | |
| --- | --- |
| | Nursing Management of Patients Undergoing Nasogastric or Nasoenteric Intubation |

987
(5)

| | |
| --- | --- |
| | Tube Feedings With Nasogastric and Nasoenteric Devices |

992
(6)
992
(1)
992
(1)

| | |
| --- | --- |
| | Tube Feeding Administration Methods |

993
(1)

| | |
| --- | --- |
| | Nursing Process: The Patient Receiving a Tube Feeding |

993
(5)
998
(3)

| | |
| --- | --- |
| | Nursing Process: The Patient With a Gastrostomy |

999
(2)
1001
(9)

| | |
| --- | --- |
| | Establishing Positive Nitrogen Balance |

1001
(1)
1002
(1)
1002
(1)
1002
(1)
1002
(2)

| | |
| --- | --- |
| | Discontinuing Parenteral Nutrition |

1004
(1)

| | |
| --- | --- |
| | Nursing Process: The Patient Receiving Parenteral Nutrition |

1004
(6)

| | |
| --- | --- |
| | Management of Patients With Gastric and Duodenal Disorders |

1010
(18)
1011
(4)

| | |
| --- | --- |
| | Nursing Process: The Patient With Gastritis |

1011
(4)

| | |
| --- | --- |
| | Gastric and Duodenal Ulcers |

1015
(6)

| | |
| --- | --- |
| | Nursing Process: The Patient With Ulcer Disease |

1017
(4)
1021
(1)
1022
(3)

| | |
| --- | --- |
| | Nursing Process: The Patient With Gastric Cancer |

1023
(2)
1025
(3)

| | |
| --- | --- |
| | Nursing Process: The Patient Undergoing Gastric Surgery |

1025
(3)

| | |
| --- | --- |
| | Management of Patients With Intestinal and Rectal Disorders |

1028
(44)

| | |
| --- | --- |
| | Abnormalities of Fecal Elimination |

1029
(5)
1029
(1)
1030
(2)
1032
(1)
1033
(1)

| | |
| --- | --- |
| | Conditions of Malabsorption |

1034
(1)

| | |
| --- | --- |
| | Acute Inflammatory Intestinal Disorders |

1034
(6)
1034
(3)
1037
(1)

| | |
| --- | --- |
| | Nursing Process: The Patient With Diverticulitis |

1038
(1)
1039
(1)

| | |
| --- | --- |
| | Inflammatory Bowel Disease |

1040
(14)

| | |
| --- | --- |
| | Regional Enteritis (Crohn's Disease) |

1041
(1)
1042
(2)

| | |
| --- | --- |
| | Nursing Process: Management of the Patient With Inflammatory Bowel Disease |

1044
(3)

| | |
| --- | --- |
| | Nursing Management of the Patient Requiring an Ileostomy |

1047
(7)
1054
(12)
1055
(1)
1056
(1)
1056
(2)

| | |
| --- | --- |
| | Nursing Process: The Patient With Colorectal Cancer |

1058
(7)

| | |
| --- | --- |
| | Polyps of the Colon and Rectum |

1065
(1)

| | |
| --- | --- |
| | Diseases of the Anorectum |

1066
(6)
1066
(1)
1066
(1)
1066
(1)
1066
(1)

| | |
| --- | --- |
| | Sexually Transmitted Anorectal Diseases |

1067
(1)
1067
(1)

| | |
| --- | --- |
| | Nursing Process: The Patient With an Anorectal Condition |

1068
(4)

| | |
| --- | --- |
| | Unit 8 Metabolic and Endocrine Function |

1072
(176)

| | |
| --- | --- |
| | Assessment and Management of Patients With Hepatic Disorders |

1074
(49)

| | |
| --- | --- |
| | Anatomic and Physiologic Overview |

1075
(2)
1075
(1)
1076
(1)
1077
(1)
1077
(1)
1078
(1)
1078
(3)
1078
(1)
1078
(3)
1081
(1)
1081
(12)
1081
(1)
1082
(1)
1082
(3)
1085
(5)

| | |
| --- | --- |
| | Hepatic Encephalopathy and Coma |

1090
(3)

| | |
| --- | --- |
| | Other Manifestations of Liver Dysfunction |

1093
(1)

| | |
| --- | --- |
| | Management of Patients With Viral Hepatic Disorders |

1093
(7)
1093
(1)
1094
(3)
1097
(2)
1099
(1)
1100
(1)
1100
(1)

| | |
| --- | --- |
| | Hepatitis G (HGV) and GB Virus-C |

1100
(1)

| | |
| --- | --- |
| | Management of Patients With Nonviral Hepatic Disorders |

1100
(13)
1100
(1)
1100
(1)

| | |
| --- | --- |
| | Fulminant Hepatic Failure |

1101
(1)
1101
(2)

| | |
| --- | --- |
| | Nursing Process: The Patient With Hepatic Cirrhosis |

1103
(10)
1113
(2)
1113
(1)
1113
(2)
1115
(3)
1116
(1)
1117
(1)
1118
(5)

| | |
| --- | --- |
| | Assessment and Management of Patients With Biliary Disorders |

1123
(26)

| | |
| --- | --- |
| | Anatomic and Physiologic Overview |

1124
(2)

| | |
| --- | --- |
| | Anatomy of the Gallbladder |

1124
(1)

| | |
| --- | --- |
| | Function of the Gallbladder |

1124
(1)
1124
(2)

| | |
| --- | --- |
| | Disorders of the Gallbladder |

1126
(9)
1126
(1)
1126
(7)

| | |
| --- | --- |
| | Nursing Process: The Patient Undergoing Surgery for Gallbladder Disease |

1133
(2)

| | |
| --- | --- |
| | Disorders of the Pancreas |

1135
(14)
1135
(3)

| | |
| --- | --- |
| | Nursing Process: The Patient With Acute Pancreatitis |

1138
(4)
1142
(1)
1143
(1)
1144
(1)

| | |
| --- | --- |
| | Tumors of the Head of the Pancreas |

1145
(2)
1147
(1)
1147
(1)
1147
(2)

| | |
| --- | --- |
| | Assessment and Management of Patients With Diabetes Mellitus |

1149
(55)

| | |
| --- | --- |
| | Classification of Diabetes |

1151
(4)
1151
(1)

| | |
| --- | --- |
| | Physiology and Pathophysiology of Diabetes |

1151
(2)
1153
(1)
1153
(1)
1154
(1)
1155
(16)
1156
(4)
1160
(1)

| | |
| --- | --- |
| | Monitoring Glucose Levels and Ketones |

1161
(2)
1163
(8)
1171
(7)
1171
(1)

| | |
| --- | --- |
| | Developing a Diabetic Teaching Plan |

1172
(1)
1173
(5)

| | |
| --- | --- |
| | Acute Complications of Diabetes |

1178
(10)

| | |
| --- | --- |
| | Hypoglycemia (Insulin Reactions) |

1178
(2)
1180
(3)

| | |
| --- | --- |
| | Hyperglycemic Hyperosmolar Nonketotic Syndrome |

1183
(1)

| | |
| --- | --- |
| | Nursing Process: The Patient Newly Diagnosed With Diabetes Mellitus |

1184
(4)

| | |
| --- | --- |
| | Long-Term Complications of Diabetes |

1188
(7)

| | |
| --- | --- |
| | Macrovascular Complications |

1188
(1)

| | |
| --- | --- |
| | Microvascular Complications and Diabetic Retinopathy |

1189
(2)
1191
(1)
1192
(2)
1194
(1)

| | |
| --- | --- |
| | Special Issues in Diabetes Care |

1195
(9)

| | |
| --- | --- |
| | The Patient With Diabetes Undergoing Surgery |

1195
(1)

| | |
| --- | --- |
| | Management of Hospitalized Diabetic Patients |

1196
(2)

| | |
| --- | --- |
| | Nursing Process: The Patient With Diabetes as a Secondary Diagnosis |

1198
(6)

| | |
| --- | --- |
| | Assessment and Management of Patients With Endocrine Disorders |

1204
(44)

| | |
| --- | --- |
| | Anatomic and Physiologic Overview |

1205
(1)

| | |
| --- | --- |
| | Glands of the Endocrine System |

1205
(1)

| | |
| --- | --- |
| | Function and Regulation of Hormones |

1206
(1)

| | |
| --- | --- |
| | Classification and Action of Hormones |

1206
(1)
1206
(1)

| | |
| --- | --- |
| | Health History and Clinical Manifestations |

1206
(1)
1207
(1)
1207
(2)

| | |
| --- | --- |
| | Management of Patients With Pituitary Disorders |

1209
(3)

| | |
| --- | --- |
| | Pituitary Function and Dysfunction |

1209
(2)
1211
(1)

| | |
| --- | --- |
| | Syndrome of Inappropriate Antidiuretic Hormone Secretion |

1212
(1)

| | |
| --- | --- |
| | Management of Patients With Thyroid Disorders |

1212
(19)

| | |
| --- | --- |
| | Thyroid Function and Dysfunction |

1212
(3)

| | |
| --- | --- |
| | Abnormal Thyroid Function |

1215
(1)
1215
(6)
1221
(3)

| | |
| --- | --- |
| | Nursing Process: The Patient With Hyperthyroidism |

1224
(2)
1226
(1)
1226
(1)

| | |
| --- | --- |
| | Endemic (Iodine-Deficient) Goiter |

1227
(1)
1227
(1)
1228
(3)

| | |
| --- | --- |
| | Management of Patients With Parathyroid Disorders |

1231
(3)
1231
(1)
1231
(1)
1232
(2)

| | |
| --- | --- |
| | Management of Patients With Adrenal Disorders |

1234
(9)
1234
(1)
1235
(2)

| | |
| --- | --- |
| | Adrenocortical Insufficiency (Addison's Disease) |

1237
(2)
1239
(1)

| | |
| --- | --- |
| | Nursing Process: The Patient With Cushing's Syndrome |

1240
(3)
1243
(5)
1244
(1)

| | |
| --- | --- |
| | Therapeutic Uses of Corticosteroids |

1244
(1)
1244
(1)
1245
(3)

| | |
| --- | --- |
| | Unit 9 Renal and Urinary Tract Function |

1248
(118)

| | |
| --- | --- |
| | Assessment of Renal and Urinary Tract Function |

1250
(21)

| | |
| --- | --- |
| | Anatomic and Physiologic Overview |

1251
(6)

| | |
| --- | --- |
| | Anatomy of the Upper and Lower Urinary Tracts |

1251
(2)

| | |
| --- | --- |
| | Physiology of the Upper and Lower Urinary Tracts |

1253
(4)
1257
(4)
1257
(2)
1259
(2)
1261
(7)

| | |
| --- | --- |
| | Urinalysis and Urine Culture |

1261
(1)
1262
(1)

| | |
| --- | --- |
| | X-Ray Films and Other Imaging Modalities |

1262
(3)

| | |
| --- | --- |
| | Urologic Endoscopic Procedures |

1265
(1)
1266
(1)
1267
(1)
1268
(3)
1268
(1)

| | |
| --- | --- |
| | Planning, Implementation, and Evaluation |

1268
(3)

| | |
| --- | --- |
| | Management of Patients With Upper or Lower Urinary Tract Dysfunction |

1271
(38)

| | |
| --- | --- |
| | Fluid and Electrolyte Imbalances in Renal Disorders |

1272
(1)

| | |
| --- | --- |
| | Dysfunctional Voiding Patterns |

1273
(12)

| | |
| --- | --- |
| | Congenital Voiding Dysfunction |

1274
(1)

| | |
| --- | --- |
| | Adult Voiding Dysfunction |

1274
(1)
1275
(3)
1278
(2)
1280
(5)
1285
(13)
1285
(5)

| | |
| --- | --- |
| | Continuous Renal Replacement Therapies |

1290
(1)
1291
(6)

| | |
| --- | --- |
| | Special Considerations: Care of the Hospitalized Dialysis Patient |

1297
(1)
1298
(11)

| | |
| --- | --- |
| | Preoperative Considerations |

1298
(1)
1299
(1)
1299
(1)

| | |
| --- | --- |
| | Nursing Process: The Patient Undergoing Kidney Surgery |

1300
(9)

| | |
| --- | --- |
| | Management of Patients With Urinary Disorders |

1309
(57)

| | |
| --- | --- |
| | Infections of the Urinary Tract |

1310
(7)

| | |
| --- | --- |
| | Lower Urinary Tract Infections |

1310
(4)

| | |
| --- | --- |
| | Nursing Process: The Patient With Lower Urinary Tract Infection |

1314
(1)

| | |
| --- | --- |
| | Upper Urinary Tract Infection: Acute Pyelonephritis |

1315
(1)

| | |
| --- | --- |
| | Upper Urinary Tract Infection: Chronic Pyelonephritis |

1316
(1)

| | |
| --- | --- |
| | Primary Glomerular Diseases |

1317
(4)
1317
(2)

| | |
| --- | --- |
| | Chronic Glomerulonephritis |

1319
(1)
1320
(1)
1321
(13)
1321
(5)

| | |
| --- | --- |
| | Chronic Renal Failure (End-Stage Renal Disease) |

1326
(8)
1334
(3)
1335
(1)
1335
(2)
1337
(5)

| | |
| --- | --- |
| | Nursing Process: The Patient With Kidney Stones |

1341
(1)
1342
(2)
1343
(1)
1343
(1)
1343
(1)
1343
(1)
1344
(3)
1344
(2)
1346
(1)
1347
(10)

| | |
| --- | --- |
| | Cutaneous Urinary Diversions |

1348
(4)

| | |
| --- | --- |
| | Continent Urinary Diversions |

1352
(1)

| | |
| --- | --- |
| | Other Urinary Diversion Procedures |

1353
(1)

| | |
| --- | --- |
| | Nursing Process: The Patient Undergoing Urinary Diversion Surgery |

1353
(4)

| | |
| --- | --- |
| | Other Urinary Tract Disorders |

1357
(9)

| | |
| --- | --- |
| | Unit 10 Reproductive Function |

1366
(152)

| | |
| --- | --- |
| | Assessment and Management of Female Physiologic Processes |

1368
(42)

| | |
| --- | --- |
| | Role of Nurses in Women's Health |

1369
(1)

| | |
| --- | --- |
| | Anatomic and Physiologic Overview |

1370
(2)

| | |
| --- | --- |
| | Anatomy of the Female Reproductive System |

1370
(1)

| | |
| --- | --- |
| | Function of the Female Reproductive System |

1370
(2)
1372
(9)

| | |
| --- | --- |
| | Health History and Clinical Manifestations |

1372
(5)
1377
(4)
1381
(4)

| | |
| --- | --- |
| | Cytologic Test for Cancer (Pap Smear) |

1381
(1)

| | |
| --- | --- |
| | Colposcopy and Cervical Biopsy |

1381
(1)

| | |
| --- | --- |
| | Cryotherapy and Laser Therapy |

1381
(1)
1382
(1)

| | |
| --- | --- |
| | Endometrial (Aspiration) Biopsy |

1382
(2)
1384
(1)
1384
(1)

| | |
| --- | --- |
| | Other Diagnostic Procedures |

1385
(1)

| | |
| --- | --- |
| | Management of Normal and Altered Female Physiologic Processes |

1385
(7)
1385
(1)
1386
(1)
1387
(2)
1389
(2)
1391
(1)
1391
(1)

| | |
| --- | --- |
| | Abnormal Uterine Bleeding |

1392
(1)

| | |
| --- | --- |
| | Management of Normal and Altered Female Reproductive Function |

1392
(18)
1392
(1)
1392
(6)
1398
(5)
1403
(2)

| | |
| --- | --- |
| | Nursing Process: The Patient With an Ectopic Pregnancy |

1405
(5)

| | |
| --- | --- |
| | Management of Patients With Female Reproductive Disorders |

1410
(35)
1411
(11)
1412
(1)

| | |
| --- | --- |
| | Seminal Plasma Protein Allergy |

1413
(1)
1413
(1)
1413
(1)

| | |
| --- | --- |
| | Nursing Process: The Patient With a Vulvovaginal Infection |

1414
(1)
1415
(1)

| | |
| --- | --- |
| | Herpesvirus Type 2 Infection (Herpes Genitalis, Herpes Simplex Virus) |

1416
(1)

| | |
| --- | --- |
| | Nursing Process: The Patient With a Genital Herpesvirus Infection |

1416
(1)
1417
(2)

| | |
| --- | --- |
| | Endocervicitis and Cervicitis |

1419
(1)
1419
(1)

| | |
| --- | --- |
| | Pelvic Infection (Pelvic Inflammatory Disease) |

1420
(1)

| | |
| --- | --- |
| | Human Immunodeficiency Virus Infection and Acquired Immunodeficiency Syndrome |

1421
(1)
1422
(3)
1422
(1)

| | |
| --- | --- |
| | Pelvic Organ Prolapse: Cystocele, Rectocele, Enterocele |

1422
(1)
1423
(2)
1425
(4)
1429
(8)
1429
(2)

| | |
| --- | --- |
| | Pregnancy-Related Neoplasm |

1431
(1)

| | |
| --- | --- |
| | Cancer of the Uterus (Endometrium) |

1432
(1)
1432
(1)

| | |
| --- | --- |
| | Nursing Process: The Patient Undergoing Vulvar Surgery |

1433
(2)
1435
(1)

| | |
| --- | --- |
| | Cancer of the Fallopian Tubes |

1435
(1)
1435
(2)
1437
(2)
1437
(1)
1437
(1)

| | |
| --- | --- |
| | Nursing Process: The Patient Undergoing a Hysterectomy |

1437
(2)
1439
(6)

| | |
| --- | --- |
| | Side Effects of Radiation Therapy |

1439
(1)

| | |
| --- | --- |
| | Methods of Radiation Therapy |

1440
(5)

| | |
| --- | --- |
| | Assessment and Management of Patients With Breast Disorders |

1445
(40)

| | |
| --- | --- |
| | Anatomic and Physiologic Overview |

1446
(1)
1447
(3)

| | |
| --- | --- |
| | Health History and Clinical Manifestations |

1447
(1)

| | |
| --- | --- |
| | Physical Assessment: Female Breast |

1447
(3)

| | |
| --- | --- |
| | Physical Assessment: Male Breast |

1450
(1)
1450
(3)
1450
(2)
1452
(1)
1452
(1)

| | |
| --- | --- |
| | Magnetic Resonance Imaging |

1453
(1)

| | |
| --- | --- |
| | Procedures for Tissue Analysis |

1453
(1)

| | |
| --- | --- |
| | Nursing Care of the Patient Undergoing a Breast Biopsy |

1453
(1)

| | |
| --- | --- |
| | Overview of Breast Conditions and Diseases |

1454
(1)

| | |
| --- | --- |
| | Conditions Affecting the Nipple |

1454
(1)
1454
(1)

| | |
| --- | --- |
| | Benign Conditions of the Breast |

1455
(1)

| | |
| --- | --- |
| | Fibrocystic Breast Changes |

1455
(1)
1456
(1)
1456
(1)

| | |
| --- | --- |
| | Benign Proliferative Breast Disease |

1456
(1)

| | |
| --- | --- |
| | Malignant Conditions of the Breast |

1456
(1)

| | |
| --- | --- |
| | Carcinoma in Situ (Noninvasive) |

1456
(1)
1457
(1)

| | |
| --- | --- |
| | Current Research in Breast Cancer |

1457
(1)
1458
(1)
1458
(9)

| | |
| --- | --- |
| | Special Issues in Breast Cancer Management |

1467
(11)
1467
(1)
1467
(1)

| | |
| --- | --- |
| | Quality of Life and Breast Cancer |

1468
(1)

| | |
| --- | --- |
| | Pregnancy and Breast Cancer |

1468
(1)

| | |
| --- | --- |
| | Nursing Process: The Patient With Breast Cancer |

1469
(6)
1475
(3)

| | |
| --- | --- |
| | Reconstructive Breast Surgery |

1478
(3)
1479
(1)
1479
(1)

| | |
| --- | --- |
| | Reconstructive Procedures After Mastectomy |

1479
(2)

| | |
| --- | --- |
| | Diseases of the Male Breast |

1481
(4)
1481
(1)
1481
(4)

| | |
| --- | --- |
| | Assessment and Management of Problems Related to Male Reproductive Processes |

1485
(33)

| | |
| --- | --- |
| | Anatomic and Physiologic Overview |

1486
(1)
1486
(1)
1487
(1)
1487
(2)

| | |
| --- | --- |
| | Health History and Clinical Manifestations |

1487
(1)
1488
(1)
1489
(1)

| | |
| --- | --- |
| | Prostate-Specific Antigen Test |

1489
(1)
1489
(1)

| | |
| --- | --- |
| | Prostate Fluid or Tissue Analysis |

1489
(1)

| | |
| --- | --- |
| | Tests of Male Sexual Function |

1489
(1)

| | |
| --- | --- |
| | Disorders of Male Sexual Function |

1489
(2)
1489
(2)
1491
(1)

| | |
| --- | --- |
| | Infections of the Male Genitourinary Tract |

1491
(3)

| | |
| --- | --- |
| | Conditions of the Prostate |

1494
(14)
1494
(1)

| | |
| --- | --- |
| | Benign Prostatic Hyperplasia (Enlarged Prostate) |

1494
(1)
1495
(7)

| | |
| --- | --- |
| | The Patient Undergoing Prostate Surgery |

1502
(1)

| | |
| --- | --- |
| | Nursing Process: The Patient Undergoing Prostatectomy |

1503
(5)

| | |
| --- | --- |
| | Conditions Affecting the Testes and Adjacent Structures |

1508
(4)

| | |
| --- | --- |
| | Undescended Testis (Cryptorchidism) |

1508
(1)
1508
(1)
1508
(1)
1509
(2)
1511
(1)
1511
(1)
1511
(1)

| | |
| --- | --- |
| | Conditions Affecting the Penis |

1512
(6)

| | |
| --- | --- |
| | Hypospadias and Epispadias |

1512
(1)
1512
(1)
1512
(1)
1512
(1)
1513
(1)
1513
(1)
1513
(5)

| | |
| --- | --- |
| | Unit 11 Immunologic Function |

1518
(118)

| | |
| --- | --- |
| | Assessment of Immune Function |

1520
(17)

| | |
| --- | --- |
| | Anatomic and Physiologic Overview |

1521
(9)

| | |
| --- | --- |
| | Anatomy of the Immune System |

1521
(1)

| | |
| --- | --- |
| | Immune Function: Defenses and Responses |

1522
(8)
1530
(1)
1530
(1)
1530
(1)
1531
(1)
1531
(4)
1531
(4)
1535
(1)
1535
(2)

| | |
| --- | --- |
| | Management of Patients With Immunodeficiency |

1537
(10)

| | |
| --- | --- |
| | Primary Immunodeficiencies |

1538
(5)
1538
(2)
1540
(1)
1541
(1)

| | |
| --- | --- |
| | Combined B-Cell and T-Cell Deficiencies |

1542
(1)

| | |
| --- | --- |
| | Deficiencies of the Complement System |

1542
(1)

| | |
| --- | --- |
| | Secondary Immunodeficiencies |

1543
(1)

| | |
| --- | --- |
| | Nursing Management For Patients With Immunodeficiencies |

1543
(4)

| | |
| --- | --- |
| | Management of Patients With HIV Infection and AIDS |

1547
(33)
1548
(28)

| | |
| --- | --- |
| | Nursing Process: The Patient With AIDS |

1565
(11)

| | |
| --- | --- |
| | Emotional and Ethical Concerns |

1576
(4)

| | |
| --- | --- |
| | Assessment and Management of Patients With Allergic Disorders |

1580
(25)

| | |
| --- | --- |
| | Allergic Reaction: Physiologic Overview |

1581
(5)

| | |
| --- | --- |
| | Function and Production of Immunoglobulins |

1581
(1)
1582
(1)

| | |
| --- | --- |
| | Function of Chemical Mediators |

1582
(2)
1584
(2)
1586
(1)

| | |
| --- | --- |
| | Health History and Clinical Manifestations |

1586
(1)
1586
(3)

| | |
| --- | --- |
| | Complete Blood Count With Differential |

1586
(1)
1586
(1)

| | |
| --- | --- |
| | Total Serum Immunoglobulin E Levels |

1586
(1)
1586
(3)
1589
(1)
1589
(1)
1589
(14)
1589
(2)
1591
(4)

| | |
| --- | --- |
| | Nursing Process: The Patient With Allergic Rhinitis |

1595
(2)
1597
(1)
1597
(1)

| | |
| --- | --- |
| | Dermatitis Medicamentosa (Drug Reactions) |

1598
(1)

| | |
| --- | --- |
| | Urticaria and Angioneurotic Edema |

1599
(1)
1599
(1)
1599
(1)
1600
(1)
1600
(3)

| | |
| --- | --- |
| | New Approaches to Treatment of Allergic Diseases |

1603
(2)

| | |
| --- | --- |
| | Assessment and Management of Patients With Rheumatic Disorders |

1605
(31)
1606
(14)

| | |
| --- | --- |
| | Nursing Process: The Patient With a Rheumatic Disease |

1612
(8)

| | |
| --- | --- |
| | Diffuse Connective Tissue Diseases |

1620
(7)
1621
(2)

| | |
| --- | --- |
| | Systemic Lupus Erythematosus |

1623
(2)
1625
(1)
1626
(1)
1626
(1)

| | |
| --- | --- |
| | Degenerative Joint Disease (Osteoarthritis) |

1627
(1)
1628
(1)
1629
(1)

| | |
| --- | --- |
| | Reactive Arthritis (Reiter's Syndrome) |

1629
(1)
1629
(1)

| | |
| --- | --- |
| | Metabolic and Endocrine Diseases Associated With Rheumatic Disorders |

1629
(2)
1630
(1)
1631
(1)

| | |
| --- | --- |
| | Arthritis Associated With Infectious Organisms |

1631
(1)

| | |
| --- | --- |
| | Neoplasms and Neurovascular, Bone, and Extra-Articular Disorders |

1631
(1)
1632
(4)

| | |
| --- | --- |
| | Unit 12 Integumentary Function |

1636
(108)

| | |
| --- | --- |
| | Assessment of Integumentary Function |

1638
(16)

| | |
| --- | --- |
| | Anatomic and Physiologic Overview |

1639
(5)

| | |
| --- | --- |
| | Anatomy of the Skin, Hair, Nails, and Glands of the Skin |

1639
(3)
1642
(2)
1644
(8)

| | |
| --- | --- |
| | Health History and Clinical Manifestations |

1644
(1)
1645
(7)
1652
(2)
1652
(1)
1652
(1)
1652
(1)
1652
(1)
1652
(1)
1652
(1)
1653
(1)

| | |
| --- | --- |
| | Management of Patients With Dermatologic Problems |

1654
(49)

| | |
| --- | --- |
| | Skin Care for Patients With Skin Conditions |

1655
(1)

| | |
| --- | --- |
| | Wound Care for Skin Conditions |

1655
(5)
1660
(5)
1665
(3)
1665
(1)
1665
(1)
1666
(2)

| | |
| --- | --- |
| | Bacterial Infections: Pyodermas |

1668
(2)
1668
(1)

| | |
| --- | --- |
| | Folliculitis, Furuncles, and Carbuncles |

1669
(1)
1670
(2)
1670
(1)
1671
(1)
1671
(1)
1671
(1)

| | |
| --- | --- |
| | Fungal (Mycotic) Infections |

1672
(2)

| | |
| --- | --- |
| | Parasitic Skin Infestation |

1674
(2)
1676
(1)

| | |
| --- | --- |
| | Noninfectious Inflammatory Dermatoses |

1676
(5)
1676
(3)

| | |
| --- | --- |
| | Nursing Process: Care of the Patient With Psoriasis |

1679
(2)
1681
(1)
1681
(5)
1681
(1)
1682
(1)
1682
(1)
1682
(1)

| | |
| --- | --- |
| | Nursing Process: Care of the Patient With Blistering Diseases |

1683
(1)

| | |
| --- | --- |
| | Toxic Epidermal Necrolysis and Stevens-Johnson Syndrome |

1684
(1)

| | |
| --- | --- |
| | Nursing Process: Care of the Patient With Toxic Epidermal Necrolysis |

1685
(1)
1686
(1)

| | |
| --- | --- |
| | Benign Tumors of the Skin |

1686
(1)

| | |
| --- | --- |
| | Malignant Tumors of the Skin: Skin Cancer |

1687
(7)

| | |
| --- | --- |
| | Basal Cell and Squamous Cell Carcinoma |

1688
(2)
1690
(1)

| | |
| --- | --- |
| | Nursing Process: Care of the Patient With Malignant Melanoma |

1691
(3)
1694
(1)

| | |
| --- | --- |
| | Other Malignancies of the Skin |

1694
(1)
1694
(1)

| | |
| --- | --- |
| | Basal and Squamous Cell Carcinomas in the Immunocompromised Population |

1694
(1)

| | |
| --- | --- |
| | Dermatologic and Plastic Reconstructive Surgery |

1695
(5)

| | |
| --- | --- |
| | Wound Coverage: Grafts and Flaps |

1695
(2)
1697
(1)
1697
(1)

| | |
| --- | --- |
| | Facial Reconstructive Surgery |

1697
(1)

| | |
| --- | --- |
| | Nursing Process: Care of the Patient With Facial Reconstruction |

1698
(2)
1700
(1)

| | |
| --- | --- |
| | Laser Treatment of Cutaneous Lesions |

1700
(3)
1700
(1)
1700
(1)
1701
(2)

| | |
| --- | --- |
| | Management of Patients With Burn Injury |

1703
(41)
1704
(1)

| | |
| --- | --- |
| | Outlook for Survival and Recovery |

1705
(1)
1705
(5)
1705
(1)

| | |
| --- | --- |
| | Local and Systemic Responses to Burns |

1706
(4)

| | |
| --- | --- |
| | Management of the Patient With a Burn Injury |

1710
(29)

| | |
| --- | --- |
| | Emergent/Resuscitative Phase of Burn Care |

1710
(8)

| | |
| --- | --- |
| | Acute or Intermediate Phase of Burn Care |

1718
(8)

| | |
| --- | --- |
| | Disorders of Wound Healing |

1726
(9)

| | |
| --- | --- |
| | Rehabilitation Phase of Burn Care |

1735
(4)
1739
(5)

| | |
| --- | --- |
| | Unit 13 Sensorineural Function |

1744
(74)

| | |
| --- | --- |
| | Assessment and Management of Patients With Eye and Vision Disorders |

1746
(43)

| | |
| --- | --- |
| | Anatomic and Physiologic Overview |

1747
(3)
1750
(1)
1750
(1)
1751
(2)
1753
(4)
1753
(1)
1753
(4)
1757
(4)
1761
(3)
1764
(3)
1764
(1)
1765
(1)
1765
(1)
1766
(1)
1767
(4)
1767
(1)

| | |
| --- | --- |
| | Retinal Vascular Disorders |

1768
(1)
1769
(2)

| | |
| --- | --- |
| | Orbital and Ocular Trauma |

1771
(3)

| | |
| --- | --- |
| | Infectious and Inflammatory Conditions |

1774
(4)
1774
(1)
1775
(2)
1777
(1)
1777
(1)

| | |
| --- | --- |
| | Orbital and Ocular Tumors |

1778
(2)
1778
(1)
1778
(2)

| | |
| --- | --- |
| | Surgical Procedures and Enucleation |

1780
(1)
1780
(1)
1780
(1)

| | |
| --- | --- |
| | Ocular Consequences of Systemic Disease |

1781
(1)
1781
(1)

| | |
| --- | --- |
| | Cytomegalovirus Retinitis |

1781
(1)

| | |
| --- | --- |
| | Hypertension-Related Eye Changes |

1782
(1)

| | |
| --- | --- |
| | Concepts in Ocular Medication Administration |

1782
(3)

| | |
| --- | --- |
| | Commonly Used Ocular Medications |

1783
(1)
1784
(1)
1785
(1)
1786
(3)

| | |
| --- | --- |
| | Assessment and Management of Patients With Hearing and Balance Disorders |

1789
(29)

| | |
| --- | --- |
| | Anatomic and Physiologic Overview |

1790
(3)

| | |
| --- | --- |
| | Anatomy of the External Ear |

1790
(1)

| | |
| --- | --- |
| | Anatomy of the Middle Ear |

1790
(2)
1792
(1)
1793
(1)
1793
(2)

| | |
| --- | --- |
| | Inspection of the External Ear |

1793
(1)
1793
(2)

| | |
| --- | --- |
| | Evaluation of Gross Auditory Acuity |

1795
(1)
1795
(2)
1797
(3)

| | |
| --- | --- |
| | Conditions of the External Ear |

1800
(1)
1800
(1)
1800
(1)

| | |
| --- | --- |
| | External Otitis (Otitis Externa) |

1800
(1)

| | |
| --- | --- |
| | Malignant External Otitis |

1801
(1)

| | |
| --- | --- |
| | Masses of the External Ear |

1801
(1)
1801
(1)

| | |
| --- | --- |
| | Conditions of the Middle Ear |

1801
(5)

| | |
| --- | --- |
| | Tympanic Membrane Perforation |

1801
(1)
1801
(1)
1802
(1)
1802
(1)

| | |
| --- | --- |
| | Nursing Process: The Patient Undergoing Mastoid Surgery |

1803
(2)
1805
(1)
1805
(1)

| | |
| --- | --- |
| | Conditions of the Inner Ear |

1806
(6)
1806
(1)
1807
(1)
1808
(1)

| | |
| --- | --- |
| | Benign Paroxysmal Positional Vertigo |

1808
(1)
1808
(1)
1808
(4)
1812
(6)
1812
(2)

| | |
| --- | --- |
| | Implanted Hearing Devices |

1814
(1)
1815
(3)

| | |
| --- | --- |
| | Unit 14 Neurologic Function |

1818
(182)

| | |
| --- | --- |
| | Assessment of Neurologic Function |

1820
(29)

| | |
| --- | --- |
| | Anatomic and Physiologic Overview |

1821
(13)

| | |
| --- | --- |
| | Anatomy of the Nervous System |

1821
(13)

| | |
| --- | --- |
| | Assessment: The Neurologic Examination |

1834
(8)
1834
(1)
1834
(1)
1835
(7)
1842
(7)

| | |
| --- | --- |
| | Computed Tomography Scanning |

1842
(1)

| | |
| --- | --- |
| | Positron Emission Tomography |

1842
(1)

| | |
| --- | --- |
| | Single Photon Emission Computed Tomography |

1843
(1)

| | |
| --- | --- |
| | Magnetic Resonance Imaging |

1843
(1)
1844
(1)
1844
(1)

| | |
| --- | --- |
| | Noninvasive Carotid Flow Studies |

1844
(1)
1844
(1)
1845
(1)
1845
(1)
1845
(1)
1846
(1)

| | |
| --- | --- |
| | Lumbar Puncture and Examination of Cerebrospinal Fluid |

1846
(3)

| | |
| --- | --- |
| | Management of Patients With Neurologic Dysfunction |

1849
(38)

| | |
| --- | --- |
| | Altered Level of Consciousness |

1850
(6)

| | |
| --- | --- |
| | Nursing Process: The Patient With an Altered Level of Consciousness |

1851
(5)

| | |
| --- | --- |
| | Increased Intracranial Pressure |

1856
(10)

| | |
| --- | --- |
| | Nursing Process: The Patient With Increased ICP |

1860
(6)
1866
(7)

| | |
| --- | --- |
| | Nursing Process: The Patient Undergoing Intracranial Surgery |

1868
(5)
1873
(1)
1873
(8)
1873
(1)
1874
(3)

| | |
| --- | --- |
| | Nursing Process: The Patient With Epilepsy |

1877
(3)
1880
(1)
1881
(6)

| | |
| --- | --- |
| | Management of Patients With Cerebrovascular Disorders |

1887
(23)
1888
(14)

| | |
| --- | --- |
| | Nursing Process: The Patient Recovering from an Ischemic Stroke |

1895
(7)
1902
(8)

| | |
| --- | --- |
| | Nursing Process: The Patient With a Hemorrhagic Stroke |

1905
(5)

| | |
| --- | --- |
| | Management of Patients With Neurologic Trauma |

1910
(32)
1911
(2)
1913
(13)

| | |
| --- | --- |
| | Nursing Process: The Patient With a Brain Injury |

1917
(9)
1926
(16)

| | |
| --- | --- |
| | Nursing Process: The Patient With Acute Spinal Cord Injury |

1931
(4)

| | |
| --- | --- |
| | Nursing Process: The Patient With Quadriplegia or Paraplegia |

1935
(7)

| | |
| --- | --- |
| | Management of Patients With Neurologic Infections, Autoimmune Disorders, and Neuropathies |

1942
(27)

| | |
| --- | --- |
| | Infectious Neurologic Disorders |

1943
(6)
1943
(2)
1945
(1)

| | |
| --- | --- |
| | Herpes Simplex Virus Encephalitis |

1946
(1)

| | |
| --- | --- |
| | Arthropod-Borne Virus Encephalitis |

1947
(1)
1947
(1)

| | |
| --- | --- |
| | Creutzfeldt-Jakob and New-Variant Creutzfeldt-Jakob Disease |

1948
(1)
1949
(13)
1949
(3)

| | |
| --- | --- |
| | Nursing Process: The Patient With Multiple Sclerosis |

1952
(4)
1956
(2)
1958
(1)

| | |
| --- | --- |
| | Nursing Process: The Patient With Guillain-Barre Syndrome |

1959
(3)
1962
(4)

| | |
| --- | --- |
| | Trigeminal Neuralgia (Tic Douloureux) |

1962
(3)
1965
(1)

| | |
| --- | --- |
| | Disorders of the Peripheral Nervous System |

1966
(3)
1966
(1)
1966
(3)

| | |
| --- | --- |
| | Management of Patients With Oncologic or Degenerative Neurologic Disorders |

1969
(31)

| | |
| --- | --- |
| | Oncologic Disorders of the Brain and Spinal Cord |

1970
(9)
1970
(5)
1975
(1)

| | |
| --- | --- |
| | Nursing Process: The Patient With Cerebral Metastases or Incurable Brain Tumor |

1975
(2)
1977
(2)
1979
(21)
1979
(4)

| | |
| --- | --- |
| | Nursing Process: The Patient With Parkinson's Disease |

1983
(3)
1986
(1)
1987
(1)

| | |
| --- | --- |
| | Amyotrophic Lateral Sclerosis |

1988
(1)
1989
(1)

| | |
| --- | --- |
| | Degenerative Disk Disease |

1990
(2)

| | |
| --- | --- |
| | Herniation of a Cervical Intervertebral Disk |

1992
(1)

| | |
| --- | --- |
| | Nursing Process: The Patient Undergoing a Cervical Discectomy |

1992
(2)

| | |
| --- | --- |
| | Herniation of a Lumbar Disk |

1994
(2)
1996
(4)

| | |
| --- | --- |
| | Unit 15 Musculoskeletal Function |

2000
(112)

| | |
| --- | --- |
| | Assessment of Musculoskeletal Function |

2002
(15)

| | |
| --- | --- |
| | Anatomic and Physiologic Overview |

2003
(4)

| | |
| --- | --- |
| | Structure and Function of the Skeletal System |

2003
(2)

| | |
| --- | --- |
| | Structure and Function of the Articular System |

2005
(1)

| | |
| --- | --- |
| | Structure and Function of the Skeletal Muscle System |

2006
(1)
2007
(7)
2007
(3)
2010
(4)
2014
(1)
2014
(1)
2014
(1)
2014
(1)
2015
(1)
2015
(1)
2015
(2)

| | |
| --- | --- |
| | Musculoskeletal Care Modalities |

2017
(29)

| | |
| --- | --- |
| | Managing Care of the Patient in a Cast |

2018
(5)
2018
(1)

| | |
| --- | --- |
| | Nursing Process: The Patient in a Cast |

2019
(4)

| | |
| --- | --- |
| | Specific Cast Management Considerations |

2023
(1)
2023
(1)
2023
(1)
2024
(1)

| | |
| --- | --- |
| | Managing the Patient With Splints and Braces |

2024
(1)

| | |
| --- | --- |
| | Managing the Patient With An External Fixator |

2025
(1)

| | |
| --- | --- |
| | Managing the Patient in Traction |

2025
(6)

| | |
| --- | --- |
| | Principles of Effective Traction |

2026
(1)
2026
(2)
2028
(1)

| | |
| --- | --- |
| | Nursing Process: The Patient in Traction |

2029
(2)

| | |
| --- | --- |
| | Managing the Patient Undergoing Orthopedic Surgery |

2031
(15)
2031
(1)
2032
(3)
2035
(4)

| | |
| --- | --- |
| | Nursing Process: Preoperative Care of the Patient Undergoing Orthopedic Surgery |

2039
(2)

| | |
| --- | --- |
| | Nursing Process: Postoperative Care of the Patient Undergoing Orthopedic Surgery |

2041
(5)

| | |
| --- | --- |
| | Management of Patients With Musculoskeletal Disorders |

2046
(29)

| | |
| --- | --- |
| | Common Musculoskeletal Problems |

2047
(5)
2047
(1)

| | |
| --- | --- |
| | Nursing Process: The Patient With Acute Low Back Pain |

2048
(4)

| | |
| --- | --- |
| | Common Problems of the Upper Extremity |

2052
(2)
2052
(1)
2052
(1)
2052
(1)
2052
(1)
2052
(1)
2053
(1)

| | |
| --- | --- |
| | Nursing Process: The Patient Undergoing Surgery of the Hand or Wrist |

2053
(1)
2054
(3)
2055
(1)
2055
(1)
2055
(1)
2055
(1)
2055
(1)
2055
(1)
2056
(1)
2056
(1)
2056
(1)

| | |
| --- | --- |
| | Nursing Process: The Patient Undergoing Foot Surgery |

2056
(1)
2057
(7)
2057
(3)

| | |
| --- | --- |
| | Nursing Process: The Patient With a Spontaneous Vertebral Fracture Related to Osteoporosis |

2060
(3)
2063
(1)
2063
(1)

| | |
| --- | --- |
| | Musculoskeletal Infections |

2064
(4)
2064
(2)

| | |
| --- | --- |
| | Nursing Process: The Patient With Osteomyelitis |

2066
(1)

| | |
| --- | --- |
| | Septic (Infectious) Arthritis |

2067
(1)
2068
(7)
2068
(1)
2068
(1)
2068
(1)

| | |
| --- | --- |
| | Nursing Process: The Patient With a Bone Tumor |

2069
(6)

| | |
| --- | --- |
| | Management of Patients With Musculoskeletal Trauma |

2075
(37)

| | |
| --- | --- |
| | Contusions, Strains, and Sprains |

2076
(1)
2076
(1)
2077
(2)
2078
(1)

| | |
| --- | --- |
| | Epicondylitis (Tennis Elbow) |

2078
(1)

| | |
| --- | --- |
| | Lateral and Medial Collateral Ligament Injury |

2078
(1)

| | |
| --- | --- |
| | Anterior and Posterior Cruciate Ligament Injury |

2079
(1)
2079
(1)

| | |
| --- | --- |
| | Rupture of the Achilles Tendon |

2079
(1)
2079
(4)

| | |
| --- | --- |
| | Fracture Healing and Complications (Early and Delayed) |

2083
(3)
2083
(1)

| | |
| --- | --- |
| | Fat Embolism Syndrome (Early) |

2083
(1)

| | |
| --- | --- |
| | Compartment Syndrome (Early) |

2084
(1)

| | |
| --- | --- |
| | Other Early Complications |

2085
(1)

| | |
| --- | --- |
| | Delayed Union and Nonunion (Delayed) |

2085
(1)

| | |
| --- | --- |
| | Avascular Necrosis of Bone (Delayed) |

2086
(1)

| | |
| --- | --- |
| | Reaction to Internal Fixation Devices (Delayed) |

2086
(1)

| | |
| --- | --- |
| | Complex Regional Pain Syndrome (Delayed) |

2086
(1)

| | |
| --- | --- |
| | Heterotrophic Ossification (Delayed) |

2086
(1)

| | |
| --- | --- |
| | Fractures of Specific Sites |

2086
(17)
2087
(1)
2087
(1)
2087
(2)
2089
(1)
2089
(1)
2089
(1)
2090
(1)
2091
(1)
2091
(1)
2092
(4)
2096
(6)
2102
(1)
2102
(1)
2102
(1)
2103
(9)

| | |
| --- | --- |
| | Nursing Process: The Patient Undergoing an Amputation |

2105
(7)

| | |
| --- | --- |
| | Unit 16 Other Acute Problems |

2112
(87)

| | |
| --- | --- |
| | Management of Patients With Infectious Diseases |

2114
(33)
2115
(4)
2115
(2)

| | |
| --- | --- |
| | Colonization, Infection, and Disease |

2117
(1)
2118
(1)

| | |
| --- | --- |
| | Infection Control and Prevention |

2119
(6)

| | |
| --- | --- |
| | Organizations Involved in Infection Prevention |

2119
(1)

| | |
| --- | --- |
| | Preventing Infection in the Community |

2119
(3)

| | |
| --- | --- |
| | Preventing Infection in the Hospital |

2122
(3)

| | |
| --- | --- |
| | Emerging Infectious Diseases |

2125
(7)
2125
(1)
2125
(2)
2127
(1)

| | |
| --- | --- |
| | Hantavirus Pulmonary Syndrome |

2127
(1)

| | |
| --- | --- |
| | Ebola and Marburg Viruses |

2127
(1)

| | |
| --- | --- |
| | Severe Acute Respiratory Syndrome (SARS) |

2128
(1)
2128
(1)
2129
(1)

| | |
| --- | --- |
| | Nursing Process: The Patient With Infectious Diarrhea |

2130
(2)

| | |
| --- | --- |
| | Sexually Transmitted Diseases |

2132
(5)

| | |
| --- | --- |
| | Human Immunodeficiency Virus |

2132
(1)
2133
(1)
2134
(1)
2135
(1)

| | |
| --- | --- |
| | Nursing Process: The Patient With a Sexually Transmitted Disease |

2135
(2)

| | |
| --- | --- |
| | Home-Based Care of the Patient With An Infectious Disease |

2137
(10)
2137
(1)

| | |
| --- | --- |
| | Nursing Process: The Patient With an Infectious Disease |

2138
(9)
2147
(36)

| | |
| --- | --- |
| | Scope and Practice of Emergency Nursing |

2148
(2)

| | |
| --- | --- |
| | Issues in Emergency Nursing Care |

2148
(2)

| | |
| --- | --- |
| | Emergency Nursing and the Continuum of Care |

2150
(1)

| | |
| --- | --- |
| | Principles of Emergency Care |

2150
(1)
2150
(1)
2151
(1)
2151
(1)
2152
(4)
2156
(1)
2156
(1)
2157
(4)
2158
(1)
2159
(1)
2159
(1)
2160
(1)

| | |
| --- | --- |
| | Environmental Emergencies |

2161
(6)
2161
(1)
2162
(1)
2162
(1)
2163
(1)
2164
(1)
2164
(1)
2165
(1)

| | |
| --- | --- |
| | Injected Poisons: Stinging Insects |

2166
(1)
2166
(1)
2167
(3)

| | |
| --- | --- |
| | Ingested (Swallowed) Poisons |

2167
(1)

| | |
| --- | --- |
| | Inhaled Poisons: Carbon Monoxide Poisoning |

2167
(2)

| | |
| --- | --- |
| | Skin Contamination Poisoning (Chemical Burns) |

2169
(1)
2169
(1)
2170
(5)

| | |
| --- | --- |
| | Acute Alcohol Intoxication |

2170
(1)

| | |
| --- | --- |
| | Alcohol Withdrawal Syndrome/Delirium Tremens |

2170
(5)

| | |
| --- | --- |
| | Violence, Abuse, and Neglect |

2175
(3)

| | |
| --- | --- |
| | Family Violence, Abuse, and Neglect |

2175
(1)
2176
(1)

| | |
| --- | --- |
| | Violence in the Emergency Department |

2177
(1)
2178
(5)
2178
(1)
2178
(1)

| | |
| --- | --- |
| | Posttraumatic Stress Disorder |

2179
(1)

| | |
| --- | --- |
| | Underactive or Depressed Patients |

2179
(1)
2179
(4)

| | |
| --- | --- |
| | Terrorism, Mass Casualty, and Disaster Nursing |

2183
(16)
2184
(2)

| | |
| --- | --- |
| | Initiating the Emergency Operations Plan |

2186
(2)
2188
(1)
2189
(10)
Appendix A: Understanding Clinical Pathways
2199
(14)
Appendix B: Diagnostic Studies and Interpretation
2213
Index
1