Note: Supplemental materials are not guaranteed with Rental or Used book purchases.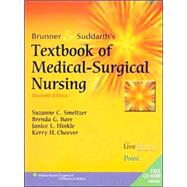 Questions About This Book?
What version or edition is this?
This is the 11th edition with a publication date of 12/12/2006.
What is included with this book?
The Used copy of this book is not guaranteed to include any supplemental materials. Typically, only the book itself is included.
Summary
Now in its eleventh edition, Brunner and Suddarth's Textbook of Medical-Surgical Nursing is designed to assist nurses in preparing for their roles and responsibilities in the health care settings. The textbook focuses on physiological, pathophysiological, and psychosocial concepts as they relate to nursing care; Brunner is known for its strong Nursing Process focus and its readability. This edition's thoroughly revamped CD-ROM includes over 3,500 NCLEX-style questions and numerous three-dimensional animations that demonstrate disease processes. The companion Website at http://thepoint.lww.com includes over 99 free journal articles.
Table of Contents
BASIC CONCEPTS IN NURSING: 1) Health Care Delivery & Nursing Practice. 2) Community-Based Nursing Practice. 3) Critical Thinking, Ethical Decision Making & the Nursing Process. 4) Health Education & Health Promotion. 5) Health Assessment BIOPHYSICAL & PSYCHOSOCIAL CONCEPTS IN NURSING PRACTICE: 6) Homeostasis, Stress & Adaptation. 7) Individual & Family Considerations Related to Illness. 8) Perspectives in Transcultural Nursing. 9) Genetics Perspectives in Nursing. 10) Chronic Illness. 11) Principles & Practices of Rehabilitation. 12) Health Care of the Older Adult CONCEPTS & CHALLENGES IN PATIENT MANAGEMENT: 13) Pain Management. 14) Fluids & Electrolytes: Balance & Disturbance. 15) Shock & Multisystem Failure. 16) Oncology: Nursing Management in Cancer Care. 17) End-of-Life Care PERIOPERATIVE CONCEPTS & NURSING MANAGEMENT: 18) Preoperative Nursing Management. 19) Intraoperative Nursing Management. 20) Postoperative Nursing Management GAS EXCHANGE & RESPIRATORY FUNCTION: 21) Assessment of Respiratory Function. 22) Upper Respiratory Tract Disorders. 23) Chest & Lower Respiratory Tract Disorders. 24) Chronic Obstructive Pulmonary Disease. 25) Respiratory Care Modalities CARDIOVASCULAR, CIRCULATORY & HEMATOLOGIC FUNCTION: 26) Assessment of Cardiovascular Function. 27) Dysrhythmias & Conduction Problems. 28) Coronary Vascular Disorders. 29) Structural, Infectious & Inflammatory Cardiac Disorders. 30) Complications From Heart Disease. 31) Vascular Disorders & Problems of Peripheral Circulation. 32) Hypertension. 33) Hematologic Disorders DIGESTIVE & GASTROINTESTINAL FUNCTION: 34) Assessment of Digestive & Gastrointestinal Function. 35) Oral & Esophageal Disorders. 36) Gastrointestinal Intubation & Special Nutritional Modalities. 37) Gastric & Duodenal Disorders. 38) Intestinal & Rectal Disorders METABOLIC & ENDOCRINE FUNCTION: 39) Hepatic Disorders. 40) Biliary Disorders. 41) Diabetes Mellitus. 42) Endocrine Disorders URINARY TRACT FUNCTION: 43) Assessment of Renal & Urinary Tract Function. 44) Kidney Disorders. 45) Urinary Disorders REPRODUCTIVE FUNCTION: 46) Assessment & Management of Female Physiologic Processes. 47) Management of Patients With Female Reproductive Disorders. 48) Assessment & Management of Patients With Breast Disorders. 49) Assessment & Management of Problems Related to Male Reproductive Processes IMMUNOLOGIC FUNCTION: 50) Assessment of Immune Function. 51) Management of Patients With Immunodeficiency. 52) Management of Patients With HIV Infection & AIDS. 53) Assessment & Management of Patients With Allergic Disorders. 54) Assessment & Management of Patients With Rheumatic Disorders INTEGUMENTARY FUNCTION: 55) Assessment of Integumentary Function. 56) Management of Patients With Dermatologic Problems. 57) Management of Patients With Burn Injury SENSORINEURAL FUNCTION: 58) Assessment & Management of Patients With Eye & Vision Disorders. 59) Assessment & Management of Patients With Hearing & Balance Disorders NEUROLOGIC FUNCTION: 60) Assessment of Neurologic Function. 61) Management of Patients with Neurologic Dysfunction. 62) Cerebrovascular Disorders. 63) Neurologic Trauma. 64) Neurologic Infections, Autoimmune Disorders & Neuropathies. 65) Oncologic or Degenerative Neurologic Disorders MUSCULOSKELETAL FUNCTION: 66) Assessment of Musculoskeletal Function. 67) Musculoskeletal Care Modalities. 68) Management of Patients With Musculoskeletal Disorders. 69) Management of Patients With Musculoskeletal Trauma OTHER ACUTE PROBLEMS: 70) Management of Patients With Infectious Diseases. 71) Emergency Nursing. 72) Terrorism, Mass Casualty & Disaster Nursing Appendix A: Diagnostic Studies & Interpretation. Appendix B: Understanding Clinical Pathways. Appendix C: Concept Maps