Note: Supplemental materials are not guaranteed with Rental or Used book purchases.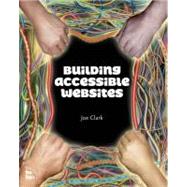 Building Accessible Websites
ISBN13:
9780735711501
by
Clark, Joe
Summary
Using a strategic approach to the issues in a journalistic style, this book will be a foundation for how people think about this issue going forward-the first book people would read on the topic, before delving into the minutiae of the moment. With lawsuits and human-rights complaints proliferating, and with simple awareness of accessibility percolating through the industry, soon it will be hard to find a web shop that won't be producing accessible sites, whether it presently has the experience and know-how or not. Government mandates, lawsuits from disability groups, more non-English speaking web users, and an increasing population of Web-enabled devices make this a vital topic.
Author Biography
Toronto journalist and accessibility consultant Joe Clark began his 20-year interest in accessibility on a fateful winter night in the mid-'70s when he stumbled across a captioned TV show. Clark bolsters his portfolio of nearly 400 published articles with a strong background in graphic design and over ten years' experience online. He writes, programs, and designs Websites from scratch. Clark works as a consultant to clients to improve the quality and quantity of accessible sites, video, cinema, and television.
Table of Contents
The Access Manifesto.
1. How to Read This Book.
2. Why Bother?
3. How Do Disabled People Use Computers?
4. What is Media Access?
5. The Structure of Accessible Pages.
6. The Image Problem.
7. Text and Links.
8. Navigation.
9. Type and Colour.
10. Tables and Frames.
11. Stylesheets.
12. Forms and Interaction.
13. Multimedia.
14. Certification and Testing.
15. Future Dreams.
Appendix A. Accessibility and the Law.
Appendix B. Language Codes.
Bibliography.
Colophon.

Excerpts
= 0) {slash = '\\';} else {slash = '/';}openLoc = figLoc.substring(0, figLoc.lastIndexOf(slash) + 1);while (pPage.substring(0,3) == '../') {openLoc = openLoc.substring(0, openLoc.lastIndexOf(slash, openLoc.length - 2)+ 1);pPage = pPage.substring(3, pPage.length + 1);}popUpWin =window.open('','popWin','resizable=1,scrollbars=1,location=0,toolbar=0,width=525,height=394');figDoc = popUpWin.document;zhtm= ' ' + pPage + ' ';zhtm += ' ';zhtm += ' ';zhtm += ' ';zhtm += '' + pPage.substring(pPage.lastIndexOf('/') + 1, pPage.length) + '';zhtm += ' ';figDoc.write(zhtm);figDoc.close();}// modified 3.1.99 RWE v4.1 --> the access manifesto The Access Manifesto The true reason to design for accessibility is greed. Quite simply,I want it all, and so should you. Give us everything you've got. Give us everything there is to give. Designers assume accessibility means a boring site, a myth borne out by oldschool accessibility advocates, whose hostility to visual appeal is barely suppressed. Neither camp has its head screwed on right. It's not either-or; it's both-and. I want nothing less than spectacular graphic design, intelligent, well-tested usability, high-calibre writing with typography to match, top-flight photography and illustration, and resolute cleverness. I want standards compliance, with old, incompatible browsers left to die on the ice floes. And while all this is happening, I want the highest practicable accessibility standards. I brook no compromises. Why should you? I'll tell you where all this comes from. I respond strongly to visual stimuliand to words, an unusual combination. If you've read Howard Gardner's Theory of Multiple Intelligences (Basic Books, 1983), you'll be familiar with the idea that the human brain fires on a number of different cylinders, as it were, which explains why kids who are good in gym class are often lousy in math. Now, in my case the faculties are asymmetrical: I can write but I can't draw. Yet both words and pictures speak to me. I go back over twenty years in accessibility, dating from a prophetic night at age 13 when I stumbled upon an open-captioned television program, The Captioned ABC News. Curiosity immediately took root about this newscast, with its heavily-edited visible words partially duplicating the news anchor's delivery. One detail grew significant: Why did the W in the captioning typeface stand higher than the other lower-case letters, and why were the quotation marks two little dots? Posing those questions to the actual captioners led me to discover typography and graphic design, which I have obsessed over, written about, and practiced ever since. I love good TV, good cinema, good graphic design. I have a modest understanding of photography, and am a published