Note: Supplemental materials are not guaranteed with Rental or Used book purchases.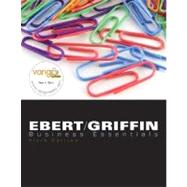 Questions About This Book?
What version or edition is this?
This is the 6th edition with a publication date of 1/1/2009.
What is included with this book?
The Used copy of this book is not guaranteed to include any supplemental materials. Typically, only the book itself is included.
Summary
Thisbest-selling bookcontinues to present abrief "no-nonsense "approach to the fundamentals of business that spans the range of all functional areas management, marketing, operations, accounting, information systems, finance, and legal studies.Topics comprehensively covered include: the contemporary business environment; the business of managing; principles of marketing; managing information; people in organizations; and financial issues.An excellent reference resource for business managers and executives; also appropriate for entrepreneurs and others involved in business relations.
Table of Contents
Preface
xix
Prologue
xxxiv

| | |
| --- | --- |
| | PART 1 THE CONTEMPORARY BUSINESS WORLD |

| | |
| --- | --- |
| | The U.S. Business Environment |

2
(34)

| | |
| --- | --- |
| | What Goes Up . . . Can Go Even Higher! |

2
(2)
4
(1)

| | |
| --- | --- |
| | The Concept of Business and the Concept of Profit |

5
(1)

| | |
| --- | --- |
| | The External Environments of Business |

6
(2)

| | |
| --- | --- |
| | Domestic Business Environment |

7
(1)

| | |
| --- | --- |
| | Global Business Environment |

7
(1)

| | |
| --- | --- |
| | Technological Environment |

7
(1)

| | |
| --- | --- |
| | Political-Legal Environment |

7
(1)

| | |
| --- | --- |
| | Sociocultural Environment |

8
(1)
8
(1)
8
(5)
8
(3)

| | |
| --- | --- |
| | Types of Economic Systems |

11
(2)

| | |
| --- | --- |
| | The Economics of Market Systems |

13
(5)

| | |
| --- | --- |
| | Demand and Supply in a Market Economy |

13
(2)

| | |
| --- | --- |
| | Private Enterprise and Competition in a Market Economy |

15
(3)
18
(11)

| | |
| --- | --- |
| | Economic Growth, Aggregate Output, and Standard of Living |

18
(5)
23
(3)

| | |
| --- | --- |
| | Managing the U.S. Economy |

26
(3)

| | |
| --- | --- |
| | Summary of Learning Objectives |

29
(1)
30
(1)
31
(1)

| | |
| --- | --- |
| | Building Your Business Skills: Paying the Price of Doing E-Business |

32
(1)

| | |
| --- | --- |
| | Exercising Your Ethics: Individual Exercise: Prescribing a Dose of Competitive Medicine |

33
(1)

| | |
| --- | --- |
| | Exercising Your Ethics: Team Exercise: Making the Right Decision |

34
(1)

| | |
| --- | --- |
| | Video Exercise: Helping Businesses Do Business: U.S. Department of Commerce |

35
(1)

| | |
| --- | --- |
| | Business Ethics and Social Responsibility |

36
(36)
36
(2)
38
(1)
38
(8)
39
(1)

| | |
| --- | --- |
| | Business and Managerial Ethics |

40
(1)

| | |
| --- | --- |
| | Assessing Ethical Behavior |

41
(2)

| | |
| --- | --- |
| | Company Practices and Business Ethics |

43
(3)
46
(5)

| | |
| --- | --- |
| | The Stakeholder Model of Responsibility |

46
(4)

| | |
| --- | --- |
| | Contemporary Social Consciousness |

50
(1)

| | |
| --- | --- |
| | Areas of Social Responsibility |

51
(8)

| | |
| --- | --- |
| | Responsibility Toward the Environment |

51
(3)

| | |
| --- | --- |
| | Responsibility Toward Customers |

54
(3)

| | |
| --- | --- |
| | Responsibility Toward Employees |

57
(1)

| | |
| --- | --- |
| | Responsibility Toward Investors |

58
(1)

| | |
| --- | --- |
| | Implementing Social Responsibility Programs |

59
(3)

| | |
| --- | --- |
| | Approaches to Social Responsibility |

60
(2)

| | |
| --- | --- |
| | Managing Social Responsibility Programs |

62
(1)

| | |
| --- | --- |
| | Social Responsibility and the Small Business |

62
(3)

| | |
| --- | --- |
| | Summary of Learning Objectives |

65
(1)
66
(1)
66
(1)

| | |
| --- | --- |
| | Building Your Business Skills: To Lie or Not to Lie: That Is the Question |

67
(1)

| | |
| --- | --- |
| | Exercising Your Ethics: Individual Exercise: Taking a Stance |

68
(1)

| | |
| --- | --- |
| | Exercising Your Ethics: Team Exercise: Finding the Balance |

69
(1)

| | |
| --- | --- |
| | Video Exercise: Doing the Right Thing: American Red Cross |

70
(2)

| | |
| --- | --- |
| | Entrepreneurship, New Ventures, and Business Ownership |

72
(34)

| | |
| --- | --- |
| | The Competitor from Out of the Blue |

72
(2)
74
(1)

| | |
| --- | --- |
| | What Is a ``Small'' Business? |

74
(5)

| | |
| --- | --- |
| | The Importance of Small Business in the U.S. Economy |

75
(1)

| | |
| --- | --- |
| | Popular Areas of Small Business Enterprise |

76
(3)
79
(1)

| | |
| --- | --- |
| | Entrepreneurial Characteristics |

79
(1)

| | |
| --- | --- |
| | Starting and Operating a New Business |

80
(4)
80
(1)

| | |
| --- | --- |
| | Starting the Small Business |

81
(2)

| | |
| --- | --- |
| | Financing the Small Business |

83
(1)

| | |
| --- | --- |
| | Trends, Successes, and Failures in New Ventures |

84
(4)

| | |
| --- | --- |
| | Trends in Small-Business Start-Ups |

85
(2)
87
(1)
88
(1)

| | |
| --- | --- |
| | Noncorporate Business Ownership |

88
(4)
90
(1)
90
(1)
91
(1)
92
(7)
92
(1)
93
(1)
94
(2)

| | |
| --- | --- |
| | Special Issues in Corporate Ownership |

96
(3)

| | |
| --- | --- |
| | Summary of Learning Objectives |

99
(2)
101
(1)
101
(1)

| | |
| --- | --- |
| | Building Your Business Skills: Working the Internet |

102
(1)

| | |
| --- | --- |
| | Exercising Your Ethics: Individual Exercise: Breaking Up Is Hard to Do |

103
(1)

| | |
| --- | --- |
| | Exercising Your Ethics: Team Exercise: Public or Private? That Is the Question |

103
(2)

| | |
| --- | --- |
| | Video Exercise: Doing Business Privately: Amy's Ice Cream |

105
(1)

| | |
| --- | --- |
| | The Global Context of Business |

106
(34)

| | |
| --- | --- |
| | Where Does Management Stand on Beer Breaks? |

106
(2)
108
(1)

| | |
| --- | --- |
| | The Contemporary Global Economy |

108
(13)

| | |
| --- | --- |
| | The Major World Marketplaces |

109
(3)

| | |
| --- | --- |
| | Trade Agreements and Alliances |

112
(3)
115
(4)
119
(1)

| | |
| --- | --- |
| | Forms of Competitive Advantage |

120
(1)

| | |
| --- | --- |
| | International Business Management |

121
(6)
121
(3)

| | |
| --- | --- |
| | Levels of International Involvement |

124
(1)

| | |
| --- | --- |
| | International Organization Structures |

125
(2)

| | |
| --- | --- |
| | Barriers to International Trade |

127
(5)

| | |
| --- | --- |
| | Social and Cultural Differences |

127
(1)
128
(1)

| | |
| --- | --- |
| | Legal and Political Differences |

128
(4)

| | |
| --- | --- |
| | Summary of Learning Objectives |

132
(1)
133
(1)
133
(1)

| | |
| --- | --- |
| | Building Your Business Skills: Finding Your Place |

134
(1)

| | |
| --- | --- |
| | Exercising Your Ethics: Individual Exercise: Paying Heed to Foreign Practices |

135
(1)

| | |
| --- | --- |
| | Exercising Your Ethics: Team Exercise: Weighing the Tradeoffs |

135
(2)

| | |
| --- | --- |
| | Crafting A Business Plan: Part 1: The Contemporary Business Environment |

137
(2)

| | |
| --- | --- |
| | Video Exercise: Globalizing the Long Arm of the Law: Printrak |

139
(1)

| | |
| --- | --- |
| | PART 2 THE BUSINESS OF MANAGING |

140
(32)

| | |
| --- | --- |
| | The Business of Bagging Customers |

140
(2)
142
(1)
142
(2)
144
(3)
144
(1)
145
(1)
145
(1)
146
(1)
147
(3)
147
(1)
148
(2)
150
(3)
150
(1)
150
(1)
151
(1)
151
(1)
151
(1)

| | |
| --- | --- |
| | Management Skills for the Twenty-First Century |

152
(1)

| | |
| --- | --- |
| | Strategic Management: Setting Goals and Formulating Strategy |

153
(6)
155
(1)
156
(1)
157
(2)
159
(1)

| | |
| --- | --- |
| | Contingency Planning and Crisis Management |

159
(2)
160
(1)
160
(1)

| | |
| --- | --- |
| | Management and the Corporate Culture |

161
(5)

| | |
| --- | --- |
| | Communicating the Culture and Managing Change |

162
(4)

| | |
| --- | --- |
| | Summary of Learning Objectives |

166
(1)
167
(1)
167
(1)

| | |
| --- | --- |
| | Building Your Business Skills: Speaking with Power |

168
(1)

| | |
| --- | --- |
| | Exercising Your Ethics: Individual Exercise: Making Room for Alternative Actions |

169
(1)

| | |
| --- | --- |
| | Exercising Your Ethics: Team Exercise: Clean Up Now, or Clean Up Later? |

169
(2)

| | |
| --- | --- |
| | Video Exercise: Imaginative Management: Creative Age Publications |

171
(1)
172
(30)

| | |
| --- | --- |
| | Cooking Up a New Structure |

172
(2)
174
(1)

| | |
| --- | --- |
| | What Is Organizational Structure? |

174
(2)
174
(1)

| | |
| --- | --- |
| | Determinants of Organizational Structure |

175
(1)

| | |
| --- | --- |
| | The Building Blocks of Organizational Structure |

176
(4)
176
(1)
177
(3)

| | |
| --- | --- |
| | Establishing the Decision-Making Hierarchy |

180
(5)

| | |
| --- | --- |
| | Distributing Authority: Centralization and Decentralization |

180
(3)
183
(1)
183
(2)

| | |
| --- | --- |
| | Basic Forms of Organizational Structure |

185
(7)
185
(1)
186
(2)
188
(1)
188
(3)

| | |
| --- | --- |
| | Organizational Design for the Twenty-First Century |

191
(1)
192
(3)
193
(1)
193
(1)
193
(2)

| | |
| --- | --- |
| | Summary of Learning Objectives |

195
(1)
196
(1)
196
(1)

| | |
| --- | --- |
| | Building Your Business Skills: Getting with the Program |

197
(1)

| | |
| --- | --- |
| | Exercising Your Ethics: Individual Exercise: Minding Your Own Business |

198
(1)

| | |
| --- | --- |
| | Exercising Your Ethics: Team Exercise: To Poach, or Not to Poach . . . |

199
(1)

| | |
| --- | --- |
| | Video Exercise: Juicing Up the Organization: Nantucket Nectars |

200
(2)

| | |
| --- | --- |
| | Operations Management and Quality |

202
(34)

| | |
| --- | --- |
| | Keeping Track of German Engineering |

202
(2)
204
(1)

| | |
| --- | --- |
| | What Does Operations Mean Today? |

204
(1)

| | |
| --- | --- |
| | Creating Value Through Operations |

205
(4)

| | |
| --- | --- |
| | Differences Between Service and Goods Manufacturing Operations |

206
(1)
207
(2)

| | |
| --- | --- |
| | Business Strategy as the Driver of Operations |

209
(2)

| | |
| --- | --- |
| | The Many Faces of Production Operations |

209
(2)
211
(5)
212
(1)
213
(1)
213
(1)
214
(1)
214
(2)
216
(3)

| | |
| --- | --- |
| | The Master Production Schedule |

216
(1)
216
(1)

| | |
| --- | --- |
| | Staff Schedules and Computer-Based Scheduling |

217
(1)

| | |
| --- | --- |
| | Project Scheduling with PERT |

217
(2)
219
(2)
219
(1)
220
(1)

| | |
| --- | --- |
| | Quality Improvement and Total Quality Management |

221
(3)
221
(1)

| | |
| --- | --- |
| | Tools for Total Quality Management |

222
(2)

| | |
| --- | --- |
| | Adding Value Through Supply Chains |

224
(4)

| | |
| --- | --- |
| | The Supply Chain Strategy |

224
(1)

| | |
| --- | --- |
| | Outsourcing and Global Supply Chains |

225
(3)

| | |
| --- | --- |
| | Summary of Learning Objectives |

228
(2)
230
(1)
230
(1)

| | |
| --- | --- |
| | Building Your Business Skills: The One-on-One Entrepreneur |

231
(1)

| | |
| --- | --- |
| | Exercising Your Ethics: Team Exercise: Promises, Promises |

232
(1)

| | |
| --- | --- |
| | Exercising Your Ethics: Calculating the Cost of Conscience |

233
(1)

| | |
| --- | --- |
| | Crafting A Business Plan: Part 2: The Business of Managing |

234
(1)

| | |
| --- | --- |
| | Video Exercise: Managing Global Production: Body Glove |

235
(1)

| | |
| --- | --- |
| | PART 3 PEOPLE IN ORGANIZATIONS |

| | |
| --- | --- |
| | Employee Behavior and Motivation |

236
(28)

| | |
| --- | --- |
| | What's the Deal About Work? |

236
(2)
238
(1)

| | |
| --- | --- |
| | Forms of Employee Behavior |

238
(2)
239
(1)

| | |
| --- | --- |
| | Organizational Citizenship |

239
(1)

| | |
| --- | --- |
| | Counterproductive Behaviors |

240
(1)

| | |
| --- | --- |
| | Individual Differences Among Employees |

240
(3)
240
(2)
242
(1)
243
(2)
243
(1)
244
(1)

| | |
| --- | --- |
| | Basic Motivation Concepts and Theories |

245
(6)
245
(1)
245
(3)

| | |
| --- | --- |
| | Contemporary Motivation Theory |

248
(3)

| | |
| --- | --- |
| | Strategies and Techniques for Enhancing Motivation |

251
(8)

| | |
| --- | --- |
| | Reinforcement/Behavior Modification |

251
(1)

| | |
| --- | --- |
| | Using Goals to Motivate Behavior |

252
(1)

| | |
| --- | --- |
| | Participative Management and Empowerment |

253
(1)
254
(1)

| | |
| --- | --- |
| | Job Enrichment and Job Redesign |

254
(1)
255
(4)

| | |
| --- | --- |
| | Summary of Learning Objectives |

259
(1)
260
(1)
260
(1)

| | |
| --- | --- |
| | Building Your Business Skills: Too Much of a Good Thing |

261
(1)

| | |
| --- | --- |
| | Exercising Your Ethics: Individual Exercise: Practicing Controlled Behavior |

262
(1)

| | |
| --- | --- |
| | Exercising Your Ethics: Team Exercise: Taking One for the Team |

262
(1)

| | |
| --- | --- |
| | Video Exercise: Computing Family Values: Kingston Technology |

263
(1)

| | |
| --- | --- |
| | Leadership and Decision Making |

264
(28)

| | |
| --- | --- |
| | Bringing the Bounty Back to P&G |

264
(2)
266
(1)
266
(2)

| | |
| --- | --- |
| | Early Approaches to Leadership |

268
(2)

| | |
| --- | --- |
| | Trait Approaches to Leadership |

268
(1)

| | |
| --- | --- |
| | Behavioral Approaches to Leadership |

269
(1)

| | |
| --- | --- |
| | The Situational Approach to Leadership |

270
(1)

| | |
| --- | --- |
| | Leadership Through the Eyes of Followers |

271
(2)

| | |
| --- | --- |
| | Transformational Leadership |

271
(1)
272
(1)

| | |
| --- | --- |
| | Special Issues in Leadership |

273
(2)
274
(1)
274
(1)

| | |
| --- | --- |
| | The Changing Nature of Leadership |

275
(2)
275
(1)
276
(1)

| | |
| --- | --- |
| | Cross-Cultural Leadership |

277
(1)

| | |
| --- | --- |
| | Emerging Issues in Leadership |

277
(3)
277
(1)
278
(1)
278
(2)

| | |
| --- | --- |
| | Leadership, Management, and Decision Making |

280
(6)
280
(3)

| | |
| --- | --- |
| | Behavioral Aspects of Decision Making |

283
(3)

| | |
| --- | --- |
| | Summary of Learning Objectives |

286
(1)
287
(1)
287
(1)

| | |
| --- | --- |
| | Building Your Business Skills: Learning to Lead |

288
(1)

| | |
| --- | --- |
| | Exercising Your Ethics: Individual Exercise: Exercising Charisma |

289
(1)

| | |
| --- | --- |
| | Exercising Your Ethics: Team Exercise: Forcing the Hand |

290
(1)

| | |
| --- | --- |
| | Video Exercise: What Is Business Leadership? |

291
(1)

| | |
| --- | --- |
| | Human Resource Management and Labor Relations |

292
(34)
292
(2)
294
(1)

| | |
| --- | --- |
| | The Foundations of Human Resource Management |

294
(3)

| | |
| --- | --- |
| | The Strategic Importance of HRM |

294
(1)
295
(2)

| | |
| --- | --- |
| | Staffing the Organization |

297
(3)

| | |
| --- | --- |
| | Recruiting Human Resources |

297
(1)

| | |
| --- | --- |
| | Selecting Human Resources |

297
(3)
300
(1)
300
(1)
300
(1)

| | |
| --- | --- |
| | Compensation and Benefits |

301
(3)
301
(1)
302
(2)
304
(1)
304
(4)

| | |
| --- | --- |
| | Equal Employment Opportunity |

305
(1)

| | |
| --- | --- |
| | Contemporary Legal Issues in HRM |

306
(2)

| | |
| --- | --- |
| | New Challenges in the Changing Workplace |

308
(3)

| | |
| --- | --- |
| | Managing Workforce Diversity |

308
(1)

| | |
| --- | --- |
| | Managing Knowledge Workers |

309
(2)

| | |
| --- | --- |
| | Contingent and Temporary Workers |

311
(1)

| | |
| --- | --- |
| | Dealing with Organized Labor |

311
(2)
312
(1)
313
(6)

| | |
| --- | --- |
| | Reaching Agreement on Contract Terms |

313
(1)
314
(1)
315
(4)

| | |
| --- | --- |
| | Summary of Learning Objectives |

319
(1)
320
(1)
320
(1)

| | |
| --- | --- |
| | Building Your Business Skills: A Little Collective Brainstorming |

321
(1)

| | |
| --- | --- |
| | Exercising Your Ethics: Individual Exercise: Operating Tactically |

322
(1)

| | |
| --- | --- |
| | Exercising Your Ethics: Team Exercise: Handling the Layoffs |

323
(1)

| | |
| --- | --- |
| | Crafting A Business Plan: Part 3: People in Organizations |

324
(1)

| | |
| --- | --- |
| | Video Exercise: Managing the Human Side of Business: Park Place Entertainment |

325
(1)

| | |
| --- | --- |
| | PART 4 PRINCIPLES OF MARKETING |

| | |
| --- | --- |
| | Marketing Processes and Consumer Behavior |

326
(36)

| | |
| --- | --- |
| | Dell-ivering on Consumer Electronics |

326
(2)
328
(1)
328
(7)

| | |
| --- | --- |
| | Providing Value and Satisfaction |

328
(1)

| | |
| --- | --- |
| | Goods, Services, and Ideas |

329
(1)

| | |
| --- | --- |
| | The Marketing Environment |

330
(3)

| | |
| --- | --- |
| | Strategy: The Marketing Mix |

333
(2)

| | |
| --- | --- |
| | Target Marketing and Market Segmentation |

335
(2)

| | |
| --- | --- |
| | Identifying Market Segments |

335
(2)

| | |
| --- | --- |
| | Understanding Consumer Behavior |

337
(2)

| | |
| --- | --- |
| | Influences on Consumer Behavior |

337
(1)

| | |
| --- | --- |
| | The Consumer Buying Process |

338
(1)

| | |
| --- | --- |
| | Organizational Marketing and Buying Behavior |

339
(1)
339
(1)

| | |
| --- | --- |
| | Organizational Buying Behavior |

340
(1)
340
(3)
341
(1)

| | |
| --- | --- |
| | Classifying Goods and Services |

342
(1)
343
(1)
343
(3)

| | |
| --- | --- |
| | The New Product Development Process |

343
(2)
345
(1)
346
(2)
346
(2)
348
(1)

| | |
| --- | --- |
| | The International Marketing Mix |

348
(2)
349
(1)
349
(1)

| | |
| --- | --- |
| | International Distribution |

350
(1)
350
(1)

| | |
| --- | --- |
| | Small Business and the Marketing Mix |

350
(4)

| | |
| --- | --- |
| | Summary of Learning Objectives |

354
(2)
356
(1)
356
(1)

| | |
| --- | --- |
| | Building Your Business Skills: Dealing with Variables |

357
(1)

| | |
| --- | --- |
| | Exercising Your Ethics: Individual Exercise: Driving a Legitimate Bargain |

358
(1)

| | |
| --- | --- |
| | Exercising Your Ethics: Team Exercise: Cleaning Up in Sales |

359
(1)

| | |
| --- | --- |
| | Video Exercise: Putting Yourself in the Consumer's Shoes: Skechers USA |

360
(2)

| | |
| --- | --- |
| | Pricing, Distributing, and Promoting Products |

362
(34)
362
(2)
364
(1)
364
(3)

| | |
| --- | --- |
| | Pricing to Meet Business Objectives |

364
(2)
366
(1)

| | |
| --- | --- |
| | Pricing Strategies and Tactics |

367
(3)
368
(1)
369
(1)
370
(2)

| | |
| --- | --- |
| | Intermediaries and Distribution Channels |

370
(2)
372
(1)
372
(3)
373
(1)
374
(1)

| | |
| --- | --- |
| | The Ascent of the E-Intermediary |

375
(2)
375
(1)
375
(1)
375
(2)
377
(3)
377
(1)

| | |
| --- | --- |
| | Transportation Operations |

377
(1)

| | |
| --- | --- |
| | Physical Distribution and E-Customer Satisfaction |

378
(1)

| | |
| --- | --- |
| | Distribution as a Marketing Strategy |

379
(1)

| | |
| --- | --- |
| | The Importance of Promotion |

380
(8)
380
(1)
380
(1)
381
(2)
383
(1)
384
(1)

| | |
| --- | --- |
| | Publicity and Public Relations |

385
(3)

| | |
| --- | --- |
| | Summary of Learning Objectives |

388
(2)
390
(1)
390
(1)

| | |
| --- | --- |
| | Building Your Business Skills: Greeting Start-Up Decisions |

391
(1)

| | |
| --- | --- |
| | Exercising Your Ethics: Individual Exercise: The Chain of Responsibility |

392
(1)

| | |
| --- | --- |
| | Exercising Your Ethics: Team Exercise: A Big Push for Publicity |

393
(1)

| | |
| --- | --- |
| | Crafting A Business Plan: Part 4: Principles of Marketing |

394
(1)

| | |
| --- | --- |
| | Video Exercise: Through the Grapevine: Clos du Bois Winery |

395
(1)

| | |
| --- | --- |
| | PART 5 MANAGING INFORMATION |

| | |
| --- | --- |
| | Information Technology for Business |

396
(30)

| | |
| --- | --- |
| | Letting Technology Be Your Guide |

396
(2)
398
(1)
398
(6)

| | |
| --- | --- |
| | Creating Portable Offices: Providing Remote Access to Instant Information |

399
(1)

| | |
| --- | --- |
| | Enabling Better Service by Coordinating Remote Deliveries |

400
(1)

| | |
| --- | --- |
| | Creating Leaner, More Efficient Organizations? |

400
(1)

| | |
| --- | --- |
| | Enabling Increased Collaboration |

400
(1)
400
(1)

| | |
| --- | --- |
| | Improving Management Processes |

401
(1)

| | |
| --- | --- |
| | Providing Flexibility for Customization |

401
(1)

| | |
| --- | --- |
| | Providing New Business Opportunities |

402
(1)

| | |
| --- | --- |
| | Improving the World and Our Lives |

403
(1)

| | |
| --- | --- |
| | IT Building Blocks: Business Resources |

404
(4)

| | |
| --- | --- |
| | The Internet and Other Communication Resources |

404
(1)

| | |
| --- | --- |
| | Networks: System Architecture |

405
(2)
407
(1)

| | |
| --- | --- |
| | Information Systems: Harnessing the Competitive Power of IT |

408
(6)

| | |
| --- | --- |
| | Leveraging Information Resources: Data Warehousing and Data Mining |

409
(2)

| | |
| --- | --- |
| | Types of Information Systems |

411
(3)
414
(2)
414
(1)
414
(1)

| | |
| --- | --- |
| | Intellectual Property Theft |

415
(1)

| | |
| --- | --- |
| | Computer Viruses, Worms, and Trojan Horses |

415
(1)
416
(1)
416
(1)
416
(4)

| | |
| --- | --- |
| | Preventing Unauthorized Access: Firewalls |

416
(1)

| | |
| --- | --- |
| | Preventing Identity Theft |

417
(1)

| | |
| --- | --- |
| | Preventing Viruses: Anti-Virus Software |

417
(1)

| | |
| --- | --- |
| | Protecting Electronic Communications: Encryption Software |

418
(1)

| | |
| --- | --- |
| | Avoiding Spam and Spyware |

418
(2)

| | |
| --- | --- |
| | Summary of Learning Objectives |

420
(1)
421
(1)
421
(1)

| | |
| --- | --- |
| | Building Your Business Skills: The Art and Science of Point-and-Click Research |

422
(1)

| | |
| --- | --- |
| | Exercising Your Ethics: Individual Exercise: Caught in a Cyber Bind |

423
(1)

| | |
| --- | --- |
| | Exercising Your Ethics: Team Exercise: This Game Is Getting Serious |

424
(1)

| | |
| --- | --- |
| | Video Exercise: Space-Age Information Systems: Boeing Satellite Systems |

425
(1)

| | |
| --- | --- |
| | The Role of Accountants and Accounting Information |

426
(34)

| | |
| --- | --- |
| | What Numbers Can Be Crunched Offshore? |

426
(2)
428
(1)

| | |
| --- | --- |
| | What Is Accounting and Who Uses Accounting Information? |

428
(1)

| | |
| --- | --- |
| | Who Are Accountants and What Do They Do? |

429
(6)

| | |
| --- | --- |
| | Financial versus Managerial Accounting |

429
(1)

| | |
| --- | --- |
| | Certified Public Accountants |

429
(2)

| | |
| --- | --- |
| | Private Accountants and Management Accountants |

431
(1)
432
(1)

| | |
| --- | --- |
| | Federal Restrictions on CPA Services and Financial Reporting: Sarbox |

433
(1)

| | |
| --- | --- |
| | Sarbox Compliance Requirements |

433
(2)
435
(1)
436
(6)
436
(2)
438
(2)
440
(1)

| | |
| --- | --- |
| | The Budget: An Internal Financial Statement |

441
(1)

| | |
| --- | --- |
| | Reporting Standards and Practices |

442
(4)

| | |
| --- | --- |
| | Analyzing Financial Statements |

443
(1)

| | |
| --- | --- |
| | Solvency Ratios: Borrower's Ability to Repay Debt |

444
(1)

| | |
| --- | --- |
| | Profitability Ratios: Earnings Power for Owners |

445
(1)

| | |
| --- | --- |
| | Activity Ratios: How Efficiently Is the Firm Using Its Resources? |

446
(1)

| | |
| --- | --- |
| | Bringing Ethics into the Accounting Equation |

446
(5)
447
(4)

| | |
| --- | --- |
| | Summary of Learning Objectives |

451
(2)
453
(1)
453
(1)

| | |
| --- | --- |
| | Building Your Business Skills: Putting the Buzz in Billing |

454
(1)

| | |
| --- | --- |
| | Exercising Your Ethics: Individual Exercise: Give and Take with Accounting Clients |

455
(1)

| | |
| --- | --- |
| | Exercising Your Ethics: Team Exercise: Confidentially Yours |

456
(1)

| | |
| --- | --- |
| | Crafting A Business Plan: Part 5: Managing Information |

457
(1)

| | |
| --- | --- |
| | Video Exercise: Accounting for Billions of Burgers: McDonald's |

458
(2)
460
(30)
460
(2)
462
(1)
462
(5)

| | |
| --- | --- |
| | The Characteristics of Money |

463
(1)
463
(1)

| | |
| --- | --- |
| | M-1: The Spendable Money Supply |

464
(1)

| | |
| --- | --- |
| | M-2: M-1 Plus the Convertible Money Supply |

464
(2)

| | |
| --- | --- |
| | M-3: M-2 Plus Less Liquid Deposits |

466
(1)

| | |
| --- | --- |
| | Credit Cards: Plastic Money? |

466
(1)

| | |
| --- | --- |
| | The U.S. Financial System |

467
(6)
467
(2)

| | |
| --- | --- |
| | Special Financial Services |

469
(2)

| | |
| --- | --- |
| | Financial Institutions as Creators of Money |

471
(1)

| | |
| --- | --- |
| | Regulation of the Banking System |

472
(1)

| | |
| --- | --- |
| | The Federal Reserve System |

473
(5)
473
(1)
474
(2)
476
(2)

| | |
| --- | --- |
| | The Changing Money and Banking System |

478
(2)

| | |
| --- | --- |
| | Anti-Terrorism Regulations: The Bank Secrecy Act (BSA) and USA Patriot Act |

478
(1)
478
(1)

| | |
| --- | --- |
| | The Impact of Electronic Technologies |

479
(1)

| | |
| --- | --- |
| | International Banking and Finance |

480
(4)

| | |
| --- | --- |
| | The International Payments Process |

480
(1)

| | |
| --- | --- |
| | International Bank Structure |

481
(3)

| | |
| --- | --- |
| | Summary of Learning Objectives |

484
(1)
485
(13)
498

| | |
| --- | --- |
| | Building Your Business Skills: Four Economists in a Room |

485
(2)

| | |
| --- | --- |
| | Exercising Your Ethics: Individual Exercise: Telling the Ethical from the Strictly Legal |

487
(1)

| | |
| --- | --- |
| | Exercising Your Ethics: Team Exercise: Banker's Predicament: National Security Versus Customer Privacy |

488
(1)

| | |
| --- | --- |
| | Video Exercise: Funding the Business World: Coast Business Credit |

489
(1)

| | |
| --- | --- |
| | Securities and Investments |

490
(33)

| | |
| --- | --- |
| | Wanna Bet (on a Sure Thing)? |

490
(2)
492
(1)
492
(1)

| | |
| --- | --- |
| | Primary and Secondary Securities Markets |

492
(1)
493
(8)
493
(2)
495
(1)
495
(1)
496
(4)
500
(1)
501
(2)
502
(1)
502
(1)
502
(1)
503
(1)
503
(1)

| | |
| --- | --- |
| | Diversification and Asset Allocation |

504
(2)

| | |
| --- | --- |
| | The Risk-Return Relationship |

504
(1)
505
(1)
505
(1)

| | |
| --- | --- |
| | Buying and Selling Securities |

506
(6)

| | |
| --- | --- |
| | Financial Information Services |

506
(5)
511
(1)
512
(1)

| | |
| --- | --- |
| | Securities Market Regulation |

512
(4)

| | |
| --- | --- |
| | NASD and Securities Regulation |

512
(1)
513
(1)

| | |
| --- | --- |
| | The Securities and Exchange Commission |

513
(3)

| | |
| --- | --- |
| | Summary of Learning Objectives |

516
(1)
517
(1)
517
(1)

| | |
| --- | --- |
| | Building Your Business Skills: Market Ups and Downs |

518
(1)

| | |
| --- | --- |
| | Exercising Your Ethics: Individual Exercise: Are You Endowed with Good Judgment? |

519
(1)

| | |
| --- | --- |
| | Exercising Your Ethics: Team Exercise: Serving Two Masters: Torn Between Company and Client |

520
(1)

| | |
| --- | --- |
| | Crafting A Business Plan: Part 6: Financial Issues |

521
(1)

| | |
| --- | --- |
| | Video Exercise: Information Pays Off: Motley Fool |

522
(1)
Appendix I: Financial Risk And Risk Management
523
(12)
Appendix II: The Legal Context of Business
535
(10)
Appendix III: Managing Your Personal Finances
545
(18)
Answers to Self-Help Questions
563
(6)
Notes, Sources, and Credits
569
(10)
Glossary
579
(18)
Name and Company Index
597
(5)
Subject Index
602