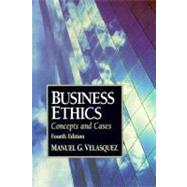 Questions About This Book?
What version or edition is this?
This is the 4th edition with a publication date of 8/1/1997.
What is included with this book?
The New copy of this book will include any supplemental materials advertised. Please check the title of the book to determine if it should include any CDs, lab manuals, study guides, etc.
Summary
Discusses the nature and significance of ethical standards and identifies four kinds of moral principles for resolving ethical dilemmas in business. Covers the ethics of markets & prices, environmental, consumer and employee issues. Paper. DLC: Business ethics.
Table of Contents
PREFACE
ix
PART ONE: Basic Principles
1
(164)
2
(65)
INTRODUCTION
2
(5)

| | |
| --- | --- |
| | 1.1 THE NATURE OF BUSINESS ETHICS |

7
(17)

| | |
| --- | --- |
| | 1.2 MORAL DEVELOPMENT AND MORAL REASONING |

24
(11)

| | |
| --- | --- |
| | 1.3 ARGUMENTS FOR AND AGAINST BUSINESS ETHICS |

35
(8)

| | |
| --- | --- |
| | 1.4 MORAL RESPONSIBILITY AND BLAME |

43
(15)
58
(9)

| | |
| --- | --- |
| | H. B. Fuller and the Street Children of Central America |

58
(5)
63
(4)

| | |
| --- | --- |
| | 2 Ethical Principles in Business |

67
(98)
INTRODUCTION
67
(3)

| | |
| --- | --- |
| | 2.1 UTILITARIANISM: WEIGHING SOCIAL COSTS AND BENEFITS |

70
(15)
85
(17)

| | |
| --- | --- |
| | A BASIS FOR MORAL RIGHTS: KANT |

93
(7)

| | |
| --- | --- |
| | THE LIBERTARIAN OBJECTION: NOZICK |

100
(2)
102
(18)
120
(7)

| | |
| --- | --- |
| | 2.5 INTEGRATING UTILITY, RIGHTS, JUSTICE, AND CARING |

127
(3)

| | |
| --- | --- |
| | 2.6 AN ALTERNATIVE TO MORAL PRINCIPLES: VIRTUE ETHICS |

130
(9)

| | |
| --- | --- |
| | 2.7 MORALITY IN INTERNATIONAL CONTEXTS |

139
(14)
153
(12)
153
(6)
159
(6)
PART TWO: The Market and Business
165
(84)
166
(41)
INTRODUCTION
166
(5)

| | |
| --- | --- |
| | 3.1 FREE MARKET AND RIGHTS: JOHN LOCKE |

171
(7)

| | |
| --- | --- |
| | 3.2 THE UTILITY OF FREE MARKETS: ADAM SMITH |

178
(7)
185
(7)

| | |
| --- | --- |
| | 3.4 CONCLUSION: THE MIXED ECONOMY |

192
(8)
200
(7)
200
(4)
204
(3)

| | |
| --- | --- |
| | 4 Ethics in the Marketplace |

207
(42)
INTRODUCTION
207
(1)
208
(12)
220
(4)

| | |
| --- | --- |
| | 4.3 OLIGOPOLISTIC COMPETITION |

224
(8)

| | |
| --- | --- |
| | 4.4 OLIGOPOLIES AND PUBLIC POLICY |

232
(6)
238
(11)
238
(7)
245
(4)
PART THREE: Business and Its External Exchanges--Ecology and Consumers
249
(118)

| | |
| --- | --- |
| | 5 Ethics and the Environment |

250
(68)
INTRODUCTION
250
(2)

| | |
| --- | --- |
| | 5.1 THE DIMENSIONS OF POLLUTION AND RESOURCE DEPLETION |

252
(17)

| | |
| --- | --- |
| | 5.2 THE ETHICS OF POLLUTION CONTROL |

269
(21)

| | |
| --- | --- |
| | 5.3 THE ETHICS OF CONSERVING DEPLETABLE RESOURCES |

290
(17)
307
(11)

| | |
| --- | --- |
| | Owls, Spikes, Loggers, and Inner-Seal Wood |

307
(8)

| | |
| --- | --- |
| | The New Market Opportunity |

315
(3)

| | |
| --- | --- |
| | 6 The Ethics of Consumer Production and Marketing |

318
(49)
INTRODUCTION
318
(3)

| | |
| --- | --- |
| | 6.1 MARKETS AND CONSUMER PROTECTION |

321
(5)

| | |
| --- | --- |
| | 6.2 THE CONTRACT VIEW OF BUSINESS'S DUTIES TO CONSUMERS |

326
(8)
334
(5)

| | |
| --- | --- |
| | 6.4 THE SOCIAL COSTS VIEW OF THE MANUFACTURER'S DUTIES |

339
(2)
341
(14)
355
(12)
355
(5)
360
(2)
362
(5)
PART FOUR: Business and Its Internal Constituencies--Employee Issues
367
(130)

| | |
| --- | --- |
| | 7 The Ethics of Job Discrimination |

368
(57)
INTRODUCTION
368
(2)

| | |
| --- | --- |
| | 7.1 JOB DISCRIMINATION: ITS NATURE |

370
(5)

| | |
| --- | --- |
| | 7.2 DISCRIMINATION: ITS EXTENT |

375
(12)

| | |
| --- | --- |
| | 7.3 DISCRIMINATION: UTILITY, RIGHTS, AND JUSTICE |

387
(10)
397
(22)
419
(6)

| | |
| --- | --- |
| | Wage Differences at Robert Hall |

419
(4)
423
(2)

| | |
| --- | --- |
| | 8 The Individual in the Organization |

425
(72)
INTRODUCTION
425
(2)

| | |
| --- | --- |
| | 8.1 THE RATIONAL ORGANIZATION |

427
(2)

| | |
| --- | --- |
| | 8.2 THE EMPLOYEE'S OBLIGATIONS TO THE FIRM |

429
(10)

| | |
| --- | --- |
| | 8.3 THE FIRM'S DUTIES TO THE EMPLOYEE |

439
(6)

| | |
| --- | --- |
| | 8.4 THE POLITICAL ORGANIZATION |

445
(2)
447
(20)

| | |
| --- | --- |
| | 8.6 ORGANIZATIONAL POLITICS |

467
(7)

| | |
| --- | --- |
| | 8.7 THE CARING ORGANIZATION |

474
(12)
486
(11)
486
(7)

| | |
| --- | --- |
| | Working for Eli Lilly & Company |

493
(4)
Index
497