Note: Supplemental materials are not guaranteed with Rental or Used book purchases.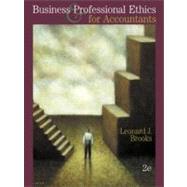 Business and Professional Ethics for Accountants
ISBN13:
9780324013160
by
Brooks, Leonard J.
Summary
This text focuses on practical development of the skills needed to deal with ethical issues specific to accounting. Interesting, real-world situations provide readers with an understanding of appropriate values, ethical pitfalls, applicable codes of conduct, and sound ethical reasons where codes do not apply. The text can be used alone or with any traditional accounting text as each chapter stands alone.
Table of Contents
Preface
ix
Overview of the Book
xv
PART I Developing an Awareness of the Issues
1
(98)
2
(50)

| | |
| --- | --- |
| | The Ethics Environment for Business: The Battle for Credibility |

2
(6)
3
(1)
4
(1)

| | |
| --- | --- |
| | Financial Scandals: The Expectations Gap and the Credibility Gap |

5
(1)

| | |
| --- | --- |
| | Economic and Competitive Pressures |

5
(1)

| | |
| --- | --- |
| | Bad Judgments and Activist Stakeholders |

6
(1)

| | |
| --- | --- |
| | Synergy Among Factors and Institutional Reinforcement |

7
(1)
7
(1)

| | |
| --- | --- |
| | A New Mandate for Business |

8
(1)
9
(3)

| | |
| --- | --- |
| | Developments in Business Ethics |

12
(2)
12
(1)

| | |
| --- | --- |
| | Approaches to Ethical Decision Making Through Stakeholder Impact Analysis |

13
(1)

| | |
| --- | --- |
| | The Ethics Environment for Professional Accountants: The Expectations Gap |

14
(1)
15
(1)
15
(2)

| | |
| --- | --- |
| | Bhopal---The Union Carbide |

17
(2)

| | |
| --- | --- |
| | The Betaseron Decision (A) |

19
(2)

| | |
| --- | --- |
| | Texaco: The Equador Issue |

21
(3)

| | |
| --- | --- |
| | Where Were the Accountants? |

24
(1)
25
(1)

| | |
| --- | --- |
| | The Social Responsibility of Business Is to Increase Its Profits |

26
(4)

| | |
| --- | --- |
| | A Critique of Milton Friedman's Essay ``The Social Responsibility of Business Is to Increase Its Profits'' |

30
(4)

| | |
| --- | --- |
| | Domini 400 Social Index Gains 7.50% In December, S&P 500 Gains 5.82%: Press Release |

34
(3)

| | |
| --- | --- |
| | The Whistle-Blower: Patriot or Bounty Hunter? |

37
(5)

| | |
| --- | --- |
| | Managing for Organizational Integrity |

42
(9)

| | |
| --- | --- |
| | Law Case Summary: Caremark National Inc. |

51
(1)

| | |
| --- | --- |
| | The Role of the Professional Accountant |

52
(47)

| | |
| --- | --- |
| | Understanding the Role of a Professional Accountant Is Critical |

52
(1)

| | |
| --- | --- |
| | Public Expectations of All Professionals |

53
(2)

| | |
| --- | --- |
| | Public Expectations of a Professional Accountant |

55
(1)

| | |
| --- | --- |
| | Dominance of Ethical Values Rather than Accounting or Audit Techniques |

55
(2)

| | |
| --- | --- |
| | Priority of Duty, Loyalty, and Trust in a Fiduciary |

57
(3)

| | |
| --- | --- |
| | Confidentiality: Strict or Assisted |

60
(1)

| | |
| --- | --- |
| | Implications for Services Offered |

60
(2)

| | |
| --- | --- |
| | Assurance and Other Services |

60
(1)

| | |
| --- | --- |
| | Critical Value-Added by a Professional Accountant |

61
(1)

| | |
| --- | --- |
| | Standards Expected for Behavior |

62
(1)
62
(2)

| | |
| --- | --- |
| | Importance to Value-Added |

62
(1)

| | |
| --- | --- |
| | Development of Judgment and Values |

62
(2)

| | |
| --- | --- |
| | Sources of Ethical Guidance |

64
(2)
64
(1)
64
(2)

| | |
| --- | --- |
| | When Codes and Laws Don't Help |

66
(1)
66
(1)
66
(2)
68
(2)
70
(3)
73
(3)
76
(1)
77
(1)

| | |
| --- | --- |
| | Maple Leaf Gardens Shenanigans |

77
(2)
79
(3)

| | |
| --- | --- |
| | The AICPA At 100: Public Trust and Professional Pride |

82
(6)

| | |
| --- | --- |
| | Liability Crisis in the United States: Impact on the Accounting Profession: |

88
(4)

| | |
| --- | --- |
| | Appendix: Trends in the Legal Liability of Accountants and Auditors and Legal Defenses Available |

92
(7)
PART II Ethical Governance and Decision Making
99
(122)

| | |
| --- | --- |
| | Ethical Governance---Codes and Beyond |

100
(80)
100
(1)

| | |
| --- | --- |
| | Governance Systems Come of Age |

101
(2)
103
(11)

| | |
| --- | --- |
| | Developing and Managing an Ethical Culture |

103
(5)

| | |
| --- | --- |
| | Corporate Codes of Conduct |

108
(1)

| | |
| --- | --- |
| | Purpose, Focus, and Orientation |

108
(2)
110
(1)
111
(3)

| | |
| --- | --- |
| | Professional Accounting Guidance Environment |

114
(2)

| | |
| --- | --- |
| | Professional Codes of Conduct |

116
(11)
116
(1)

| | |
| --- | --- |
| | Fundamental Principles and Standards |

116
(2)

| | |
| --- | --- |
| | Rules: General and Specific |

118
(1)
118
(3)
121
(1)

| | |
| --- | --- |
| | Motivations for Changes in Professional Codes |

121
(1)

| | |
| --- | --- |
| | Current Codes of Professional Conduct |

122
(1)

| | |
| --- | --- |
| | International Comparison of Professional Codes |

122
(1)

| | |
| --- | --- |
| | Shortfalls With and In Professional Codes |

123
(4)

| | |
| --- | --- |
| | Issues Not Usually Resolved in Corporate Codes of Conduct |

127
(1)
128
(1)
129
(1)
129
(2)

| | |
| --- | --- |
| | Bankers Trust: Learning from Derivatives |

131
(3)

| | |
| --- | --- |
| | Barings Bank: Rogue Trader |

134
(3)

| | |
| --- | --- |
| | Philip Services Corp....Into the Dumper |

137
(5)

| | |
| --- | --- |
| | Dow Corning Silicone Breast Implants |

142
(2)
144
(1)
144
(1)

| | |
| --- | --- |
| | Multidisciplinary Practices---Ethical Challenges |

145
(1)
145
(1)

| | |
| --- | --- |
| | Locker Room Talk (see Chapter 5) |

146
(1)

| | |
| --- | --- |
| | Appendix A: International Comparison of Main Aspects of Professional Codes of Conduct |

147
(13)

| | |
| --- | --- |
| | The Anderson Committee: Restructuring Professional Standards |

160
(1)

| | |
| --- | --- |
| | Applying the Stakeholder Management Model to the Analysis and Evaluation of Corporate Codes |

161
(12)

| | |
| --- | --- |
| | Creating Ethical Corporate Structures |

173
(7)

| | |
| --- | --- |
| | Approaches to Ethical Decision Making |

180
(41)
180
(1)

| | |
| --- | --- |
| | Stakeholder Impact Analysis |

180
(2)
180
(1)

| | |
| --- | --- |
| | Fundamental Interests of Stakeholders |

181
(1)

| | |
| --- | --- |
| | Measurement of Quantifiable Impacts |

182
(4)
182
(1)

| | |
| --- | --- |
| | Items Not Included in Profit: Measurable Directly |

183
(1)

| | |
| --- | --- |
| | Items Not Included in Profit: Not Measurable Directly |

183
(1)

| | |
| --- | --- |
| | Bringing the Future to the Present |

183
(1)

| | |
| --- | --- |
| | Dealing with Uncertain Outcomes |

184
(1)

| | |
| --- | --- |
| | Identifying Stakeholders and Ranking Their Interests |

185
(1)
186
(1)

| | |
| --- | --- |
| | Assessment of Nonquantifiable Impacts of Proposed Decisions: |

186
(1)

| | |
| --- | --- |
| | Fairness Among Stakeholders |

186
(1)
187
(1)

| | |
| --- | --- |
| | Comprehensive Decision-Making Approaches |

187
(4)
187
(1)
188
(1)
189
(2)

| | |
| --- | --- |
| | Extending and Blending the Approaches |

191
(1)
191
(1)

| | |
| --- | --- |
| | Developing a More Ethical Action |

191
(1)

| | |
| --- | --- |
| | Common Ethical Decision-Making Pitfalls |

192
(1)

| | |
| --- | --- |
| | Summary of Steps for an Ethical Decision |

193
(1)
193
(1)
194
(2)

| | |
| --- | --- |
| | Illustrative Applications of Stakeholder Impact Analysis |

| | |
| --- | --- |
| | When Does An ``Aggressive Accounting'' Choice Become Fraudulent? |

196
(1)

| | |
| --- | --- |
| | Bribery or Opportunity in China |

197
(3)

| | |
| --- | --- |
| | Proposed Audit Adjustment Case |

200
(4)

| | |
| --- | --- |
| | Smokers are Good for the Economy---Really |

204
(2)
206
(2)
208
(2)
210
(7)

| | |
| --- | --- |
| | Ethical Analysis for Environmental Problem Solving |

217
(4)
PART III Significant Ethics Issues Facing Business and the Profession
221
(93)

| | |
| --- | --- |
| | Significant Ethics Issues Facing Business and the Profession |

223
(91)

| | |
| --- | --- |
| | Conflicts of Interest---a Significant Ethical Problem Area |

223
(13)

| | |
| --- | --- |
| | Common Conflicts of Interest Situations in Business |

224
(1)

| | |
| --- | --- |
| | Management to Avoid and Minimize Consequences |

225
(1)

| | |
| --- | --- |
| | Forensics Suspicions: The 20/60/20 Rule |

225
(1)

| | |
| --- | --- |
| | The Gone Theory: Identification of Potentially Harmful Situations and Likely Perpetrators |

226
(1)

| | |
| --- | --- |
| | Agency Theory, Ethics, and Sears |

226
(1)

| | |
| --- | --- |
| | Conflicts of Interest and the Professional Accountant |

226
(1)

| | |
| --- | --- |
| | A Professional Accountant's Fiduciary Relationship |

227
(1)

| | |
| --- | --- |
| | Types of Conflicts of Interest for Professional Accountants |

228
(1)

| | |
| --- | --- |
| | Spheres of Activity Affected |

229
(1)

| | |
| --- | --- |
| | Conflicts of Interest Affecting Services Offered |

229
(3)

| | |
| --- | --- |
| | Conflicts of Interest Involving Improper Use of Influence |

232
(1)

| | |
| --- | --- |
| | Conflicts of Interest Involving Use or Misuse of Information (Confidentiality) |

232
(3)

| | |
| --- | --- |
| | Managing Conflicts of Interest: Awareness and Management |

235
(1)
236
(1)

| | |
| --- | --- |
| | Workplace Ethics---A Significant Ethical Problem Area |

236
(4)
236
(1)
236
(2)
238
(1)

| | |
| --- | --- |
| | Healthy and Safe Work Environment |

239
(1)

| | |
| --- | --- |
| | Ability to Exercise Conscience |

239
(1)
240
(1)
240
(1)

| | |
| --- | --- |
| | International Operations---A Significant Ethical Problem Area |

240
(4)

| | |
| --- | --- |
| | Impacts on Local Economies and their Cultures |

241
(1)

| | |
| --- | --- |
| | Conflicts Between Domestic and Foreign Cultures |

241
(1)

| | |
| --- | --- |
| | Bribery, Facilitating Payments |

242
(1)

| | |
| --- | --- |
| | Apparent Cultural Conflicts with Banning Gifts, Bribes, and Facilitating Payments |

243
(1)
243
(1)

| | |
| --- | --- |
| | Guidelines for Ethical Practice |

244
(1)
244
(1)

| | |
| --- | --- |
| | Social Accountability and Audit---A Significant Ethical Problem Area |

244
(3)

| | |
| --- | --- |
| | Organizational Objectives for Corporate Ethical Performance (CEP) |

245
(1)

| | |
| --- | --- |
| | Measurement of Corporate Ethical Performance |

245
(1)
246
(1)

| | |
| --- | --- |
| | Audit or Verification of CEP Reports |

247
(1)
247
(1)

| | |
| --- | --- |
| | Crisis Management---A Significant Ethical Problem Area |

247
(4)
251
(1)
251
(1)

| | |
| --- | --- |
| | Appendix A: Corporate Ethical Performance Indicators Used in the Corporate Ethics Monitor |

254
(3)

| | |
| --- | --- |
| | Appendix B: Ethics Audit Program Annual Audit Question |

257
251
(8)

| | |
| --- | --- |
| | Cases on Conflicts of Interest |

259
(1)
260
(1)
260
(1)

| | |
| --- | --- |
| | Lowballing a Fee Quotation |

261
(1)

| | |
| --- | --- |
| | Risk Management of Taxes Payable---Is It Ethical? |

262
(1)

| | |
| --- | --- |
| | Cases on Workplace Ethics |

262
(5)

| | |
| --- | --- |
| | Downsize or Bonus Allocation Decisions |

267
(1)

| | |
| --- | --- |
| | Cases on International Operations |

| | |
| --- | --- |
| | Jail and a German Sub-Contractor |

267
(1)

| | |
| --- | --- |
| | Cases on Crisis Management |

268
(3)

| | |
| --- | --- |
| | The Brent Spar Decommissioning Disaster |

271
(2)
273
(2)

| | |
| --- | --- |
| | ``Can't We all Just Get Along: Cultural Variables in Codes of Ethics'' |

275
(6)

| | |
| --- | --- |
| | ``Values in Tension: Ethics Away from Home'' |

281
(8)

| | |
| --- | --- |
| | ``Effective Crisis Management'' |

289
(8)

| | |
| --- | --- |
| | ``Ethical Problems in Public Accounting: The View from the Top'' |

297
(10)

| | |
| --- | --- |
| | ``Some Unresolved Ethical Issues in Auditing'' |

307
(7)

| | |
| --- | --- |
| | ``Ethics in Taxation Practice'' |

314