Note: Supplemental materials are not guaranteed with Rental or Used book purchases.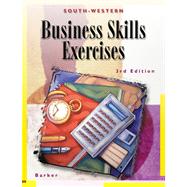 Business Skills Exercises
ISBN13:
9780538694810
by
Barker, Loretta
South-Western Educational Pub
Summary
BUSINESS SKILLS EXERCISES is the perfect tool to prepare you for any entry-level business position. Designed to provide realistic experiences, this text provides exercises with a stated goal and follows-up with a unit test to ensure you understand everything you need to succeed.
Table of Contents
Introduction
xi
UNIT 1A

| | |
| --- | --- |
| | Exercise 1 Determine if the names of persons are exactly alike |

1
(1)

| | |
| --- | --- |
| | Exercise 2 Use reference sources to find information |

2
(1)

| | |
| --- | --- |
| | Exercise 3 Improve handwriting and spelling |

3
(2)

| | |
| --- | --- |
| | Exercise 4 Index the names of persons for filing |

5
(4)

| | |
| --- | --- |
| | Exercise 5 Improve writing numbers |

9
(2)

| | |
| --- | --- |
| | Exercise 6 Add words to your vocabulary |

11
(2)

| | |
| --- | --- |
| | Exercise 7 Put numbers in order for filing |

13
(2)

| | |
| --- | --- |
| | Exercise 8 Write amounts of money on business forms |

15
(4)
UNIT 1B

| | |
| --- | --- |
| | Exercise 9 Print information on business forms |

19
(3)

| | |
| --- | --- |
| | Exercise 10 Determine if amounts of money are exactly alike |

22
(1)

| | |
| --- | --- |
| | Exercise 11 Index the names of businesses for filing |

23
(4)

| | |
| --- | --- |
| | Exercise 12 Learn about touch-tone telephones and use office files/databases to find information |

27
(4)

| | |
| --- | --- |
| | Exercise 13 Complete telephone message forms using good handwriting or printing |

31
(2)

| | |
| --- | --- |
| | Exercise 14 Improve spelling and handwriting of proper names of capital cities, states, and territories |

33
(2)

| | |
| --- | --- |
| | Exercise 15 Add words to your vocabulary |

35
(2)

| | |
| --- | --- |
| | Exercise 16 Make change using the count-back method |

37
(2)
UNIT 1C

| | |
| --- | --- |
| | Exercise 17 Index business names with minor words and symbols for filing |

39
(2)

| | |
| --- | --- |
| | Exercise 18 Improve writing numbers |

41
(1)

| | |
| --- | --- |
| | Exercise 19 Determine if the names of persons are exactly alike |

42
(1)

| | |
| --- | --- |
| | Exercise 20 Verify the filing order of employee numbers |

43
(1)

| | |
| --- | --- |
| | Exercise 21 Improve handwriting and spelling |

44
(2)

| | |
| --- | --- |
| | Exercise 22 Use reference sources to find information |

46
(1)

| | |
| --- | --- |
| | Exercise 23 Deposit checks into a personal checking account |

47
(4)

| | |
| --- | --- |
| | Exercise 24 Add words to your vocabulary |

51
(2)
UNIT 1D

| | |
| --- | --- |
| | Exercise 25 Determine if dates are exactly alike |

53
(1)

| | |
| --- | --- |
| | Exercise 26 Use reference sources to find information |

54
(1)

| | |
| --- | --- |
| | Exercise 27 Print information on business forms |

55
(2)

| | |
| --- | --- |
| | Exercise 28 Use a forms register to write receipts |

57
(4)

| | |
| --- | --- |
| | Exercise 29 Tell time using an analog clock |

61
(2)

| | |
| --- | --- |
| | Exercise 30 Use a multi-line telephone and use office files/databases to find information |

63
(4)

| | |
| --- | --- |
| | Exercise 31 Add words to your vocabulary |

67
(2)

| | |
| --- | --- |
| | Exercise 32 Index names with punctuation for filing |

69
(4)
UNIT 2A

| | |
| --- | --- |
| | Exercise 33 Improve writing numbers in columns |

73
(1)

| | |
| --- | --- |
| | Exercise 34 Determine if the names of businesses are exactly alike |

74
(1)

| | |
| --- | --- |
| | Exercise 35 Write personal checks and maintain a check register |

75
(3)

| | |
| --- | --- |
| | Exercise 36 Learn about PBX switchboards and use office files/databases to find information |

78
(3)

| | |
| --- | --- |
| | Exercise 37 Improve handwriting and spelling |

81
(1)

| | |
| --- | --- |
| | Exercise 38 Index names with single letters and abbreviations for filing |

82
(4)

| | |
| --- | --- |
| | Exercise 39 Add words to your vocabulary |

86
(2)

| | |
| --- | --- |
| | Exercise 40 Use reference sources to find information |

88
(2)

| | |
| --- | --- |
| | Exercise 41 File records using the numeric system |

90
(3)
UNIT 2B

| | |
| --- | --- |
| | Exercise 42 Make change using the count-back method when a customer gives you extra coins |

93
(2)

| | |
| --- | --- |
| | Exercise 43 Write petty cash receipts and update a petty cash book |

95
(3)

| | |
| --- | --- |
| | Exercise 44 Use reference sources to find information |

98
(1)

| | |
| --- | --- |
| | Exercise 45 Learn about cellular (or mobile) telephones and use office files/databases to find information |

99
(3)

| | |
| --- | --- |
| | Exercise 46 Improve spelling and handwriting of proper names of capital cities, states, and territories |

102
(2)

| | |
| --- | --- |
| | Exercise 47 Make decisions about printing information on business forms |

104
(2)

| | |
| --- | --- |
| | Exercise 48 Add words to your vocabulary |

106
(2)

| | |
| --- | --- |
| | Exercise 49 Index names with suffixes and titles for filing |

108
(5)
UNIT 2C

| | |
| --- | --- |
| | Exercise 50 Improve handwriting and spelling |

113
(1)

| | |
| --- | --- |
| | Exercise 51 Determine if the names of businesses are exactly alike |

114
(1)

| | |
| --- | --- |
| | Exercise 52 Prepare a cash drawer count report |

115
(2)

| | |
| --- | --- |
| | Exercise 53 Add words to your vocabulary |

117
(2)

| | |
| --- | --- |
| | Exercise 54 File records by date |

119
(2)

| | |
| --- | --- |
| | Exercise 55 Learn about telephone answering services and use office files/databases to find information |

121
(5)

| | |
| --- | --- |
| | Exercise 56 Use reference sources to find information |

126
(1)

| | |
| --- | --- |
| | Exercise 57 Identify the main point of a paragraph |

127
(2)

| | |
| --- | --- |
| | Exercise 58 Index the names of married women and names with prefixes for filing |

129
(6)
UNIT 2D

| | |
| --- | --- |
| | Exercise 59 Determine if ZIP Codes are exactly alike |

135
(1)

| | |
| --- | --- |
| | Exercise 60 Make decisions about printing information on business forms |

136
(1)

| | |
| --- | --- |
| | Exercise 61 Add words to your vocabulary |

137
(2)

| | |
| --- | --- |
| | Exercise 62 Index identical names for filing |

139
(3)

| | |
| --- | --- |
| | Exercise 63 Use reference sources to find information |

142
(1)

| | |
| --- | --- |
| | Exercise 64 Improve spelling and handwriting of proper names of capital cities, states, and territories |

143
(2)

| | |
| --- | --- |
| | Exercise 65 Make a bank deposit of currency and coins only |

145
(2)

| | |
| --- | --- |
| | Exercise 66 Learn about personal paging systems and call forwarding and use office files/databases to find information |

147
(4)
UNIT 3A

| | |
| --- | --- |
| | Exercise 67 Keep a tally and calculate a grand total |

151
(1)

| | |
| --- | --- |
| | Exercise 68 Improve handwriting and spelling |

152
(1)

| | |
| --- | --- |
| | Exercise 69 Learn about the centrex telephone system and use office files/databases to find information |

153
(3)

| | |
| --- | --- |
| | Exercise 70 Determine if street addresses are exactly alike |

156
(1)

| | |
| --- | --- |
| | Exercise 71 Index numbers in business names for filing |

157
(2)

| | |
| --- | --- |
| | Exercise 72 Add words to your vocabulary |

159
(2)

| | |
| --- | --- |
| | Exercise 73 Put computer discs in correct numeric order |

161
(2)
UNIT 3B

| | |
| --- | --- |
| | Exercise 74 Use reference sources to find information |

163
(1)

| | |
| --- | --- |
| | Exercise 75 Determine if stock numbers are exactly alike |

164
(1)

| | |
| --- | --- |
| | Exercise 76 Improve spelling and handwriting of proper names of capital cities, states, and territories |

165
(2)

| | |
| --- | --- |
| | Exercise 77 Tell time using digital and analog clocks |

167
(2)

| | |
| --- | --- |
| | Exercise 78 Index names of organizations and institutions for filing |

169
(2)

| | |
| --- | --- |
| | Exercise 79 Make decisions about setting priorities |

171
(2)

| | |
| --- | --- |
| | Exercise 80 Learn about the automatic dialing feature on telephone equipment and use office files/databases to find information |

173
(4)

| | |
| --- | --- |
| | Exercise 81 Add words to your vocabulary |

177
(2)

| | |
| --- | --- |
| | Exercise 82 Make decisions about printing information on business forms |

179
(2)

| | |
| --- | --- |
| | Exercise 83 Use reference sources to find information |

181
(2)
UNIT 3C

| | |
| --- | --- |
| | Exercise 84 Improve handwriting and spelling |

183
(1)

| | |
| --- | --- |
| | Exercise 85 Determine if credit card numbers are exactly alike |

184
(1)

| | |
| --- | --- |
| | Exercise 86 Learn about speakerphones and conference calls and use office files/databases to find information |

185
(4)

| | |
| --- | --- |
| | Exercise 87 Identify the subject of a sentence |

189
(2)

| | |
| --- | --- |
| | Exercise 88 Improve writing numbers |

191
(1)

| | |
| --- | --- |
| | Exercise 89 Use reference sources to find information |

192
(1)

| | |
| --- | --- |
| | Exercise 90 Add words to your vocabulary |

193
(2)

| | |
| --- | --- |
| | Exercise 91 File records using the terminal-digit method |

195
(2)

| | |
| --- | --- |
| | Exercise 92 Determine if cities, states, and ZIP Codes are exactly alike |

197
(2)
UNIT 3D

| | |
| --- | --- |
| | Exercise 93 Make decisions about printing information on business forms |

199
(2)

| | |
| --- | --- |
| | Exercise 94 Index government names for filing |

201
(3)

| | |
| --- | --- |
| | Exercise 95 Use reference sources to find information |

204
(1)

| | |
| --- | --- |
| | Exercise 96 Make decisions about printing information on business forms |

205
(2)

| | |
| --- | --- |
| | Exercise 97 Make decisions about setting priorities |

207
(2)

| | |
| --- | --- |
| | Exercise 58 Add words to your vocabulary |

209
(2)

| | |
| --- | --- |
| | Exercise 99 Improve spelling and handwriting of proper names of capital cities, states, and territories |

211
(2)

| | |
| --- | --- |
| | Exercise 100 Fill in bubble forms |

213
(4)
Office Files/Databases
217
(16)
Reference Sources
233