Note: Supplemental materials are not guaranteed with Rental or Used book purchases.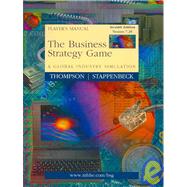 Business Strategy Game: A Global Industry Simulation
ISBN13:
9780072820096
by
THOMPSON A
Related Products
Summary
The Business Strategy Game is the #1 selling computer simulation in the strategic management market. It is the single best exercise available for helping students understand how the functional pieces of a business fit together and for providing students with a capstone experience in decision-making. The exercise of running a simulated company in a competitive market setting helps students develop better decision-making judgment and improves their skills in evaluating market and competitive conditions and responding to changes that are occurring. The BSG helps students learn from working with the numbers, exploring options, and trying to unite production, marketing, finance, and human resource decisions into a coherent strategy.
Table of Contents
| | |
| --- | --- |
| | Section 1: The Industry and the Company |

1
(14)

| | |
| --- | --- |
| | What You Can Expect to Learn |

2
(2)

| | |
| --- | --- |
| | The Company You Will Manage |

4
(4)

| | |
| --- | --- |
| | What the Board of Directors Expects |

8
(1)

| | |
| --- | --- |
| | The Industry and Competitive Environment |

9
(1)

| | |
| --- | --- |
| | Customers and Distribution Channels |

9
(1)
10
(1)
11
(1)

| | |
| --- | --- |
| | Weapons of Competitive Rivalry |

12
(1)

| | |
| --- | --- |
| | Overview of The Business Strategy Game |

13
(2)

| | |
| --- | --- |
| | Section 2: Obtaining and Running the Company Program |

15
(8)

| | |
| --- | --- |
| | Obtaining the Company Program |

16
(1)

| | |
| --- | --- |
| | Installing the Company Program |

16
(1)
17
(1)
17
(1)
18
(1)
19
(2)
21
(2)

| | |
| --- | --- |
| | Section 3: Competition and Demand Forecasts |

23
(16)

| | |
| --- | --- |
| | Demand Projections for Years 11 and 12 |

23
(2)

| | |
| --- | --- |
| | The Factors that Determine Market Share |

25
(7)

| | |
| --- | --- |
| | Competitive Strategy Options |

32
(1)

| | |
| --- | --- |
| | The Demand Forecast Screen |

33
(6)

| | |
| --- | --- |
| | Section 4: Plant Operations |

39
(20)

| | |
| --- | --- |
| | Pertinent Production Issues |

43
(1)

| | |
| --- | --- |
| | Production and Labor Decisions |

44
(9)

| | |
| --- | --- |
| | Plant Upgrades and Capacity Additions |

53
(3)

| | |
| --- | --- |
| | Buying, Selling, and Closing Plants |

56
(3)

| | |
| --- | --- |
| | Section 5: Warehouse and Shipping Operations |

59
(10)
60
(6)
66
(3)

| | |
| --- | --- |
| | Section 6: Sales and Marketing Operations |

69
(18)

| | |
| --- | --- |
| | Private-Label Marketing Decisions |

70
(1)

| | |
| --- | --- |
| | Internet Marketing Decisions |

71
(2)

| | |
| --- | --- |
| | Branded Marketing Decisions |

73
(7)
80
(2)

| | |
| --- | --- |
| | Reports Concerning Marketing Operations |

82
(5)

| | |
| --- | --- |
| | Section 7: Financing Company Operations |

87
(14)
88
(1)
89
(1)
90
(2)

| | |
| --- | --- |
| | The Company's Bond Rating |

92
(1)

| | |
| --- | --- |
| | Finance and Cash Flow Decisions |

93
(8)

| | |
| --- | --- |
| | Section 8: Scoring, Reports, Analysis Options, and Strategic Plans |

101
(8)

| | |
| --- | --- |
| | Scoring Your Company's Performance |

102
(3)

| | |
| --- | --- |
| | The Footwear Industry Report |

105
(1)
105
(1)

| | |
| --- | --- |
| | The Competitor Analysis Reports |

106
(1)

| | |
| --- | --- |
| | Company Reports of Current-Year Results |

106
(1)
107
(2)

| | |
| --- | --- |
| | Section 9: Decision Making: Recommended Procedures |

109
(4)
112
(1)

| | |
| --- | --- |
| | Appendix: Planning and Analysis Forms |

113
(8)

| | |
| --- | --- |
| | Company Mission and Objectives Form |

115
(2)
117
(2)

| | |
| --- | --- |
| | Industry and Competitive Analysis Form |

119
(2)
Index
121