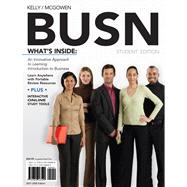 BUSN (with Review Cards and BUSN4ME.com Printed Access Card)
by
Kelly,Marcella
Summary
Student tested and faculty approved, BUSN breaks new ground in the Introduction to Business market, delivering a riveting design that captivates students and powerful resources that save instructors valuable time. Written by longtime Intro to Business instructors who know firsthand the needs of today's instructors and students, this unique first edition provides a more student-focused--less linear--learning model that truly engages students. Its traditional material is presented in a vibrant, very nontraditional format. More "casual magazine" than "formal textbook," this lively design will intrigue and inspire students by incorporating less dense textual material and a more visual presentation of key concepts. The graphics, page layout, and design speak specifically to today's students, enticing them to keep turning the pages. Streamlined and well balanced, the text covers all core Introduction to Business topics in a succinct 18 chapters--including a unique chapter on Business Communications. In addition, the text is unrivaled in its cohesive integration of text and supplements. Robust resources--including an extremely interactive website--help students learn to study, communicate verbally and in writing, and master chapter concepts. Helping you keep students motivated in the classroom--even if they're not business majors--BUSN provides the most efficient instructor tools available, including a syllabus builder and database of instructional material. With BUSN, your students will be prepared and engaged.
Table of Contents
The Business Environment
Business Now: Change is the Only Constant
Economics: The Framework for Business
The World Marketplace: Business without Borders
Business Ethics and Social Responsibility: Doing Well by Doing Good
Business Communication: Creating and Delivering Messages that Matter
Creating A Business
Business Formation: Choosing the Form that Fits
Small Business and Entrepreneurship: Economic Rocket Fuel
Financing A Business
Accounting: Decision Making By the Numbers
Finance: Acquiring and Using Funds to Maximize Value
Securities Markets: Trading Financial Resources
Marketing A Business
Marketing: Building Profitable Customer Connections
Product Strategy: Delivering More Value
Distribution and Pricing: Right Product, Right Person, Right Place, Right Price
Marketing Promotion: Delivering High-Impact Messages
Managing A Business
Management Motivation and Leadership: Bringing Business to Life
Human Resource Management: Building a Top-Quality Workforce
Managing Information and Technology: Finding New Ways to Learn and Link
Operations Management: Putting it All Together
Online Appendices
Labor Unions and Collective Bargaining
Business Law
Table of Contents provided by Publisher. All Rights Reserved.