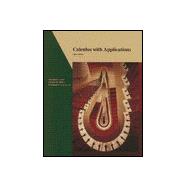 Questions About This Book?
What version or edition is this?
This is the 6th edition with a publication date of 10/1/1997.
What is included with this book?
The Used copy of this book is not guaranteed to include any supplemental materials. Typically, only the book itself is included.
Summary
Widely known for incorporating interesting, relevant, realistic applications, this new edition offers many more real applications citing real data sources. It also allows for increased visualization and discovery through optional use of graphing calculators. A dedicated World Wide Web site rounds out the teaching and learning package, offering projects based on current events,and graphing calculator programs tied to the text.
Table of Contents
Preface
ix
Index of Applications
xv
Algebra Reference
Polynomials
xx
Factoring
xxiii
Rational Expressions
xxv
Equations
xxix
Inequalities
xxxv
Exponents
xl
Radicals
xliv

| | |
| --- | --- |
| | Slope and Equations of a Line |

2
(13)
15
(12)

| | |
| --- | --- |
| | Linear Mathematical Models |

27
(10)

| | |
| --- | --- |
| | Constructing a Mathematical Model |

37
(17)
49
(3)

| | |
| --- | --- |
| | Extended Application: Using Marginal Cost to Estimate the Cost of Educating Immigrants |

52
(2)
54
(13)
67
(8)

| | |
| --- | --- |
| | Translations and Reflections of Functions |

75
(7)

| | |
| --- | --- |
| | Polynomial and Rational Functions |

82
(14)
96
(11)
107
(14)

| | |
| --- | --- |
| | Applications: Growth and Decay; Mathematics of Finance |

121
(23)
134
(8)

| | |
| --- | --- |
| | Extended Application: Characteristics of the Monkeyface Prickleback |

142
(2)
144
(17)
161
(7)
168
(14)

| | |
| --- | --- |
| | Definition of the Derivative |

182
(18)

| | |
| --- | --- |
| | Graphical Differentiation |

200
(12)
206
(6)

| | |
| --- | --- |
| | Calculating the Derivative |

| | |
| --- | --- |
| | Techniques for Finding Derivatives |

212
(13)

| | |
| --- | --- |
| | Derivatives of Products and Quotients |

225
(7)
232
(10)

| | |
| --- | --- |
| | Derivatives of Exponential Functions |

242
(6)

| | |
| --- | --- |
| | Derivatives of Logarithmic Functions |

248
(10)
254
(4)

| | |
| --- | --- |
| | Graphs and the Derivative |

| | |
| --- | --- |
| | Increasing and Decreasing Functions |

258
(10)
268
(13)

| | |
| --- | --- |
| | Higher Derivatives, Concavity, and the Second Derivative Test |

281
(14)
295
(13)
303
(5)

| | |
| --- | --- |
| | Applications of the Derivative |

308
(8)
316
(11)

| | |
| --- | --- |
| | Further Business Applications: Economic Lot Size; Economic Order Quantity; Elasticity of Demand |

327
(9)
336
(5)
341
(6)

| | |
| --- | --- |
| | Differentials: Linear Approximation |

347
(13)
353
(3)

| | |
| --- | --- |
| | Extended Application: A Total Cost Model for a Training Program |

356
(1)

| | |
| --- | --- |
| | Extended Application: The Effect of Oil Price on the Optimal Speed of Ships |

357
(3)
360
(11)
371
(8)

| | |
| --- | --- |
| | Area and the Definite Integral |

379
(13)

| | |
| --- | --- |
| | The Fundamental Theorem of Calculus |

392
(10)

| | |
| --- | --- |
| | The Area Between Two Curves |

402
(9)
411
(17)
421
(4)

| | |
| --- | --- |
| | Extended Application: Estimating Depletion Dates for Minerals |

425
(3)

| | |
| --- | --- |
| | Further Techniques and Applications of Integration |

| | |
| --- | --- |
| | Integration by Parts; Tables of Integrals |

428
(8)
436
(6)
442
(8)
450
(12)
455
(3)

| | |
| --- | --- |
| | Extended Application: How Much Does a Warranty Cost? |

458
(4)

| | |
| --- | --- |
| | Functions of Several Variables |

462
(11)
473
(10)
483
(9)
492
(7)

| | |
| --- | --- |
| | Total Differentials and Approximations |

499
(5)
504
(20)
516
(5)

| | |
| --- | --- |
| | Extended Application: Lagrange Multipliers for a Predator |

521
(3)

| | |
| --- | --- |
| | Solutions of Elementary and Separable Differential Equations |

524
(12)

| | |
| --- | --- |
| | Linear First-Order Differential Equations |

536
(5)
541
(7)

| | |
| --- | --- |
| | Applications of Differential Equations |

548
(16)
558
(3)

| | |
| --- | --- |
| | Extended Application: Pollution of the Great Lakes |

561
(3)

| | |
| --- | --- |
| | Continuous Probability Models |

564
(7)

| | |
| --- | --- |
| | Expected Value and Variance of Continuous Random Variables |

571
(6)

| | |
| --- | --- |
| | Special Probability Density Functions |

577
(19)
589
(3)

| | |
| --- | --- |
| | Extended Application: A Crop-Planting Model |

592
(4)

| | |
| --- | --- |
| | The Trigonometric Functions |

| | |
| --- | --- |
| | Definitions of the Trigonometric Functions |

596
(12)

| | |
| --- | --- |
| | Derivatives of Trigonometric Functions |

608
(6)

| | |
| --- | --- |
| | Integrals of Trigonometric Functions |

614
(5)
619
(4)
623
(3)

| | |
| --- | --- |
| | Extended Application: Light Intensity in Water |

626
Tables

| | |
| --- | --- |
| | Table 1: Formulas from Geometry |

A-1

| | |
| --- | --- |
| | Table 2: Area Under a Normal Curve |

A-2
A-4

| | |
| --- | --- |
| | Table 4: Integrals Involving Trigonometric Functions |

A-5
Answers to Selected Exercises
A-7
Index
I-1