Note: Supplemental materials are not guaranteed with Rental or Used book purchases.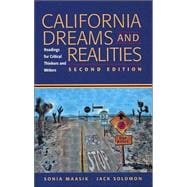 California Dreams and Realities : Readings for Critical Thinkers and Writers
ISBN13:
9780312194192
by
Sonia Maasik, Jack Solomon
Macmillan Higher Education
Summary
California has long been a bellwether state -- a place where crucial trends that eventually spread throughout the U.S. first take root. Its national and international influence is driven by one of the largest economies in the world, by its extraordinary technological and cultural innovations, and by a disproportionately affluent and activist population larger than that of entire countries. In short, the issues of California are the issues that are likely to have an impact on the rest of America, and college students in California are well served by studying, thinking, and writing about their home state in their composition courses. "California Dreams and Realities" is the one composition reader that allows students to do just that.
Table of Contents
Preface for Instructors
v
Introduction: Reinventing the Dream
1
(4)

| | |
| --- | --- |
| | California Dreaming: Myths of the Golden Land |

5
(58)

| | |
| --- | --- |
| | California: A Place, A People, A Dream |

8
(7)
15
(7)

| | |
| --- | --- |
| | A New Perspective on the Dream |

22
(12)
34
(7)
41
(5)

| | |
| --- | --- |
| | An Age of Limits and Definitions |

46
(2)

| | |
| --- | --- |
| | From The Day of the Locust |

48
(3)

| | |
| --- | --- |
| | Notes from a Native Daughter |

51
(12)
60
(3)

| | |
| --- | --- |
| | The Great Migration: Immigrants in California History |

63
(58)
66
(7)

| | |
| --- | --- |
| | The Welcome Mat Is Threadbare |

73
(3)

| | |
| --- | --- |
| | Refine Immigration Policy to Reflect History and the Moment We Live In |

76
(3)

| | |
| --- | --- |
| | The World of Our Grandmothers |

79
(8)
87
(12)
99
(9)
108
(5)

| | |
| --- | --- |
| | Vietnamese Youths No Longer Look Homeward |

113
(8)
118
(3)

| | |
| --- | --- |
| | The Best-Laid Plans: Education and the California Dream |

121
(46)

| | |
| --- | --- |
| | A Visit to Edwin Markham Intermediate School |

125
(6)
131
(5)
136
(6)

| | |
| --- | --- |
| | The ZIP Code Route into UC |

142
(2)

| | |
| --- | --- |
| | Race Preferences Lose in Court---Again |

144
(3)
147
(3)

| | |
| --- | --- |
| | ``Well, I Guess They Need Their Minority'' |

150
(6)

| | |
| --- | --- |
| | Language Barrier: California's Bilingualism Mess |

156
(4)

| | |
| --- | --- |
| | The Next Big Divide? Blacks and Hispanics Square Off over Bilingual Education |

160
(2)
162
(5)

| | |
| --- | --- |
| | Chitra Banerjee Divakaruni |

165
(2)

| | |
| --- | --- |
| | Developing the Dream: Issues in California Land Use |

167
(44)
170
(3)

| | |
| --- | --- |
| | California Indians as Capable Resource Managers |

173
(5)
178
(7)
185
(6)
191
(4)
195
(3)
198
(4)
202
(4)
206
(5)
208
(3)

| | |
| --- | --- |
| | Governing California: Democracy, Demography, and the Politics of the Dream |

211
(60)

| | |
| --- | --- |
| | Political Culture in California |

213
(9)
222
(6)

| | |
| --- | --- |
| | What Has Proposition 13 Meant for California? |

228
(6)
234
(7)
241
(15)
256
(5)
261
(4)
265
(6)
268
(3)

| | |
| --- | --- |
| | Of Work and Wealth: The Economics of the Dream |

271
(90)
274
(11)

| | |
| --- | --- |
| | Silicon Valley: Taking Its Place in the Pantheon |

285
(4)

| | |
| --- | --- |
| | Toxic Technology: Electronics and the Silicon Valley |

289
(3)

| | |
| --- | --- |
| | Land of Dreams and Disasters: Postindustrial Living in the Silicon Valley |

292
(9)

| | |
| --- | --- |
| | The New Frontier: ``Hollywood,'' 1914-1920 |

301
(14)
315
(9)

| | |
| --- | --- |
| | The Automobile Age in California |

324
(7)
331
(14)
345
(8)

| | |
| --- | --- |
| | My Fifty-Plus Years Celebrate Spring |

353
(8)
354
(7)
Index of Authors and Titles
361