Note: Supplemental materials are not guaranteed with Rental or Used book purchases.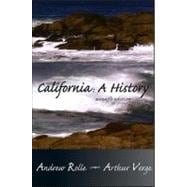 Summary
Like its predecessors, this seventh edition of a best-loved publication recounts California's history from its origin to the present in a format that is engaging and informative. Even in the five years since the last edition of the book appeared, enormous social and material changes have overcome the Golden State. This new edition reflects these developments, considering them in historical context and pondering their implications for the future. Likewise, those sections of the book devoted to women, the environment, ethnic diversity, crime, sports, energy, and transportation have been expanded. Features new photographs, maps, tables, and charts, making it the perfect core text for courses on California history as well as engaging reading for anyone interested in what is in many ways the premier state in the nation.
Table of Contents
The Native Americans; Exploring Baja & Alta California; Colonisers of the Frontier; Missions, Presidios, & Pueblos; California & Its Spanish Governors; Exploration & Foreign Interference; Arcadia; Mexican California; Infiltration & Revolt; On the Eve of American Role; Trappers, Traders, & Home-seekers; American Conquest; Gold; Approaches to Statehood; Social Ferment; A New Culture at the Golden Gate; Post-Gold Rush Commerce; The Messy Land Problem; California & the Union; Ships & Rails; Agricultural & Urban Growth; Discrimination & Accommodation; Crushing or Saving the Indians?; Labour, the Farmers, & the New Constitution; California Culture, 1870-1918; Progressive Politics; Material Urban Growth; Water, Conservation, & Agriculture; Labour in an Industrial Age; The Depression Years; Twentieth-Century Culture; A California World of Sports & Leisure; Wartime Setbacks & Gains; California After World War; The Beleaguered Sixties; Environmental Realities; From Reagan Conservatism to "Governor Moonbeam"; An Ethnic Tapestry; A Transformative Society.