Note: Supplemental materials are not guaranteed with Rental or Used book purchases.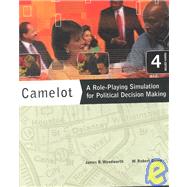 Questions About This Book?
What version or edition is this?
This is the edition with a publication date of 8/17/2000.
What is included with this book?
The New copy of this book will include any supplemental materials advertised. Please check the title of the book to determine if it should include any CDs, lab manuals, study guides, etc.
Summary
CAMELOT introduces students the interactions of contending and contentious groups and individuals whose values and goals range from radical to reactionary. It addresses such issues as equal opportunity, right to life, freedom of expression, affirmative action, property rights, gay rights, and more. Students quickly learn that competing interests and viewpoints - with their varying degrees of organization and cohesiveness - make political decision-making complex, time consuming, exciting, and often difficult to predict.
Table of Contents
PART ONE Understanding Political Decision Making
1
(3)

| | |
| --- | --- |
| | Local Government: Why Study It? |

4
(8)

| | |
| --- | --- |
| | Governments and Communities |

4
(1)

| | |
| --- | --- |
| | Two Meanings of Community |

4
(4)

| | |
| --- | --- |
| | The Organized Local Community |

8
(4)

| | |
| --- | --- |
| | Who Governs, and to What Ends? |

12
(14)

| | |
| --- | --- |
| | Politics, Government, and Democracy |

12
(4)
14
(1)

| | |
| --- | --- |
| | What is the Degree of Structuring in Community Decision Making? |

15
(1)

| | |
| --- | --- |
| | Evolution of Community Power Patterns |

16
(3)

| | |
| --- | --- |
| | Who Governs in Cities Today? |

19
(3)
22
(4)

| | |
| --- | --- |
| | The Legal Authority of Cities: Constraints and Powers |

26
(12)
29
(2)

| | |
| --- | --- |
| | Choosing the Form of Local Government |

31
(1)
32
(1)

| | |
| --- | --- |
| | The Newer Uses of Eminent Domain |

33
(2)

| | |
| --- | --- |
| | The Impact of Federal and State Regulation on Cities |

35
(3)

| | |
| --- | --- |
| | Sources of Local Government Revenues and Their Constraints |

38
(13)
39
(5)
39
(1)
39
(1)
40
(1)
41
(1)
41
(1)

| | |
| --- | --- |
| | Intergovernmental Transfers |

41
(1)
42
(1)
42
(2)

| | |
| --- | --- |
| | Taxation Problems for Municipal Decision Makers |

44
(7)
44
(2)
46
(1)

| | |
| --- | --- |
| | The Enforcement Feasibility Problem |

47
(1)

| | |
| --- | --- |
| | The Problem of Earmarking |

48
(1)

| | |
| --- | --- |
| | The Problem of Preemption and Mandates |

48
(1)

| | |
| --- | --- |
| | The Problem of Terms and Conditions of Grants |

49
(1)

| | |
| --- | --- |
| | Other Administrative Costs |

49
(2)

| | |
| --- | --- |
| | Organized Interests in the Decision-Making Process |

51
(6)

| | |
| --- | --- |
| | What is an Organized Interest? |

51
(1)

| | |
| --- | --- |
| | Organized Interests Operations |

52
(5)
52
(1)
53
(1)
54
(1)
55
(2)
57
(16)
57
(3)

| | |
| --- | --- |
| | Citizen-Initiated Policy Proposals |

57
(1)

| | |
| --- | --- |
| | Administration-Initiated Policy Proposals |

58
(2)

| | |
| --- | --- |
| | Agenda Setting and the Policy Process |

60
(2)
62
(4)
62
(2)
64
(2)
66
(5)
66
(1)
67
(1)
68
(1)

| | |
| --- | --- |
| | Citizen Access to Decision Makers |

69
(1)

| | |
| --- | --- |
| | Responsiveness of Decision Makers |

70
(1)
70
(1)
71
(2)

| | |
| --- | --- |
| | Forms of Local Government |

73
(11)

| | |
| --- | --- |
| | Weak-Mayor and Council Form |

75
(2)

| | |
| --- | --- |
| | Strong-Mayor and Council Form |

77
(2)
79
(1)
79
(1)

| | |
| --- | --- |
| | The Strong-Mayor and Council Form versus the Council-Manager Form |

80
(4)

| | |
| --- | --- |
| | Land-Use Planning, Planning Departments, and Planning Commissions |

84
(8)
84
(1)
85
(2)
86
(1)
87
(1)

| | |
| --- | --- |
| | Zoning Enforcement and Change |

88
(3)
PART TWO Simulating Political Decision Making
91
(1)

| | |
| --- | --- |
| | Introduction to Simulation |

92
(5)
92
(2)
94
(1)

| | |
| --- | --- |
| | Other Things to Keep in Mind |

95
(2)
97
(10)
97
(1)
98
(2)

| | |
| --- | --- |
| | Simulation Time and Real Time |

98
(1)
99
(1)

| | |
| --- | --- |
| | The Order of Business in A Sample City Council Meeting |

100
(1)

| | |
| --- | --- |
| | Council Meeting: First Session of Simulation, Agenda |

101
(1)

| | |
| --- | --- |
| | Planning Commission Meeting: First Session of Simulation, Agenda |

101
(1)

| | |
| --- | --- |
| | Council Meeting: Second Session of Simulation, Agenda |

102
(1)

| | |
| --- | --- |
| | Planning Commission Meeting: Second Session of Simulation, Agenda |

102
(1)
103
(1)

| | |
| --- | --- |
| | Rules of Parliamentary Procedure |

103
(1)

| | |
| --- | --- |
| | How to Put a Motion on the Floor |

104
(1)

| | |
| --- | --- |
| | How to Get to the Vote on Any Debatable Motion |

104
(3)
107
(65)
107
(1)
108
(1)
109
(1)

| | |
| --- | --- |
| | Officer Protection Program Issue |

109
(3)
110
(2)

| | |
| --- | --- |
| | The Beauty Salon Zone Variance Issue |

112
(1)

| | |
| --- | --- |
| | The Downtown Hotel Plaza Issue |

113
(5)
118
(13)

| | |
| --- | --- |
| | The Massage Therapy Facility Issue |

131
(1)

| | |
| --- | --- |
| | The ``Obscene Photographs'' Issue |

132
(2)

| | |
| --- | --- |
| | The Affirmative Action Issue |

134
(8)
134
(2)

| | |
| --- | --- |
| | The Development of Affirmative Action in Camelot |

136
(6)

| | |
| --- | --- |
| | The Strip Mall Development Issue |

142
(4)

| | |
| --- | --- |
| | The Home for Unmarried Pregnant Teenagers Issue |

146
(2)

| | |
| --- | --- |
| | The Topless Bar and Grill Issue |

148
(3)

| | |
| --- | --- |
| | The Handgun Registration Issue |

151
(1)

| | |
| --- | --- |
| | The Noise Ordinance Issue |

152
(3)
155
(1)
156
(2)

| | |
| --- | --- |
| | The Private Use of Public Space Issue |

158
(3)
158
(1)
159
(1)
160
(1)

| | |
| --- | --- |
| | The Couches in the Yards and on the Porches Issue |

161
(2)
163
(1)

| | |
| --- | --- |
| | The Rights of a Homeowner Issue: Home Decoration |

164
(3)

| | |
| --- | --- |
| | Zoning Appeals Board Issues |

167
(5)

| | |
| --- | --- |
| | The Carport Variance Request |

168
(1)

| | |
| --- | --- |
| | The Art Sale from the R-2 Home Variance Request |

168
(1)

| | |
| --- | --- |
| | ``The Sideyard or Backyard?'' |

169
(3)
172
(14)
172
(1)
172
(1)
173
(1)

| | |
| --- | --- |
| | Camelot: Area Descriptions |

173
(4)
173
(1)

| | |
| --- | --- |
| | The Central Business District (CBD) |

174
(1)
174
(1)
174
(1)
175
(1)
175
(1)
175
(1)
176
(1)
176
(1)
176
(1)
177
(1)
177
(5)

| | |
| --- | --- |
| | The Charter of the City of Camelot |

178
(1)
178
(1)

| | |
| --- | --- |
| | Article I. Incorporation, Form of Government, Powers |

178
(1)
178
(1)

| | |
| --- | --- |
| | Article III. Ordinances and Resolutions |

179
(1)
179
(1)

| | |
| --- | --- |
| | Article V. Taxation and Borrowing |

180
(1)

| | |
| --- | --- |
| | Article VI. Boards and Commissions |

180
(1)

| | |
| --- | --- |
| | Article VII. Initiative, Referendum, and Recall |

181
(1)

| | |
| --- | --- |
| | Article VIII. General Provisions |

181
(1)

| | |
| --- | --- |
| | Zoning Regulations and Land Use |

182
(2)

| | |
| --- | --- |
| | Camelot Zoning Regulations |

183
(1)
184
(2)
186
(3)

| | |
| --- | --- |
| | Election Procedures---City of Camelot |

186
(1)

| | |
| --- | --- |
| | City of Camelot Sample Nominating Petition |

187
(2)

| | |
| --- | --- |
| | Role Descriptions, Settings, and Lists of Duties |

189
(28)

| | |
| --- | --- |
| | How to Use the Role Descriptions |

189
(1)

| | |
| --- | --- |
| | Camelot City Government and Lists of Duties of Some of its Officers |

189
(22)
189
(1)

| | |
| --- | --- |
| | The Council, City Manager, and Assistant Manager |

190
(5)
195
(3)
198
(1)
199
(12)
211
(2)

| | |
| --- | --- |
| | City of Camelot Nominating Petition |

213
(2)

| | |
| --- | --- |
| | Your Evaluation of Camelot |

215
(2)
Topical Bibliographies
217
(4)
Index
221
(19)
Quick Reference Page
240