Note: Supplemental materials are not guaranteed with Rental or Used book purchases.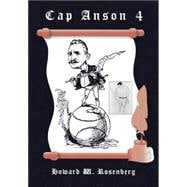 Cap Anson 4 : Bigger Than Babe Ruth: Captain Anson of Chicago
ISBN13:
9780972557436
by
Rosenberg, Howard W.
Summary
This is the crowning jewel of the four-book Cap Anson series: a book that likely set a record for the greatest number of graphics (181) in a book that doubled as a baseball Hall of Famer's definitive biography. Like the rest of the series, Cap Anson 4 accounts for 95+ percent of the surviving primary sources related to Anson. Cap Anson 4 argues that Anson received the wittiest coverage, over a long playing and post career, of any player in the sport's history. Also based on dozens of Cap's personal letters that have never been mentioned before, Cap Anson 4 traces Cap's life starting from childhood, when he grew up in a log cabin, through the one-of-a-kind gruff persona he took on as captain (player)-manager of the famous Chicago (National League) White Stockings (which later became the Colts) for a major league-record 19 straight years as an on-the-field leader with the same team. Then the book explores his fascinating post career that included his tenure as city clerk of Chicago, the city's number three post, 100 years ago (1905 to 1907); founding of a semi-pro team called Anson's Colts; his personal bankruptcy; and a long vaudeville career that is unmatched by any Hall of Fame player. Cap was the first big star in the game's history to age fully, healthily and colorfully in the public eye (to the reasonably ripe old age of three days before his 70th birthday). Except for aspects of him covered in the prior books in the series, the author explores the vast majority of all remaining aspects of the man and in relation to his key teammates, including one with great name recognition today: evangelist Billy Sunday. At a time when big-time publishers and mainstream media cherry-pick in "focus group"-like ways to appeal to names popularized by more modern technologies such as film and television, Cap Anson 4 brings back the glory days of print baseball journalism (even before Ring Lardner Sr.) and brilliantly illuminates its truly most legendary combination of hero and anti-hero: Cap is also the player most often blamed for bringing about the sport's color line that Jackie Robinson broke. For being the culprit, Cap was vilified in Ken Burns's 1994 PBS series on the sport. Accordingly, more than two dozen pages of Cap Anson 4 are devoted to claims and counterclaims about Anson's behavior and influence. Praise for Cap Anson 4: "a balanced reckoning of Anson¿s role in creating the 'color barrier¿ that excluded African-Americans from professional baseball for sixty years."--Gabriel Schechter, History Review of New Books, Heldref Publications, Fall 2006
Author Biography
Howard W. Rosenberg, a native of Roslyn, N.Y., is writing a series of topical and biographical books on early baseball, with Cap Anson the organizing feature. A 1987 graduate of Cornell University, he has worked in Washington, D.C., as a wire service reporter for Jewish newspapers and as an editor for the federal government. He lives in Arlington, Va.
Table of Contents
| | |
| --- | --- |
| | Baseball Before Ring Lardner |

1
(6)
7
(8)
15
(6)

| | |
| --- | --- |
| | Relative Advantages of Nineteenth-Century Coverage |

21
(4)
25
(8)

| | |
| --- | --- |
| | Anson's Moods (and Mustache) |

33
(4)

| | |
| --- | --- |
| | Hitting, Fielding and Pitching Overview |

37
(2)

| | |
| --- | --- |
| | additional overview (scope of books in series) |

38
(1)
39
(14)

| | |
| --- | --- |
| | Rockford and Philadelphia, 1871-75 |

53
(10)
63
(6)
69
(2)

| | |
| --- | --- |
| | Pre-Captain Years, 1876-78 |

71
(10)
81
(36)

| | |
| --- | --- |
| | Still Contenders, 1887-91 |

117
(116)
233
(74)
307
(102)
Appendix A: 1900 American Association
409
(4)
Appendix B: Anson's Betting on Sprints
413
(2)
Appendix C: Years-Later Stories
415
(8)
Appendix D: Anson and Blacks
423
(24)
Appendix E: Superstitions
447
(14)
Appendix F: Timeline
461
(6)
Endnotes
467
(69)
Index A
536
(21)
Index B (Geography and Place Names)
557