Note: Supplemental materials are not guaranteed with Rental or Used book purchases.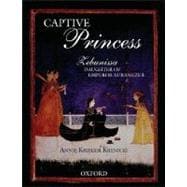 Summary
"The heroine of our book, Zebunissa has remained almost completely ignored by chroniclers and historians. In the prime of her life, her father, the Emperor Aurangzeb incarcerated her in the fortress prison of Salimgarh, where she languished for twenty years until her death. Yet before she fell from grace she had been his favourite daughter. Everything about her life seems shrouded in mystery, and historians have tried in vain to penetrate the obscurity of her life. Only her poems give us an indication of her character. She seems to have been a very humane person, with weaknesses, passions, and an indomitable pride, but dressed in the black veils for which she was noted. In the end, with all her learning and experience, she was incarcerated in Salimgarh, with only the high walls, the yellow sand blowing in the hot breeze, and the tepid waters of the Yamuna glistening in the blazing sun. Here, in isolation and anguish, she contemplated, and plumbed the depths of her heart till finally she confronted the infinity of the Creator."--BOOK JACKET.
Author Biography

Annie Krieger Krynicki is Docteur d'Etat in Public Law. After a career as barrister at law in Paris she also served as a professor at the University of Paris IX Dauphine and at Sorbonne-Nouvelle 3. She is a graduate in Urdu (Inalco, Paris) and has written numerous books and articles about the constitutional and political life in Pakistan. She has been awarded the Knight of Merite and the Sitara-e-Quaid-i-Azam for her studies on Pakistan.

Table of Contents
Acknowledgements
ix
Preface
xi
Prologue
xix

| | |
| --- | --- |
| | The Deccan Viceroy's Daughter |

1
(24)
1
(3)
4
(1)
5
(1)
6
(4)

| | |
| --- | --- |
| | Astrology and the Mughals |

10
(4)

| | |
| --- | --- |
| | Superstition and the Practice of Magic |

14
(1)

| | |
| --- | --- |
| | Astrology and the Symbolism of Colours in India |

15
(3)
18
(7)

| | |
| --- | --- |
| | Zebunissa at Shah Jehan's Court |

25
(25)
25
(4)

| | |
| --- | --- |
| | The Ceremonials of the Court of Agra |

29
(4)

| | |
| --- | --- |
| | The Organization of the Empire and the Role of the Omrahs |

33
(4)

| | |
| --- | --- |
| | Powers and Devotions of the Ladies of the Court |

37
(3)

| | |
| --- | --- |
| | The Other Side of Imperial Politics |

40
(1)

| | |
| --- | --- |
| | The End and the Beginning (1648---1652) |

41
(3)
44
(3)

| | |
| --- | --- |
| | Aurangzeb and the Siege of Qandahar |

47
(3)

| | |
| --- | --- |
| | Zebunissa and the Poets and Sufis |

50
(22)

| | |
| --- | --- |
| | Poetry in Shah Jehan s Court |

50
(1)
51
(5)
56
(1)

| | |
| --- | --- |
| | The Chishtis and the Mughal Dynasty |

57
(1)

| | |
| --- | --- |
| | Zebunissa, Jahanara, and the Rose Prince |

57
(7)

| | |
| --- | --- |
| | The Shattari Silsila and its Followers |

64
(2)
66
(6)

| | |
| --- | --- |
| | The Deccan: Lost and Found |

72
(18)
72
(5)
77
(1)

| | |
| --- | --- |
| | Dara Shikoh s Scandalous Book |

78
(3)
81
(3)
84
(3)
87
(3)

| | |
| --- | --- |
| | Zebunissa, Princess Imperial |

90
(52)
90
(3)
93
(1)
94
(1)
95
(6)
101
(2)
103
(1)
104
(2)
106
(5)

| | |
| --- | --- |
| | The Persian Embassy and Zebunissa a Supposed Engagement |

111
(3)
114
(1)

| | |
| --- | --- |
| | Aurangzeb s Illness and the Plot |

115
(2)
117
(1)
118
(4)

| | |
| --- | --- |
| | The Idyll of Lahore or The Princess and the Horseman |

122
(3)

| | |
| --- | --- |
| | O Love, I am in Thy Thrall (Diwan XVI) |

125
(3)

| | |
| --- | --- |
| | The Last Fires of the Imperial Court |

128
(3)

| | |
| --- | --- |
| | Passing Time in the Zenana |

131
(2)

| | |
| --- | --- |
| | The Red and Black Clouds of War and Mourning |

133
(7)

| | |
| --- | --- |
| | No Torch s Flame for Me (Diwan XLI) |

140
(2)
142
(25)

| | |
| --- | --- |
| | Zebunissa, the Royal Patron |

142
(3)

| | |
| --- | --- |
| | The Dissolution of the Family |

145
(2)

| | |
| --- | --- |
| | The Evolution of the Court |

147
(4)
151
(3)
154
(4)
158
(9)

| | |
| --- | --- |
| | Sahmgarh, Island of the Living Dead |

167
(16)
167
(4)

| | |
| --- | --- |
| | Zebunissa s Mystic Poetry |

171
(2)

| | |
| --- | --- |
| | The Grandeur and Vicissitudes of Imperial Arms |

173
(3)

| | |
| --- | --- |
| | Akbar and the Persian Demon of the Forest |

176
(7)
183
(6)
Notes
189
(16)
Dramatis Personae
205
(4)
Bibliography
209
(4)
Index
213