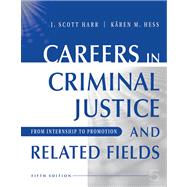 Careers in Criminal Justice and Related Fields : From Internship to Promotion
by
Harr, J. Scott
List Price: $54.33
Usually Ships in 2-3 Business Days
Questions About This Book?
What version or edition is this?
This is the 5th edition with a publication date of 6/27/2005.
What is included with this book?
The Used copy of this book is not guaranteed to inclue any supplemental materials. Typically, only the book itself is included.
Summary
This book provides students with the necessary information to help them enter the field of criminal justice--from finding a criminal justice internship all the way to locating the right criminal justice profession for them. It also helps students develop a job-search strategy, offering information on internship requirements, professional conduct, r?sum?s, interviews, and locating jobs. It is also a valuable resource to those in the field who are interested in professional development, job change and promotional advancement. To reflect the changes to the new edition, the title has been changed from SEEKING EMPLOYMENT IN CRIMINAL JUSTICE AND RELATED FIELDS to CAREERS IN CRIMINAL JUSTICE AND RELATED FIELDS: FROM INTERNSHIP TO PROMOTION, Fifth Edition.
Table of Contents
xvii
Foreword
xviii
Acknowledgments
xix
Introduction
xxi
About the Authors
xxiv

| | |
| --- | --- |
| | SECTION ONE: THE CHALLENGE |

1
(126)

| | |
| --- | --- |
| | Employment Trends: the World of Work |

2
(14)
2
(1)
2
(2)

| | |
| --- | --- |
| | What's Important on the Job |

4
(1)
4
(1)
5
(3)
6
(1)

| | |
| --- | --- |
| | Vital Communication and Technical Skills |

7
(1)

| | |
| --- | --- |
| | A Look at Jobs of the Future---Where Will You Fit In? |

8
(3)

| | |
| --- | --- |
| | Growth in the Service Industries |

8
(2)

| | |
| --- | --- |
| | A Need for More Education |

10
(1)
11
(1)
12
(1)

| | |
| --- | --- |
| | Introducing the Insiders' Views |

12
(1)

| | |
| --- | --- |
| | An Insider's View: ``What You'll Need to Succeed in the 21st Century'' (Erickson) |

13
(1)
14
(1)
14
(1)
15
(1)

| | |
| --- | --- |
| | First Responders: Careers in Law Enforcement, Public Safety and Related Fields |

16
(35)
16
(1)

| | |
| --- | --- |
| | Is Law Enforcement for You? |

16
(2)
18
(1)
19
(1)

| | |
| --- | --- |
| | Law Enforcement---Up Close |

19
(1)

| | |
| --- | --- |
| | Where Opportunities Exist |

20
(10)
20
(1)
21
(1)
22
(1)
22
(2)
24
(6)
30
(1)
31
(3)

| | |
| --- | --- |
| | Local, County and State Salaries |

32
(1)
32
(1)
33
(1)
33
(1)

| | |
| --- | --- |
| | Advanced Jobs and Specialization |

34
(5)
35
(1)

| | |
| --- | --- |
| | Medicolegal Death Investigator (MDI) |

36
(1)

| | |
| --- | --- |
| | Crime Scene Investigator (CSI) |

37
(1)
37
(1)
38
(1)

| | |
| --- | --- |
| | Humane Law Enforcement (HLE) Officer |

38
(1)

| | |
| --- | --- |
| | Other Venues Requiring Law Enforcement |

39
(1)
39
(1)

| | |
| --- | --- |
| | Nonsworn Career Options Related to Law Enforcement |

40
(1)

| | |
| --- | --- |
| | Community Crime Prevention Specialists |

40
(1)
41
40
(1)
41
(1)
41
(3)

| | |
| --- | --- |
| | Emergency Medical Technicians (EMTs) and Paramedics |

44
(1)
44
(1)

| | |
| --- | --- |
| | An Insider's View: ``It's Not Like on TV'' (Conroy) |

45
(1)
46
(1)
47
(1)
47
(1)
48
(2)
50
(1)

| | |
| --- | --- |
| | Careers in the Courts, Corrections and Related Fields |

51
(19)
51
(1)

| | |
| --- | --- |
| | Opportunities in Our Judicial System---the Courts |

52
(7)
52
(2)

| | |
| --- | --- |
| | Judges, Magistrates and Other Judicial Workers |

54
(1)

| | |
| --- | --- |
| | Legal Assistants and Paralegals |

54
(1)
55
(1)
56
(1)
57
(1)

| | |
| --- | --- |
| | Other ``Helping'' Professions Necessary to the Justice System |

57
(2)

| | |
| --- | --- |
| | Opportunities in Our Judicial System---Corrections |

59
(6)
60
(2)

| | |
| --- | --- |
| | Probation and Parole Officers |

62
(1)

| | |
| --- | --- |
| | Community Corrections---Alternatives to Incarceration |

63
(1)
64
(1)

| | |
| --- | --- |
| | Other Careers in Corrections |

65
(1)
65
(1)

| | |
| --- | --- |
| | An Insider's View: ``Lawyers Wear Many Hats: Is One Right for You?'' (Halberg) |

66
(1)
67
(1)
67
(1)
68
(1)
69
(1)
69
(1)

| | |
| --- | --- |
| | Careers in Private Security |

70
(19)
70
(1)

| | |
| --- | --- |
| | Public versus Private Officers |

71
(1)

| | |
| --- | --- |
| | Public/Private Cooperation |

72
(1)

| | |
| --- | --- |
| | Privatization of Public Justice |

73
(1)
74
(1)

| | |
| --- | --- |
| | Private Sector Involvement in Juvenile Justice |

74
(1)

| | |
| --- | --- |
| | Private Security---Up Close |

74
(10)
76
(3)
79
(2)
81
(1)
82
(2)
84
(1)
84
(1)
84
(1)

| | |
| --- | --- |
| | An Insider's View: ``Career Opportunities in Private Security'' (Iannone) |

85
(1)
86
(1)
86
(1)
87
(1)
88
(1)

| | |
| --- | --- |
| | Additional Contacts and Sources of Information |

88
(1)

| | |
| --- | --- |
| | On Choosing a Career: Knowing the Job and Yourself |

89
(20)
89
(1)

| | |
| --- | --- |
| | Selecting and Developing a Career |

90
(3)

| | |
| --- | --- |
| | Charting Your Future Course |

92
(1)

| | |
| --- | --- |
| | Career Coaches and Counselors |

93
(1)

| | |
| --- | --- |
| | Brainstorming Possibilities |

93
(1)
94
(4)
94
(1)
94
(1)
95
(1)
96
(1)
97
(1)

| | |
| --- | --- |
| | Develop a Positive Attitude |

97
(1)

| | |
| --- | --- |
| | What Do You Want from a Career? |

98
(3)

| | |
| --- | --- |
| | Moving Toward Your Career Goal |

101
(1)
102
(1)
102
(1)
102
(1)

| | |
| --- | --- |
| | To Risk or Not to Risk---That Is the Question |

103
(1)
104
(1)
104
(1)
105
(1)

| | |
| --- | --- |
| | An Insider's View: ``The Private Security Alternative'' (Green) |

105
(2)
107
(1)
107
(1)
108
(1)

| | |
| --- | --- |
| | Additional Contacts and Sources of Information |

108
(1)

| | |
| --- | --- |
| | Internships: Testing the Waters |

109
(18)
109
(1)
110
(1)

| | |
| --- | --- |
| | On Interns and Internships |

110
(2)

| | |
| --- | --- |
| | Locating Internship Opportunities |

112
(2)

| | |
| --- | --- |
| | School-Related Internships |

112
(1)

| | |
| --- | --- |
| | Locating Internships Online |

113
(1)

| | |
| --- | --- |
| | Start Early! Stay Organized! |

114
(1)
114
(1)
114
(2)

| | |
| --- | --- |
| | Making the Most of the Experience |

116
(2)

| | |
| --- | --- |
| | When Good Internships Go Bad |

118
(2)

| | |
| --- | --- |
| | What If You Are Told to ``Get Out''? |

120
(1)
120
(1)

| | |
| --- | --- |
| | Internships Throughout Your Career |

121
(1)

| | |
| --- | --- |
| | A Recap---The Do's and Don'ts of Internships |

121
(3)
124
(1)

| | |
| --- | --- |
| | An Insider's View: ``The Benefits of Learning while Serving'' (Hendricks) |

124
(1)
125
(1)
126
(1)

| | |
| --- | --- |
| | SECTION TWO: MEETING THE CHALLENGE: PREPARING |

127
(90)

| | |
| --- | --- |
| | Physical Fitness and Testing |

128
(18)
128
(1)
128
(1)

| | |
| --- | --- |
| | Why Is Fitness Important? |

129
(1)
130
(2)
132
(1)
133
(3)
133
(1)
134
(1)
134
(1)
135
(1)
135
(1)
135
(1)

| | |
| --- | --- |
| | A Basic Physical Fitness Program |

136
(2)
136
(1)

| | |
| --- | --- |
| | Sticking to Your Fitness Program |

136
(1)

| | |
| --- | --- |
| | The Challenge of Maintaining Fitness |

137
(1)
138
(1)
139
(1)
139
(1)
140
(1)
140
(1)

| | |
| --- | --- |
| | Smoking, Alcohol and Other Drugs |

141
(1)

| | |
| --- | --- |
| | Benefits of Being Physically Fit |

141
(1)
142
(1)

| | |
| --- | --- |
| | An Insider's View: ``Fitness: The Most Important Weapon You Will Ever Carry'' (Nierenhausen) |

142
(2)
144
(1)
144
(1)
144
(2)
146
(19)
146
(1)
146
(1)
147
(4)
148
(1)
149
(2)

| | |
| --- | --- |
| | Memory and Observation Tests |

151
(1)

| | |
| --- | --- |
| | Strategies for Taking Tests |

151
(3)
154
(1)
154
(5)

| | |
| --- | --- |
| | Purposes of Psychological Testing |

155
(1)
156
(1)

| | |
| --- | --- |
| | Specific Psychological Tests |

156
(2)
158
(1)
159
(1)
160
(1)
161
(1)
162
(1)

| | |
| --- | --- |
| | An Insider's View: ``Preparing to Do Your Best'' (Conroy) |

162
(1)
163
(1)
163
(1)
163
(1)

| | |
| --- | --- |
| | Recommended Test Preparation Books |

164
(1)

| | |
| --- | --- |
| | Attributes of Successful Candidates |

165
(18)
165
(1)

| | |
| --- | --- |
| | How Do You Appear on Paper? |

166
(1)
166
(9)
168
(1)

| | |
| --- | --- |
| | Volunteer Community Service |

169
(1)
169
(1)
170
(1)
170
(3)
173
(1)

| | |
| --- | --- |
| | Computer, Keyboarding and Word Processing Skills |

174
(1)
174
(1)
175
(1)

| | |
| --- | --- |
| | Making the Best of Bad Situations |

175
(2)

| | |
| --- | --- |
| | Criminal Justice, Private Security and Ethics |

177
(2)
178
(1)
179
(1)

| | |
| --- | --- |
| | An Insider's View: ``Getting Your Foot in the Door'' (Stein) |

179
(2)
181
(1)
181
(1)
181
(2)

| | |
| --- | --- |
| | The Resume: Selling Yourself on Paper |

183
(22)
183
(1)
183
(1)

| | |
| --- | --- |
| | The Purposes of the Resume |

184
(1)

| | |
| --- | --- |
| | Steps in Creating a Resume |

185
(1)
185
(5)

| | |
| --- | --- |
| | Personal Identifying Information |

186
(1)
187
(1)
187
(1)

| | |
| --- | --- |
| | Position Desired or Employment Objective |

188
(1)
188
(1)
188
(1)
188
(1)
189
(1)

| | |
| --- | --- |
| | Select the Type of Resume |

190
(2)

| | |
| --- | --- |
| | Historical/Chronological Resume |

190
(1)
191
(1)
191
(1)
192
(1)
192
(1)
192
(4)
194
(1)

| | |
| --- | --- |
| | Preparing a Scannable Resume |

195
(1)
195
(1)

| | |
| --- | --- |
| | Edit and Polish Your First Draft |

196
(1)
196
(1)
196
(1)
197
(1)
197
(2)
199
(1)

| | |
| --- | --- |
| | Electronic Submission and Faxing of Resumes |

200
(1)

| | |
| --- | --- |
| | Hand Delivering Your Resume |

200
(1)
200
(1)
201
(1)
201
(1)

| | |
| --- | --- |
| | An Insider's View: ``The Resume: A Balance of Modesty and Self-Confidence'' (Kerlikowske) |

201
(1)
202
(1)
203
(1)
203
(1)
204
(1)

| | |
| --- | --- |
| | Preparing for Not Getting the Job |

205
(12)
205
(1)
205
(3)
208
(1)

| | |
| --- | --- |
| | Learning from the Process |

209
(1)
209
(3)
212
(1)

| | |
| --- | --- |
| | An Insider's View: ``Each Failure Is One Step Closer to Success'' (Thompson) |

213
(2)
215
(1)
215
(1)
215
(2)

| | |
| --- | --- |
| | SECTION THREE: JOB-SEEKING STRATEGIES |

217
(60)

| | |
| --- | --- |
| | The Application Process: Finding and Applying for Jobs |

218
(21)
218
(1)

| | |
| --- | --- |
| | Developing Your Job-Search Strategy |

219
(1)

| | |
| --- | --- |
| | Where to Look for Job Openings |

220
(5)
220
(1)

| | |
| --- | --- |
| | Specialty Periodicals and Other Publications |

221
(1)
222
(1)

| | |
| --- | --- |
| | Government Employment and Educational Placement Offices |

223
(1)
224
(1)
224
(1)
224
(1)
225
(1)
226
(2)
228
(1)
229
(1)

| | |
| --- | --- |
| | You've Found an Opening and They've Asked You to Apply |

229
(2)
230
(1)

| | |
| --- | --- |
| | Remember the Magic Words---Thank-You |

231
(1)
232
(1)

| | |
| --- | --- |
| | Testing Your Careering Competencies |

232
(2)
234
(1)

| | |
| --- | --- |
| | An Insider's View: ``Law Enforcement Jobs: Learning How to Get Them Takes the Same Skills Required to Do Them'' (Lombardi) |

234
(4)
238
(1)
238
(1)
238
(1)

| | |
| --- | --- |
| | Additional Contacts and Sources of Information |

238
(1)

| | |
| --- | --- |
| | Your Job-Seeking Uniform: Presenting Yourself as THE One to Hire |

239
(16)
239
(1)

| | |
| --- | --- |
| | The Employer's Investment |

240
(1)

| | |
| --- | --- |
| | Elements of Your Job-Seeking Uniform |

240
(1)

| | |
| --- | --- |
| | The Primacy Effect and the Five-Minute Barrier |

241
(1)
242
(1)

| | |
| --- | --- |
| | Getting to Know Each Other |

242
(1)
242
(2)
244
(1)
244
(2)
246
(1)
247
(1)

| | |
| --- | --- |
| | Body Language, Composure and Personality |

248
(1)
248
(1)
249
(1)
249
(1)
250
(1)

| | |
| --- | --- |
| | Planning Your Interview Strategy |

251
(1)
252
(1)

| | |
| --- | --- |
| | An Insider's View: ``Presenting Yourself as THE One to Hire'' (Maples) |

252
(1)
253
(1)
253
(1)
253
(2)

| | |
| --- | --- |
| | The Interview: A Closer Look |

255
(22)
255
(1)

| | |
| --- | --- |
| | Purposes of the Job Interview |

256
(4)
256
(4)
260
(2)
260
(1)
260
(1)
261
(1)

| | |
| --- | --- |
| | ``Unnecessary'' Interviews |

262
(1)
262
(1)

| | |
| --- | --- |
| | Teleconferencing and Video Interviews---A New Twist |

262
(2)
264
(5)

| | |
| --- | --- |
| | Practice, Practice, Practice |

269
(1)
269
(1)
270
(1)
270
(1)
271
(1)
272
(1)
273
(1)

| | |
| --- | --- |
| | An Insider's View: ``Your Turn to Star'' (Chaffee) |

273
(2)
275
(1)
275
(1)
275
(1)

| | |
| --- | --- |
| | Additional Contacts and Sources of Information |

276
(1)

| | |
| --- | --- |
| | SECTION FOUR: YOUR FUTURE IN YOUR CHOSEN PROFESSION |

277
(42)

| | |
| --- | --- |
| | At Last! You've Got the Job! Congratulations!!! |

278
(10)
278
(1)
279
(1)
279
(1)
280
(1)
280
(1)
281
(1)

| | |
| --- | --- |
| | Accept Criticism Maturely |

282
(1)
283
(1)
283
(2)
285
(1)

| | |
| --- | --- |
| | Your Game Plan for Excelling on the Job |

285
(1)

| | |
| --- | --- |
| | An Insider's View: ``Surviving Probation'' (Miller) |

285
(1)
286
(1)
286
(1)
287
(1)

| | |
| --- | --- |
| | The Career Ladder: Insights Into Promotions and Job Change |

288
(17)
288
(1)

| | |
| --- | --- |
| | Promotions: What They Are and Where They Are |

289
(1)

| | |
| --- | --- |
| | Motivations for Seeking Change |

289
(1)
290
(1)

| | |
| --- | --- |
| | Increasing Your Chances for Promotion---Preparation Is Key |

291
(3)

| | |
| --- | --- |
| | A Final Note on Broadening Your Experience and Education |

294
(1)

| | |
| --- | --- |
| | Networking and Other Valuable Promotion-Seeking Tools |

295
(1)

| | |
| --- | --- |
| | Advancement in the Other Protective Services |

296
(3)

| | |
| --- | --- |
| | Improving Promotional Interview Performance |

299
(2)
301
(1)

| | |
| --- | --- |
| | An Insider's View: ``Making the Most of Your Law Enforcement Career'' (Beckman) |

301
(2)
303
(1)
303
(1)
303
(2)

| | |
| --- | --- |
| | Job Loss and Change: The Road Less Traveled |

305
(14)
305
(1)
306
(1)

| | |
| --- | --- |
| | Why Is Having a Strategy So Important? |

307
(1)

| | |
| --- | --- |
| | The Myths and Hard Truths About Work |

307
(2)
307
(2)
309
(1)
309
(1)

| | |
| --- | --- |
| | The Sequential Reaction to Job Loss and Change |

310
(2)
311
(1)
312
(1)
313
(1)
314
(1)
315
(1)

| | |
| --- | --- |
| | An Insider's View: ``Job Loss and Grief'' (Obershaw) |

315
(1)
316
(1)
317
(1)
317
(1)

| | |
| --- | --- |
| | Additional Contacts and Sources of Information |

317
(2)
319
(15)

| | |
| --- | --- |
| | A IACP Police Code of Conduct |

320
(2)

| | |
| --- | --- |
| | B ASIS Security Code of Ethics |

322
(2)
324
(5)
329
(3)

| | |
| --- | --- |
| | E Sample Cover Letter and Follow-Up Letter |

332
(2)
Author Index
334
(2)
Subject Index
336