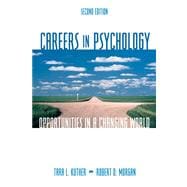 List Price: $33.67
Usually Ships in 2-3 Business Days

More New and Used
from Private Sellers
Questions About This Book?
What version or edition is this?
This is the 2nd edition with a publication date of 5/9/2006.
What is included with this book?
The Used copy of this book is not guaranteed to include any supplemental materials. Typically, only the book itself is included.
Related Products
Summary
Are you considering a degree in psychology? CAREERS IN PSYCHOLOGY gives you exposure to careers in each of the areas of psychology and prompts you to explore whether or not a major and career in psychology is a good fit for you. Salary and career information, advice on getting a job after graduation, and information on applying to graduate school in psychology help you make decisions about the career that is right for you. CAREERS IN PSYCHOLOGY is a must read for anyone majoring in psychology or considering the degree.
Table of Contents
| | |
| --- | --- |
| | Psychology's Diverse Career Opportunities |

1
(16)
2
(1)

| | |
| --- | --- |
| | Careers in Teaching, Research, and Practice |

3
(3)

| | |
| --- | --- |
| | Choosing a Major and Career |

6
(4)

| | |
| --- | --- |
| | Understand Your Interests, Skills, and Values |

6
(1)

| | |
| --- | --- |
| | Understand Your Personality |

7
(1)

| | |
| --- | --- |
| | Understand the Difference between a Major and a Career |

8
(2)
10
(1)
10
(2)
12
(3)
13
(1)
13
(1)

| | |
| --- | --- |
| | Seek Internships and Practica |

14
(1)
14
(1)

| | |
| --- | --- |
| | Engage in Extracurricular Activities |

14
(1)
15
(1)
15
(1)

| | |
| --- | --- |
| | Checklist: Is Psychology for You? |

16
(1)

| | |
| --- | --- |
| | Graduate-Level Careers in Psychology |

17
(16)

| | |
| --- | --- |
| | The Ivory Tower: Psychologists as Professors |

18
(4)

| | |
| --- | --- |
| | Research In and Out of the Ivory Tower |

22
(3)
22
(1)
23
(1)
23
(1)

| | |
| --- | --- |
| | Social Service Agencies and Nonprofits |

24
(1)
25
(1)
25
(2)

| | |
| --- | --- |
| | Psychologists in the Military |

26
(1)

| | |
| --- | --- |
| | Advantages, Disadvantages, and Salary |

26
(1)
27
(3)
28
(1)
29
(1)
30
(1)
31
(1)

| | |
| --- | --- |
| | Checklist: Is an Advanced Career in Psychology for You? |

32
(1)

| | |
| --- | --- |
| | Clinical and Counseling Psychology |

33
(17)
34
(1)
35
(2)

| | |
| --- | --- |
| | Other Mental Health Professions |

36
(1)

| | |
| --- | --- |
| | Opportunities with a Bachelor's Degree |

37
(3)
37
(1)
38
(1)

| | |
| --- | --- |
| | Substance Abuse Counselor |

39
(1)

| | |
| --- | --- |
| | Opportunities with a Graduate Degree |

40
(7)

| | |
| --- | --- |
| | Graduate Education and Training Considerations |

40
(5)
45
(1)

| | |
| --- | --- |
| | Program Development and Evaluation |

46
(1)
46
(1)
47
(1)
48
(1)

| | |
| --- | --- |
| | Checklist: Is Clinical or Counseling Psychology For You? |

48
(2)
50
(11)

| | |
| --- | --- |
| | Opportunities with a Bachelor's Degree |

51
(3)
52
(1)
53
(1)

| | |
| --- | --- |
| | Opportunities with a Graduate Degree |

54
(5)
54
(4)
58
(1)
59
(1)
59
(1)

| | |
| --- | --- |
| | Checklist: Is School Psychology for You? |

60
(1)

| | |
| --- | --- |
| | Legal and Forensic Psychology |

61
(15)

| | |
| --- | --- |
| | Psychology and Law: What Is It? |

62
(1)

| | |
| --- | --- |
| | Opportunities with a Bachelor's Degree |

63
(3)
63
(1)
64
(1)

| | |
| --- | --- |
| | Probation and Parole Officer |

65
(1)

| | |
| --- | --- |
| | Juvenile Detention Worker |

66
(1)

| | |
| --- | --- |
| | Opportunities with a Graduate Degree |

66
(8)
67
(1)
68
(2)
70
(1)
71
(1)
72
(2)
74
(1)
74
(1)

| | |
| --- | --- |
| | Checklist: Is Legal or Forensic Psychology for You? |

75
(1)

| | |
| --- | --- |
| | Health and Sport Psychology |

76
(14)
77
(1)
78
(1)

| | |
| --- | --- |
| | Opportunities with a Bachelor's Degree |

78
(4)

| | |
| --- | --- |
| | Fitness Instructor and Recreational Worker |

79
(1)

| | |
| --- | --- |
| | Physical Education Teacher |

80
(1)
80
(1)

| | |
| --- | --- |
| | Occupational Therapy Assistant |

81
(1)

| | |
| --- | --- |
| | Opportunities with a Graduate Degree |

82
(6)
82
(3)
85
(3)
88
(1)
88
(1)

| | |
| --- | --- |
| | Checklist: Is Health or Sport Psychology for You? |

89
(1)

| | |
| --- | --- |
| | Biopsychology, Cognitive Neuropsychology, and Clinical Neuropsychology |

90
(13)
91
(1)

| | |
| --- | --- |
| | Cognitive Neuropsychology |

92
(1)
92
(1)

| | |
| --- | --- |
| | Opportunities with a Bachelor's Degree |

93
(3)
93
(1)
94
(1)

| | |
| --- | --- |
| | Clinical Laboratory Technologist or Technician |

94
(1)
95
(1)

| | |
| --- | --- |
| | Opportunities with a Graduate Degree |

96
(4)
96
(1)
97
(1)
98
(2)
100
(1)
101
(1)

| | |
| --- | --- |
| | Checklist: Is Biopsychology, Clinical Neuropsychology, or Cognitive Neuropsychology for You? |

101
(2)

| | |
| --- | --- |
| | Industrial, Organizational, and Human Factors Psychology |

103
(17)
104
(2)
104
(1)
104
(1)
105
(1)
105
(1)

| | |
| --- | --- |
| | Organizational Psychology |

106
(1)

| | |
| --- | --- |
| | Job Satisfaction and Quality of Work Life |

106
(1)
106
(1)

| | |
| --- | --- |
| | Organizational Development |

107
(1)
107
(1)

| | |
| --- | --- |
| | Opportunities with a Bachelor's Degree |

108
(4)
108
(3)

| | |
| --- | --- |
| | Commercial or Industrial Design Assistant |

111
(1)
111
(1)

| | |
| --- | --- |
| | Opportunities with a Graduate Degree |

112
(5)
112
(1)
113
(2)
115
(1)
116
(1)
117
(1)
118
(1)

| | |
| --- | --- |
| | Checklist: Is Work Psychology for You? |

119
(1)

| | |
| --- | --- |
| | Experimental, Cognitive, and Quantitative Psychology and Psychometrics |

120
(13)
121
(1)
121
(1)
122
(1)
122
(1)

| | |
| --- | --- |
| | Opportunities with a Bachelor's Degree |

122
(3)
123
(1)
123
(1)

| | |
| --- | --- |
| | Computer Support Specialist |

124
(1)
125
(1)

| | |
| --- | --- |
| | Opportunities with a Graduate Degree |

125
(5)

| | |
| --- | --- |
| | Operations Research Analyst |

125
(1)
126
(1)
127
(1)
128
(1)
128
(1)
129
(1)
130
(1)
131
(1)

| | |
| --- | --- |
| | Checklist: Are Experimental or Quantitative Areas of Psychology for You? |

131
(2)

| | |
| --- | --- |
| | Social and Consumer Psychology |

133
(13)
134
(1)
134
(1)

| | |
| --- | --- |
| | Opportunities with a Bachelor's Degree |

135
(5)
135
(2)
137
(1)
138
(1)
139
(1)

| | |
| --- | --- |
| | Opportunities with a Graduate Degree |

140
(3)
140
(1)
141
(1)
142
(1)
143
(1)
144
(1)

| | |
| --- | --- |
| | Checklist: Is Social or Consumer Psychology for You? |

145
(1)
146
(12)
147
(1)

| | |
| --- | --- |
| | Opportunities with a Bachelor's Degree |

148
(2)
148
(1)

| | |
| --- | --- |
| | Careers in Nonprofit Organizations |

149
(1)

| | |
| --- | --- |
| | Opportunities with a Graduate Degree |

150
(5)

| | |
| --- | --- |
| | Scientist-Practitioner Careers |

151
(2)

| | |
| --- | --- |
| | Product Development and Media Consultant |

153
(1)
154
(1)
155
(1)
156
(1)

| | |
| --- | --- |
| | Checklist: Is Developmental Psychology for You? |

157
(1)

| | |
| --- | --- |
| | Getting a Job After Graduation |

158
(15)

| | |
| --- | --- |
| | Skills and Abilities Sought by Employers |

159
(2)
161
(1)
161
(4)
162
(1)
163
(2)
165
(1)
166
(1)
167
(3)
167
(2)
169
(1)
170
(1)
170
(1)
171
(1)
171
(2)

| | |
| --- | --- |
| | Getting into Graduate School in Psychology |

173
(14)

| | |
| --- | --- |
| | Do You Need to Go to Graduate School? |

174
(1)

| | |
| --- | --- |
| | Sorting out the Letters: MA, PhD, and PsyD |

175
(3)
175
(2)
177
(1)

| | |
| --- | --- |
| | Skills and Abilities Sought by Graduate Programs |

178
(1)

| | |
| --- | --- |
| | Applying to Graduate School |

179
(6)
179
(1)
179
(1)
180
(1)

| | |
| --- | --- |
| | Admissions Essays and Personal Statements |

180
(2)

| | |
| --- | --- |
| | Letters of Recommendation |

182
(1)
183
(2)
185
(1)
185
(1)

| | |
| --- | --- |
| | Checklist: Is Graduate School for You? |

186
(1)
References
187
(14)
Index
201