Note: Supplemental materials are not guaranteed with Rental or Used book purchases.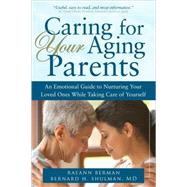 Caring for Your Aging Parents: An Emotional Guide to Nurturing Your Loved Ones While Taking Care of Yourself
ISBN13:
9781402218613
by
Berman, Raeann
Summary
The fastest-growing segment of our population is people 85 and older, and many of them are now cared for by their children. This comforting and poignant guide bridges the gap between elderly parents and the adult children who care for them, with trusted answers to questions most asked by caregivers in this challenging situation. Covering health, finances, living arrangements, communication, and emotional struggles, Caring for Your Aging Parents offers caring, professional advice for the increasingly difficult decisions that caregivers face, including: Making the right choice between home care and assisted living Coping with memory-loss and dementia Expressing care and concern without sending mixed messages Counteracting negative behavior Encouraging other family members to help with caregiving Managing stress and taking care of yourself With a wealth of resources and reassuring answers, Caring for Your Aging Parents helps caregivers foster a loving, cooperative relationship with their parents in this new chapter of their life. *** "It's a terrific book." Newsday "Useful, easy to read, and most informative." - Dr. Daniel Thursz, president, National Council of the Aging "Full of information..." Washington Post "One of the best books on eldercare." Ken Dychtwald, Age Wave ***
Table of Contents
Acknowledgments
p. vii
Prologue
p. ix
Living on the Far Side
p. 1
Missed Signals
p. 13
Sending Straight Signals
p. 33
It's All in the Family
p. 49
Who's the Boss?
p. 67
Breaking Out of Old, Destructive Patterns
p. 89
How to Help Our Parents Compensate Constructively
p. 117
Taking Care of Yourself as well as Your Parent
p. 131
When Your Parent Has to Move: How to Find the Best Living Arrangements
p. 157
How to Talk about Difficult Subjects
p. 175
Dealing with Confusion and Memory Loss
p. 197
What Does the Future Hold for America's Seniors?
p. 213
Resources
p. 217
Bibliography
p. 227
Index
p. 231
About the Authors
p. 243
Table of Contents provided by Ingram. All Rights Reserved.
Excerpts
<p><strong>Excerpt from Chapter 1: Living on the Far Side</strong></p><p>You're alone most of the time. When you do relate to people, it tends to be in terms of money. You're paying them to do something for you—bring in your dry cleaning, pick up a quart of milk, make a phone call to the outside. You play your television all day long so there are voices in the house. You'd like to hem your slacks or sew a button on a shirt, but you can't see well enough to thread the needle. And, besides, you can't remember where you put the sewing kit.</p><p>You cry a lot lately. You remember what it was like to be independent, young, healthy. You remember what it was like to have brothers and sisters. You remember your own mother better now—the touch of her hands, the bread she baked for special holidays. Sometimes you can't remember your daughter's married name. Or her telephone number. Sometimes you forget whether or not you had dinner last night. Sometimes you wonder why you're still alive.</p><p>Your mother called you again at work today. "When are you coming over? I'm lonely." "I was there yesterday, Mom. I can't make it till the weekend. What do you need? I'll bring it." You hang up and the headache begins. Or the stomachache or the zinging in the back of your neck. You don't sleep well anymore. You wake up at 4:00 a.m. and see your mother crossing the street alone—just your mother and her cane and all the cars and trucks. And you start to worry. Every time you go there now, she cries, gives you hurt looks. Or asks you what you're planning to do with your extra bedroom now that Ellen is married and Jimmy has his own place. You're losing your sense of humor. You're starting to feel old.</p><p><strong>Staring across the Generation Gap</strong><br>The distance between our aging parents and us seems insurmountable. We're at two different places on life's journey, struggling with a vision of our own mortality, wondering why we wake up hurting all over now, looking in the mirror sometimes and seeing a tired face and hair that has the effrontery to turn gray. We've raised our kids, gone through the fire of their adolescence. And we've paid our dues in the workplace. Now we want to relax, have fun, do the things we've postponed.</p><p>The vision of our mortality both depresses us and spray paints "Live now. It's my turn" on our consciousness. The more adventurous of us pay attention to the graffiti. We decide to take more vacations. Or to work less. Or to enroll in courses in Egyptology or scuba diving. We deserve it! </p><p>But while our thrust is to make the most of the life we have left, our elderly parents are experiencing loss and failure on almost every front. All too often, they take it out on their children. Consider the case of the Harrington family.</p><p>Tim and Barbara Harrington have reservations for Bangkok. Tim stopped there briefly on his way home from Vietnam during the closing days of the war, and he promised himself he'd see those gorgeous temples and visit a Thai marketplace once the war was over. The Harringtons go to visit his mother, Mabel, age eighty, who lives alone in a senior high-rise building. This is how the visit goes.</p><p>"Ma, we're leaving tomorrow. Be on vacation for two weeks.</p><p>Don't forget: Call cousin Buddy if you have problems."</p><p>"Why should I have problems!" Mabel retorts. "I live here alone all the time. I manage fine without you both, thank you."<br>"What's wrong, Ma? What did we do?" Tim is bewildered. Isn't Ma happy that he's realizing his dream?</p><p>"Nothing. Nothing." His mother begins to sob. "Just go on about your business and don't worry about me."</p><p>Tim and Barbara slink out of the apartment, chastened, guilty, low in spirits. Tim says, "I feel like a six-year-old who robbed the cookie jar. But I still don't know what's bugging her."</p><p>Barbara mutters between her teeth, "Well, she won again. Ruined our trip. And you'll be worrying every minute we're gone."</p><p>What's really happening here?<br>At first glance, Tim's mother is one of those indomitable old ladies we see so often on television—a cookie-cutter old lady. Strong-willed and independent, she never has asked anyone for anything in her entire life. If this were a TV world, she'd continue until one night she'd simply close her eyes and die, thereby relieving her children of responsibility for her future.</p>