Note: Supplemental materials are not guaranteed with Rental or Used book purchases.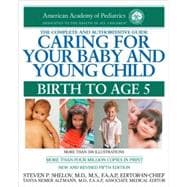 Questions About This Book?
What version or edition is this?
This is the 5th edition with a publication date of 10/13/2009.
What is included with this book?
The Used copy of this book is not guaranteed to include any supplemental materials. Typically, only the book itself is included.
Related Products
Summary
The most up-to-date, expert advice for mothers, fathers, and care providers from the American Academy of Pediatrics. From the most respected organization on child health comes this essential resource for all parents who want to provide the very best care for their children. Here is the one guide pediatricians routinely recommend and parents can safely trust, covering everything from preparing for childbirth to toilet training to nurturing your child's self-esteem. Whether it's resolving common childhood health problems or detailed instructions for coping with emergency medical situations, Caring for Your Baby and Young Child has everything you need. *Basic care from infancy through age five * Guidelines and milestones for physical, emotional, social, and cognitive growth *A complete health encyclopedia covering injuries, illnesses, congenital diseases, and other disabilities *Guidelines for prenatal and newborn care with sections on maternal nutrition, exercise, and screening tests during pregnancy *An in-depth guide to breastfeeding, including its benefits, techniques, and challenges *A complete guide for immunizations and updated information on vaccine safety *A guide for choosing child care programs and car safety seats *Ways to reduce your child's exposure to environmental hazards, such as secondhand smoke * Sections on grandparents, building resilience, media, and multiples * New chapters on sleep and on allergies - including food allergies *New content on prebiotics and probiotics, organic foods, and other healthy lifestyle topics *And much more.
Author Biography
Steven P. Shelov, MD, MS, FAAP, is a Professor of Pediatrics at Mount Sinai School of Medicine, Chairman of Pediatrics at Maimonides Medical Center and Lutheran Medical Center, and Vice President of the Infants' and Childrens' Hospital of Brooklyn. In 2002 Dr. Shelov was presented with the Lifetime Achievement in Education Award by the American Academy of Pediatrics. Tanya Remer Altmann, MD, FAAP, editor-in-chief of The Wonder Years, is a board-certified pediatrician in private practice and clinical instructor at Mattel Children's Hospital at the University of California, Los Angeles.

Excerpts
Introduction: The Gifts of Parenthood

YOUR CHILD IS THE GREATEST GIFT you will ever receive. From the moment you first hold this miracle of life in your arms, your world will be broader and richer. You will experience a flood of feelings, some of wonder and joy and others of confusion and of being overwhelmed and wondering whether you can ever measure up to the needs of your new baby. These are feelings you could barely imagine before—feelings that no one can truly experience without having a child.
 Even describing them can be difficult because the bond between parent and child is so intensely personal. Why do tears come to your eyes the first time your baby smiles or reaches for you? Why are you so proud of her first words? Why does your heart suddenly start to pound the first time you watch her stumble and fall? The answer lies in the unique two- way giving relationship between you and your child.
Your Child's Gifts to You
Although simple, your child's gifts to you are powerful enough to change your life positively.
 UNQUALIFIED LOVE. From birth, you are the center of your child's universe. He gives you his love without question and without demand. As he gets older, he will show this love in countless ways, from showering you with his first smiles to giving you his handmade Valentines. His love is filled with admiration, affection, loyalty, and an intense desire to please you. 
ABSOLUTE TRUST. Your child believes in you. In her eyes, you are strong, capable, powerful, and wise. Over time, she will demonstrate this trust by relaxing when you are near, coming to you with problems, and proudly pointing you out to others. Sometimes she also will lean on you for protection from things that frighten her, including her own sensitivities. For example, in your presence she may try out new skills that she would never dare to try alone or with a stranger. She trusts you to keep her safe. 
THE THRILL OF DISCOVERY. Having a child gives you a unique chance to rediscover the pleasure and excitement of childhood. Although you cannot relive your life through your child, you can share in his delight as he explores the world. In the process, you probably will discover abilities and talents you never dreamed you possessed. Feelings of empathy mixed with growing selfawareness will help shape your ability to play and interact with your growing child. Discovering things together, whether they are new skills or words or ways to overcome obstacles, will add to your experience and confidence as a parent and will better prepare you for new challenges that you never even envisioned. 
Your Child's Gifts to You
THE HEIGHTS OF EMOTION. Through your child, you will experience new heights of joy, love, pride, and excitement. You probably also will experience anxiety, anger, and frustration. For all those delicious moments when you hold your baby close and feel her loving arms around your neck, there are bound to be times when you feel you cannot communicate. The extremes sometimes become sharper as your child gets older and seeks to establish her independence. 
The same child who at three dances across the room with you may at four have a rebellious and active period that surprises you. The extremes are not contradictions, but simply a reality of growing up. For you as a parent, the challenge is to accept and appreciate all the feelings with which your child expresses himself and arouses in you, and to use them in giving him steady guidance. 
The Gifts You Give Your Child 

As his parent, you have many vital gifts to offer your child in return. Some are subtle,
---

Excerpted from Caring for Your Baby and Young Child: Birth to Age 5 by American Academy Of Pediatrics, Tanya Remer Altmann, Steven P. Shelov
All rights reserved by the original copyright owners. Excerpts are provided for display purposes only and may not be reproduced, reprinted or distributed without the written permission of the publisher.