Note: Supplemental materials are not guaranteed with Rental or Used book purchases.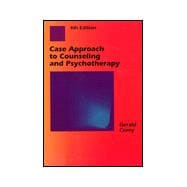 Case Approach to Counseling and Psychotherapy
ISBN13:
9780534265809
by
COREY
Summary
A central client, Ruth, becomes the focus for the application of nine therapeutic techniques: psychoanalytic, Adlerian, existential, person-centered, Gestalt, behavior, cognitive-behavior, and reality therapies - and, new to this edition, family systems therapy. You'll deal with Ruth (and clients from other case studies) as active counselors, participating in a variety of role-play situations. In the process, you'll develop an understanding of the counseling process and of the complex professional and personal issues that are triggered in the counseling relationship.
Table of Contents
Preface
xiv

| | |
| --- | --- |
| | Introduction and Overview |

1
(35)
1
(3)

| | |
| --- | --- |
| | Overview of the Therapeutic Perspectives |

4
(20)
24
(10)

| | |
| --- | --- |
| | Recommended Supplementary Readings |

34
(2)

| | |
| --- | --- |
| | Case Approach to Psychoanalytic Therapy |

36
(32)
36
(1)

| | |
| --- | --- |
| | A Psychoanalytic Therapist's Perspective on Ruth |

37
(12)

| | |
| --- | --- |
| | Jerry Corey's Work with Ruth from a Psychoanalytic Perspective |

49
(8)

| | |
| --- | --- |
| | Moe: A Resistive Client Who Escapes with Alcohol |

57
(10)

| | |
| --- | --- |
| | Recommended Supplementary Readings |

67
(1)

| | |
| --- | --- |
| | Case Approach to Adlerian Therapy |

68
(33)

| | |
| --- | --- |
| | An Adlerian Therapist's Perspective on Ruth |

68
(22)

| | |
| --- | --- |
| | Jerry Corey's Work with Ruth from an Adlerian Perspective |

90
(6)

| | |
| --- | --- |
| | Julie: ``It's My Father's Fault That I Can't Trust Men'' |

96
(3)

| | |
| --- | --- |
| | Recommended Supplementary Readings |

99
(2)

| | |
| --- | --- |
| | Case Approach to Existential Therapy |

101
(31)

| | |
| --- | --- |
| | An Existential Therapist's Perspective on Ruth |

101
(16)

| | |
| --- | --- |
| | Jerry Corey's Work with Ruth from an Existential Perspective |

117
(7)

| | |
| --- | --- |
| | Walt: ``What Is There to Live For?'' |

124
(6)

| | |
| --- | --- |
| | Recommended Supplementary Readings |

130
(2)

| | |
| --- | --- |
| | Case Approach to Person-Centered Therapy |

132
(24)

| | |
| --- | --- |
| | A Person-Centered Therapist's Perspective on Ruth |

132
(10)

| | |
| --- | --- |
| | Jerry Corey's Work with Ruth from a Person-Centered Perspective |

142
(7)

| | |
| --- | --- |
| | Don: Feeling Pressure to Prove Himself |

149
(6)

| | |
| --- | --- |
| | Recommended Supplementary Readings |

155
(1)

| | |
| --- | --- |
| | Case Approach to Gestalt Therapy |

156
(16)

| | |
| --- | --- |
| | A Gestalt Therapist's Perspective on Ruth |

156
(4)

| | |
| --- | --- |
| | Jerry Corey's Work with Ruth from a Gestalt Perspective |

160
(7)

| | |
| --- | --- |
| | Christina: A Student Works with Her Feelings toward Her Supervisor and Her Father |

167
(4)

| | |
| --- | --- |
| | Recommended Supplementary Readings |

171
(1)

| | |
| --- | --- |
| | Case Approach to Reality Therapy |

172
(27)

| | |
| --- | --- |
| | A Reality Therapist's Perspective on Ruth |

172
(6)

| | |
| --- | --- |
| | Another Reality Therapist's Perspective on Ruth |

178
(8)

| | |
| --- | --- |
| | Jerry Corey's Work with Ruth from a Reality-Therapy Perspective |

186
(6)
192
(6)

| | |
| --- | --- |
| | Recommended Supplementary Readings |

198
(1)

| | |
| --- | --- |
| | Case Approach to Behavior Therapy |

199
(33)

| | |
| --- | --- |
| | A Multimodal Behavior Therapist's Perspective on Ruth |

199
(9)

| | |
| --- | --- |
| | Another Behavior Therapist's Perspective on Ruth |

208
(10)

| | |
| --- | --- |
| | Barbara Brownell D'Angelo |

| | |
| --- | --- |
| | Jerry Corey's Work with Ruth from a Behavioral Perspective |

218
(6)

| | |
| --- | --- |
| | Sally: Hoping to Cure a Social Phobia |

224
(7)

| | |
| --- | --- |
| | Recommended Supplementary Readings |

231
(1)

| | |
| --- | --- |
| | Case Approach to Cognitive-Behavior Therapy |

232
(50)

| | |
| --- | --- |
| | A Rational Emotive Behavior Therapist's Perspective on Ruth |

232
(10)

| | |
| --- | --- |
| | Another Rational Emotive Behavior Therapist's Perspective on Ruth |

242
(12)

| | |
| --- | --- |
| | A Transactional Analyst's Perspective on Ruth |

254
(8)

| | |
| --- | --- |
| | Jerry Corey's Work with Ruth from a Cognitive-Behavioral Perspective |

262
(12)

| | |
| --- | --- |
| | Marion: A Woman Who Lives by ``Oughts'' and ``Shoulds'' |

274
(6)

| | |
| --- | --- |
| | Recommended Supplementary Readings |

280
(2)

| | |
| --- | --- |
| | Case Approach to Family Therapy |

282
(62)

| | |
| --- | --- |
| | A Cognitive-Behavioral Approach to Family Therapy with Ruth |

282
(16)

| | |
| --- | --- |
| | A Family Systems Therapist's Perspective on Ruth |

298
(27)

| | |
| --- | --- |
| | Empowering the Field Family: A Case Using Brief Family Techniques |

325
(8)

| | |
| --- | --- |
| | Maria: Torn between Herself and Her Family |

333
(9)

| | |
| --- | --- |
| | Recommended Supplementary Readings |

342
(2)

| | |
| --- | --- |
| | Bringing the Approaches Together and Developing Your Own Therapeutic Style |

344

| | |
| --- | --- |
| | Working with Ruth from a Multicultural Perspective |

344
(4)

| | |
| --- | --- |
| | My Integrative Approach to Working with Ruth |

348
(13)

| | |
| --- | --- |
| | An Exercise: Themes in Ruth's Life |

361
(1)
362
(1)

| | |
| --- | --- |
| | Recommended Supplementary Readings |

363