Note: Supplemental materials are not guaranteed with Rental or Used book purchases.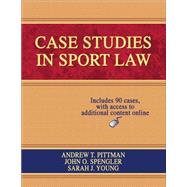 Case Studies in Sport Law w/Web Resource
ISBN13:
9780736068215
by
Pittman, Andrew
Summary
Case Studies in Sport Lawgives students an inside view of some of the most significant cases in sport law historywhile dispensing with the legal jargon. This approach makes the book an ideal supplement for non-law students who want to understand the legal issues without having to wade through the legalese or needing a law school background to understand the cases. The cases are to the point and filled with real-life applications for sport management students.To ensure that the most relevant cases were included in the text, a panel of experts selected 90 classic and modern cases using the Delphi technique. The cases represent the breadth of sport law affecting interscholastic and recreational programs, school districts, colleges and universities, pro sport franchises, sporting good manufacturers, and governing bodies. This expansive treatment allows students to recognize the considerable presence of legal issues in the sport industry, including the areas that the students are intending to enter.Case Studies in Sport Lawpresents heavily abridged versions of the cases, allowing students to focus on the relevant details of the case rather than extraneous legal discussion. The text will help students grasp important concepts and generate thought on key topics that relate to the material in sport law texts and on subject matter that will be useful in their careers. These cases are split into the main subject areas common to sport law courses: antitrust law, constitutional law, contract law, employment law, intellectual property, products liability, statutory law, Title IX, and tort law.Students also have online access to extended versions of the cases, where more detail and depth are provided. This allows instructors the flexibility of guiding students to basic comprehension of a case's facts or to a more complex understanding of the issues involved. Instructors will also gain assistance in teaching with the online instructor guide that includes the extended versions of the cases, answers to the review questions found in the student resource, and a case finder. Both student and instructor resources are available online at www.HumanKinetics.com/CaseStudiesinSportLaw.To facilitate reading and discussion, Case Studies in Sport Lawoffers-10 to 12 short-answer questions per case, available electronically, which test students'comprehension and promote discussion;-brief chapter introductions that note the key issues and prepare the students on what to look for in the cases they are about to read; and-a case finder, in which students and instructors can easily find the cases that meet their needs; the electronic format allows for cases to be sorted by case dates, key terms, and other variables. With sport litigation increasing, sport managers need an understanding of the legal environment. Case Studies in Sport Lawis the right text at the right time to supplement a sport law or sport management course and expand students'understanding of sport law issues.Includes an online study resource! To assist students using the text, Case Studes in Sport Lawhas a companion online student resource (OSR). Students will receive free access to the resource with the purchase of a new text or e-book, or it may be purchased as a separate component.The OSR contains extended versions of the cases presented in the text, allowing students the opportunity to grasp the concepts presented. It contains 10 to 12 questions per case, including comprehension questions that test students'understanding of the material and encourage discussion. The questions can be printed out and submitted to the instructor by hard copy or by e-mail. The OSR is availabl
Author Biography
Andrew T. Pittman is a professor in the department of health, human performance, and recreation (HHPR) at Baylor University, where he also serves as the director for the sport management program and as HHPR graduate program coordinator for admissions.
Table of Contents
Preface
Acknowledgments
Introduction
Antitrust Law
Association for Intercollegiate Athletics for Women v. National Collegiate Athletic Association
Banks v. National Collegiate Athletic Association
Brown v. Pro Football, Inc.
Chicago Professional Sports Limited Partnership v. National Basketball Association
Federal Baseball Club of Baltimore, Inc. v. National League of Professional Baseball Clubs
Flood v. Kuhn
Law v. National Collegiate Athletic Association
Los Angeles Memorial Coliseum Commission v. National Football League
National Collegiate Athletic Association v. Board of Regents of the University of Oklahoma
Smith v. Pro Football, Inc.
Constitutional Law
Blair v. Washington State University
Denis J. O'Connell High School v. the Virginia High School League
Doe v. Taylor Independent School District
Hall v. the University of Minnesota
Hill v. National Collegiate Athletic Association
Jager v. Douglas County School District
Menora v. Illinois High School Association
National Collegiate Athletic Association v. Tarkanian
Palmer v. Merluzzi
Schaill v. Tippecanoe County School Corporation
Spring Branch I.S.D. v. Stamos
Tinker v. Des Moines Independent Community School District
University of Colorado v. Derdeyn
Vernonia School District 47J v. Acton
Contract Law
Monson v. State
Rodgers v. Georgia Tech Athletic Association
Taylor v. Wake Forest University
Vanderbilt University v. DiNardo
Employment Law
Burkey v. Marshall County Bd. of Education
Hegener v. Board of Education of City of Chicago
Moore v. University of Notre Dame
Perdue v. City University of New York
Stanley v. University of Southern California
Intellectual Property
Boston Athletic Association v. Sullivan
Dallas Cowboys Cheerleaders, Inc. v. Pussycat Cinema, Ltd.
Lyons Partnership v. Giannoulas
National Football League v. McBee & Bruno's, Inc.
San Francisco Arts & Athletics, Inc. v. United States Olympic Committee
University of Pittsburgh v. Champion Products, Inc.
Products Liability
Byrns v. Riddell, Incorporated
Dudley Sports Co. v. Schmitt
Everett v. Bucky Warren, Inc.
Filler v. Rayex Corporation
Hauter v. Zogarts
Hemphill v. Sayers
Pell v. Victor J. Andrew High School
Rawlings Sporting Goods Company, Inc. v. Daniels
Statutory Law
Bunger v. Iowa High School Athletic Association
Concerned Parents To Save Dreher Park Center v. City of West Palm Beach
Cook v. Colgate University
DeFrantz v. United States Olympic Committee
Faragher v. City of Boca Raton
Pottgen v. the Missouri State High School Activities Association
Sandison v. Michigan High School Athletic Association, Inc.
Title IX
Cohen v. Brown University
Davis v. Monroe County Board of Education
Favia v. Indiana University of Pennsylvania
Franklin v. Gwinnett County Public Schools
Gebser v. Lago Vista Independent School District
Kelley v. Board of Trustees
Roberts v. Colorado State Board of Agriculture
Tort Law
Averill, Jr. v. Luttrell
Baugh v. Redmond
Bearman v. University of Notre Dame
Benjamin v. State
Crawn v. Campo
DeMauro v. Tusculum College, Inc.
Dilger v. Moyles
Dotzler v. Tuttle
Eddy v. Syracuse University
Foster v. Board of Trustees of Butler County Community College
Friedman v. Houston Sports Association
Gehling v. St. George's University School of Medicine, Ltd.
Gillespie v. Southern Utah State College
Hanson v. Kynast
Hayden v. University of Notre Dame
Jaworski v. Kiernan
Kleinknecht v. Gettysburg College
Knight v. Jewett
Lestina v. West Bend Mutual Insurance Company
Lofy v. Joint School Dist. #2, City of Cumberland
Lowe v. California League of Professional Baseball
Maussner v. Atlantic City Country Club, Inc.
Miller v. United States
Mogabgab v. Orleans Parish School Board
Nabozny v. Barnhill
Rispone v. Louisiana State University and Agricultural and Mechanical College
Sallis v. City of Bossier City
Schiffman v. Spring
Vargo v. Svitchan
Appendix Case Finder
Index
About the Authors
Table of Contents provided by Publisher. All Rights Reserved.