Note: Supplemental materials are not guaranteed with Rental or Used book purchases.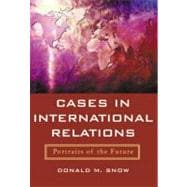 Cases in International Relations: Portraits of the Future
ISBN13:
9780321080615
by
Snow, Donald M.
Summary
This collection of 16 original case studies gets students applying IR concepts to real-world situations and helps them to understand the most important current and enduring problems facing the international system. Specifically crafted to cover the main themes of any introductory course, this exciting new volume addresses the critical issues that are currently facing the world and are likely to be enduring issues into the future. the cases were chosen because of their importance, freshness and timeliness, and inherent interest to readers. As each case study was written by the authors, this volume is more than a collection of journal articles (which do not often work together to form a coherent whole). Cases in International Relations provides an original, integrated approach to covering real-world problems that is sure to engage students and get them thinking critically.
Table of Contents
Introduction
ix
PART 1 ``New'' Forces in International Relations
1
(54)

| | |
| --- | --- |
| | China Rising: A Looming Threat? |

5
(16)
5
(1)

| | |
| --- | --- |
| | Before the Rise: Humiliation, Chaos, and Poverty |

6
(1)

| | |
| --- | --- |
| | The Foundations of China's Rise |

7
(2)

| | |
| --- | --- |
| | Economic Growth, but a Litany of Woes |

9
(1)

| | |
| --- | --- |
| | The ``Fourth Modernization'': Military Enhancement |

10
(7)
17
(2)

| | |
| --- | --- |
| | Study/Discussion Questions |

19
(1)

| | |
| --- | --- |
| | Reading/Research Material |

20
(1)
20
(1)

| | |
| --- | --- |
| | The Growing Significance of NGOs: Medecins sans Frontieres and Peacekeeping |

21
(16)
21
(3)
24
(4)
28
(5)
33
(2)

| | |
| --- | --- |
| | Study/Discussion Questions |

35
(1)

| | |
| --- | --- |
| | Reading/Research Material |

35
(1)
36
(1)

| | |
| --- | --- |
| | The Democratic Peace: Who Will Prevail? |

37
(18)
37
(3)

| | |
| --- | --- |
| | The Democratization Movement |

40
(1)

| | |
| --- | --- |
| | Transparency and Soft Power |

40
(4)
44
(6)
50
(2)

| | |
| --- | --- |
| | Study/Discussion Questions |

52
(1)

| | |
| --- | --- |
| | Reading/Research Material |

52
(1)
53
(2)
PART 2 Evolving Dynamics of International Relations
55
(60)

| | |
| --- | --- |
| | War Crimes: The Past in the Present in the Future |

57
(20)
57
(2)

| | |
| --- | --- |
| | Background of the Problem |

59
(4)
63
(1)

| | |
| --- | --- |
| | Bosnia and Rwanda: The Problem Revived |

64
(5)

| | |
| --- | --- |
| | Proposals for a Permanent War Crimes Tribunal |

69
(4)
73
(1)

| | |
| --- | --- |
| | Study/Discussion Questions |

74
(1)

| | |
| --- | --- |
| | Reading/Research Material |

75
(1)
75
(2)

| | |
| --- | --- |
| | Sovereignty and the Right of Intervention in Internal Wars: A Study of the Assault on State Sovereignty |

77
(18)
77
(2)

| | |
| --- | --- |
| | The Concept of Sovereignty |

79
(7)

| | |
| --- | --- |
| | International Intervention in Internal Wars |

86
(4)
90
(3)

| | |
| --- | --- |
| | Study/Discussion Questions |

93
(1)

| | |
| --- | --- |
| | Reading/Research Material |

93
(1)
94
(1)

| | |
| --- | --- |
| | Camp David I and II: It's Always Jerusalem, or Is It? |

95
(20)
95
(2)

| | |
| --- | --- |
| | Issues and Outcomes, 1978 and 2000 |

97
(5)

| | |
| --- | --- |
| | Influences on the Process |

102
(7)
109
(3)

| | |
| --- | --- |
| | Study/Discussion Questions |

112
(1)

| | |
| --- | --- |
| | Reading/Research Material |

112
(1)
113
(2)
PART 3 Economic Globalization
115
(58)

| | |
| --- | --- |
| | Saving Failed States: The Problem of Haiti |

117
(19)
117
(3)

| | |
| --- | --- |
| | Haiti: Portrait of a Failed State |

120
(8)
128
(4)
132
(1)

| | |
| --- | --- |
| | Study/Discussion Questions |

133
(1)

| | |
| --- | --- |
| | Reading/Research Material |

134
(1)
134
(2)

| | |
| --- | --- |
| | The New Trinity of Globalism: Geopolitics for a New Age? |

136
(18)
136
(2)
138
(7)

| | |
| --- | --- |
| | Applying the Past to the Future |

145
(5)
150
(2)

| | |
| --- | --- |
| | Study/Discussion Questions |

152
(1)

| | |
| --- | --- |
| | Reading/Research Material |

153
(1)
153
(1)

| | |
| --- | --- |
| | Debating Globalization: The Case of Indonesia |

154
(19)
154
(3)

| | |
| --- | --- |
| | Indonesia: A Thumbnail Sketch |

157
(6)

| | |
| --- | --- |
| | Where Is Indonesia Going? |

163
(5)
168
(1)

| | |
| --- | --- |
| | Study/Discussion Questions |

169
(1)

| | |
| --- | --- |
| | Reading/Research Material |

170
(1)
170
(3)
PART 4 The Altered Face of Security
173
(60)

| | |
| --- | --- |
| | Future War: The Shape of Conflict in a New Millennium |

175
(21)
175
(3)

| | |
| --- | --- |
| | Planning Twentieth-Century Style: Anticipating World War II |

178
(6)

| | |
| --- | --- |
| | Planning Twenty-First Century Style: Anticipating Future Wars |

184
(9)
193
(1)

| | |
| --- | --- |
| | Study/Discussion Questions |

194
(1)

| | |
| --- | --- |
| | Reading/Research Material |

194
(1)
195
(1)

| | |
| --- | --- |
| | When National and International Politics Collide: The Case of Missile Defense |

196
(19)
196
(4)

| | |
| --- | --- |
| | Missile Defense in the Past: History and Precedents |

200
(6)
206
(5)
211
(1)

| | |
| --- | --- |
| | Study/Discussion Questions |

212
(1)

| | |
| --- | --- |
| | Reading/Research Material |

213
(1)
214
(1)

| | |
| --- | --- |
| | Who Cares about Kashmir? An Old Problem with New Teeth |

215
(18)
215
(2)
217
(4)
221
(2)
223
(5)
228
(2)

| | |
| --- | --- |
| | Study/Discussion Questions |

230
(1)

| | |
| --- | --- |
| | Reading/Research Material |

231
(1)
231
(2)
PART 5 Transnational Issues
233
(86)

| | |
| --- | --- |
| | The Millennium Summit: Rhetoric or Agenda of the 2000s? |

235
(18)
235
(3)

| | |
| --- | --- |
| | The ``Summits'' of the 1990s and Before |

238
(8)

| | |
| --- | --- |
| | Impediments to Implementation |

246
(4)
250
(1)

| | |
| --- | --- |
| | Study/Discussion Questions |

251
(1)

| | |
| --- | --- |
| | Reading/Research Material |

251
(1)
252
(1)

| | |
| --- | --- |
| | ``Let Them Drink Oil'': Resource Conflict in the New Century |

253
(19)
253
(2)
255
(5)
260
(5)
265
(4)
269
(1)

| | |
| --- | --- |
| | Study/Discussion Questions |

270
(1)

| | |
| --- | --- |
| | Reading/Research Material |

270
(1)
271
(1)

| | |
| --- | --- |
| | Worse Than the Bubonic Plague: AIDS in Africa as a Transstate Issue |

272
(17)
272
(2)

| | |
| --- | --- |
| | The Pandemic as a Transstate Issue |

274
(2)

| | |
| --- | --- |
| | Dimensions of the Problem |

276
(6)
282
(3)
285
(2)

| | |
| --- | --- |
| | Study/Discussion Questions |

287
(1)

| | |
| --- | --- |
| | Reading/Research Material |

287
(1)
288
(1)

| | |
| --- | --- |
| | September 11, 2001: The New Face of War? |

289
(30)
289
(2)
291
(11)

| | |
| --- | --- |
| | The Terrorist Attacks of September 11, 2001 |

302
(8)

| | |
| --- | --- |
| | Conclusion: Responding to September 11, 2001 |

310
(5)

| | |
| --- | --- |
| | Study/Discussion Questions |

315
(1)

| | |
| --- | --- |
| | Reading/Research Material |

316
(1)
317
(2)
Index
319