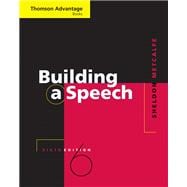 Questions About This Book?
What version or edition is this?
This is the 6th edition with a publication date of 5/9/2006.
What is included with this book?
The New copy of this book will include any supplemental materials advertised. Please check the title of the book to determine if it should include any CDs, lab manuals, study guides, etc.
The Used copy of this book is not guaranteed to include any supplemental materials. Typically, only the book itself is included.
Summary
Preface. Unit One: SURVEYING THE LANDSCAPE. 1. Introducing the Study of Public Speaking. 2. Building Your First Speech. 3. Analyzing Your Audience. 4. Improving Your Listening Skills. 5. Understanding and Reducing Your Apprehension. 6. Considering the Ethics of Public Speaking. Unit Two: PREPARING THE FOUNDATION. 7. Selecting the Topic and Purpose. 8. Conducting Research. 9. Choosing Supporting Materials. Unit Three: CREATING THE STRUCTURE. 10. Organizing the Body of the Speech. 11. Selecting the Introduction and Conclusion. Unit Four: REFINING THE APPEARANCE. 12. Using Audiovisual Aids. 13. Considering Language. 14. Developing the Delivery. Unit Five: CONSIDERING DIFFERENT TYPES OF STRUCTURES. 15. Speaking to Inform. 16. Speaking to Persuade. 17. Speaking to Persuade: Motivating Audiences. 18. Speaking for Special Occasions. 19. Speaking in Groups.
Table of Contents
Preface
xix

| | |
| --- | --- |
| | Unit One Surveying the Landscape |

1
(90)

| | |
| --- | --- |
| | Introducing the Study of Public Speaking |

2
(16)

| | |
| --- | --- |
| | Communication in the Modern World |

3
(3)

| | |
| --- | --- |
| | Classical Origins of Speaking |

6
(1)

| | |
| --- | --- |
| | The Communication Process |

7
(8)
8
(1)

| | |
| --- | --- |
| | The Sender: Encoding Ideas into Symbols |

8
(1)
9
(1)
9
(1)

| | |
| --- | --- |
| | The Receiver: Decoding Symbols into Ideas |

9
(1)
9
(1)
10
(1)
11
(2)

| | |
| --- | --- |
| | The Communication Model Applied to Public Speaking |

13
(1)

| | |
| --- | --- |
| | Applying the Communication Model to Everyday Life |

14
(1)
15
(1)
16
(1)
16
(2)

| | |
| --- | --- |
| | Building Your First Speech |

18
(10)

| | |
| --- | --- |
| | Extemporaneous Delivery and Speaking Styles |

20
(1)
21
(5)

| | |
| --- | --- |
| | Step 1: Choose an Interesting, Well-Defined Topic |

21
(1)

| | |
| --- | --- |
| | Step 2: Understand the General Purpose |

21
(1)

| | |
| --- | --- |
| | Step 3: Conduct Extensive Research |

22
(1)

| | |
| --- | --- |
| | Step 4: Write Specific Purpose and Thesis Statements |

22
(1)

| | |
| --- | --- |
| | Step 5: Write a Comprehensive Outline |

23
(1)

| | |
| --- | --- |
| | Step 6: Be Sensitive to Audience Members |

23
(1)

| | |
| --- | --- |
| | Step 7: Understand Your Ethical Responsibilities |

23
(1)

| | |
| --- | --- |
| | Step 8: Choose Extemporaneous Delivery |

24
(1)

| | |
| --- | --- |
| | Step 9: Practice the Speech |

25
(1)

| | |
| --- | --- |
| | Step 10: Be Confident and Prepared |

26
(1)
26
(1)
27
(1)
28
(20)

| | |
| --- | --- |
| | The Importance of Audience Analysis |

29
(15)

| | |
| --- | --- |
| | Audience Perception of the Speaker |

31
(1)

| | |
| --- | --- |
| | Audience Perception of the Topic |

32
(1)

| | |
| --- | --- |
| | Motivations of the Audience |

33
(2)
35
(1)
35
(1)
35
(1)
35
(1)
35
(1)

| | |
| --- | --- |
| | Impact of Social Groups on Listeners |

36
(1)
36
(1)
36
(1)
37
(1)

| | |
| --- | --- |
| | Cultural and Ethnic Origin |

38
(1)

| | |
| --- | --- |
| | Educational Level, Occupation, and Interests |

39
(1)
40
(1)
40
(1)
41
(1)

| | |
| --- | --- |
| | Targeting Specific Groups |

41
(1)

| | |
| --- | --- |
| | Impact of the Occasion on Listeners |

42
(1)

| | |
| --- | --- |
| | The Purpose of the Occasion |

42
(1)

| | |
| --- | --- |
| | The Physical Location of the Event |

43
(1)

| | |
| --- | --- |
| | The Expectations of the Speaker |

43
(1)

| | |
| --- | --- |
| | Conducting an Audience Analysis |

44
(2)

| | |
| --- | --- |
| | Collecting Demographic Data about the Audience |

44
(1)
44
(1)
45
(1)
46
(1)
46
(1)

| | |
| --- | --- |
| | Processing the Data with a Computer |

46
(1)

| | |
| --- | --- |
| | Evaluating the Audience Profile |

46
(1)
46
(1)
47
(1)

| | |
| --- | --- |
| | Improving Your Listening Skills |

48
(16)

| | |
| --- | --- |
| | The Significance of Listening |

50
(1)
51
(2)
53
(2)
53
(1)
53
(1)
54
(1)
54
(1)

| | |
| --- | --- |
| | Active and Passive Listening |

54
(1)
55
(3)
55
(1)

| | |
| --- | --- |
| | Blocking Out Communication |

55
(1)
56
(1)

| | |
| --- | --- |
| | Overcriticizing the Speaker |

57
(1)
57
(1)

| | |
| --- | --- |
| | Avoiding Difficult Listening Situations |

58
(1)

| | |
| --- | --- |
| | How to Become an Active Listener and Speaker |

58
(4)
58
(1)

| | |
| --- | --- |
| | Avoid the Appearance Trap |

58
(1)

| | |
| --- | --- |
| | Don't Be Easily Swayed by Delivery and Style |

59
(1)

| | |
| --- | --- |
| | Give All Topics a Fair Hearing |

59
(1)

| | |
| --- | --- |
| | Avoid Extraneous Mental Activity During the Speech |

59
(1)

| | |
| --- | --- |
| | Give Honest, Attentive Feedback |

60
(1)
61
(1)

| | |
| --- | --- |
| | Evaluate the Communication When It Is Finished |

61
(1)
62
(1)
62
(2)

| | |
| --- | --- |
| | Understanding and Reducing Your Apprehension |

64
(12)
65
(1)

| | |
| --- | --- |
| | Research into Stress and Communication Apprehension |

66
(2)

| | |
| --- | --- |
| | Reducing Communication Apprehension |

68
(6)

| | |
| --- | --- |
| | Accept Anxiety Honestly and Face It |

68
(2)

| | |
| --- | --- |
| | Develop a Positive Attitude |

70
(1)

| | |
| --- | --- |
| | Adopt Constructive Behaviors |

71
(1)
71
(1)
72
(1)
72
(1)
73
(1)

| | |
| --- | --- |
| | Accept Constructive Criticism |

73
(1)

| | |
| --- | --- |
| | Taking Responsibility to Reduce Apprehension |

74
(1)
74
(1)
74
(2)

| | |
| --- | --- |
| | Considering the Ethics of Public Speaking |

76
(15)

| | |
| --- | --- |
| | The Need for Ethics in Society |

77
(1)

| | |
| --- | --- |
| | Evaluating a Speaker's Ethics |

78
(5)
78
(2)

| | |
| --- | --- |
| | The Speaker's Reliability |

80
(1)

| | |
| --- | --- |
| | The Speaker's Motivations |

81
(1)
82
(1)

| | |
| --- | --- |
| | Applying Ethical Standards |

83
(3)
83
(1)

| | |
| --- | --- |
| | Advocate Ideas That Benefit Others |

84
(1)

| | |
| --- | --- |
| | Evaluate Your Motives for Speaking |

85
(1)

| | |
| --- | --- |
| | Develop a Speaking Code of Ethics |

85
(1)

| | |
| --- | --- |
| | Sample Speech The Right Way: A Matter of Principle |

86
(3)
89
(1)
89
(2)

| | |
| --- | --- |
| | Unit Two Preparing the Foundation |

91
(56)

| | |
| --- | --- |
| | Selecting the Topic and Purpose |

92
(14)
93
(2)

| | |
| --- | --- |
| | Your Own Knowledge and Experience |

93
(1)
94
(1)

| | |
| --- | --- |
| | Proquest Direct, the Readers' Guide, Infotrac College Edition, Newspaper Indexes, the Internet |

94
(1)
95
(1)
95
(3)

| | |
| --- | --- |
| | It Should Be Sufficiently Narrow and Conform to the Time Limit |

95
(1)

| | |
| --- | --- |
| | It Should Interest You, the Speaker |

96
(1)

| | |
| --- | --- |
| | It Should Provide New Information |

96
(1)
97
(1)

| | |
| --- | --- |
| | It Should Conform to the General Purpose |

98
(1)
98
(1)
98
(1)
98
(1)

| | |
| --- | --- |
| | Writing the Specific Purpose |

98
(3)

| | |
| --- | --- |
| | Be Clear, Concise, and Unambiguous |

99
(1)

| | |
| --- | --- |
| | Include Only One Major Idea |

99
(1)

| | |
| --- | --- |
| | Phrase in a Declarative Statement |

100
(1)

| | |
| --- | --- |
| | Wording the Thesis Statement |

101
(2)

| | |
| --- | --- |
| | Problems with the Thesis Statement |

102
(1)
103
(1)
104
(1)
104
(2)
106
(22)
107
(1)
108
(1)

| | |
| --- | --- |
| | Primary and Secondary Sources |

108
(1)
109
(1)
109
(1)
109
(1)

| | |
| --- | --- |
| | Accessing the Library by Computer |

110
(1)

| | |
| --- | --- |
| | Guidelines for Searching the Internet |

110
(2)

| | |
| --- | --- |
| | Researching Substantive Sources |

112
(5)
113
(1)

| | |
| --- | --- |
| | Directories and Handbooks |

113
(1)
113
(1)
113
(1)

| | |
| --- | --- |
| | Almanacs, Yearbooks, and Statistical Publications |

114
(1)

| | |
| --- | --- |
| | Collections of Quotations |

114
(1)
114
(1)

| | |
| --- | --- |
| | Magazines, Journals, and Newspapers |

114
(1)
115
(1)
115
(1)

| | |
| --- | --- |
| | Interviews with Authorities |

115
(1)

| | |
| --- | --- |
| | Legislative and Governmental Research |

115
(2)

| | |
| --- | --- |
| | Institutional and Organizational Research |

117
(1)

| | |
| --- | --- |
| | Specialized Libraries and Museums |

117
(1)
117
(2)
119
(2)

| | |
| --- | --- |
| | Preparing for the Interview |

119
(1)
120
(1)

| | |
| --- | --- |
| | Taking Notes during the Interview |

121
(1)

| | |
| --- | --- |
| | The Bibliography: How to Record an Entry |

121
(1)
122
(1)

| | |
| --- | --- |
| | Thinking Critically about Speech Research and Construction |

122
(4)

| | |
| --- | --- |
| | Be Willing to Test Information |

123
(1)
124
(1)

| | |
| --- | --- |
| | View Ideas from Different Perspectives |

124
(1)
125
(1)
126
(1)
126
(2)

| | |
| --- | --- |
| | Choosing Supporting Materials |

128
(19)

| | |
| --- | --- |
| | Making the Appropriate Selection |

129
(1)

| | |
| --- | --- |
| | Statistics, Polls, and Surveys |

130
(2)
130
(2)

| | |
| --- | --- |
| | Examples, Illustrations, Case Studies, and Narratives |

132
(3)
132
(3)

| | |
| --- | --- |
| | Quotations and Testimonies from Authorities |

135
(1)

| | |
| --- | --- |
| | Using Quotations and Testimonies |

135
(1)

| | |
| --- | --- |
| | Comparisons and Contrasts |

136
(2)

| | |
| --- | --- |
| | Using Comparisons and Contrasts |

136
(2)

| | |
| --- | --- |
| | Personal Experience and Observation |

138
(1)

| | |
| --- | --- |
| | Using Experience and Observation |

138
(1)
139
(1)

| | |
| --- | --- |
| | Using Humor and Anecdotes |

139
(1)
140
(1)

| | |
| --- | --- |
| | Using Role-Playing Techniques |

140
(1)

| | |
| --- | --- |
| | Sample Speech Out of Sight, Out of Mind |

141
(4)
145
(1)
145
(2)

| | |
| --- | --- |
| | Unit Three Creating the Structure |

147
(46)

| | |
| --- | --- |
| | Organizing the Body of the Speech |

148
(19)

| | |
| --- | --- |
| | Approaching Organization Logically |

150
(1)
150
(13)

| | |
| --- | --- |
| | Building Block One: The Body Should Contain between Two and Four Main Points or Numerals in a 5- to 7-Minute Speech |

150
(1)

| | |
| --- | --- |
| | Building Block Two: Main Points in the Body Should Be Structured in an Organizational Sequence That Is Logical, Interesting, and Appropriate to the Topic |

151
(1)
151
(1)
151
(1)
152
(1)
153
(1)
154
(1)

| | |
| --- | --- |
| | Building Block Three: A System of Roman Numerals, Letters, and Arabic Numbers Should Be Combined with Indentation to Identify Main and Subordinate Levels |

154
(1)

| | |
| --- | --- |
| | Building Block Four: The Outline Should Include Supporting Materials That Are Coordinated and Subordinated in a Logical Manner? |

155
(3)

| | |
| --- | --- |
| | Building Block Five: Every Subdivision Must Contain at Least Two Items |

158
(1)

| | |
| --- | --- |
| | Building Block Six: Each Point Should Include Only One Topic or Idea |

159
(1)

| | |
| --- | --- |
| | Building Block Seven: Main Points (Numerals) and Supporting Items Should Be Linguistically Parallel |

160
(1)

| | |
| --- | --- |
| | Building Block Eight: The Outline Should Be Expressed in Either Sentences or Topics |

161
(1)

| | |
| --- | --- |
| | Building Block Nine: The Outline Should Identify Sources for Major Supporting Materials |

162
(1)

| | |
| --- | --- |
| | Building Block Ten: The Outline Should Include External Transitions Between Main Numerals |

162
(1)
163
(2)
165
(1)
166
(1)

| | |
| --- | --- |
| | Selecting the Introduction and Conclusion |

167
(26)

| | |
| --- | --- |
| | Planning the Introduction |

168
(10)

| | |
| --- | --- |
| | Examples, Stories, and Illustrations |

169
(1)

| | |
| --- | --- |
| | Shocking Statement or Situation |

170
(1)
171
(1)
172
(1)
173
(1)
174
(1)

| | |
| --- | --- |
| | Personal Reference, Compliment, or Reference to the Occasion |

175
(1)
176
(1)

| | |
| --- | --- |
| | The Flexible Introduction |

177
(1)

| | |
| --- | --- |
| | Combination of Strategics |

177
(1)

| | |
| --- | --- |
| | Outlining the Introduction |

178
(1)
179
(6)
179
(1)
180
(1)

| | |
| --- | --- |
| | Reference to the Introduction |

181
(1)
181
(2)
183
(1)
184
(1)

| | |
| --- | --- |
| | Story, Illustration, and Example |

184
(1)
185
(1)
185
(1)

| | |
| --- | --- |
| | Speaking Notes for the Introduction and Conclusion |

186
(1)

| | |
| --- | --- |
| | Sample Outline Raising the Monitor |

187
(3)
190
(1)
190
(3)

| | |
| --- | --- |
| | Unit Four Refining the Appearance |

193
(62)
194
(22)

| | |
| --- | --- |
| | Types of Audiovisual Aids |

195
(15)
195
(1)
195
(1)
196
(1)
197
(3)
200
(1)
200
(1)
200
(1)
200
(1)
201
(1)
202
(1)

| | |
| --- | --- |
| | Illustrations, Photographs, and Pictures |

202
(1)
203
(1)

| | |
| --- | --- |
| | Posters, Flipcharts, and Chalkboards |

204
(1)

| | |
| --- | --- |
| | Using Posters, Flipcharts, and Chalkboards |

204
(3)
207
(1)
207
(1)
207
(1)
208
(2)
210
(1)

| | |
| --- | --- |
| | Sample Speech: How Do Airplane Wings Produce Lift? |

210
(4)
214
(1)
215
(1)
216
(18)
217
(3)
219
(1)
220
(2)

| | |
| --- | --- |
| | Denotation and Connotation |

221
(1)
222
(3)
222
(1)
222
(1)
223
(1)
223
(1)
224
(1)
224
(1)
225
(1)
225
(5)

| | |
| --- | --- |
| | Be Aware of Cultural Differences |

225
(2)

| | |
| --- | --- |
| | Recognize Differences Due to Gender |

227
(1)
228
(1)

| | |
| --- | --- |
| | Eliminate Irrelevant Language |

228
(1)
229
(1)

| | |
| --- | --- |
| | Eliminate Grammatical Errors |

229
(1)
230
(1)

| | |
| --- | --- |
| | Making Ideas Meaningful and Interrelated |

230
(2)
230
(1)
231
(1)
232
(1)
232
(2)
234
(21)
235
(1)

| | |
| --- | --- |
| | Proper Breathing for Vocal Delivery |

236
(1)
237
(5)
237
(1)
238
(1)
239
(1)
240
(1)
240
(1)
241
(1)
241
(1)
242
(1)

| | |
| --- | --- |
| | Visual, Nonverbal Delivery |

242
(7)
243
(1)
243
(1)
244
(1)
244
(1)

| | |
| --- | --- |
| | Body Position and Movement |

245
(1)

| | |
| --- | --- |
| | Culture and Nonverbal Delivery |

246
(2)

| | |
| --- | --- |
| | Gender and Nonverbal Delivery |

248
(1)

| | |
| --- | --- |
| | Combining Vocal and Visual Delivery |

249
(1)

| | |
| --- | --- |
| | Building Skills in Delivery |

250
(2)
250
(1)
250
(1)
250
(1)
251
(1)
252
(1)
253
(2)

| | |
| --- | --- |
| | Unit Five Considering Different Types of Structures |

255
(114)
256
(22)

| | |
| --- | --- |
| | The Difference Between Information and Persuasion |

257
(1)

| | |
| --- | --- |
| | Types of Informative Speeches |

258
(12)
258
(1)
259
(2)

| | |
| --- | --- |
| | Outlining the Descriptive Speech |

261
(2)
263
(1)
264
(1)

| | |
| --- | --- |
| | Outlining the Demonstration Speech |

264
(2)
266
(2)

| | |
| --- | --- |
| | Other Informative Types: Reports, Lectures, and Personal Experience |

268
(2)

| | |
| --- | --- |
| | Sample Speech: Raising the Monitor |

270
(6)
276
(1)
276
(2)
278
(32)

| | |
| --- | --- |
| | Persuasion in Today's Society |

279
(1)
280
(3)
281
(1)
281
(1)
281
(1)

| | |
| --- | --- |
| | Selecting the Persuasive Topic |

281
(1)

| | |
| --- | --- |
| | Wording the Proposition Statement |

281
(1)

| | |
| --- | --- |
| | Propositions of Fact, Value, and Policy |

282
(1)

| | |
| --- | --- |
| | Ethos, Pathos, and Logos: The Means of Persuasion |

283
(7)

| | |
| --- | --- |
| | Ethos: The Ethical Appeal |

283
(2)

| | |
| --- | --- |
| | Pathos: The Emotional Appeal |

285
(1)
286
(1)

| | |
| --- | --- |
| | Understand Audience Emotions |

287
(1)

| | |
| --- | --- |
| | Express Your Own Feelings |

288
(1)

| | |
| --- | --- |
| | Connect Emotions to the Occasion |

289
(1)

| | |
| --- | --- |
| | Logos: The Appeal to Reason |

290
(6)

| | |
| --- | --- |
| | Arguments Based on Enumeration |

291
(1)

| | |
| --- | --- |
| | Arguments Based on Analogy |

292
(1)

| | |
| --- | --- |
| | Arguments Based on Causation |

292
(2)
294
(1)

| | |
| --- | --- |
| | Developing Rebuttal Arguments |

295
(1)

| | |
| --- | --- |
| | Methods of Organizing Persuasive Speeches |

296
(5)
296
(1)
297
(3)
300
(1)
301
(1)

| | |
| --- | --- |
| | Sample Speech: Computer-Enhanced Advertising Should Be Clearly Labeled |

301
(7)
308
(1)
308
(2)

| | |
| --- | --- |
| | Speaking to Persuade: Motivating Audiences |

310
(16)

| | |
| --- | --- |
| | Strategies for Motivating Listeners |

312
(3)

| | |
| --- | --- |
| | Appeal to the Needs of the Audience |

312
(1)

| | |
| --- | --- |
| | Appeal to Listeners' Beliefs and Values |

313
(1)

| | |
| --- | --- |
| | Provide Listeners with Incentives |

314
(1)

| | |
| --- | --- |
| | Involve the Audience Emotionally |

315
(1)
315
(2)
315
(1)
316
(1)
316
(1)
316
(1)
317
(1)
317
(1)

| | |
| --- | --- |
| | Applying the Motivated Sequence |

317
(5)
318
(1)
318
(1)
318
(1)
319
(1)
319
(1)

| | |
| --- | --- |
| | Outlining the Motivated Sequence |

320
(2)

| | |
| --- | --- |
| | Sample Speech: Genocide in Sudan |

322
(3)
325
(1)
325
(1)

| | |
| --- | --- |
| | Speaking for Special Occasions |

326
(17)

| | |
| --- | --- |
| | Types of Special-Occasion Speeches |

328
(10)
328
(1)

| | |
| --- | --- |
| | Construct a Brief Biographical Sketch |

328
(1)

| | |
| --- | --- |
| | Acknowledge Significant Achievements and Virtues |

328
(1)

| | |
| --- | --- |
| | Convey Hope and Encouragement |

328
(1)
329
(1)
330
(1)
331
(1)
332
(1)

| | |
| --- | --- |
| | The Speech of Introduction |

332
(1)
333
(1)
334
(1)
335
(1)
335
(1)
335
(2)
337
(1)

| | |
| --- | --- |
| | Sample Speech: Dedication of the World War II Memorial |

338
(3)
341
(1)
341
(2)
343
(26)

| | |
| --- | --- |
| | Characteristics of Small Groups |

345
(1)
345
(1)
346
(1)
346
(1)
346
(1)
346
(1)

| | |
| --- | --- |
| | Development of Small Groups |

346
(2)
347
(1)
347
(1)
347
(1)
347
(1)

| | |
| --- | --- |
| | Solving Problems in Groups |

348
(4)
348
(1)
348
(1)
348
(1)
348
(1)

| | |
| --- | --- |
| | Developing a Problem-Solving Agenda |

348
(1)
349
(1)
349
(1)
349
(1)
350
(1)
350
(1)

| | |
| --- | --- |
| | Apply Criteria to Solutions |

350
(1)

| | |
| --- | --- |
| | Implement the Selected Solution |

350
(1)

| | |
| --- | --- |
| | Monitor the Success of the Solution |

351
(1)
351
(1)
352
(3)
352
(1)
352
(1)
352
(1)
352
(1)
353
(1)

| | |
| --- | --- |
| | Be Courteous and Respectful |

353
(1)

| | |
| --- | --- |
| | Encourage and Energize Members |

353
(1)
354
(1)

| | |
| --- | --- |
| | Leadership in Small Groups |

355
(5)
355
(1)

| | |
| --- | --- |
| | Positive Leadership Behaviors |

356
(1)
356
(1)
357
(1)
357
(1)
357
(3)

| | |
| --- | --- |
| | Special Discussion Formats |

360
(2)
360
(1)
361
(1)
361
(1)
362
(1)
362
(1)
362
(1)
362
(1)
363
(6)
Notes
369
(4)
Glossary
373
(8)
Photo Credits
381
(2)
Index
383