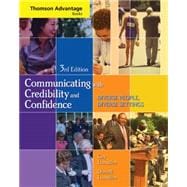 Cengage Advantage Books: Communicating with Credibility and Confidence (with SpeechBuilder Express™ and InfoTrac)
by
Lumsden, Gay
;
Lumsden, Donald
List Price: $70.33
Usually Ships in 3-5 Business Days
Currently Available, Usually Ships in 24-48 Hours
Questions About This Book?
What version or edition is this?
This is the 3rd edition with a publication date of 4/6/2005.
What is included with this book?
The New copy of this book will include any supplemental materials advertised. Please check the title of the book to determine if it should include any CDs, lab manuals, study guides, etc.
The Used copy of this book is not guaranteed to inclue any supplemental materials. Typically, only the book itself is included.
Summary
In this affordable Thomson Advantage Books version of COMMUNICATING WITH CREDIBILITY AND CONFIDENCE (WITH SPEECHBUILDER EXPRESS AND INFOTRAC) you will discover the key to communicating successfully in any situation. This innovative text reveals the basic skills of oral communication and emphasizes important points with skill-building exercises and activities. Your purchase includes access to SpeechBuilder Express an online outlining tool that helps you step-by-step through the outlining process as well as access to InfoTrac College Edition's online university library of full length articles.
Table of Contents
Preface
xvii

| | |
| --- | --- |
| | Part I Understanding Communication Processes |

| | |
| --- | --- |
| | Communication Dynamics: Exploring Concepts and Principles |

1
(24)

| | |
| --- | --- |
| | Objectives for This Chapter |

2
(1)
2
(1)

| | |
| --- | --- |
| | Why Communication Affects You |

3
(5)

| | |
| --- | --- |
| | Communicating in Contexts |

4
(3)

| | |
| --- | --- |
| | Communicating and Your Success |

7
(1)
8
(10)

| | |
| --- | --- |
| | Communicating Is a Process |

8
(2)
10
(3)
13
(1)

| | |
| --- | --- |
| | Communicating Is Not Transferring Ideas |

13
(1)

| | |
| --- | --- |
| | Communicating Can Be a Dilemma |

14
(1)
15
(1)
16
(2)

| | |
| --- | --- |
| | What Makes Communication Effective |

18
(3)
18
(1)
18
(1)
19
(1)
20
(1)
20
(1)

| | |
| --- | --- |
| | Ethics of Message Content |

21
(1)
21
(1)
22
(1)
23
(2)

| | |
| --- | --- |
| | Your Communication: Developing Credibility and Confidence |

25
(26)

| | |
| --- | --- |
| | Objectives for This Chapter |

26
(1)
26
(1)

| | |
| --- | --- |
| | Communicating with Credibility |

27
(6)
28
(1)
28
(1)
29
(1)
30
(1)
30
(1)
30
(1)

| | |
| --- | --- |
| | Box: You're Such a Charmer! |

31
(1)
32
(1)

| | |
| --- | --- |
| | Communicating with Confidence |

33
(6)
33
(1)
33
(1)
33
(1)
34
(1)
34
(1)
34
(1)
35
(1)

| | |
| --- | --- |
| | Communication Apprehension |

36
(1)

| | |
| --- | --- |
| | Box: Communication Anxiety |

37
(1)
38
(1)

| | |
| --- | --- |
| | Developing Communication Confidence |

39
(6)
39
(2)
41
(1)

| | |
| --- | --- |
| | Creating Successful Images |

41
(1)

| | |
| --- | --- |
| | Affirming Successful Interactions |

42
(1)
43
(1)
43
(1)
44
(1)
45
(1)
45
(2)
47
(2)

| | |
| --- | --- |
| | Form 2.1 Self-Assessment of Willingness to Communicate |

49
(2)

| | |
| --- | --- |
| | Perception and Thought: Making Sense |

51
(26)

| | |
| --- | --- |
| | Objectives for This Chapter |

52
(1)
52
(1)

| | |
| --- | --- |
| | The Process of Perception |

53
(4)
54
(1)
55
(1)
56
(1)
56
(1)

| | |
| --- | --- |
| | Factors Affecting Perception |

57
(5)

| | |
| --- | --- |
| | Physical and Psychological States |

57
(1)

| | |
| --- | --- |
| | Beliefs, Attitudes, and Values |

58
(1)
59
(1)
60
(1)
60
(2)
62
(1)

| | |
| --- | --- |
| | Ways to Check Perceptions |

62
(1)

| | |
| --- | --- |
| | The Process of Critical Thinking |

63
(6)
64
(1)
64
(1)
65
(1)
66
(1)
67
(1)
68
(1)
68
(1)
69
(1)

| | |
| --- | --- |
| | The Process of Planning Messages |

69
(4)

| | |
| --- | --- |
| | Consider Audience Perceptions |

69
(1)
69
(1)

| | |
| --- | --- |
| | Choose Appropriate Language |

70
(1)
71
(1)
71
(1)
71
(1)

| | |
| --- | --- |
| | Consider Audience Reasoning |

72
(1)
73
(1)
74
(1)
75
(2)

| | |
| --- | --- |
| | Part II Creating Dialogue |

| | |
| --- | --- |
| | Listening and Questioning: Negotiating Meanings |

77
(20)

| | |
| --- | --- |
| | Objectives for This Chapter |

78
(1)
78
(1)

| | |
| --- | --- |
| | Listening and Questioning for Your Future |

79
(3)

| | |
| --- | --- |
| | Listening and Questioning for Academic and Career Success |

80
(1)

| | |
| --- | --- |
| | Box: Listening Makes a Difference |

81
(1)

| | |
| --- | --- |
| | Importance to Your Relationships |

81
(1)
82
(2)
82
(1)
83
(1)
83
(1)
83
(1)

| | |
| --- | --- |
| | Listening and Questioning Approaches |

84
(7)
84
(1)

| | |
| --- | --- |
| | Listening and Questioning Interactively |

85
(1)

| | |
| --- | --- |
| | Listening and Questioning Empathically |

86
(1)

| | |
| --- | --- |
| | Box: Listening with Your Eyes |

87
(2)

| | |
| --- | --- |
| | Listening and Questioning Collaboratively |

89
(2)

| | |
| --- | --- |
| | Listening and Questioning Skill Development |

91
(2)
92
(1)
92
(1)
93
(1)
93
(1)
94
(1)
95
(1)

| | |
| --- | --- |
| | Form 4.1 Assessment of Listening and Questioning Skills |

96
(1)

| | |
| --- | --- |
| | Nonverbal Communication: More Than Words Can Say |

97
(22)

| | |
| --- | --- |
| | Objectives for This Chapter |

98
(1)
98
(1)

| | |
| --- | --- |
| | Communication: More Than Words |

99
(2)

| | |
| --- | --- |
| | Nonverbal Cues Shape Transactions |

100
(1)

| | |
| --- | --- |
| | Nonverbal Cues Are More Believable Than Verbal Cues |

100
(1)

| | |
| --- | --- |
| | Nonverbal Cues Are Harder to Decode Than Verbal Cues |

100
(1)

| | |
| --- | --- |
| | Voice and Speech: Instruments of Communication |

101
(2)
101
(1)

| | |
| --- | --- |
| | Box: Communicating in Black and White |

102
(1)

| | |
| --- | --- |
| | Adapting Voice and Speech |

103
(1)

| | |
| --- | --- |
| | Body Movements Large and Small |

103
(8)

| | |
| --- | --- |
| | Box: The Mathematical Marriage Predictor |

104
(1)
104
(1)
105
(1)
105
(2)
107
(1)
108
(1)
109
(1)
110
(1)

| | |
| --- | --- |
| | Personal Symbols: Subtle Influences |

111
(1)
112
(1)

| | |
| --- | --- |
| | Settings: Structures and Environments |

113
(1)

| | |
| --- | --- |
| | Nonverbal Development: Credibility and Confidence |

114
(1)
114
(1)
115
(1)
115
(1)
116
(1)
117
(2)

| | |
| --- | --- |
| | Verbal Communication: Connecting with Language |

119
(21)

| | |
| --- | --- |
| | Objectives for This Chapter |

120
(1)
120
(1)
121
(5)
121
(1)

| | |
| --- | --- |
| | Box: La Llama, El Habla/Flame, Speech |

122
(1)
122
(1)
123
(1)

| | |
| --- | --- |
| | Adaptive Sources of Words |

123
(1)

| | |
| --- | --- |
| | Words Manipulate Feelings |

124
(1)
124
(1)
125
(1)
126
(1)

| | |
| --- | --- |
| | How Language Maps Meaning |

126
(3)
127
(1)
127
(1)

| | |
| --- | --- |
| | Language of Social Identity |

127
(2)

| | |
| --- | --- |
| | Language Styles Affect Meaning |

129
(4)
129
(1)
130
(1)

| | |
| --- | --- |
| | Box: Sisters with a Language |

131
(1)
132
(1)

| | |
| --- | --- |
| | How Your Language Communicates Meaning |

133
(4)
133
(1)

| | |
| --- | --- |
| | Communicating with Clarity |

134
(2)

| | |
| --- | --- |
| | Stimulating Thinking and Senses |

136
(1)
137
(1)
138
(1)
139
(1)

| | |
| --- | --- |
| | Part III Building Interpersonal Relationships |

| | |
| --- | --- |
| | Relationship Climates: Creating Communication Environments |

140
(21)

| | |
| --- | --- |
| | Objectives for This Chapter |

141
(1)
141
(1)

| | |
| --- | --- |
| | Developing Supportive Communication Climates |

142
(9)

| | |
| --- | --- |
| | Characteristics of Supportive and Defensive Climates |

142
(1)
143
(1)

| | |
| --- | --- |
| | Effects of Self-Disclosure |

143
(3)

| | |
| --- | --- |
| | Personal Influences on Self-Disclosure |

146
(1)

| | |
| --- | --- |
| | Box: Ideas to Ponder about Being Direct or Indirect . . . |

147
(1)

| | |
| --- | --- |
| | Guidelines for Self-Disclosure |

148
(1)
148
(2)
150
(1)

| | |
| --- | --- |
| | Identifying Defensive Communication Climates |

151
(4)
151
(2)
153
(1)

| | |
| --- | --- |
| | Box: Nonviolent Solutions |

154
(1)

| | |
| --- | --- |
| | Changing Defensive Communication Climates and Ending Games |

155
(3)
155
(1)

| | |
| --- | --- |
| | Communication for Managing Games and Conflicts |

156
(2)
158
(1)
158
(1)
159
(2)

| | |
| --- | --- |
| | Personal Relationships: Growing with Another |

161
(23)

| | |
| --- | --- |
| | Objectives for This Chapter |

162
(1)
162
(1)
163
(6)
163
(1)
164
(1)
165
(1)

| | |
| --- | --- |
| | Box: E-mail: Communicating More, Thinking Less? |

166
(1)
166
(1)
167
(1)
168
(1)
168
(1)
168
(1)
169
(4)
170
(1)
171
(1)

| | |
| --- | --- |
| | Box: Successful Relationships |

172
(1)
173
(3)
174
(1)
174
(1)
175
(1)
175
(1)
176
(1)
177
(4)

| | |
| --- | --- |
| | Optimal Family Functioning |

178
(1)

| | |
| --- | --- |
| | Dysfunctional Family Relationships |

178
(1)

| | |
| --- | --- |
| | Box: Survey Links Drug Use, Relationship with Father |

179
(2)
181
(1)
182
(1)
182
(2)

| | |
| --- | --- |
| | Professional Relationships: Transacting for Success |

184
(21)

| | |
| --- | --- |
| | Objectives for This Chapter |

185
(1)
185
(1)

| | |
| --- | --- |
| | Communicating in Organizational Cultures |

186
(6)

| | |
| --- | --- |
| | Goal Conflicts and Compliance Pressures |

187
(1)
188
(1)

| | |
| --- | --- |
| | Stereotypes, Bias, and Harassment |

189
(1)

| | |
| --- | --- |
| | Communication Connections |

190
(1)
190
(1)
191
(1)

| | |
| --- | --- |
| | Communicating in Interviews |

192
(9)

| | |
| --- | --- |
| | Box: How to Talk to a Bureaucrat |

193
(1)
193
(2)
195
(1)
196
(1)
196
(1)
197
(1)

| | |
| --- | --- |
| | Question Functions and Forms |

197
(1)

| | |
| --- | --- |
| | Questions for Selection and Performance |

198
(2)

| | |
| --- | --- |
| | Interview Confidence and Credibility |

200
(1)
201
(1)
202
(2)
204
(1)

| | |
| --- | --- |
| | Part IV Communicating in Groups and Teams |

| | |
| --- | --- |
| | Groups and Teams: Communication and Leadership |

205
(23)

| | |
| --- | --- |
| | Objectives for This Chapter |

206
(1)
206
(1)

| | |
| --- | --- |
| | Groups, Teams, and Your Future |

207
(3)

| | |
| --- | --- |
| | Members Work Together to Attain Goals |

207
(1)
207
(1)
208
(1)

| | |
| --- | --- |
| | Members Adapt Formats to Attain Goals |

208
(1)
209
(1)

| | |
| --- | --- |
| | Groups, Teams, and Superteams |

210
(3)

| | |
| --- | --- |
| | Effective Team Characteristics |

210
(1)
210
(2)
212
(1)

| | |
| --- | --- |
| | Effective Team Developmental Phases |

212
(1)
213
(6)
213
(1)
214
(1)
214
(1)
215
(1)

| | |
| --- | --- |
| | Individual Interest/Blocking Roles |

215
(1)
216
(1)
216
(1)

| | |
| --- | --- |
| | Effective Leader Qualities |

217
(1)

| | |
| --- | --- |
| | Effective Leader Responsibilities |

217
(1)

| | |
| --- | --- |
| | Box: Choosing Wise Leaders |

218
(1)
219
(1)
220
(5)

| | |
| --- | --- |
| | Getting to Know One Another |

220
(1)
221
(1)
221
(1)

| | |
| --- | --- |
| | Box: How Culture Affects Meeting Planning |

222
(1)

| | |
| --- | --- |
| | Commitment and Accountability |

222
(1)
222
(1)
223
(1)

| | |
| --- | --- |
| | Formal and Informal Agendas |

223
(1)
223
(1)
224
(1)
225
(1)
225
(2)
227
(1)

| | |
| --- | --- |
| | Problem Analysis and Decision Making: Achieving Group and Team Goals |

228
(24)

| | |
| --- | --- |
| | Objectives for This Chapter |

229
(1)
229
(1)

| | |
| --- | --- |
| | Identifying Your Team's Goals |

230
(3)
230
(1)
231
(1)

| | |
| --- | --- |
| | Understanding and Committing to Goals |

232
(1)

| | |
| --- | --- |
| | Box: Gathering Information |

233
(1)

| | |
| --- | --- |
| | Planning Your Team's Inquiry |

233
(2)

| | |
| --- | --- |
| | Information: What, Where, and How to Get It |

233
(2)

| | |
| --- | --- |
| | Information: How to Share and Analyze It |

235
(1)

| | |
| --- | --- |
| | Making Team Decisions Systematically |

235
(10)
236
(1)
236
(2)
238
(1)
238
(2)

| | |
| --- | --- |
| | Generating Possible Solutions |

240
(1)
241
(1)
241
(1)
242
(1)

| | |
| --- | --- |
| | Advantages, Disadvantages, and Risks |

242
(1)
242
(1)
243
(1)

| | |
| --- | --- |
| | Creating Implementation Plans |

244
(1)

| | |
| --- | --- |
| | Ensuring Open Group Process |

245
(3)
245
(1)
246
(1)
247
(1)
248
(1)
248
(1)
249
(1)
250
(2)

| | |
| --- | --- |
| | Part V Speaking to Public Audiences |

| | |
| --- | --- |
| | Research and Development: Creating Public Speeches |

252
(28)

| | |
| --- | --- |
| | Objectives for This Chapter |

253
(1)
253
(2)

| | |
| --- | --- |
| | Determining Your Purpose and Topic |

255
(5)
255
(1)
255
(1)
255
(1)
256
(1)

| | |
| --- | --- |
| | Speeches for Special Occasions |

256
(1)
257
(2)
259
(1)
260
(2)

| | |
| --- | --- |
| | Finding Research Information |

260
(1)
260
(1)
261
(1)
261
(1)

| | |
| --- | --- |
| | Evaluating Research Information |

262
(1)
262
(3)
262
(1)

| | |
| --- | --- |
| | Audience Analysis Sources |

263
(2)
265
(2)
265
(1)
266
(1)

| | |
| --- | --- |
| | Developing Supporting Material |

267
(3)

| | |
| --- | --- |
| | Types of Supporting Material |

268
(1)

| | |
| --- | --- |
| | Choice and Use of Supporting Material |

269
(1)

| | |
| --- | --- |
| | Creating Introductions, Conclusions, and Transitions |

270
(4)
270
(1)
270
(1)
271
(1)
272
(1)
272
(1)
273
(1)
273
(1)

| | |
| --- | --- |
| | Using Visuals to Enhance Supporting Material |

274
(2)
274
(1)

| | |
| --- | --- |
| | Box: Slide Presentation Overload |

275
(1)

| | |
| --- | --- |
| | Guidelines for Creating Visuals |

275
(1)
276
(1)
277
(1)
278
(2)

| | |
| --- | --- |
| | Rehearsal and Delivery: Speaking to Audiences |

280
(25)

| | |
| --- | --- |
| | Objectives for This Chapter |

281
(1)
281
(1)

| | |
| --- | --- |
| | Selecting Your Mode of Presentation |

282
(2)
284
(1)

| | |
| --- | --- |
| | Preparing and Using Notes |

285
(2)

| | |
| --- | --- |
| | Rehearsing and Adapting Your Speech |

287
(1)

| | |
| --- | --- |
| | ``Getting Set'' for Your Speaking Opportunity |

288
(2)
288
(1)

| | |
| --- | --- |
| | Adapting to Circumstances |

289
(1)

| | |
| --- | --- |
| | Talking with Your Audience |

290
(2)
292
(8)
292
(3)
295
(1)

| | |
| --- | --- |
| | Box: An Accent Is No Problem! |

296
(1)
296
(1)
297
(1)
298
(1)

| | |
| --- | --- |
| | Box: Digital Presentations: Make Your Delivery Effective |

299
(1)
300
(1)
301
(2)
303
(2)

| | |
| --- | --- |
| | Public Presentations: Speaking to Inform |

305
(21)

| | |
| --- | --- |
| | Objectives for This Chapter |

306
(1)
306
(1)
307
(2)

| | |
| --- | --- |
| | Occasions for Informative Speaking |

307
(1)
308
(1)

| | |
| --- | --- |
| | Audience Motivations and Learning Styles |

309
(1)

| | |
| --- | --- |
| | Methods to Aid Understanding and Memory |

310
(9)
311
(1)
312
(1)

| | |
| --- | --- |
| | Extended Analogy or Example |

312
(1)
313
(1)
313
(1)
314
(1)
315
(1)
316
(1)
316
(1)
317
(1)
318
(1)

| | |
| --- | --- |
| | Ways to Use Participation and Feedback |

319
(1)
319
(1)
320
(1)

| | |
| --- | --- |
| | Your Source Credibility and Confidence |

320
(1)
321
(1)
322
(1)
322
(2)
324
(2)

| | |
| --- | --- |
| | Public Presentations: Speaking to Persuade |

326
(30)

| | |
| --- | --- |
| | Objectives for This Chapter |

327
(1)
327
(1)
328
(5)
328
(1)
329
(1)
330
(1)
330
(1)
330
(1)
331
(1)

| | |
| --- | --- |
| | Box: And a Little Child Shall Lead Them |

332
(1)
332
(1)
333
(5)
333
(1)
334
(1)
334
(1)
335
(2)
337
(1)

| | |
| --- | --- |
| | Anticipating Opposing Positions |

338
(1)

| | |
| --- | --- |
| | Organizational Strategies |

338
(4)
338
(1)
339
(1)
340
(1)
341
(1)
341
(1)
342
(6)
343
(1)
343
(1)

| | |
| --- | --- |
| | Supporting Material for Proof |

343
(1)
344
(1)
344
(1)
345
(1)

| | |
| --- | --- |
| | Appeals Based on Source Credibility |

345
(1)
346
(1)

| | |
| --- | --- |
| | Demonstrating Competence and Objectivity |

346
(1)

| | |
| --- | --- |
| | Box: Culture and Persuasive Style |

347
(1)

| | |
| --- | --- |
| | Communicating with Appropriate Dynamism |

347
(1)
348
(1)
348
(1)
349
(1)
350
(2)
352
(2)

| | |
| --- | --- |
| | Sample Persuasive Speech Using Motivated Sequence Strategy |

354
(2)
Glossary
356
(5)
Notes
361
(16)
Index
377