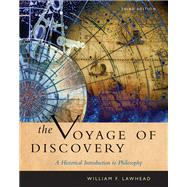 Cengage Advantage Books: Voyage of Discovery A Historical Introduction to Philosophy
by
Lawhead, William F.
Questions About This Book?
What version or edition is this?
This is the 3rd edition with a publication date of 6/25/2006.
What is included with this book?
The Used copy of this book is not guaranteed to include any supplemental materials. Typically, only the book itself is included.
Related Products
Summary
Preface. Introduction: A Brief Tour Guide to Philosophy. Part I: THE ANCIENT PERIOD. 1. The Greek Cultural Context: From Poetry to Philosophy. 2. Greek Philosophy before Socrates. 3. The Sophists and Socrates. 4. Plato: The Search for Ultimate Truth and Reality. 5. Aristotle: Understanding the Natural World. 6. Classical Philosophy after Aristotle. Part II: THE MIDDLE AGES. 7. Cultural Context: The Development of Christian Thought. 8. St. Augustine: Philosophy in the Service of Faith. 9. Early Medieval Philosophy. 10. Philosophy and Theology in the 11th and 12th Centuries. 11. St. Thomas Aquinas: Aristotle's Philosophy and Christian Thought. 12. The Unraveling of the Medieval Synthesis. Part III: THE MODERN PERIOD. 13. Cultural Context: Renaissance, Reformation, and the Rise of Modern Science. 14. Early Empiricists: Francis Bacon and Thomas Hobbes. 15. Rene Descartes: Founder of Modern Philosophy. 16. Benedict (Baruch) Spinoza: Rationalist and Mystic. 17. Gottfried Leibniz: The Optimistic Rationalist. 18. Cultural Context: The Enlightenment and the Age of Newton. 19. John Locke: The Rise of Modern Empiricism. 20. George Berkeley: Following the Road of Empiricism. 21. David Hume: The Scottish Skeptic. 22. Immanuel Kant: Finding the Powers and Limits of the Mind. 23. The Nineteenth-Century Cultural Context: Romanticism, Science, and the Sense of History. 24. G.W.F. Hegel: Biographer of the World Spirit. 25. Karl Marx: A Philosophy of the Changing World. 26. Soren Kierkegaard: The Founder of Religious Existentialism. 27. Friedrich Nietzsche: The Founder of Secular Existentialism. 28. Nineteenth-Century Empiricism: Comte, Bentham, and Mill. Part IV: THE CONTEMPORARY PERIOD. 29. The Twentieth-Century Cultural Context: Science, Language, and Experience. 30. Pragmatism: The Unity of Thought and Action. 31. Analytic Philosophy and the Linguistic Turn. 32. Phemenology and Existentialism. 33. Recent Issues in Philosophy. Glossary. Index.
Table of Contents
Preface
xviii
Introduction: A Brief Tour Guide to Philosophy
1
(1)

| | |
| --- | --- |
| | Philosophy Is Not an Optional Experience in Your Life! |

1
(3)

| | |
| --- | --- |
| | Philosophical Ideas in Unlikely Places |

1
(2)
3
(1)

| | |
| --- | --- |
| | What Is Philosophy, Anyway? |

4
(4)

| | |
| --- | --- |
| | Commonplace Notions of Philosophy |

4
(1)
5
(1)
5
(1)
6
(2)

| | |
| --- | --- |
| | Becoming an Active Reader: Tactics and Strategies |

8
(2)

| | |
| --- | --- |
| | Philosophy, Bike Riding, and Baseball Cards |

8
(1)

| | |
| --- | --- |
| | A Strategy for Reading Philosophy |

9
(1)

| | |
| --- | --- |
| | A General Map of the Terrain |

10
(1)

| | |
| --- | --- |
| | Contemporary Connections: Introduction |

11
(2)

| | |
| --- | --- |
| | PART I THE ANCIENT PERIOD |

13
(114)

| | |
| --- | --- |
| | The Greek Cultural Context: From Poetry to Philosophy |

15
(6)
15
(3)

| | |
| --- | --- |
| | The Natural Order According to Homer |

16
(1)

| | |
| --- | --- |
| | The Moral Ideal According to Homer |

17
(1)

| | |
| --- | --- |
| | Conflicts Within Homer's Picture |

17
(1)

| | |
| --- | --- |
| | The Birth of Western Philosophy |

18
(1)

| | |
| --- | --- |
| | Contemporary Connections 1: The Philosophical Turn |

19
(1)

| | |
| --- | --- |
| | Outline of Classical Philosophy |

19
(2)

| | |
| --- | --- |
| | Greek Philosophy Before Socrates |

21
(22)

| | |
| --- | --- |
| | The Milesian Philosophers |

21
(1)
21
(2)
21
(1)
22
(1)
22
(1)
22
(1)
23
(1)
23
(1)
23
(1)
23
(1)

| | |
| --- | --- |
| | Anaximander's Significance |

24
(1)
24
(1)
24
(1)
24
(1)
25
(1)
25
(1)

| | |
| --- | --- |
| | Summary of the Milesians' Methods |

25
(1)

| | |
| --- | --- |
| | Summary of the Milesians' Metaphysics |

25
(1)

| | |
| --- | --- |
| | Pythagoras and His School |

26
(1)

| | |
| --- | --- |
| | Pythagoras: Mathematician and Mystic |

26
(1)
26
(1)
27
(1)

| | |
| --- | --- |
| | The Pythagoreans' Significance |

27
(1)
28
(1)
28
(1)
28
(1)
29
(1)
29
(1)
30
(1)
30
(1)

| | |
| --- | --- |
| | Reason Is the Path to Knowledge |

30
(1)

| | |
| --- | --- |
| | Reality as Change and Conflict |

31
(1)
31
(1)
31
(1)
32
(1)
32
(1)

| | |
| --- | --- |
| | Moral and Social Philosophy |

32
(1)

| | |
| --- | --- |
| | Heraclitus's Significance |

33
(1)

| | |
| --- | --- |
| | Parmenides And The Eleatics |

33
(1)

| | |
| --- | --- |
| | Parmenides: The Rigorous Rationalist |

33
(1)
33
(2)
35
(1)

| | |
| --- | --- |
| | Zeno of Elea: Coming to Parmenides' Defense |

35
(1)

| | |
| --- | --- |
| | Evaluation and Significance of the Eleatics |

36
(1)
37
(1)
37
(1)

| | |
| --- | --- |
| | Empedocles (495-435 B.C.) |

37
(1)

| | |
| --- | --- |
| | Anaxagoras (500-428 B.C.) |

38
(1)
38
(1)

| | |
| --- | --- |
| | Democritus And The Atomists |

39
(2)
39
(1)
39
(1)
39
(1)
39
(1)
40
(1)

| | |
| --- | --- |
| | Significance of the Atomists |

40
(1)

| | |
| --- | --- |
| | Summary of the Pre-Socratics |

41
(1)

| | |
| --- | --- |
| | Contemporary Connections 2: The Pre-Socratics |

41
(2)

| | |
| --- | --- |
| | The Sophists and Socrates |

43
(17)
43
(1)

| | |
| --- | --- |
| | Skepticism and the Keys to Success |

43
(4)
45
(1)
46
(1)
46
(1)

| | |
| --- | --- |
| | Evaluation and Significance of the Sophists |

47
(1)
47
(1)
47
(2)

| | |
| --- | --- |
| | The Sources of Socrates' Thought |

49
(1)

| | |
| --- | --- |
| | Socrates' Task: Exposing Ignorance |

49
(1)
50
(2)
50
(1)

| | |
| --- | --- |
| | Socrates' Method of Argument |

51
(1)

| | |
| --- | --- |
| | Socrates' Theory of Knowledge |

52
(1)
53
(1)
53
(1)
54
(2)
54
(1)
55
(1)
56
(1)
57
(1)

| | |
| --- | --- |
| | Contemporary Connections 3: The Sophists and Socrates |

58
(2)

| | |
| --- | --- |
| | Plato: The Search for Ultimate Truth and Reality |

60
(24)

| | |
| --- | --- |
| | Plato's Life: From Student to University President |

60
(1)

| | |
| --- | --- |
| | Plato's Task: Making Philosophy Comprehensive |

61
(1)

| | |
| --- | --- |
| | Theory of Knowledge: Reason Versus Opinion |

61
(6)
61
(1)

| | |
| --- | --- |
| | Rejection of Sense Experience |

62
(1)

| | |
| --- | --- |
| | Knowledge Is Not True Belief |

63
(1)

| | |
| --- | --- |
| | Universal Forms Are the Basis of Knowledge |

64
(1)

| | |
| --- | --- |
| | Knowledge Comes Through Recollalion |

65
(1)
65
(2)

| | |
| --- | --- |
| | Metaphysics: Shadows and Reality |

67
(5)
67
(1)
67
(1)

| | |
| --- | --- |
| | The Relationship of Particulars to the Forms |

68
(2)
70
(2)
72
(4)
72
(1)
73
(1)

| | |
| --- | --- |
| | Morality and Human Nature |

74
(2)
76
(3)

| | |
| --- | --- |
| | The Three Divisions in Society |

76
(2)

| | |
| --- | --- |
| | The Decline of the Ideal State |

78
(1)

| | |
| --- | --- |
| | Plato's Cosmology: Purpose and Chance |

79
(1)

| | |
| --- | --- |
| | Evaluation and Significance |

80
(1)

| | |
| --- | --- |
| | Contemporary Connections 4: Plato |

81
(3)

| | |
| --- | --- |
| | Aristotle: Understanding the Natural World |

84
(21)

| | |
| --- | --- |
| | Aristotle's Life: Biologist, Tutor, and Philosopher |

84
(1)
85
(2)

| | |
| --- | --- |
| | Theory of Knowledge: Finding Universals Within Particulars |

87
(4)

| | |
| --- | --- |
| | Aristotle's Appeal to Experience |

87
(1)

| | |
| --- | --- |
| | Language, Thought, and Reality |

88
(1)
88
(1)
89
(1)
90
(1)

| | |
| --- | --- |
| | Metaphysics: Understanding the Here-and-Now World |

91
(5)

| | |
| --- | --- |
| | Critique of the Platonic Forms |

91
(1)

| | |
| --- | --- |
| | Substance: The Key to Reality |

92
(1)
92
(1)

| | |
| --- | --- |
| | Potentiality and Actuality |

93
(1)
94
(1)
95
(1)
95
(1)

| | |
| --- | --- |
| | Ethics: Keeping Things in Balance |

96
(6)
97
(2)

| | |
| --- | --- |
| | Virtue Is a State of Character |

99
(1)

| | |
| --- | --- |
| | Virtue Is Concerned with Choice |

99
(1)
100
(1)

| | |
| --- | --- |
| | Universal Principles and Relative Applications |

100
(1)

| | |
| --- | --- |
| | The Mean Determined by Practical Wisdom |

101
(1)
102
(1)

| | |
| --- | --- |
| | Evaluation and Significance |

102
(1)

| | |
| --- | --- |
| | Contemporary Connections 5: Aristotle |

103
(2)

| | |
| --- | --- |
| | Classical Philosophy After Aristotle |

105
(22)

| | |
| --- | --- |
| | The Transition to Hellenistic and Roman Philosophy |

105
(1)
106
(1)
107
(4)
107
(1)
108
(1)

| | |
| --- | --- |
| | Epicurean Social Philosophy |

109
(1)
110
(1)

| | |
| --- | --- |
| | The Significance of the Epicureans |

110
(1)
111
(6)

| | |
| --- | --- |
| | Comparison of Epicureanism and Stoicism |

111
(1)
112
(2)
114
(1)
115
(1)
115
(1)

| | |
| --- | --- |
| | The Significance of the Stoics |

116
(1)
117
(2)
117
(1)

| | |
| --- | --- |
| | The Revival of Pyrrhonian Skepticism |

118
(1)

| | |
| --- | --- |
| | The Significance of Skepticism |

119
(1)

| | |
| --- | --- |
| | Plotinus and Neoplatonism |

119
(4)
120
(1)
120
(1)
121
(1)
121
(1)
121
(1)
122
(1)

| | |
| --- | --- |
| | The Significance of Neoplatonism |

123
(1)

| | |
| --- | --- |
| | Contemporary Connections 6: Post-Aristotelian Classical Philosophy |

123
(4)
127
(94)

| | |
| --- | --- |
| | Cultural Context: The Development of Christian Thought |

129
(11)

| | |
| --- | --- |
| | The Encounter Between Greek and Christian Thought |

129
(2)

| | |
| --- | --- |
| | The Problem of Faith and Reason |

131
(3)
132
(1)
132
(1)
133
(1)

| | |
| --- | --- |
| | Challenging Heresies and Clarifying Orthodoxy |

134
(4)
135
(1)
135
(1)

| | |
| --- | --- |
| | The Nature of God and the Arian Heresy |

136
(1)

| | |
| --- | --- |
| | The Problem of Free Will and Sin: The Pelagian Heresy |

137
(1)

| | |
| --- | --- |
| | The Future Agenda: A Christian Philosophical Synthesis |

138
(1)

| | |
| --- | --- |
| | Contemporary Connections 7: The Development of Christian Thought |

138
(2)

| | |
| --- | --- |
| | St. Augustine: Philosophy in the Service of Faith |

140
(17)

| | |
| --- | --- |
| | Augustine's Life: From Passionate Pleasure to a Passionate Faith |

140
(2)

| | |
| --- | --- |
| | Augustine's Task: Understanding the Human Predicament |

142
(1)

| | |
| --- | --- |
| | Theory of Knowledge: The Truth Is Within |

143
(4)
143
(2)
145
(1)
145
(1)
146
(1)

| | |
| --- | --- |
| | Metaphysics: God, Creation, Freedom, and Evil |

147
(4)
147
(1)
147
(2)

| | |
| --- | --- |
| | Foreknowledge, Providence, and Free Will |

149
(1)
150
(1)

| | |
| --- | --- |
| | Philosophy of History and the State |

151
(3)

| | |
| --- | --- |
| | The Rise of a Christian Philosophy of History |

151
(1)
152
(1)
153
(1)

| | |
| --- | --- |
| | The Problem of Providence and Free Will in History |

154
(1)

| | |
| --- | --- |
| | The Implications of Augustine's Theory of History |

154
(1)

| | |
| --- | --- |
| | Evaluation and Significance |

154
(1)

| | |
| --- | --- |
| | Was Augustine a Philosopher? |

154
(1)
155
(1)

| | |
| --- | --- |
| | Contemporary Connections 8: St. Augustine |

155
(2)

| | |
| --- | --- |
| | Early Medieval Philosophy |

157
(10)

| | |
| --- | --- |
| | From the Roman World to the Middle Ages |

157
(1)

| | |
| --- | --- |
| | A Survey of the Early Middle Ages |

157
(2)
158
(1)

| | |
| --- | --- |
| | Periods of Darkness and Light |

158
(1)

| | |
| --- | --- |
| | The Byzantine and Islamic Empires |

159
(1)

| | |
| --- | --- |
| | An Overview of Medieval Philosophy |

159
(1)

| | |
| --- | --- |
| | Early Medieval Philosophy |

160
(5)
160
(2)
162
(3)
165
(1)

| | |
| --- | --- |
| | Contemporary Connections 9: Early Medieval Philosophy |

166
(1)

| | |
| --- | --- |
| | Philosophy and Theology in the Eleventh and Twelfth Centuries |

167
(20)

| | |
| --- | --- |
| | The Flowering of the Middle Ages |

167
(2)

| | |
| --- | --- |
| | The Rise of Scholasticism |

169
(6)

| | |
| --- | --- |
| | The Nature of Scholasticism |

169
(1)

| | |
| --- | --- |
| | The Controversy over Universals |

170
(3)

| | |
| --- | --- |
| | The Controversy over Faith and Reason |

173
(1)

| | |
| --- | --- |
| | The Relation of Will and Intellect |

174
(1)
175
(3)
178
(1)
179
(4)

| | |
| --- | --- |
| | Preserving Aristotle's Legacy |

179
(1)

| | |
| --- | --- |
| | The Rise of the Islamic Religion |

179
(1)
180
(1)
181
(1)
182
(1)
183
(1)

| | |
| --- | --- |
| | The Rediscovery of Aristotle in Europe |

183
(1)

| | |
| --- | --- |
| | Contemporary Connections 10: The Eleventh and Twelfth Centuries |

184
(3)

| | |
| --- | --- |
| | St. Thomas Aquinas: Aristotle's Philosophy and Christian Thought |

187
(18)
187
(1)

| | |
| --- | --- |
| | Aquinas's Task: Integrating Philosophy and Faith |

188
(3)
188
(1)

| | |
| --- | --- |
| | The Spheres of Faith and Reason |

189
(1)
190
(1)

| | |
| --- | --- |
| | The Nature of Knowledge: Reason Processing Experience |

191
(1)

| | |
| --- | --- |
| | Metaphysics: From the World to God |

192
(6)
192
(1)
192
(1)
193
(1)
194
(3)

| | |
| --- | --- |
| | The Problem of Religious Langauge |

197
(1)

| | |
| --- | --- |
| | Moral Philosophy: Human Nature and Divine Law |

198
(2)
198
(1)
199
(1)
200
(1)
200
(1)

| | |
| --- | --- |
| | Evaluation and Significance |

201
(2)

| | |
| --- | --- |
| | The Rejection of Platonic Dualism |

201
(1)
201
(2)

| | |
| --- | --- |
| | Contemporary Connections 11: St. Thomas Aquinas |

203
(2)

| | |
| --- | --- |
| | The Unraveling of the Medieval Synthesis |

205
(16)
207
(1)

| | |
| --- | --- |
| | The Subtle Scottish Professor |

207
(1)

| | |
| --- | --- |
| | Theory of Knowledge: Restricting Reason |

207
(1)

| | |
| --- | --- |
| | Metaphysics: Moving Away from Scholasticism |

207
(1)

| | |
| --- | --- |
| | Universals and Individuality |

207
(1)
208
(1)

| | |
| --- | --- |
| | Moral Philosophy and the Primacy of the Will |

208
(1)
209
(1)

| | |
| --- | --- |
| | Ockham's Controversial Life |

209
(1)
210
(1)

| | |
| --- | --- |
| | Theory of Knowledge: Denying Universals |

210
(1)

| | |
| --- | --- |
| | Knowledge Begins in Experience |

210
(1)
211
(1)

| | |
| --- | --- |
| | Metaphysics and the Limits of Reason |

212
(1)

| | |
| --- | --- |
| | The Primacy of the Individual |

212
(1)
212
(1)

| | |
| --- | --- |
| | The Decline of Metaphysics |

212
(1)

| | |
| --- | --- |
| | Rejection of Natural Theology |

213
(1)

| | |
| --- | --- |
| | Moral Philosophy: Radical Voluntarism |

213
(1)

| | |
| --- | --- |
| | Summary and Evaluation of Ockham |

214
(2)

| | |
| --- | --- |
| | Changes In The Methods of Science |

216
(1)
216
(2)

| | |
| --- | --- |
| | The Decline of Medieval Philosophy |

218
(1)

| | |
| --- | --- |
| | Contemporary Connections 12: The Unraveling of the Medieval Synthesis |

219
(2)

| | |
| --- | --- |
| | PART III THE MODERN PERIOD |

221
(258)

| | |
| --- | --- |
| | Cultural Context: Renaissance, Reformation, and the Rise of Modern Science |

223
(12)
224
(2)

| | |
| --- | --- |
| | The Protestant Reformation |

226
(1)

| | |
| --- | --- |
| | Social and Political Changes |

227
(1)

| | |
| --- | --- |
| | The Rise of Modern Science |

228
(3)

| | |
| --- | --- |
| | The Copernican Revolution |

228
(1)
229
(1)

| | |
| --- | --- |
| | The Implications of the New Science |

230
(1)
231
(2)

| | |
| --- | --- |
| | Contemporary Connections 13: Renaissance, Reformation, and Modern Science |

233
(2)

| | |
| --- | --- |
| | Early Empiricists: Francis Bacon and Thomas Hobbes |

235
(14)
235
(1)

| | |
| --- | --- |
| | The Rise and Fall of Francis Bacon |

235
(1)

| | |
| --- | --- |
| | Bacon's Task: The Reconstruction of All Knowledge |

236
(1)

| | |
| --- | --- |
| | The Route to Knowledge: From Idols to Induction |

236
(2)

| | |
| --- | --- |
| | The Corruption of the Mind |

236
(1)

| | |
| --- | --- |
| | Restoration of the Mind's Original Condition |

237
(1)
238
(1)

| | |
| --- | --- |
| | Bacon's Scientific Humanism |

238
(1)

| | |
| --- | --- |
| | Evaluation and Significance of Bacon |

239
(1)
240
(1)

| | |
| --- | --- |
| | Hobbes's Life: Controversy and Innovation |

240
(1)

| | |
| --- | --- |
| | Hobbes's Task: Making Physics Sovereign in Philosophy |

240
(1)
241
(2)
241
(1)
242
(1)

| | |
| --- | --- |
| | Metaphysics: All Motion Is Determined |

243
(1)
243
(1)

| | |
| --- | --- |
| | The Physics of Political Bodies |

244
(2)

| | |
| --- | --- |
| | A Personal Agenda and a Theoretical Program |

244
(1)
244
(1)
245
(1)
246
(1)

| | |
| --- | --- |
| | Evaluation and Significance of Hobbes |

246
(1)

| | |
| --- | --- |
| | Contemporary Connections 14: Early Empiricists |

247
(2)

| | |
| --- | --- |
| | Rene Descartes: Founder of Modern Philosophy |

249
(17)

| | |
| --- | --- |
| | Descartes's Life: World Traveler and Intellectual Explorer |

249
(1)

| | |
| --- | --- |
| | Descartes's Philosophical Agenda |

250
(1)

| | |
| --- | --- |
| | The Discovery of a Method |

251
(1)

| | |
| --- | --- |
| | Finding the Foundations of Knowledge |

252
(3)
252
(2)

| | |
| --- | --- |
| | The Foundation of Certainty |

254
(1)
254
(1)
255
(1)

| | |
| --- | --- |
| | Metaphysics: God, World, Minds, and Bodies |

255
(7)

| | |
| --- | --- |
| | The Causal Argument for God's Existence |

255
(1)

| | |
| --- | --- |
| | Criticisms of Descartes's Causal Argument for God |

256
(1)

| | |
| --- | --- |
| | Further Arguments for God's Existence |

257
(1)

| | |
| --- | --- |
| | God and the Validity of Reason |

258
(1)

| | |
| --- | --- |
| | The Existence of the Physical World |

259
(1)
260
(1)
261
(1)
261
(1)

| | |
| --- | --- |
| | Evaluation and Significance |

262
(1)

| | |
| --- | --- |
| | Contemporary Connections 15: Rene Descartes |

263
(3)

| | |
| --- | --- |
| | Benedict (Baruch) Spinoza: Rationalist and Mystic |

266
(15)

| | |
| --- | --- |
| | Spinoza's Life: Heresy, Lens Grinding, and Philosophy |

266
(1)

| | |
| --- | --- |
| | Task: To Achieve Freedom from Bondage |

267
(1)

| | |
| --- | --- |
| | Spinoza's Geometrical Method |

268
(1)

| | |
| --- | --- |
| | Theory of Knowledge: Necessity Rules |

268
(1)
268
(1)

| | |
| --- | --- |
| | The Three Levels of Cognition |

269
(1)

| | |
| --- | --- |
| | Metaphysics: God Is the Only Reality |

269
(5)
269
(2)

| | |
| --- | --- |
| | Atheist or Religious Mystic? |

271
(1)
272
(1)
273
(1)

| | |
| --- | --- |
| | Ethics: How to Be Free from Bondage |

274
(3)

| | |
| --- | --- |
| | Evaluation and Significance |

277
(1)

| | |
| --- | --- |
| | Contemporary Connections 16: Spinoza |

278
(3)

| | |
| --- | --- |
| | Gottfried Leibniz: The Optimistic Rationalist |

281
(15)

| | |
| --- | --- |
| | Leibniz's Life: Diplomat, Scientist, and Philosopher |

281
(1)

| | |
| --- | --- |
| | Task: The Search for Unity and Harmony |

282
(1)
282
(1)

| | |
| --- | --- |
| | Theory of Knowledge: Unpacking the Truths of Reason |

283
(3)
283
(1)

| | |
| --- | --- |
| | Necessity and Contingency |

284
(2)

| | |
| --- | --- |
| | Metaphysics: God as the Divine Programmer |

286
(7)
286
(1)

| | |
| --- | --- |
| | Is This the Best of All Possible Worlds? |

286
(2)

| | |
| --- | --- |
| | Why Is There Evil in the Best of All Possible Worlds? |

288
(1)

| | |
| --- | --- |
| | The Problems Descartes Could Never Solvs |

288
(1)
289
(1)
290
(1)

| | |
| --- | --- |
| | The Pre-established Harmony of the World |

290
(1)

| | |
| --- | --- |
| | Extension, Space, and Time |

291
(1)

| | |
| --- | --- |
| | The Mind-Body Problem Revisited |

291
(1)

| | |
| --- | --- |
| | Teleology and Mechanism Reconciled |

292
(1)

| | |
| --- | --- |
| | Is Freedom Compatible with Determinism? |

292
(1)

| | |
| --- | --- |
| | Evaluation and Significance |

293
(1)

| | |
| --- | --- |
| | Contemporary Connections 17: Leibniz |

294
(2)

| | |
| --- | --- |
| | Cultural Context: The Enlightenment and the Age of Newton |

296
(7)

| | |
| --- | --- |
| | The Impact of Newton's Science |

296
(2)

| | |
| --- | --- |
| | Philosophizing in a Newtonian Style |

298
(1)

| | |
| --- | --- |
| | The Consequences for Religion |

299
(1)
300
(1)

| | |
| --- | --- |
| | Summary of the Enlightenment |

301
(1)

| | |
| --- | --- |
| | Contemporary Connections 18: The Enlightenment |

302
(1)

| | |
| --- | --- |
| | John Locke: The Rise of Modern Empiricism |

303
(17)

| | |
| --- | --- |
| | Physician, Political Adviser, and Philosopher |

303
(1)

| | |
| --- | --- |
| | Locke's Task: Discovering What We Can Know |

304
(1)

| | |
| --- | --- |
| | Locke's Method for Analyzing Ideas |

304
(1)

| | |
| --- | --- |
| | Locke's Empirical Theory of Knowledge |

305
(4)
305
(1)
305
(1)
306
(1)

| | |
| --- | --- |
| | Primary and Secondary Qualities |

307
(1)
308
(1)
308
(1)

| | |
| --- | --- |
| | Metaphysics: The Reality Behind the Appearances |

309
(1)

| | |
| --- | --- |
| | What Is the Source of Moral Knowledge? |

310
(1)

| | |
| --- | --- |
| | An Empirical Philosophy of Religion |

311
(1)

| | |
| --- | --- |
| | Empirical Origins of the Idea of God |

311
(1)

| | |
| --- | --- |
| | Demonstrating God's Existence |

312
(1)

| | |
| --- | --- |
| | Locke's Influence on Deism |

312
(1)

| | |
| --- | --- |
| | A Political Theory for the Enlightenment |

312
(3)
313
(1)

| | |
| --- | --- |
| | Natural Law and Human Rights |

313
(1)
314
(1)
314
(1)

| | |
| --- | --- |
| | Locke's Eighteenth-Century Assumptions |

315
(1)

| | |
| --- | --- |
| | Evaluation and Significance |

315
(2)

| | |
| --- | --- |
| | Defending Innate Knowledge |

315
(1)

| | |
| --- | --- |
| | Critics of Representative Realism |

316
(1)
316
(1)

| | |
| --- | --- |
| | Contemporary Connections 19: Locke |

317
(3)

| | |
| --- | --- |
| | George Berkeley: Following the Road of Empiricism |

320
(15)

| | |
| --- | --- |
| | Philosopher, Educator, and Bishop |

320
(1)

| | |
| --- | --- |
| | Berkeley's Task: Battling Skepticism and Unbelief |

321
(1)

| | |
| --- | --- |
| | Berkeley's Reform of Empiricism |

322
(5)

| | |
| --- | --- |
| | Berkeley's Theory of Ideas |

322
(1)

| | |
| --- | --- |
| | Critique of Abstract Ideas |

322
(1)

| | |
| --- | --- |
| | Argument from the Mental Dependency of Ideas |

323
(1)

| | |
| --- | --- |
| | Argument from Pain and Pleasure |

324
(1)

| | |
| --- | --- |
| | Argument from Perceiver Relativity |

324
(1)

| | |
| --- | --- |
| | Inseparability of Primary and Secondary Qualities |

325
(1)

| | |
| --- | --- |
| | Argument from the Imagination |

326
(1)

| | |
| --- | --- |
| | Critique of the Representative Theory of Perception |

326
(1)

| | |
| --- | --- |
| | Metaphysics: Reality as Mind and Ideas |

327
(5)

| | |
| --- | --- |
| | The Existence of the World |

327
(1)
328
(2)

| | |
| --- | --- |
| | Science and the Laws of Nature |

330
(1)

| | |
| --- | --- |
| | Problems with Spiritual Substances |

331
(1)

| | |
| --- | --- |
| | Evaluation and Significance |

332
(1)

| | |
| --- | --- |
| | Contemporary Connections 20: Berkeley |

333
(2)

| | |
| --- | --- |
| | David Hume: The Scottish Skeptic |

335
(16)

| | |
| --- | --- |
| | Hume's Life: A Passion for Literary Fame |

335
(1)

| | |
| --- | --- |
| | Task: Unlocking the Secrets of Human Nature |

336
(1)

| | |
| --- | --- |
| | Theory of Knowledge: The Gulf Between Reason and the World |

336
(3)
336
(1)
337
(1)
337
(2)

| | |
| --- | --- |
| | Implications of the Theory of Knowledge |

339
(1)

| | |
| --- | --- |
| | Metaphysics: Skeptical Doubts About Reality |

339
(3)
339
(1)

| | |
| --- | --- |
| | Self: The Stream of Consciousness |

340
(1)

| | |
| --- | --- |
| | Causality: Will the Sun Rise Tomorrow? |

340
(2)

| | |
| --- | --- |
| | Ethics: The Rule of the Passions---The Slavery of Reason |

342
(3)

| | |
| --- | --- |
| | Philosophy of Religion: Searching for What We Cannot Find |

345
(2)

| | |
| --- | --- |
| | God's Existence Cannot Be Proven |

345
(1)

| | |
| --- | --- |
| | Hume's Attitude Toward Religion |

346
(1)

| | |
| --- | --- |
| | Evaluation and Significance |

347
(2)

| | |
| --- | --- |
| | Contemporary Connections 21: Hume |

349
(2)

| | |
| --- | --- |
| | Immanuel Kant: Finding the Powers and the Limits of the Mind |

351
(23)

| | |
| --- | --- |
| | Kant's Life: A Methodical Man with Revolutionary Thoughts |

351
(1)

| | |
| --- | --- |
| | Task: Avoiding Dogmatism and Skepticism |

352
(1)

| | |
| --- | --- |
| | Theory of Knowledge: The Mind Makes Experience Possible |

353
(7)
353
(1)

| | |
| --- | --- |
| | Kant's Copernican Revolution |

353
(1)

| | |
| --- | --- |
| | The Varieties of Judgments |

354
(2)

| | |
| --- | --- |
| | The Transcendental Method |

356
(1)

| | |
| --- | --- |
| | Space and Time: The Forms of Sense Perception |

357
(1)

| | |
| --- | --- |
| | The Categories of the Understanding |

357
(1)

| | |
| --- | --- |
| | Answering Hume's Skepticism |

358
(1)

| | |
| --- | --- |
| | Kant's Theory of Experience |

359
(1)

| | |
| --- | --- |
| | Metaphysics: Bumping Against the Limits of Reason |

360
(5)
360
(1)

| | |
| --- | --- |
| | The Transcendent Illusions of Metaphysics |

361
(1)
362
(1)
362
(1)

| | |
| --- | --- |
| | God: Neither Provable nor Disprovable |

363
(2)

| | |
| --- | --- |
| | Regulative Use of the Concepts of Pure Reason |

365
(1)

| | |
| --- | --- |
| | Ethics as a Rational Discipline |

365
(6)
365
(1)
366
(1)

| | |
| --- | --- |
| | Reason as the Source of the Moral Law |

367
(1)

| | |
| --- | --- |
| | The Categorical Imperative I: Conformity to a Universal Law |

368
(1)

| | |
| --- | --- |
| | The Categorical Imperative II: Persons as Ends in Themselves |

369
(1)

| | |
| --- | --- |
| | The Categorical Imperative III: Persons as Moral Legislators |

370
(1)

| | |
| --- | --- |
| | The Three Postulates of Morality |

370
(1)

| | |
| --- | --- |
| | Evaluation and Significance |

371
(1)

| | |
| --- | --- |
| | Contemporary Connections 22: Kant |

371
(3)

| | |
| --- | --- |
| | The Nineteenth-Century Cultural Context: Romanticism, Science, and the Sense of History |

374
(13)

| | |
| --- | --- |
| | Overcoming the Kantian Dualism |

374
(1)
375
(3)

| | |
| --- | --- |
| | Fichte: Reality Is Known in Moral Experience |

376
(1)

| | |
| --- | --- |
| | Schelling: Reality Is Known in Aesthetic Experience |

377
(1)
378
(2)

| | |
| --- | --- |
| | The Importance of History |

380
(3)
381
(1)
381
(1)
382
(1)

| | |
| --- | --- |
| | Questions About Reason and Subjectivity |

383
(2)

| | |
| --- | --- |
| | Summary of the Nineteenth-Century Agenda |

385
(1)

| | |
| --- | --- |
| | Contemporary Connections 23: The Nineteenth Century |

385
(2)

| | |
| --- | --- |
| | G. W. F. Hegel: Biographer of the World Spirit |

387
(19)

| | |
| --- | --- |
| | Hegel's Life: From Average Student to World-Famous Philosopher |

387
(1)

| | |
| --- | --- |
| | Task: Fitting the Pieces of History and Reality Together |

388
(1)

| | |
| --- | --- |
| | Theory of Knowledge: Reason Reveals Reality |

389
(4)
389
(1)

| | |
| --- | --- |
| | Beginning the Search for Knowledge |

390
(1)

| | |
| --- | --- |
| | The Journey of Consciousness |

391
(1)
392
(1)
393
(1)

| | |
| --- | --- |
| | Whose Mind, Whose Consciousness Are We Talking About? |

393
(1)

| | |
| --- | --- |
| | Metaphysics: Reason Becoming Self-Conscious |

393
(3)
393
(1)

| | |
| --- | --- |
| | Do Objects Exist Only in the Mind? |

394
(1)

| | |
| --- | --- |
| | What Is the Relationship Between Mind and Nature? |

394
(1)

| | |
| --- | --- |
| | How Are the Absolute Spirit and Human Spirit Related? |

395
(1)
395
(1)

| | |
| --- | --- |
| | Ethics and Community Life |

396
(2)

| | |
| --- | --- |
| | Custom as the Source of Ethical Values |

397
(1)

| | |
| --- | --- |
| | The Rise of Individualistic Morality |

397
(1)

| | |
| --- | --- |
| | Kant: The Culmination of Individualistic Ethics |

397
(1)
398
(1)

| | |
| --- | --- |
| | Political Philosophy: The Glorification of the State |

398
(2)

| | |
| --- | --- |
| | Criticism: Hegel Deifies the Status Quo |

399
(1)

| | |
| --- | --- |
| | Defense: Hegel Does Not Deify the Status Quo |

400
(1)

| | |
| --- | --- |
| | Philosophy of History: Are We Pawns in History's Game? |

400
(3)
400
(2)

| | |
| --- | --- |
| | Art, Religion, Philosophy |

402
(1)
402
(1)

| | |
| --- | --- |
| | Evaluation and Significance |

403
(1)
403
(1)
403
(1)

| | |
| --- | --- |
| | Contemporary Connections 24: Hegel |

403
(3)

| | |
| --- | --- |
| | Karl Marx: A Philosophy for Changing the World |

406
(20)

| | |
| --- | --- |
| | Marx's Life: The Making of a Radical |

407
(1)

| | |
| --- | --- |
| | Marx's Background and Influences |

407
(2)

| | |
| --- | --- |
| | The Rational Society: Actual or Potential? |

408
(1)

| | |
| --- | --- |
| | God: Absolute Spirit or Humanity? |

408
(1)

| | |
| --- | --- |
| | Task: Achieving an Earthly Salvation |

409
(3)

| | |
| --- | --- |
| | The Struggle Toward a Rational, Humane Society |

409
(1)

| | |
| --- | --- |
| | The Salvation of Humanity |

410
(1)

| | |
| --- | --- |
| | The Realization of Philosophy |

411
(1)

| | |
| --- | --- |
| | The Early Marx: The Tragedy of Human Alienation |

412
(1)

| | |
| --- | --- |
| | What Does It Mean to Be Human? |

412
(1)
413
(1)
413
(7)
413
(1)
414
(1)

| | |
| --- | --- |
| | The Economic Interpretation of History |

415
(1)
416
(3)
419
(1)

| | |
| --- | --- |
| | Marx's Analysis of Capitalism |

420
(2)

| | |
| --- | --- |
| | Communism: The New Humanity and the New Society |

422
(1)

| | |
| --- | --- |
| | Evaluation and Significance |

423
(1)

| | |
| --- | --- |
| | Contemporary Connections 25: Marx |

424
(2)

| | |
| --- | --- |
| | Soren Kierkegaard: The Founder of Religious Existentialism |

426
(17)

| | |
| --- | --- |
| | The Stages in Kierkegaard's Life: From Passionate Playboy to Passionate Christian |

427
(1)

| | |
| --- | --- |
| | Task: To Make Life More Difficult |

428
(1)

| | |
| --- | --- |
| | Kierkegaard's Method: Indirect Communication |

429
(1)

| | |
| --- | --- |
| | Kierkegaard on Knowledge: Truth and Subjectivity |

430
(3)

| | |
| --- | --- |
| | Objective Knowing Versus Subjective Knowing |

430
(1)

| | |
| --- | --- |
| | Knowing the Truth Versus Being in the Truth |

430
(1)

| | |
| --- | --- |
| | The Result Versus the Process |

431
(1)
431
(2)

| | |
| --- | --- |
| | Kierkegaard the Antimetaphysician: Existence, Time, Eternity |

433
(1)
434
(5)
435
(1)
436
(1)
437
(2)

| | |
| --- | --- |
| | Christianity as the Paradox and the Absurd |

439
(1)

| | |
| --- | --- |
| | Evaluation and Significance |

440
(1)

| | |
| --- | --- |
| | Contemporary Connections 26: Kierkegaard |

440
(3)

| | |
| --- | --- |
| | Friedrich Nietzsche: The Founder of Secular Existentialism |

443
(17)

| | |
| --- | --- |
| | Nietzsche's Life: The Lonely Prophet |

443
(1)

| | |
| --- | --- |
| | Task: The Journey from Darkness to Daybreak |

444
(1)

| | |
| --- | --- |
| | Nietzsche's Theory of Knowledge: Perspectives and Instincts |

445
(4)
445
(1)
446
(1)

| | |
| --- | --- |
| | Criteria for Evaluating Perspectives |

447
(1)
448
(1)
448
(1)

| | |
| --- | --- |
| | Living Without Metaphysical Hopes |

449
(2)
449
(2)
451
(1)

| | |
| --- | --- |
| | Moral Values and Personality Types |

451
(5)

| | |
| --- | --- |
| | Master and Slave Morality |

451
(2)
453
(1)
454
(1)

| | |
| --- | --- |
| | The Myth of Eternal Recurrence |

455
(1)

| | |
| --- | --- |
| | Evaluation and Significance |

456
(1)

| | |
| --- | --- |
| | Contemporary Connections 27: Nietzsche |

457
(3)

| | |
| --- | --- |
| | Nineteenth-Century Empiricism: Comte, Bentham, and Mill |

460
(19)
461
(1)

| | |
| --- | --- |
| | Comte's Life: A Reformer of Science, Society, and Religion |

461
(1)

| | |
| --- | --- |
| | Comte's Task: Moving from Superstition to Positive Science |

462
(1)

| | |
| --- | --- |
| | Comte's Scientific Religion |

463
(1)

| | |
| --- | --- |
| | Evaluation and Significance of Comte's Ideas |

464
(1)
465
(1)

| | |
| --- | --- |
| | Bentham's Life: The Making of a Political Reformer |

465
(1)

| | |
| --- | --- |
| | Bentham's Task: A Scientific Foundation for Morals and Politics |

465
(1)

| | |
| --- | --- |
| | Bentham's Moral Philosophy: Pleasure Is the Only Source of Value |

466
(2)

| | |
| --- | --- |
| | Bentham's Social Philosophy: A Scientific Guide for Reform |

468
(1)
469
(1)

| | |
| --- | --- |
| | Mill's Life: Corporate Executive and Philosopher |

469
(1)

| | |
| --- | --- |
| | Mill's Refinement of Utilitarianism |

470
(2)

| | |
| --- | --- |
| | Mill's Social Philosophy: The Importance of Liberty |

472
(2)

| | |
| --- | --- |
| | Mill's Other Contributions |

474
(1)

| | |
| --- | --- |
| | Evaluation and Significance of Utilitarianism |

474
(2)

| | |
| --- | --- |
| | Contemporary Connections 28: Comte and the Utilitarians |

476
(3)

| | |
| --- | --- |
| | PART IV THE CONTEMPORARY PERIOD |

479
(106)

| | |
| --- | --- |
| | The Twentieth-Century Cultural Context: Science, Language, and Experience |

481
(7)
482
(1)

| | |
| --- | --- |
| | Philosophy: Piecemeal Analysis or Grasping the Big Picture? |

482
(2)

| | |
| --- | --- |
| | The Role of Science in Philosophy |

484
(1)

| | |
| --- | --- |
| | The Role of Language and Experience in Philosophy |

484
(3)

| | |
| --- | --- |
| | Contemporary Connections 29: The Twentieth Century |

487
(1)

| | |
| --- | --- |
| | Pragmatism: The Unity of Thought and Action |

488
(19)

| | |
| --- | --- |
| | The Origins of Pragmatism |

488
(2)
490
(1)

| | |
| --- | --- |
| | The Obscure Founder of a Famous Philosophy |

490
(1)
490
(2)
492
(1)
493
(1)
494
(1)
495
(1)

| | |
| --- | --- |
| | From Physician to Philosopher |

495
(1)
495
(1)
495
(2)

| | |
| --- | --- |
| | The Subjective Justification of Beliefs |

497
(1)
498
(1)
499
(1)
500
(1)

| | |
| --- | --- |
| | The Ambassador-at-Large of Pragmatism |

500
(1)
500
(1)

| | |
| --- | --- |
| | Influences on Dewey's Thought |

500
(1)
501
(1)
502
(1)

| | |
| --- | --- |
| | Ethics as Problem Solving |

502
(2)

| | |
| --- | --- |
| | Education, Social Philosophy, and Religion |

504
(1)

| | |
| --- | --- |
| | The Significance of Pragmatism |

504
(1)

| | |
| --- | --- |
| | Contemporary Connections 30: Pragmatism |

505
(2)

| | |
| --- | --- |
| | Analytic Philosophy and the Linguistic Turn |

507
(28)

| | |
| --- | --- |
| | The Turn to Language and Analysis |

507
(1)
508
(1)

| | |
| --- | --- |
| | Russell's Life: Mathematician, Philosopher, Reformer |

508
(1)

| | |
| --- | --- |
| | Background: The Revolt Against Hegelianism |

509
(1)
509
(1)
509
(1)

| | |
| --- | --- |
| | Russell's Task: Developing a Logically Perfect Language |

510
(1)

| | |
| --- | --- |
| | Russell's Logical Atomism |

510
(1)

| | |
| --- | --- |
| | How Language Connects with the World |

511
(1)

| | |
| --- | --- |
| | Russell's Theory of Logical Constructions |

512
(2)
514
(1)

| | |
| --- | --- |
| | The Verifiability Principle |

515
(1)

| | |
| --- | --- |
| | The Demise of Metaphysics and Theology |

515
(1)
516
(1)

| | |
| --- | --- |
| | Problems with Logical Positivism |

517
(1)
518
(1)

| | |
| --- | --- |
| | Wittgenstein's Life: From Engineer to Philosopher |

518
(1)

| | |
| --- | --- |
| | The Early Wittgenstein: From Logic to Mysticism |

519
(3)

| | |
| --- | --- |
| | The Task of the Tractatus |

519
(1)

| | |
| --- | --- |
| | The Picture Theory of Language |

519
(1)
520
(2)

| | |
| --- | --- |
| | The Later Wittgenstem. The Turn to Ordinary Language |

522
(5)
522
521
(4)
525
(1)

| | |
| --- | --- |
| | Ordinary Language Versus Philosophical Language |

525
(1)
526
(1)

| | |
| --- | --- |
| | The Impact of Wittgenstein's Later Philosophy |

526
(1)
527
(1)
527
(2)
527
(1)
528
(1)

| | |
| --- | --- |
| | Ryle's Analysis of Mental Terms |

528
(1)
529
(2)

| | |
| --- | --- |
| | Austin's Philosophical Method |

530
(1)

| | |
| --- | --- |
| | Austin's Analysis of Excuses |

530
(1)

| | |
| --- | --- |
| | How to Do Things with Words |

531
(1)

| | |
| --- | --- |
| | The Significance of Analytic Philosophy |

531
(1)

| | |
| --- | --- |
| | Contemporary Connections 31: Analytic Philosophy |

532
(3)

| | |
| --- | --- |
| | Phenomenology and Existentialism |

535
(30)
536
(1)

| | |
| --- | --- |
| | The Life of a Perpetual Beginner |

536
(1)

| | |
| --- | --- |
| | Husserl's Task: Developing Philosophy into a Rigorous Science |

536
(1)

| | |
| --- | --- |
| | Phenomenology as a Science of Experience |

537
(1)

| | |
| --- | --- |
| | The Phenomenological Method |

537
(2)

| | |
| --- | --- |
| | The Thesis of the Natural Standpoint |

537
(1)
538
(1)

| | |
| --- | --- |
| | Consciousness as Intentionality |

538
(1)

| | |
| --- | --- |
| | The Discovery of Essences |

539
(1)

| | |
| --- | --- |
| | Transcendental Phenomenology |

539
(1)

| | |
| --- | --- |
| | The Shift to the Life-World |

540
(1)
541
(1)

| | |
| --- | --- |
| | The Influence of Phenomenology |

541
(1)

| | |
| --- | --- |
| | The Transition to Existential Phenomenology |

541
(1)
542
(1)
542
(1)

| | |
| --- | --- |
| | Heidegger's Task: Understanding the Meaning of Being |

542
(1)

| | |
| --- | --- |
| | Heidegger's Radical Conception of Phenomenology |

543
(1)

| | |
| --- | --- |
| | Our Existence as a Window to Being |

543
(1)
544
(2)
544
(1)
545
(1)
546
(1)
546
(1)
546
(1)
547
(1)
547
(1)

| | |
| --- | --- |
| | The Fundamental Division: Authentic Versus Inauthentic Existence |

547
(3)
549
(1)
549
(1)
549
(1)
550
(3)
550
(1)
551
(1)
551
(1)
551
(1)
552
(1)
553
(1)
554
(1)

| | |
| --- | --- |
| | A Life Lived Amidst Books |

554
(1)

| | |
| --- | --- |
| | Sartre's Task: A Human-Centered Ontology |

555
(1)

| | |
| --- | --- |
| | Two Kinds of Reality: Objects and Persons |

555
(1)
556
(1)

| | |
| --- | --- |
| | Existence Precedes Essence |

556
(3)
557
(1)
557
(1)

| | |
| --- | --- |
| | The Paradox of Human Existence |

558
(1)

| | |
| --- | --- |
| | Bad Faith Versus Authenticity |

558
(1)

| | |
| --- | --- |
| | Alienation and Other People |

559
(1)

| | |
| --- | --- |
| | Optimism in the Midst of Alienation |

560
(1)
560
(1)

| | |
| --- | --- |
| | The Significance of Existentialism |

561
(1)

| | |
| --- | --- |
| | Contemporary Connections 32: Phenomenology and Existentialism |

561
(4)

| | |
| --- | --- |
| | Recent Issues in Philosophy |

565
(20)
565
(4)
566
(1)
567
(2)

| | |
| --- | --- |
| | Rethinking Philosophy: Postmodernism |

569
(5)
570
(1)
571
(2)
573
(1)

| | |
| --- | --- |
| | Rethinking Philosophy: Feminism |

574
(4)

| | |
| --- | --- |
| | Feminist Approaches to Epistemology |

576
(1)

| | |
| --- | --- |
| | Feminist Approaches to Ethics |

577
(1)

| | |
| --- | --- |
| | Philosophy in a Global Village |

578
(1)

| | |
| --- | --- |
| | New Issues in Philosophy of Mind |

578
(2)
580
(1)
581
(1)

| | |
| --- | --- |
| | Contemporary Connections 33: Recent Issues in Philosophy |

582
(3)
Glossary
585
(8)
Index
593