Note: Supplemental materials are not guaranteed with Rental or Used book purchases.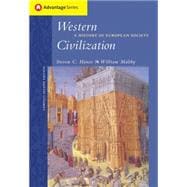 Cengage Advantage Books: Western Civilization A History of European Society, Compact Edition
ISBN13:
9780534621643
by
Hause, Steven
;
Maltby, William
Summary
This affordable THOMSON ADVANTAGE BOOKS version of WESTERN CIVILIZATION: A HISTORY OF EUROPEAN SOCIETY, COMPACT EDITION offers a concise overview of the social and political forces that have shaped the West. In fewer pages than other texts, Hause and Maltby's narrative presents a social history of Western civilization within the essential contexts of major military and political events. Primary sources--excerpts of original documents that flesh out the concepts covered in the narrative, tables and graphs that collect the raw social and economic data of history--bring you right into the pages of history, giving you a fascinating look at the events that have shaped the world in which they live. Prominent subheads create a "virtual outline" that helps you quickly locate, read, and review key information. An in-text pronunciation guide and extensive end-of-chapter review materials--involve you in the story of the West.
Table of Contents
The Ancient Middle East: Mesopotamia, Egypt, Phoenicia, Israel
Ancient Greece to the End of the Peloponnesian Wars
Greek Culture and Its Hellenistic Diffusion
The Rise of the Roman Republic
Social, Political, and Economic Structures of Imperial Rome
The Origins of Christianity and the Decline of the Roman Empire
Rome's Successors: Byzantium, Islam, and the Germanic West
The Beginnings of the Feudal Age
Medieval Religion and Thought
Economic Development and Urban Growth in the High Middle Ages
Material and Social Life in the Middle Ages
Plague, War, and Social Change in the "Long" Fourteenth Century
The Renaissance: Political Renewal and Intellectual Change
The Religious Reformations of the Sixteenth Century
Overseas Conquest and Religious War to 1648
Preindustrial Europe: Science, the Economy, and Political Reorganization
The Social and Economic Structure of the Old Regime
Daily Life in the Old Regime
The Political Evolution of the Old Regime, 1715?89
The Culture of Old Regime Europe
The French Revolution and Napoleon, 1789?1815
Industrialization and the Social and Economic Structure of Europe
Daily Life in the Nineteenth Century
The Defense of the Old Regime, 1815?48
Europe in an Age of Nationalism, 1848?70
Europe in the Belle +poque, 1871?1914
Imperialism, War, and Revolution, 1881?1920
Europe in an Age of Dictatorship, 1919?39 553
Europe in an Age of Total War: World War II, 1939?45
The Social and Economic Structure of Contemporary Europe
Europe in the Age of the Cold War, 1945?75
The New Belle +poque: Democracy and Prosperity Since 1975
Table of Contents provided by Publisher. All Rights Reserved.