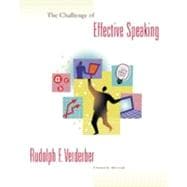 The Challenge of Effective Speaking
by
VERDERBER
Questions About This Book?
What version or edition is this?
This is the 11th edition with a publication date of 8/2/1999.
What is included with this book?
The New copy of this book will include any supplemental materials advertised. Please check the title of the book to determine if it should include any CDs, lab manuals, study guides, etc.
Summary
Wadsworth's best selling Public Speaking text, the Verderbers' CHALLENGE OF EFFECTIVE SPEAKING, features a skills-oriented, mainstream approach that has effectively led hundreds of thousands of students through the challenges they face as they develop and deliver speeches. The speech making process is presented in a six-step framework based on classical and contemporary theory. The straightforward writing style and effective use of examples enables students to understand and effectively perform key speech making activities. The six-step framework emphasizes topic selection, audience analysis and adaptation, effective research (including appropriate use of Internet resources), organization (with emphasis on outlining), language and delivery. The six action steps are introduced in generic form and then later adapted to follow principles of informative and persuasive speaking.
Table of Contents
Part One Orientation

| | |
| --- | --- |
| | Introduction to Public Speaking |

1
(15)

| | |
| --- | --- |
| | Public Speaking Is Empowerment |

2
(1)

| | |
| --- | --- |
| | Public Speaking Is Audience Centered |

3
(5)
3
(1)
3
(1)
4
(1)
4
(1)
4
(2)
6
(1)
6
(1)

| | |
| --- | --- |
| | Model of Public Speaking as Communication |

7
(1)

| | |
| --- | --- |
| | Public Speaking Challenges Speakers to Consider Audience Diversity |

8
(2)

| | |
| --- | --- |
| | Public Speaking Develops Critical Thinking |

10
(1)

| | |
| --- | --- |
| | Public Speaking Carries Ethical Responsibilities |

11
(2)

| | |
| --- | --- |
| | Public Speaking Is a Learned Activity |

13
(1)
14
(2)

| | |
| --- | --- |
| | Preparing Your First Speech and Coping with Nervousness |

16
(18)
18
(8)
18
(1)
19
(1)
20
(2)
22
(1)
22
(1)
23
(1)
23
(3)
26
(5)
28
(3)
31
(1)
31
(3)
34
(14)
36
(2)

| | |
| --- | --- |
| | Understanding and Retaining Speech Information |

38
(4)

| | |
| --- | --- |
| | Analyzing Speeches and Determining Their Effectiveness |

42
(4)
43
(1)

| | |
| --- | --- |
| | Specific Criteria for Evaluating Speeches |

43
(1)

| | |
| --- | --- |
| | The Importance of Feedback |

44
(2)
46
(1)
47
(1)
Part Two Principles

| | |
| --- | --- |
| | Selecting a Topic, Analyzing the Audience and Setting, and Determining Your Speech Goal |

48
(20)

| | |
| --- | --- |
| | Selecting a Topic from a Subject Area |

50
(3)
50
(1)
51
(2)
53
(7)

| | |
| --- | --- |
| | Kinds of Audience Data Needed |

54
(1)

| | |
| --- | --- |
| | Ways of Gathering Audience Data |

55
(1)

| | |
| --- | --- |
| | Using Data to Predict Audience Reactions |

55
(2)

| | |
| --- | --- |
| | Surveying Students to Test Predictions |

57
(3)
60
(2)
62
(3)
62
(1)
63
(2)

| | |
| --- | --- |
| | Anticipating a Thesis Statement |

65
(1)
66
(1)
67
(1)

| | |
| --- | --- |
| | Researching Your Speech in the Information Age |

68
(28)

| | |
| --- | --- |
| | Where to Look: Traditional and Electronic Sources of Information |

70
(15)

| | |
| --- | --- |
| | Personal Knowledge, Experience, and Observation |

71
(1)
72
(7)
79
(3)
82
(3)

| | |
| --- | --- |
| | What Information to Look For |

85
(6)
86
(1)
86
(1)

| | |
| --- | --- |
| | Verbal Forms of Information |

86
(5)

| | |
| --- | --- |
| | Recording Data and Citing Written and Electronic Sources |

91
(3)
91
(2)

| | |
| --- | --- |
| | Citing Sources in Speeches |

93
(1)
94
(1)
95
(1)

| | |
| --- | --- |
| | Organizing and Outlining the Speech Body |

96
(22)

| | |
| --- | --- |
| | Writing a Thesis Statement |

99
(1)
100
(4)

| | |
| --- | --- |
| | Write Main Points as Complete Sentences |

100
(2)
102
(2)

| | |
| --- | --- |
| | Determining the Best Order |

104
(5)
105
(1)
105
(1)
106
(1)
107
(1)
107
(2)

| | |
| --- | --- |
| | Selecting and Outlining Supporting Material |

109
(3)
109
(1)

| | |
| --- | --- |
| | Organize Supporting Material |

109
(3)

| | |
| --- | --- |
| | Outlining Section Transitions |

112
(1)
113
(3)
113
(1)
114
(1)

| | |
| --- | --- |
| | Experience and Observation |

115
(1)
115
(1)
116
(1)
116
(2)

| | |
| --- | --- |
| | Organizing and Outlining Introductions and Conclusions |

118
(18)

| | |
| --- | --- |
| | Outlining the Introduction |

120
(6)

| | |
| --- | --- |
| | Goals of the Introduction |

120
(2)
122
(3)

| | |
| --- | --- |
| | Selecting an Introduction |

125
(1)
126
(3)
127
(1)
127
(1)
128
(1)
129
(1)
130
(1)

| | |
| --- | --- |
| | Readying Notes for Practice |

131
(4)
135
(1)
135
(1)
136
(18)
138
(3)
138
(1)
139
(1)
139
(1)
139
(2)

| | |
| --- | --- |
| | Creating and Maintaining Audience Interest |

141
(1)
141
(1)
141
(1)
141
(1)

| | |
| --- | --- |
| | Adapting to Audience Level of Understanding |

142
(3)
142
(1)

| | |
| --- | --- |
| | Presenting New Information |

143
(2)

| | |
| --- | --- |
| | Building a Positive Audience Attitude toward You as the Speaker |

145
(2)
145
(1)
145
(2)
147
(1)

| | |
| --- | --- |
| | Adapting to Audience Attitude toward Your Speech Goal |

147
(1)

| | |
| --- | --- |
| | Forming a Plan of Audience Adaptation |

148
(4)

| | |
| --- | --- |
| | Specifics of the Speech Plan |

148
(1)
148
(4)

| | |
| --- | --- |
| | Special Problems of Speakers from Different Cultuers |

152
(1)
152
(1)
153
(1)

| | |
| --- | --- |
| | Visual Aids: From Models to Computer Graphics |

154
(22)
156
(10)
157
(1)
157
(1)
157
(1)
157
(2)
159
(1)
159
(1)

| | |
| --- | --- |
| | Pictorial Representations |

160
(2)
162
(2)

| | |
| --- | --- |
| | Chalkboard or Markerboard |

164
(1)
165
(1)
165
(1)
166
(1)
167
(6)

| | |
| --- | --- |
| | Using Visual Aids in Your Speech |

173
(1)
174
(1)
175
(1)

| | |
| --- | --- |
| | Practicing Speech Wording |

176
(24)

| | |
| --- | --- |
| | Developing an Oral Style to Communicate Meaning |

178
(1)
179
(2)

| | |
| --- | --- |
| | The Denotative and Connotative Meaning of Words |

180
(1)

| | |
| --- | --- |
| | Variations in Meaning across Subgroups |

180
(1)
181
(7)

| | |
| --- | --- |
| | Use Specific, Concrete, Precise, Simple Words |

181
(3)
184
(1)

| | |
| --- | --- |
| | Develop Your Ability to Speak more Clearly |

185
(1)

| | |
| --- | --- |
| | Be Sensitive to Cultural Differences |

186
(2)
188
(2)
190
(1)
190
(1)
190
(4)

| | |
| --- | --- |
| | Emphasize through Placement and Sequencing |

191
(1)

| | |
| --- | --- |
| | Emphasize through Repetition or Restatement |

191
(1)

| | |
| --- | --- |
| | Emphsize through Transition |

192
(2)
194
(3)

| | |
| --- | --- |
| | Formal versus Informal Language |

194
(1)

| | |
| --- | --- |
| | Freedom from Jargon and Unnecessary Technical Expressions |

194
(1)

| | |
| --- | --- |
| | Sensitivity in Language Use |

195
(2)
197
(1)
198
(2)
200
(24)

| | |
| --- | --- |
| | Physical Elements of Delivery |

202
(7)
202
(3)
205
(2)
207
(2)

| | |
| --- | --- |
| | Achieving a Conversational Quality |

209
(4)
209
(1)
209
(1)
210
(1)
211
(1)
212
(1)
213
(5)

| | |
| --- | --- |
| | Timetable for Preparation and Practice |

213
(1)

| | |
| --- | --- |
| | Using Notes during Your Speech |

214
(2)
216
(2)

| | |
| --- | --- |
| | Criteria for Evaluating Speeches |

218
(1)
218
(2)

| | |
| --- | --- |
| | Sample Speech: Ridding the Body of Toxins |

220
(3)
223
(1)
Part Three Informative and Persuasive Speaking

| | |
| --- | --- |
| | Principles and Practices of Informative Speaking |

224
(30)
226
(7)
226
(1)
226
(2)
228
(2)
230
(1)
231
(2)
233
(2)
234
(1)

| | |
| --- | --- |
| | Sample Speech: Improving Grades |

235
(7)

| | |
| --- | --- |
| | Process Explanation or Demonstration |

239
(3)

| | |
| --- | --- |
| | Sample Speech: Process of Producing a Nightly Edition of ESPN's Sports Center |

242
(7)
246
(3)

| | |
| --- | --- |
| | Sample Speech: Impressionistic Painting |

249
(3)
252
(1)
253
(1)

| | |
| --- | --- |
| | Principles of Persuasive Speaking |

254
(24)

| | |
| --- | --- |
| | Writing a Specific Goal That Meets Ethical Standards |

256
(2)

| | |
| --- | --- |
| | Adapting to Audience Attitude |

258
(4)
260
(1)
261
(1)
261
(1)

| | |
| --- | --- |
| | Giving Good Reasons and Evidence |

262
(3)
263
(1)

| | |
| --- | --- |
| | Finding Evidence to Support Your Reasons |

264
(1)

| | |
| --- | --- |
| | Organizing Reasons to Meet Audience Attitudes |

265
(4)

| | |
| --- | --- |
| | Statement of Logical Reasons Pattern |

266
(1)
266
(1)

| | |
| --- | --- |
| | Comparative Advantages Pattern |

267
(1)

| | |
| --- | --- |
| | Criteria Satisfaction Pattern |

268
(1)
268
(1)

| | |
| --- | --- |
| | Using Emotion to Motivete |

269
(2)

| | |
| --- | --- |
| | Developing Your Credibility |

271
(1)

| | |
| --- | --- |
| | Presenting the Speech Convincingly |

272
(1)

| | |
| --- | --- |
| | Considering Gender and Cultural Differences |

272
(1)

| | |
| --- | --- |
| | Sample Speech: Limiting Exposure to the Sun |

273
(4)
277
(1)
277
(1)

| | |
| --- | --- |
| | Practicing Persuasive Speaking Skills |

278
(34)
280
(10)
280
(2)
282
(8)

| | |
| --- | --- |
| | Sample Speech: Volunteering at a Soup Kitchen |

290
(3)
293
(6)

| | |
| --- | --- |
| | Incentive Theory: Cost/Reward Ratios |

294
(1)
295
(4)

| | |
| --- | --- |
| | Sample Speech: Notes to Neighbours |

299
(4)

| | |
| --- | --- |
| | Refuting Persuasive Claims |

303
(4)

| | |
| --- | --- |
| | Outline What Your Opponent Says and Your Reaction |

303
(1)
304
(1)

| | |
| --- | --- |
| | Organize and Present Your Refutation |

305
(2)

| | |
| --- | --- |
| | Supporting and Refuting: Two Sides of a Debate |

307
(1)

| | |
| --- | --- |
| | Speech in Favor of Prohibiting the Use of Lie Detector Tests |

307
(2)

| | |
| --- | --- |
| | Speech of Refutation: Using Lie Detector Tests |

309
(1)
310
(1)
311
(1)
Part Four Adapting to Other Occasions and Formats

| | |
| --- | --- |
| | Speaking at Special Occasions |

312
(12)
314
(1)
314
(1)
314
(1)
315
(1)
315
(1)
316
(1)
316
(2)
316
(2)
318
(1)
318
(1)
318
(1)
318
(1)
318
(1)
318
(1)
319
(1)

| | |
| --- | --- |
| | Other Ceremonial Occasions |

319
(1)
320
(2)
322
(1)
323
(1)
323
(1)

| | |
| --- | --- |
| | Leading Problem-Solving Groups |

324
(21)

| | |
| --- | --- |
| | Leadership in Problem-Solving Group Discussion |

326
(4)
326
(1)
326
(1)
327
(2)
329
(1)

| | |
| --- | --- |
| | Gender Differences in Leader Acceptability |

329
(1)

| | |
| --- | --- |
| | Understanding Problem Solving |

330
(2)

| | |
| --- | --- |
| | State the Goal of Discussion as a Question |

331
(1)

| | |
| --- | --- |
| | Ask Questions That Analyze the Problem |

331
(1)

| | |
| --- | --- |
| | Suggest Possible Solutions |

331
(1)

| | |
| --- | --- |
| | Lay the Groundwork for Selecting the Best Solution |

332
(1)

| | |
| --- | --- |
| | Task Responsiblities of the Leader |

332
(4)
332
(1)

| | |
| --- | --- |
| | Ask Appropriate Questions |

333
(2)
335
(1)
335
(1)

| | |
| --- | --- |
| | Maintenance Responsibilties of the Leader |

336
(4)

| | |
| --- | --- |
| | Establish a Good Working Climate |

336
(1)

| | |
| --- | --- |
| | Reward Members for Valuable Contributions |

336
(1)

| | |
| --- | --- |
| | Give Everyone an Equal Opportunity to Speak |

336
(2)

| | |
| --- | --- |
| | Deal with Cultural Diversity |

338
(2)

| | |
| --- | --- |
| | When the Group Goes Public |

340
(2)
340
(1)
341
(1)

| | |
| --- | --- |
| | Presentation of Conclusions |

342
(1)
342
(1)
342
(3)
Appendix: Sample Speeches
345
(12)

| | |
| --- | --- |
| | Service: Life Beyond Self |

345
(4)

| | |
| --- | --- |
| | Careers in International Business: Five Ideas or Principles |

349
(1)
349
(8)
Notes
357
(6)
Glossary
363
(6)
Index
369