Note: Supplemental materials are not guaranteed with Rental or Used book purchases.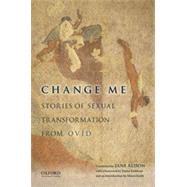 Questions About This Book?
What version or edition is this?
This is the edition with a publication date of 2/3/2014.
What is included with this book?
The New copy of this book will include any supplemental materials advertised. Please check the title of the book to determine if it should include any CDs, lab manuals, study guides, etc.
Summary
Ovid's stories melt moral conventions, explore ambiguities, and dissolve boundaries between men, women, animals, gods, plants, and the mineral world; in doing so they contrive to seduce readers. Ovid's dark pleasure in telling such stories with a full register of tones is palpable. But the stories of sexual encounter in the Metamorphoses are also infused with deep questions. What does it mean to have thoughts and passions trapped inside a changeable body? What is a self, and where are its edges? If someone can pierce you in sex and in love, how do you survive? And if your outer form changes, what lasts?

In Change Me, Jane Alison, critically acclaimed author of The Love-Artist, renders substantial portions of Ovid's great epic into elegant and remarkably faithful English. Her focus is on episodes that involve desire, sexuality, and the transformations brought about by powerful emotion; because these themes are so central to the Metamorphoses, Alison introduces them with a selection of elegies from Ovid's Amores, the collection with which the poet launched his career. When these selections are taken together, Alison's Ovid comes alive; the Roman poet's great ability to perform contemporary themes through mythical subject matter, and vice versa, is Alison's guiding principle and Muse. Change Me will transform forever readers' experience of this most ingenious of poets.

FEATURES

The thematically organized translations are lucid, apt, precise, and playful

Elaine Fantham's Foreword places Ovid in his Augustan context

Alison Keith's introduction offers an overview of gender and sexuality in the ancient world

Incorporates sixteen color plates from classical antiquity that illustrate Ovidian themes

Audio recordings (read by Alison) of sixteen selected passages are available at www.oup.com/us/alison

Author Biography

Jane Alison's previous works on Ovid include her first novel, The Love-Artist (2001) and a song-cycle entitled XENIA (with composer Thomas Sleeper, 2010). Her other books include a memoir, The Sisters Antipodes (2009), and two novels, Natives and Exotics (2005) and The Marriage of the Sea (2003). Currently Professor of Creative Writing at the University of Virginia, she has an A.B. in Classics from Princeton University and an M.F.A. in Creative Writing from Columbia University.

Table of Contents

Introductory Essays by Elaine Fantham and Alison Keith
Compiler/Translator's Remarks
NARRATIVES FROM Amores
1.3 Justice, please
1.4 So that man of yours will be at the dinner
1.5 In slips Corinna
2.12 I captured a girl
3.4 You'll get nowhere by guarding that girl
3.11 I've stood it all long enough
3.12 She's on sale thanks to my talent
NARRATIVES FROM Metamorphoses
I. LOOKING
"Arachne" (6.1-145)
A young weaver challenges the goddess of weaving herself, Minerva, with a cloth that portrays the gods' sexual exploits--obliging Minerva to punish her, turning her into a spider.
"Daphne" (1.452-567)
Apollo sees this wild girl and wants her. Chased and terrified, she turns into a tree.
"Actaeon" (3.138-252)
By mistake Actaeon, a young hunter, sees the virgin goddess Diana naked. As punishment, he is turned into a deer and torn apart by his own hounds.
"Echo and Narcissus" (3.339-510)
Echo can only repeat others. Seeing beautiful Narcissus, she flings herself at him, but he refuses her as he does everyone. She pines, turning into rock and voice. He falls in love with his reflected image, pines, and dies, leaving in his place a flower.
"Perseus and Andromeda (and Medusa)" (4.614-803)
Winged Perseus is almost stilled midair when he sees Andromeda, chained as sacrifice to a sea-monster. But he kills the monster, wins a bride, and tells the story of the head he carries--that of Medusa, who was raped by Neptune in Minerva's temple, then had her hair turned to snakes, her gaze made immobilizing.
"Arethusa" (5.577-641)
A young girl, hot from hunting, swims in a strangely still stream, whose god looms up to rape her. Frantic, she runs until at last she dissolves into water to escape him.
"Pygmalion" (10.238-297)
An artist repelled by the promiscuous women around him sculpts his dream girl, and she comes to life.
II. TAKING
"Io" (1.568-746)
Io is raped by Jove, then is turned by him into a heifer to protect her from jealous Juno. Now speechless, she wanders, lost.
"Callisto" (2.401-530)
A girl faithful to Diana is first raped by Jove, then thrown from Diana's band, then becomes a mother, then a bear, and finally--as her own son is about to spear her by mistake--she is turned into a constellation.
"Europa" (2.833-875)
Europe is seduced by Jove, disguised as a white bull. He lures her onto his back and carries her away over the sea.
"Salmacis and Hermaphroditus" (4.274-388)
The beautiful son of Mercury and Venus is caught by cool, sexual Salmacis when he swims in her private pool. She forces their bodies to fuse into one.
"Proserpina" (5.346-571)
Proserpina is picking flowers when the underworld god, Dis, sees her, kidnaps her, and keeps her underground.
"Ganymede" (10.143-161)
The king of gods loves this Trojan boy and turns into an eagle to take him.
III. RUINING . . . OR BEING RUINED
"Jove and Semele" (3.259-315)
Semele has been sleeping with Jove, enraging Juno; she tricks Semele into insisting that Jove come to her in all his fiery power. Semele is immolated.
"Tereus, Procne, and Philomela" (6.401-674)
Tereus rapes his sister-in-law, cuts out her tongue, and keeps her hostage in the woods. She finds a way to tell her story and, with her sister, gets fitting revenge for this rape and amputation: by tricking Tereus into eating his own son.
"Scylla" (8.11-151)
The daughter of King Nisus falls in love with his enemy, Minos, and betrays her father by cutting off the magical lock of his hair that has ensured his kingdom's safety.
"Hyacinth" (10.162-219)
Apollo loves this boy, but when they compete at discus, the god accidentally kills him.
"Venus and Adonis (and Atalanta)" (10.503-739)
The goddess of love, in love with Adonis, urges him not to hunt violent animals. He will not and is gored in the groin and killed. At Venus's wish his body is turned into an anemone. Before all this, she tells him the story of Atalanta, whom no man could beat in a race, until she is tricked with golden apples.
"Glaucus and Scylla" (13.897-14.70)
Fish-man Glaucus longs for Scylla, but she wants none of him. Circe wants him, though--and punishes Scylla for attracting him by making dogs' heads sprout from her hips.
IV. WANTING SOMEONE TOO CLOSE
"Byblis and Caunus" (9.454-665)
A girl falls in love with her brother and plots to seduce him. He is repelled and flees, but she follows him all over the world, until finally she melts, becoming a fountain.
"Myrrha" (10.298-502)
Myrrha, in love with her father, tries to talk herself out of it, talks herself into it, tries to kill herself, fails, and is finally helped by her nurse to sneak into her father's bed, disguised, again and again.
"Hippolytus" (15.497-546)
When Hippolytus refuses his stepmother's approaches, she accuses him of trying to seduce her. He is exiled and torn apart--but remade.
V. CHANGING DIRECTION
"Tiresias" (3.316-338)
Seeing a pair of snakes mate, Tiresias parts them and is turned into a woman. Years later, she again sees snakes mate, parts them, and becomes a man again--one who now knows the pleasure that each sex experiences.
"Iphis and Ianthe" (9.666-797)
Iphis is raised secretly as a boy so that she won't be killed by her father. She falls in love with another girl and despairs, but then gets the change she wants . . . and marries.
"Orpheus and Eurydice" (10.185)
Eurydice dies on her wedding day, and Orpheus follows her to the underworld. There his music wins the two of them a reprieve, but with a condition Orpheus can't keep. He swears off women and switches to boys.
"Caenis" (12.146-209)
Caenis is raped and prays to become a boy so she will never again be so vulnerable. And soon Caenis is Caeneus, whom not even a sword can pierce.