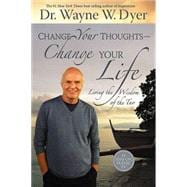 Change Your Thoughts - Change Your Life : Living the Wisdom of the Tao
by
Dyer, Wayne W.
Summary
In this book, Dr. Dyer reviews hundreds of translations of the Tao Te Ching, or the Great Way, and writes 81 distinct essays on how to apply the ancient wisdom of Lao-tzu to today's modern world.
Author Biography
Wayne W. Dyer, Ph.D., is an internationally renowned author and speaker in the field of self-development. He's the author of more than 30 books, has created numerous audio programs and videos, and has appeared on thousands of television and radio shows. Many of his books have been featured as National Public Television specials.
Wayne holds a doctorate in educational counseling from Wayne State University and was an associate professor at St. John's University in New York.