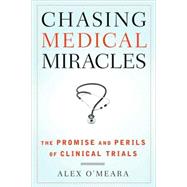 Chasing Medical Miracles : The Promise and Perils of Clinical Trials
by
O'Meara, Alex
Summary
Journalist Alex O'Meara is one of the more than twenty million Americans enrolled in a clinical trialthree times as many people as a decade ago. Indeed, clinical trials have become a $24 billion industry that is reshaping every aspect of health-care development and delivery in the United States and around the world. As O'Meara chronicles, twentieth-century medical trials have led to epic advances in health care, from asthma inhalers and insulin pumps to heart valves and pacemakers. And yet, although regulations safeguard against grossly unethical tests, significant problems are still associated with how clinical trials are carried out and reported. For example, despite eight clinical trials for Vioxx before the FDA approved it in 1998 for use as a painkiller, Merck took it off the market in 2004, too late for the eighty-eight thousand Americans who suffered heart attacks while taking Vioxx and the thirty-eight thousand who died. Chasing Medical Miraclesis the first book to give readers a behind-the-scenes look at the complicated world of clinical trials, revealing how a multibillion-dollar industry of private companies conducting them with little oversight has taken root and quietly become a major part of the American medical establishment. Whether you are participating in a clinical trial, considering that option, or interested in our medical system, Alex O'Meara's ground-breaking book is essential reading.
Author Biography
Alex O'Meara is a freelance journalist who has worked for the City News Bureau of Chicago, Newsday, the Baltimore Sun, and many other media organizations. In an effort to cure his type-1 diabetes, he participated in a risky and groundbreaking clinical trial to receive a transplant of islet cells from several cadaver pancreases. This is his first book. He lives in Bisbee, Arizona.
Table of Contents
Introduction
p. 1
Entering the Risky World of Clinical Trials
p. 7
The Right and Wrong of Clinical Trials
p. 20
Money Makes the Trial Go 'Round
p. 54
Legal Trials
p. 85
There's a Subject Born Every Minute
p. 97
Going Global
p. 122
The Perfect Laboratory for Clinical Trials
p. 150
The Stories Behind the Subjects
p. 172
Transplanted
p. 198
Afterword: Volunteering for a Clinical Trial
p. 218
Acknowledgments
p. 225
Notes
p. 227
Index
p. 255
Table of Contents provided by Ingram. All Rights Reserved.