Note: Supplemental materials are not guaranteed with Rental or Used book purchases.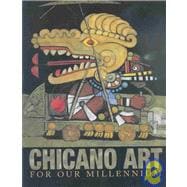 Chicano Art for Our Millennium : Collected Works from the Arizona State University Community
ISBN13:
9781931010252
by
Keller, Gary D.
Questions About This Book?
What version or edition is this?
This is the edition with a publication date of 4/1/2004.
What is included with this book?
The New copy of this book will include any supplemental materials advertised. Please check the title of the book to determine if it should include any CDs, lab manuals, study guides, etc.
Table of Contents
Foreword
xi

| | |
| --- | --- |
| | On the Creation of This Exhibition |

1
(7)
8
(1)

| | |
| --- | --- |
| | Organization of the Exhibit and of the Book |

9
(2)

| | |
| --- | --- |
| | Larry Yanez's Mi casa es su casa |

11
(8)

| | |
| --- | --- |
| | Ay Juana Cholla, Cocina jaiteca, Sofa So Good, Camana My House, Once Juan Won One |

19
(4)

| | |
| --- | --- |
| | Mario Calvano, Self-Portrait |

| | |
| --- | --- |
| | Community Values/Lo que representa nuestra comunidad |

23
(26)
24
(8)

| | |
| --- | --- |
| | Frank Ybarra, Backyard Pachanga |

| | |
| --- | --- |
| | Eva C. Perez, Little People Series #6 |

| | |
| --- | --- |
| | Carmen Lomas Garza, Cumpleanos de Lala y Tudi |

| | |
| --- | --- |
| | Antonio Rael, Panchito y Tia Tita |

| | |
| --- | --- |
| | Esperanza Gama, El amor rojo |

| | |
| --- | --- |
| | Cristina Cardenas, La nina de los espejos |

32
(17)

| | |
| --- | --- |
| | John Valadez, Robert and Liz |

| | |
| --- | --- |
| | Ester Hernandez, Los Recyclers |

| | |
| --- | --- |
| | Celina Hinojosa, Reyna's Cantina |

| | |
| --- | --- |
| | Larry Yanez, The Monthter What Ate the Thity |

| | |
| --- | --- |
| | Larry Portillo, El Guapo ``Ay te watcho'' |

| | |
| --- | --- |
| | Celina Hinojosa, Still in Reverence |

| | |
| --- | --- |
| | Diane Gamboa, Little Gold Man |

| | |
| --- | --- |
| | Frank Romero, California Plaza |

| | |
| --- | --- |
| | Frank Romero, Frutas y verduras |

| | |
| --- | --- |
| | Carmen Lomas Garza, Nopalitos frescos |

| | |
| --- | --- |
| | Malaquias Montoya, Un maestro pa'l futuro |

| | |
| --- | --- |
| | David Rosales, San Bernardino Art Gallery |

| | |
| --- | --- |
| | Jose Trevino, Sonido del barrio |

| | |
| --- | --- |
| | Across Borders and The Biculture/Atravesando fronteras y culturas |

49
(22)
50
(4)

| | |
| --- | --- |
| | Charles ``Chaz'' Bojorquez, ChinoLatino |

| | |
| --- | --- |
| | Candace M. Briceno, Las rosas de mi guelita |

| | |
| --- | --- |
| | Isabel Martinez, VG Got Her Green Card |

| | |
| --- | --- |
| | Rolando Briseno, Bicultural Tablesetting |

| | |
| --- | --- |
| | Wayne Alaniz Healy, La Virgen de Venice |

54
(7)

| | |
| --- | --- |
| | Jacalyn Lopez Garcia, California Dreaming |

| | |
| --- | --- |
| | Manuel R. Burruel, Self-Portrait: The Journey |

| | |
| --- | --- |
| | Ramon Ramirez, No tocar la tierra |

| | |
| --- | --- |
| | Tony Ortega, Los de abajo |

| | |
| --- | --- |
| | Luis Valderas, Bridge over the Rio Grande |

| | |
| --- | --- |
| | Malaquias Montoya, Una familia |

61
(10)

| | |
| --- | --- |
| | Laura Alvarez, The Double Agent Sirvienta: Blow Up the Hard Drive |

| | |
| --- | --- |
| | Daniel Maldonado, Mi Tierra |

| | |
| --- | --- |
| | Enrique Chagoya, Elvis Meets the Virgin of Guadalupe |

| | |
| --- | --- |
| | Santiago Perez, First Aztec on the Moon |

| | |
| --- | --- |
| | Mary Antonia Wood, Mudra I |

| | |
| --- | --- |
| | Maya Gonzalez, Death Enthroned |

| | |
| --- | --- |
| | Carlos Santistevan, Red and Gold Lowrider |

| | |
| --- | --- |
| | Elizabeth Perez, Blue Venus |

| | |
| --- | --- |
| | Spirituality/Espiritualidad |

71
(24)
72
(23)

| | |
| --- | --- |
| | Virginia Aguero, Santa Teresita |

| | |
| --- | --- |
| | Marion C. Martinez, Madre querida |

| | |
| --- | --- |
| | Marion C. Martinez, Sagrado Corazon |

| | |
| --- | --- |
| | Daniel Martin Diaz, Magicus |

| | |
| --- | --- |
| | Meggan De Anza, En brazos de una madre/In the Arms of a Mother |

| | |
| --- | --- |
| | Susan Elizalde-Holder, Structure |

| | |
| --- | --- |
| | Margarita ``Mita'' Cuaron, La Virgen de Sandia |

| | |
| --- | --- |
| | Elena Climent, Virgin in Blue Box |

| | |
| --- | --- |
| | Ana Laura De La Garza, La vida |

| | |
| --- | --- |
| | Teddy Sandoval, Angel Baby |

| | |
| --- | --- |
| | Pattsi Valdez, The Dreamer |

| | |
| --- | --- |
| | Yreina D. Cervantez, Disfrutamos la fruta de nuevo |

| | |
| --- | --- |
| | Maya Gonzalez, The Love That Stains |

| | |
| --- | --- |
| | Paul Botello, Inner Nature |

| | |
| --- | --- |
| | Alma Gomez, El Sagrado Corazon |

| | |
| --- | --- |
| | Deeply Felt, Widely Known/Profundamente sentido, ampliamente reconocido |

95
(22)
96
(9)

| | |
| --- | --- |
| | David Rosales, In Memory of a Rabbit |

| | |
| --- | --- |
| | Barbara Carrasco, Self-Portrait |

| | |
| --- | --- |
| | David Anthony Garcia, Requiem |

| | |
| --- | --- |
| | Dolores Guerrero, Jugo de naranja |

| | |
| --- | --- |
| | Aydee Lopez Martinez, Out there, someday, maybe I'll have it all together |

| | |
| --- | --- |
| | Ana Laura De La Garza, Young Bride |

| | |
| --- | --- |
| | Laura Molina, La novia (Waiting for My Love...) |

105
(12)

| | |
| --- | --- |
| | Artemio Rodriguez, The King of Things/El rey de las cosas |

| | |
| --- | --- |
| | George Yepes, La serenata |

| | |
| --- | --- |
| | Ester Hernandez, Con carino, Lydia Mendoza |

| | |
| --- | --- |
| | Frank Ybarra, Mariachi LP |

| | |
| --- | --- |
| | Miguel Angel Reyes, Epoca de oro |

| | |
| --- | --- |
| | Cultural Icons/Temas culturales |

117
(26)
118
(6)

| | |
| --- | --- |
| | Sam Zaragosa Coronado, Pancho Villa and the Cisco Kid |

| | |
| --- | --- |
| | Alfredo Arreguin, Frida's Messengers |

| | |
| --- | --- |
| | Cesar A. Martinez, Sandra Cisneros |

| | |
| --- | --- |
| | Ester Hernandez, Homenaje a Cesar Chavez |

| | |
| --- | --- |
| | Luis Guerrero, Super Muffler Man |

| | |
| --- | --- |
| | Artemio Rodriguez, Posada y su hijo |

124
(19)

| | |
| --- | --- |
| | Laura Molina, One Little Indian Versus the Corporate Trolls |

| | |
| --- | --- |
| | Ester Hernandez, Libertad |

| | |
| --- | --- |
| | Nephtali De Leon, La Virgen de Guadaliberty |

| | |
| --- | --- |
| | Sam Zaragosa Coronado, Guerrillera II |

| | |
| --- | --- |
| | Carlos Cortez, Ricardo Flores Magon Joe L. Lopez, The Spirit of Machismo |

| | |
| --- | --- |
| | Riley Roca, El angel de Chilangolandia |

| | |
| --- | --- |
| | Alfredo Arreguin, La Malinche |

| | |
| --- | --- |
| | Luis Jimenez, Southwest Pieta |

| | |
| --- | --- |
| | Luis Jimenez, Ball Rattlesnake |

| | |
| --- | --- |
| | Benito Huerta, Hands of Fate |

| | |
| --- | --- |
| | Leo Limon, Morena y Quetzalcoatl |

| | |
| --- | --- |
| | Tlisza Jaurique, Ancestral Roots |

| | |
| --- | --- |
| | Rudy M. Fernandez, Jr., Mars Visitation |

| | |
| --- | --- |
| | Zarco Guerrero, Con Sapos, Nagual Mask |

| | |
| --- | --- |
| | Beyond Conventional Themes/Sobrepasando lo convencional |

143
(8)

| | |
| --- | --- |
| | Quintin Gonzalez, Spectre |

| | |
| --- | --- |
| | Silvia Capistran, Atardecer/Dusk |

| | |
| --- | --- |
| | Jerry De La Cruz, Failing to Communicate |

| | |
| --- | --- |
| | Marcus Zilliox, Wink and Jab Ennui |

| | |
| --- | --- |
| | Maximiliano Pruneda III, Recompensa del amor/The Reward of Love |

| | |
| --- | --- |
| | Juan Farias, Nos ponemos como que tenemos calentura, bien sudaditos |

| | |
| --- | --- |
| | Einar and Jamex de la Torre, Nomas enchufala |

| | |
| --- | --- |
| | Monica Aissa Martinez, Chemism |

151
(44)

| | |
| --- | --- |
| | Gabriel Garcia, Broken Sidewalks |

| | |
| --- | --- |
| | Learning About and Through Chicana/o Art |

155
(6)

| | |
| --- | --- |
| | Theme One: Community Values |

161
(4)

| | |
| --- | --- |
| | Theme Two: Art Across Cultural Borders |

165
(6)

| | |
| --- | --- |
| | Theme Three: Spirituality |

171
(6)

| | |
| --- | --- |
| | Theme Four: Meanings Deeply Felt or Widely Known |

177
(6)

| | |
| --- | --- |
| | Theme Five: Cultural Icons |

183
(4)

| | |
| --- | --- |
| | Theme Six: Beyond Conventional Imagery |

187
(8)
The Authors and Other Contributors
195
(2)
Index of Artworks
197
(2)
Index of Artists
199