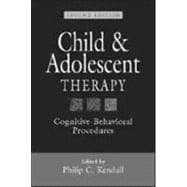 Child and Adolescent Therapy, Second Edition Cognitive-Behavioral Procedures
by
Kendall, Philip C.
List Price: $52.27

More New and Used
from Private Sellers
Related Products
Summary
The first edition of this book was hailed in "Contemporary Psychology" as "an integrative, comprehensive, and scholarly review of cognitive-behavioral interventions with children and adolescents". Entirely new chapters examine the status of empirically supported interventions and developmental issues specific to work with adolescents.
Author Biography
Philip C. Kendall, PhD, ABPP, is the Laura H. Carnell Professor of Psychology, Head of the Division of Clinical Psychology, and Director of the Child and Adolescent Anxiety Disorders Clinic at Temple University. An internationally recognized expert on clinical child psychology and clinical psychological research, Dr. Kendall has published widely on many topics but is perhaps best noted for his development and evaluation of cognitive-behavioral treatments for anxiety in youth. He is the author or coauthor of over 300 research publications and books.

Table of Contents
I. GUIDING THEORY

| | |
| --- | --- |
| | Guiding Theory for Therapy with Children and Adolescents |

3
(28)

| | |
| --- | --- |
| | Toward a Working Definition |

6
(2)

| | |
| --- | --- |
| | Therapist as Coach: The Posture of the Therapist |

8
(3)
11
(5)

| | |
| --- | --- |
| | Developing Coping over Time: A Temporal Model |

16
(3)
19
(228)
247
25
(6)
II. EXTERNALIZING DISORDERS

| | |
| --- | --- |
| | Cognitive-Behavioral Assessment and Treatment with Aggressive Children |

31
(57)

| | |
| --- | --- |
| | Conceptual Framework for Cognitive-Behavioral Therapy: Identifying Mediational Processes |

33
(16)

| | |
| --- | --- |
| | Assessment of Aggression in Children |

49
(9)

| | |
| --- | --- |
| | Cognitive-Behavioral Therapy with Aggressive Children |

58
(18)
76
(12)

| | |
| --- | --- |
| | Attention-Deficit/Hyperactivity Disorder: The Search for Viable Treatments |

88
(41)
90
(9)

| | |
| --- | --- |
| | Behavioral and Cognitive-Behavioral Treatments: Rationale and Findings |

99
(7)
106
(9)

| | |
| --- | --- |
| | Mediators and Moderators of Treatment Outcome |

115
(2)

| | |
| --- | --- |
| | Current Status and Future Directions |

117
(6)
123
(1)
123
(6)

| | |
| --- | --- |
| | Managing Anger in Youth: A Cognitive-Behavioral Intervention Approach |

129
(44)

| | |
| --- | --- |
| | Theories, Concepts, Central Features, and Categorization of Anger and Aggression |

131
(5)

| | |
| --- | --- |
| | The Cognitive-Behavioral Treatment of Anger and Aggression in Youth |

136
(1)

| | |
| --- | --- |
| | The Cognitive-Behavioral Model of Anger |

137
(1)

| | |
| --- | --- |
| | The Therapeutic Relationship and the Stress Inoculation paradigm for Aggressive Youth |

138
(24)

| | |
| --- | --- |
| | Integration of Individual and Family Interventions: Future Directions |

162
(2)
164
(1)
164
(9)
III. INTERNALIZING DISORDERS

| | |
| --- | --- |
| | Treatment of Depression in Childhood and Adolescence: Cognitive-Behavioral Procedures for the Individual and Family |

173
(62)
174
(1)

| | |
| --- | --- |
| | Natural Course of Depression |

175
(1)

| | |
| --- | --- |
| | Predictors of Duration of an Episode |

175
(1)

| | |
| --- | --- |
| | Psychosocial Aspects of Depressive Disorders: Disturbances in Affect Regulation |

176
(3)

| | |
| --- | --- |
| | Etiology of Depressive Disorders during Childhood |

179
(8)

| | |
| --- | --- |
| | An Integrated Model of Depressive Disorders during Childhood |

187
(4)
191
(9)
200
(18)

| | |
| --- | --- |
| | Moderators of Treatment of Outcome |

218
(6)

| | |
| --- | --- |
| | Treatment Outcome Research |

224
(2)
226
(1)
227
(8)

| | |
| --- | --- |
| | Treating Anxiety Disorders in Youth |

235
(56)

| | |
| --- | --- |
| | The Nature of Anxiety in Youth |

236
(7)
243
(10)

| | |
| --- | --- |
| | Treatment: Procedures and Outcomes |

253
(25)
278
(1)
278
(13)
IV. SPECIAL POPULATIONS AND TOPICS

| | |
| --- | --- |
| | Cognitive-Behavioral Intervention for Children with Chronic Health Conditions |

291
(43)

| | |
| --- | --- |
| | Health-Related Quality-of-Life Assessment |

292
(4)
296
(2)

| | |
| --- | --- |
| | Empirically Supported Treatments in Pediatric Psychology |

298
(2)

| | |
| --- | --- |
| | Interventions for Medical Adherence |

300
(11)

| | |
| --- | --- |
| | Pediatric Pain Management |

311
(9)

| | |
| --- | --- |
| | Problem-Solving Skills Training in Pediatric Cancer |

320
(4)
324
(1)
324
(10)

| | |
| --- | --- |
| | Working with Adolescents: Guides from Developmental Psychology |

334
(52)

| | |
| --- | --- |
| | Why a Separate Chapter on Adolescents? |

335
(1)

| | |
| --- | --- |
| | Overview of Recent Research on Cognitive-Behavioral Interventions with Adolescents |

336
(4)

| | |
| --- | --- |
| | A Framework for Understanding Adolescent Development and Adjustment |

340
(19)

| | |
| --- | --- |
| | Implications of Developmental Psychology for the Use of Cognitive-Behavioral Therapy with Adolescents |

359
(11)

| | |
| --- | --- |
| | Case Example: Developmental Factors and the Treatment of Obsessive-Compulsive Disorder |

370
(5)
375
(1)
376
(10)

| | |
| --- | --- |
| | Empirically Supported Treatments for Children and Adolescents |

386
(41)

| | |
| --- | --- |
| | On the Nature of Empirically Supported Treatments |

387
(2)

| | |
| --- | --- |
| | Empirically Supported Psychosocial Treatments for Child Behavior Problems |

389
(16)

| | |
| --- | --- |
| | On Empirically Supported Treatment: Promises and Pitfalls |

405
(14)
419
(1)
419
(1)
420
(7)
Index
427