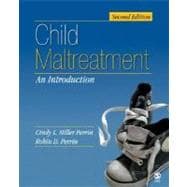 Questions About This Book?
What version or edition is this?
This is the 2nd edition with a publication date of 9/7/2006.
What is included with this book?
The Used copy of this book is not guaranteed to include any supplemental materials. Typically, only the book itself is included.
Summary
Thoroughly updated and expanded, the Second Edition of Child Maltreatment: An Introduction disseminates current knowledge about the various types of violence against children. Uniquely offering both a psychological and sociological focus, this core text helps students understand more fully the etiology, prevalence, treatment, policy issues, and prevention of child maltreatment.
Table of Contents
Preface
xv
Acknowledgments
xvii

| | |
| --- | --- |
| | History and Definitions of Child Maltreatment |

1
(32)
7
(2)

| | |
| --- | --- |
| | Child Maltreatment Within Families |

9
(1)

| | |
| --- | --- |
| | How Social Conditions Become Social Problems |

10
(2)

| | |
| --- | --- |
| | Discovering Child Maltreatment: The Historical Context |

12
(4)
12
(1)

| | |
| --- | --- |
| | Discovering Child Maltreatment |

13
(3)

| | |
| --- | --- |
| | Defining Child Maltreatment: Understanding the Social Construction-of-Deviance Definitions |

16
(7)

| | |
| --- | --- |
| | Parent-Child Violence: Four Conceptualizations |

18
(2)

| | |
| --- | --- |
| | Legitimate Versus Illegitimate Acts |

20
(3)

| | |
| --- | --- |
| | Practice, Policy, and Prevention Issues |

23
(5)

| | |
| --- | --- |
| | Family Support and Training Programs |

26
(1)
26
(1)

| | |
| --- | --- |
| | Community Awareness Campaigns |

26
(1)
27
(1)

| | |
| --- | --- |
| | Treating Offenders and Victims |

28
(1)

| | |
| --- | --- |
| | Coordinated Community Responses |

28
(1)
28
(1)
29
(1)
30
(1)
31
(1)
31
(2)

| | |
| --- | --- |
| | The Study of Child Maltreatment: Theoretical and Methodological Issues |

33
(36)

| | |
| --- | --- |
| | Determining the Extent of Child Maltreatment |

35
(12)
38
(1)

| | |
| --- | --- |
| | National Incidence Study (NIS) |

38
(5)

| | |
| --- | --- |
| | National Child Abuse and Neglect Data System (NCANDS) |

43
(1)
43
(1)

| | |
| --- | --- |
| | Conflict Tactics Scales (CTS) |

44
(3)

| | |
| --- | --- |
| | National Crime Victimization Survey (NCVS) |

47
(1)
47
(1)

| | |
| --- | --- |
| | Explaining Child Maltreatment |

47
(13)

| | |
| --- | --- |
| | Cultural and Social Structural Antecedents |

48
(1)
48
(1)

| | |
| --- | --- |
| | Structural Characteristics of the Family |

49
(1)

| | |
| --- | --- |
| | Low Costs of Child Maltreatment |

50
(1)

| | |
| --- | --- |
| | Etiological Theory: Trying to Understand Abusive Behavior |

51
(1)

| | |
| --- | --- |
| | Social Ecology/Social Bonding Theories |

51
(2)

| | |
| --- | --- |
| | Social Class, Strain, and Frustration |

53
(1)
54
(1)

| | |
| --- | --- |
| | Attachment and Parent-Child Interaction Theories |

55
(1)

| | |
| --- | --- |
| | Psychopathology and Behavioral Traits |

56
(1)
57
(1)
57
(2)
59
(1)
60
(1)
60
(1)

| | |
| --- | --- |
| | Methodological Issues: Conducting Better Research |

61
(5)
62
(1)

| | |
| --- | --- |
| | Correlation Isn't Cause: Problems Establishing Cause-and-Effect Relationships |

62
(1)
63
(1)
64
(1)
64
(1)

| | |
| --- | --- |
| | When Correlation Comes Close to Cause: Two Examples |

65
(1)
65
(1)
66
(1)
67
(1)
68
(1)
68
(1)
69
(42)

| | |
| --- | --- |
| | Case History: Kevin Fell Off His Razor |

71
(1)
72
(9)

| | |
| --- | --- |
| | What Is Physical Child Abuse? |

72
(1)
73
(3)

| | |
| --- | --- |
| | How Common Is Physical Child Abuse? |

76
(1)
76
(1)
76
(2)

| | |
| --- | --- |
| | Is the Rate of Physical Child Abuse Increasing? |

78
(2)
80
(1)

| | |
| --- | --- |
| | Searching for Patterns: Victim, Perpetrator, and Social Ecological Characteristics |

81
(8)

| | |
| --- | --- |
| | Demographic Characteristics of Children Who Are Physically Abused |

81
(1)
81
(1)
82
(1)
82
(1)
82
(1)

| | |
| --- | --- |
| | Additional Characteristics |

83
(1)

| | |
| --- | --- |
| | Demographic Characteristics of Adults Who Physically Abuse Children |

84
(1)
84
(1)
84
(1)

| | |
| --- | --- |
| | Relationship to the Abused Child |

84
(1)

| | |
| --- | --- |
| | Psychological and Biological Characteristics of Adults Who Physically Abuse Children |

84
(1)

| | |
| --- | --- |
| | Emotional and Behavioral Characteristics |

85
(1)
85
(2)

| | |
| --- | --- |
| | Social Ecological Factors |

87
(1)
87
(1)

| | |
| --- | --- |
| | Family and Interpersonal Difficulties |

88
(1)
88
(1)
89
(1)

| | |
| --- | --- |
| | Consequences Associated With Child Physical Abuse |

89
(9)

| | |
| --- | --- |
| | Effects Associated With the Physical Abuse of Children |

91
(1)

| | |
| --- | --- |
| | Medical and Neurobiological Problems |

91
(2)
93
(1)
94
(1)

| | |
| --- | --- |
| | Socioemotional Difficulties |

94
(1)
95
(1)

| | |
| --- | --- |
| | Possible Long-Term Effects of Physical Abuse |

95
(1)

| | |
| --- | --- |
| | Criminal and Violent Behavior |

96
(1)
96
(1)

| | |
| --- | --- |
| | Socioemotional Difficulties |

97
(1)

| | |
| --- | --- |
| | Mediators of Abuse Effects |

97
(1)
98
(1)

| | |
| --- | --- |
| | Practice, Policy, and Prevention Issues |

99
(8)

| | |
| --- | --- |
| | Intervention Strategies for Child Physical Abuse |

99
(1)

| | |
| --- | --- |
| | Treatment for Physically Abusive Adults |

99
(2)

| | |
| --- | --- |
| | Treatment for Children With Physical Abuse Histories |

101
(1)
101
(1)
102
(2)

| | |
| --- | --- |
| | Preventing Physical Abuse of Children |

104
(1)

| | |
| --- | --- |
| | Parental Competency Programs |

104
(1)

| | |
| --- | --- |
| | Community Awareness Campaigns |

105
(2)
107
(1)
108
(1)
109
(1)
109
(2)
111
(52)

| | |
| --- | --- |
| | Case History: Sashim's Secret |

113
(1)
114
(6)

| | |
| --- | --- |
| | What Is Child Sexual Abuse? |

114
(1)
114
(1)
115
(2)
117
(1)

| | |
| --- | --- |
| | Estimates of Child Sexual Abuse |

117
(1)
117
(1)
118
(1)

| | |
| --- | --- |
| | Is Sexual Abuse Increasing or Decreasing? |

119
(1)
120
(1)

| | |
| --- | --- |
| | Searching for Patterns: Victim, Perpetrator, and Social Ecological Characteristics |

120
(6)

| | |
| --- | --- |
| | Characteristics of Sexually Abused Children |

120
(1)
120
(1)
121
(1)

| | |
| --- | --- |
| | Characteristics of Individuals Who Sexually Abuse Children |

121
(1)
121
(1)
122
(3)

| | |
| --- | --- |
| | Relationship to the Abused Child |

125
(1)

| | |
| --- | --- |
| | Social Ecological Factors |

126
(1)
126
(1)

| | |
| --- | --- |
| | Dynamics and Consequences Associated With Child Sexual Abuse |

127
(12)

| | |
| --- | --- |
| | Dynamics of Child Sexual Abuse |

127
(1)
127
(1)
128
(1)
128
(1)

| | |
| --- | --- |
| | Exploitation Through the Internet |

129
(2)

| | |
| --- | --- |
| | Effects Associated With Child Sexual Abuse |

131
(1)
131
(3)
134
(1)

| | |
| --- | --- |
| | Explaining the Variability in Effects |

134
(5)
139
(1)

| | |
| --- | --- |
| | Explaining Child Sexual Abuse |

139
(8)

| | |
| --- | --- |
| | Focus on the Abused Individual |

141
(1)
141
(1)
141
(2)

| | |
| --- | --- |
| | Childhood History of Sexual Abuse |

143
(1)

| | |
| --- | --- |
| | Contemporary Integrative Theories |

144
(1)
145
(1)

| | |
| --- | --- |
| | Focus on Society and Culture |

146
(1)
146
(1)
146
(1)
147
(1)

| | |
| --- | --- |
| | Practice, Policy, and Prevention Issues |

147
(12)

| | |
| --- | --- |
| | Basic Issues in Treatment Intervention |

147
(1)

| | |
| --- | --- |
| | Therapy for Child and Adult Survivors |

148
(1)

| | |
| --- | --- |
| | Interventions for Children |

148
(1)
149
(1)

| | |
| --- | --- |
| | Treatment Interventions for Offenders |

150
(1)
151
(1)

| | |
| --- | --- |
| | Traditional and Family Systems Approaches |

152
(2)

| | |
| --- | --- |
| | Cognitive and Behavioral Techniques |

154
(2)

| | |
| --- | --- |
| | Prevention of Child Sexual Abuse |

156
(1)

| | |
| --- | --- |
| | Education Programs for Children |

156
(2)

| | |
| --- | --- |
| | The Parental Role in Child Empowerment |

158
(1)
158
(1)
159
(2)
161
(1)
161
(2)
163
(38)

| | |
| --- | --- |
| | Case History: Will and Mark: ``Where Are the Parents?'' |

164
(2)
166
(10)
166
(1)
166
(1)
167
(1)
168
(1)
169
(1)
170
(3)

| | |
| --- | --- |
| | Estimates of Child Neglect |

173
(1)
173
(3)
176
(1)
176
(1)

| | |
| --- | --- |
| | Searching for Patterns: Characteristics of Neglected Children and Their Families |

177
(7)

| | |
| --- | --- |
| | Characteristics of Neglected Children |

177
(1)
177
(1)
178
(1)
178
(1)

| | |
| --- | --- |
| | Characteristics of Neglecting Parents |

178
(1)

| | |
| --- | --- |
| | Demographic Characteristics |

178
(1)

| | |
| --- | --- |
| | Psychological and Behavioral Characteristics |

179
(1)

| | |
| --- | --- |
| | Social Ecological Factors |

180
(1)

| | |
| --- | --- |
| | Family Structure and Functioning |

180
(1)
181
(3)

| | |
| --- | --- |
| | Community Integration and Social Support |

184
(1)
184
(1)

| | |
| --- | --- |
| | Consequences Associated With Child Neglect |

185
(6)

| | |
| --- | --- |
| | Developmental Considerations |

185
(2)

| | |
| --- | --- |
| | Social and Attachment Difficulties |

187
(1)

| | |
| --- | --- |
| | Cognitive and Academic Deficits |

188
(1)

| | |
| --- | --- |
| | Emotional and Behavior Problems |

188
(1)
189
(1)
189
(2)
191
(1)

| | |
| --- | --- |
| | Practice, Policy, and Prevention Issues |

191
(6)

| | |
| --- | --- |
| | Treatment of Child Neglect |

191
(2)

| | |
| --- | --- |
| | Prevention of Child Neglect |

193
(1)
194
(3)

| | |
| --- | --- |
| | Programs for Parents With High-Risk Children |

197
(1)
197
(1)
198
(1)
199
(2)

| | |
| --- | --- |
| | Child Psychological Maltreatment |

201
(30)

| | |
| --- | --- |
| | Case History: Tough Love or Child Psychological Maltreatment? |

202
(3)
205
(11)

| | |
| --- | --- |
| | What Is Child Psychological Maltreatment? |

205
(1)
205
(3)

| | |
| --- | --- |
| | Subtypes of Child Psychological Maltreatment |

208
(3)
211
(3)

| | |
| --- | --- |
| | Estimates of Child Psychological Maltreatment |

214
(1)
214
(1)
215
(1)
216
(1)

| | |
| --- | --- |
| | Searching for Patterns: Characteristics of Victims and Perpetrators |

216
(3)

| | |
| --- | --- |
| | Characteristics of Psychologically Maltreated Children |

216
(1)
217
(1)
217
(1)

| | |
| --- | --- |
| | Characteristics of Psychologically Maltreating Parents |

217
(1)
218
(1)
218
(1)
219
(1)

| | |
| --- | --- |
| | Consequences Associated With Child Psychological Maltreatment |

219
(4)
221
(1)
221
(1)

| | |
| --- | --- |
| | Methodological Issues Pertaining to Effects Research |

222
(1)
223
(1)

| | |
| --- | --- |
| | Practice, Policy, and Prevention Issues |

223
(3)

| | |
| --- | --- |
| | Interventions for Psychologically Maltreated Children |

224
(1)

| | |
| --- | --- |
| | Preventing Psychological Maltreatment |

225
(1)
226
(2)
228
(1)
229
(1)
229
(2)

| | |
| --- | --- |
| | Additional Forms of Child Maltreatment |

231
(48)

| | |
| --- | --- |
| | Case History: The Disney World Girl |

232
(2)

| | |
| --- | --- |
| | Children Who Witness Violence |

234
(13)

| | |
| --- | --- |
| | Children Exposed to Intimate Partner Violence |

235
(1)
235
(1)

| | |
| --- | --- |
| | Effects Associated With Children's Exposure to Intimate Partner Violence |

236
(4)

| | |
| --- | --- |
| | Methodological Issues Pertaining to Effects Research |

240
(2)

| | |
| --- | --- |
| | Interventions for Children Exposed to Intimate Partner Violence |

242
(1)

| | |
| --- | --- |
| | Children Who Witness Community Violence |

242
(1)
243
(1)

| | |
| --- | --- |
| | Effects Associated With Exposure to Community Violence |

244
(1)

| | |
| --- | --- |
| | Interventions for Children Exposed to Community Violence |

245
(2)
247
(1)

| | |
| --- | --- |
| | Peer Violence and Victimization |

248
(16)
248
(1)
249
(3)

| | |
| --- | --- |
| | Forms of Negative Sibling Interaction |

252
(1)
253
(1)

| | |
| --- | --- |
| | Consequences Associated With Negative Sibling Interaction |

254
(2)

| | |
| --- | --- |
| | Characteristics of Siblings Who Inflict Harm |

256
(1)
257
(1)
257
(1)
258
(2)

| | |
| --- | --- |
| | Characteristics of Bullies and Victims |

260
(1)
260
(1)
260
(1)

| | |
| --- | --- |
| | Psychological Characteristics |

261
(1)

| | |
| --- | --- |
| | Family- and School-Related Factors |

262
(1)

| | |
| --- | --- |
| | Intervention and Prevention |

263
(1)
264
(2)

| | |
| --- | --- |
| | Institutional Child Maltreatment |

266
(2)
266
(1)

| | |
| --- | --- |
| | Forms of Institutional Child Maltreatment |

266
(1)

| | |
| --- | --- |
| | Consequences Associated With Institutional Child Maltreatment |

267
(1)

| | |
| --- | --- |
| | Responses to Institutional Child Maltreatment |

267
(1)
268
(1)
268
(6)
269
(1)
269
(1)
270
(4)
274
(2)
276
(1)
276
(1)
277
(2)

| | |
| --- | --- |
| | Key Issues in Responding to Child Maltreatment |

279
(26)

| | |
| --- | --- |
| | Child Welfare Responses to Child Maltreatment |

280
(7)

| | |
| --- | --- |
| | The Role of Child Protective Services |

280
(3)
283
(3)

| | |
| --- | --- |
| | Legislation Affecting Child Welfare |

286
(1)

| | |
| --- | --- |
| | Legal System Responses to Child Maltreatment |

287
(4)

| | |
| --- | --- |
| | Children and the Legal System |

288
(1)

| | |
| --- | --- |
| | Prosecuting Individuals Who Abuse Children |

289
(2)

| | |
| --- | --- |
| | Cultural and International Issues in Child Maltreatment |

291
(4)

| | |
| --- | --- |
| | Estimates of Child Maltreatment Outside North America |

291
(1)

| | |
| --- | --- |
| | Cultural Differences and Child Maltreatment |

292
(1)

| | |
| --- | --- |
| | Cultural Sensitivity in Addressing the Problem of Child Maltreatment |

293
(2)

| | |
| --- | --- |
| | Collateral Effects of Child Maltreatment |

295
(7)

| | |
| --- | --- |
| | Impacts of Child Maltreatment on Professionals Who Work With Victims |

295
(6)

| | |
| --- | --- |
| | Treatment and Prevention of Collateral Effects of Child Maltreatment |

301
(1)
302
(1)
303
(1)
304
(1)

| | |
| --- | --- |
| | Controversial Issues in the Study of Child Maltreatment |

305
(36)

| | |
| --- | --- |
| | Concern and Debate About Alleged False Allegations |

306
(16)
307
(3)

| | |
| --- | --- |
| | Memory Wars: Repressed and Recovered Memories |

310
(12)

| | |
| --- | --- |
| | Is Exposure to Intimate Partner Violence (IPV) a Form of Child Maltreatment? |

322
(3)

| | |
| --- | --- |
| | Are Some Cases of Sudden Infant Death Syndrome (SIDS) Actually Infanticide? |

325
(2)

| | |
| --- | --- |
| | Justice and Protection Controversies |

327
(4)
328
(1)

| | |
| --- | --- |
| | Community Notification Laws |

329
(2)
331
(4)

| | |
| --- | --- |
| | Family Preservation Versus Out-of-Home Care |

335
(2)
337
(2)
339
(1)
339
(1)
340
(1)

| | |
| --- | --- |
| | Advancing the Field of Child Maltreatment |

341
(20)

| | |
| --- | --- |
| | Methodological and Theoretical Limitations and Solutions |

342
(4)

| | |
| --- | --- |
| | Improving on Methodological Limitations to Research in the Field |

342
(1)

| | |
| --- | --- |
| | Debates About Child Maltreatment Definitions |

343
(2)

| | |
| --- | --- |
| | Studying the Causes of Child Maltreatment |

345
(1)

| | |
| --- | --- |
| | Unifying the Field of Child Maltreatment |

346
(7)

| | |
| --- | --- |
| | Competing Claims and Interests of Professionals |

347
(3)

| | |
| --- | --- |
| | The Co-Occurrence of Multiple Forms of Victimization |

350
(1)

| | |
| --- | --- |
| | Comparative Effects of Different Subtypes and Combinations of Child Maltreatment |

351
(2)

| | |
| --- | --- |
| | Additional Areas of Integrative Research |

353
(1)

| | |
| --- | --- |
| | Claims Making Versus Science: Balancing Passion and Empiricism Within the Field of Child Maltreatment |

353
(5)

| | |
| --- | --- |
| | Feeding Public Distrust of Social Science |

354
(1)
355
(1)

| | |
| --- | --- |
| | Blurring Definitional Boundaries |

356
(1)
357
(1)
358
(1)
359
(1)
359
(2)
361
(16)

| | |
| --- | --- |
| | Condemning Cultural Acceptance of Violence |

362
(3)
363
(1)

| | |
| --- | --- |
| | Questioning Culturally Accepted Violence Within the Family |

364
(1)

| | |
| --- | --- |
| | Advocating for a Public Policy Commitment to the Prevention of Child Maltreatment |

365
(5)

| | |
| --- | --- |
| | Financially Committing to Family Protection |

366
(1)

| | |
| --- | --- |
| | Addressing Social Problems That Contribute to Child Maltreatment |

366
(2)

| | |
| --- | --- |
| | Committing to Primary Prevention |

368
(1)

| | |
| --- | --- |
| | Child Maltreatment as a Public Health Issue |

369
(1)

| | |
| --- | --- |
| | Find What Works to Prevent Maltreatment and Invest in It |

369
(1)

| | |
| --- | --- |
| | Joining, Giving, Volunteering, Speaking Out |

370
(5)

| | |
| --- | --- |
| | Becoming a Court-Appointed Special Advocate (CASA) Volunteer |

370
(3)
373
(2)
375
(1)
375
(1)
376
(1)
Appendix: Resources for Individuals and Organizations Addressing Child Maltreatment
377
(18)
References
395
(62)
Glossary
457
(6)
Index
463
(12)
About the Authors
475