Note: Supplemental materials are not guaranteed with Rental or Used book purchases.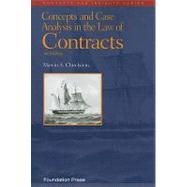 Summary
The sixth edition of Concepts and Case Analysis in the Law of Contracts is a readable primer that offers first-year law students a reliable overview of the major themes and leading cases in the field of the law of contracts. This contracts primer is straightforward and uncluttered, covering the main themes of the first-year contracts course, together with related cases.
Table of Contents
Preface
p. v
Background Elements: The Contract Curve and Expectation Damages
p. 1
Consideration and the Bargained-for Exchange
p. 12
Promises to Make a Gift
p. 15
Reliance and Promissory Estoppel
p. 22
Illusory Promises
p. 27
Moral Obligation and Past Consideration
p. 30
Contract Formation
p. 36
Offer and Acceptance
p. 41
Revocation and Counteroffer
p. 53
Unfairness and Unconscionability
p. 81
Traditional Elements: Duress, Incapacity and Misrepresentation
p. 81
Standardized Forms and Unconscionability
p. 92
Contract Interpretation: Parol Evidence; Trade Usage; Gap Fillers
p. 101
The Parol Evidence Rule
p. 104
Trade Usage
p. 111
Filling the Gaps: "Best Efforts" and Other Flexible Commitments
p. 114
Performance and Breach
p. 124
Conditions
p. 130
Problems of Performance
p. 141
Mistake and Impossibility
p. 166
Mistake and Impracticability
p. 166
Impossibility and Frustration
p. 177
Remedies
p. 189
Expectation Damages
p. 189
Limitations on Expectation Damages
p. 198
Reliance and Restitution
p. 216
Liquidated Damages
p. 230
Third Party Beneficiaries
p. 236
Afterword
p. 246
Table of Cases
p. 249
Index
p. 253
Table of Contents provided by Ingram. All Rights Reserved.