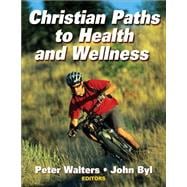 List Price: $39.00

More New and Used
from Private Sellers
Summary
Most Christian college instructors have taught health and wellness from books that are not God-centered, simply because they have had no choice. Thanks to the development of Christian Paths to Health and Wellness,instructors can empower students to take responsibility and initiative for their own health, fitness, and wellness as part of their daily liveswhile offering that instruction in a Christian context.Driven by 1 Corinthians 3:16 ("Don't you know that you yourselves are God's temple and that God's Spirit lives in you?"), this practical text is based on sound, cutting-edge scientific research and Christian principles. As such, it provides an exciting new approach to teaching health and wellness to help meet part of the Christian college mission. Students will glean these benefits from the text:-A solid foundation in health and wellness theory and research-Multiple Christian perspectives that create a balanced approach to health and wellness across a broad spectrum of Christian beliefs-Study aids, including vocabulary lists, glossary definitions, chapter-opening objectives, and chapter-ending questions, which foster learning and application of the materialIn addition, Christian Paths to Health and Wellnesscomes with many instructional aids that are free to course adopters, including Web support with sample course syllabi, a presentation package, and a test package. These aids will help instructors streamline their preparation time while teaching and managing their courses.Written by six contributing experts and edited by two highly respected Christian college instructors, this book stems from the contributors'own experiences in meeting the challenges of teaching in today's Christian colleges. It includes point/counterpoint discussions examining issues students face today, and it provides hope, practical tools and methods for change, and a comprehensiveness that enables students to make gradual and significant permanent change through the wisdom of education and the power of the Holy Spirit.The book focuses on four major themes: how we are made, how we are made to move, how we are to be nourished, and how we are to behave in restful ways. In part I, students are introduced to biblical reasons to value their wellness and examine God's purpose and their own life's mission. They explore body image, eating disorders, and weight management in part II. In part III, students learn about the basics of fitness, including cardiorespiratory, muscular, and flexibility assessment and training. Part IVfocuses on nutritional and emotional health and wellness and also looks at wellness as it relates to sleep habits and personal relationships. Part Vencourages students to develop a comprehensive strategy to maintain personal wellness in a relationship with God.Through Christian Paths to Health and Wellness,students will learn about and practice making choices that have positive effects on their lifelong fitness and wellness. Students will become aware of physical wellness issues and develop a passion for proactive and permanent lifestyle changes. And they will do it all with a God-centered approach.
Table of Contents
Preface
Acknowledgments
Understanding Your Wellness and Mission
Valuing Wellness
Creation
Fall
Redemption
Fulfillment
Next Steps
Learning Tools
God's Purpose and Your Life's Mission
God's Mission
Making God's Purposes Your Purposes
Pressures That Shape Life's Mission
Your Mission Statement
Goals for the Journey
Next Steps
Learning Tools
Accepting and Caring for Your Body
Examining Body Image and Eating Disorders in Women and Men
Introduction to Dieting, Weight Preoccupation, and Body Image
What Are Eating Disorders?
How Prevalent Are Eating Disorders?
What Causes Eating Disorders?
What God Wants for People
Recovery From an Eating Disorder
Next Steps
Learning Tools
Weight Control
State the Goal
Assess Your Present Lifestyle
Design a Specific Plan
Predict Obstacles
Plan Intervention Strategies
Assess Compliance With the Plan
Assess Progress of Your Overall Goal
Next Steps
Learning Tools
Moving Your Body
Cardiorespiratory Assessment and Training
Setting the Bar: Primary and Secondary Goals
Benefiting From Cardiorespiratory Exercise
Understanding the Three Energy Systems
Evaluating Cardiorespiratory Endurance
Discouraged After Your Aerobic Assessment? Consider This...
Outlining an Aerobic Exercise Prescription
Sample Cardiorespiratory Fitness Programs
Next Steps
Learning Tools
Muscular Strength Assessment and Training
Setting the Bar
Benefits of Strength Training
Assessing Muscular Strength
Strength: Encouragement and Possibilities
Basic Muscle Anatomy
Types of Strength Training
Three-Phase Strength-Training Program
Safety in Strength Training
Next Steps
Learning Tools
Flexibility Assessment and Training
What Is Flexibility?
Factors That Affect Flexibility
Importance of Flexibility
How Much Flexibility Is Enough?
Assessing Your Flexibility
Improving and Maintaining Your Flexibility
Next Steps
Learning Tools
Understanding Your Behaviors
Nutritional Health and Wellness
The Digestive System
Six Major Nutrient Groups
Canadian Food Guide
Vegetarian Alternative
Next Steps
Learning Tools
Emotional Health and Wellness
Stress and the Mind-Body Connection
Pros and Cons of Stress
When Stress Turns Ugly
Depression
Happiness and Life Satisfaction
Next Steps
Learning Tools
Sleep Habits and Wellness
Chronic Sleep Deprivation
Sleep Thieves
Are You Sleep Deprived?
The Effects of Sleep Deprivation
The Architecture of Sleep
How Much Sleep Do You Need?
How to Sleep Like a Log
Next Steps
Learning Tools
Personal Relationships and Wellness
Value of Relationships
Digging Deeper
Personality
Values
Spiritual Gifts
Your SHAPE
Healthy Relationships and Healthy Bodies
Next Steps
Learning Tools
Conclusion
Offering Your Life as a Living Sacrifice
Tools for Achieving Wellness
Seven Steps to Wellness
Next Steps
Learning Tools
Guide for Family and Friends of a Person With Food and Weight Problems
Questionnaires on Eating Behaviors
Strength-Training Program
Glossary
Index
About the Editors
About the Contributors
Table of Contents provided by Publisher. All Rights Reserved.