Note: Supplemental materials are not guaranteed with Rental or Used book purchases.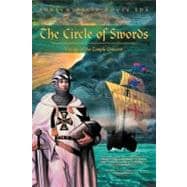 Summary
The year is 1127 and the Knights Templar in the Holy Land have discovered the riches of King Solomon, King David & Christendom. A single Templar Vessel named the 'Temple Unicorn' is despatched from Dundee in Scotland to the port of Acre in the Holy Land - with an armed guard of fifteen Cistercian Templars to procure the treasures and return many significant pieces to their new Knight custodians across middle Europe and central Asia. The Temple Unicorn embarks on her journey under a blanket of the most ultimate secrecy as the Vessel's Captain Kyle Wishart draws on his sea skills and military tactical knowledge in order to evade potential sea pirates and unscrupulous Kings that are desperate to acquire the biblical booty. The work comprises of a comprehensive overview of the Order which seamlessly blends into an intriguing storyline, leaving the reader to consider whether or not the journey actually took place.
Excerpts
Chapter One The 'Novus' Conclave – opening storyline. Hugues De Payen took a few deliberate steps across the open square of the small village, as he began drawing his sword he took a single deep breath and waited for a convenient juncture before sinking the heavy steel deep into the chest cavity of the now not so brave and cowardly squealing rapist.. The shock of horror was emblazoned on the face of the perpetrator coupled with the presence of a cold fear lasting no longer than five quick seconds before the perverted deviant realised he had been 'run through' with a two foot long cold blade constructed from the best Damascus steel. A strike that had been delivered swiftly and cleanly by a new enemy from within the sandy walls of Acre, the 'Templar.' De Payen paused for reflection and captured the moment as a snapshot in his minds eye, momentarily committing yet another soul to what was becoming quite a library of death by his physical intervention on behalf of Christendom, having only a few minutes earlier was witnessing his victim's active participation in a diabolical act of gang rape and theft towards a young woman barely in her teens. The girl in this case the victim who would have certainly been left her for dead if it had not been for the gang being disturbed by the sound of horse hooves nearby, and by the gang's arrogance or ignorance they would end up leaving the poor girl traumatised distressed and often pregnant and left disoriented in her own world destined to become an outcast. The Knight had already dispensed his understanding of balance of power and justice towards two other offenders of the gang who lay not too far away from the girl with similar mortal wounds, both wallowing in pools of their own blood. His interpretation of Augustine rule, often brought on by his self imposed guilt, in an effort as to question himself in determining how far does a pseudo Monk and soldier extend his capabilities in protecting those unfortunates. The authority to deliver justice on behalf of those who are more vulnerable or exposed to tyranny within this turbulent society, a self imposed rule to keep order outwith the failing laws of the land. After yet another brief lapse in time he concluded the ultimate price of death in this case does indeed deliver justice on behalf of the urchin. Having removed his sword from an adjacent corpse Andre' Montbard, took a step forward leaned over the corpse and removed a blue silken purse from the blood stained robes and quizzed the curved knife tucked into the belt of the corpse. Montbard handed the pouch to the maiden, who instantly grabbed the bag, squealed some distorted phrase in Arabic and took flight heading towards the outer walls of the village, leaving her dusty and well worn sandals behind. 'Do you think, they will ever thank us for our efforts? he said sliding his steel blade back into it's leather sheath and began brushing himself down. 'Not likely my friend. Came the reply from De Payen. 'This girl might remember us though, but it's only a matter of time before it happens again, unruly bastards these infidel.' He replied pointing to the street urchin running off in the distance. 'I would think in her case just because she is still alive, these people have no idea why we are here Andre, and let's face it, they don't give a toss either, do you think they really want us to get involved in their internal politics, I think if you ask them they would all say no and tell us to leave the Holy Land.