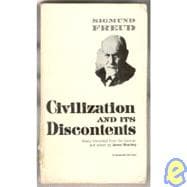 Civilization & Its Discontents (Std)
by
Freud
Summary
During the summer of 1929, Freud worked on what became this seminal volume of twentieth-century thought.
Table of Contents
Editor's Introduction: Das Unbehagen in Der Kultur
p. 3
Civilization and Its Discontents
p. 11
Bibliography and Author Index
p. 95
General Index
p. 103
Table of Contents provided by Publisher. All Rights Reserved.