Note: Supplemental materials are not guaranteed with Rental or Used book purchases.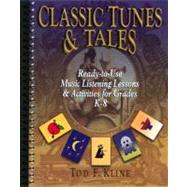 Classic Tunes and Tales : Ready-to-Use Music Listening Lessons and Activities for Grades K-8
ISBN13:
9780137626830
by
Kline, Tod F.
Summary
These lessons build students' interest and appreciation of classical music while developing their knowledge of the basic elements of music. The lessons include well-known melodies selected from the works of the greatest composers in history as well as interesting stories about the work or its composer, and fun and engaging activities and games that reinforce the lesson themes.
Table of Contents
About Classic Tunes & Tales
iii
LEVEL I (Grade Levels: K-2)
1
(52)
2
(5)

| | |
| --- | --- |
| | Lesson Plan (recognizing the William Tell Overture theme and story) |

2
(1)
3
(1)

| | |
| --- | --- |
| | Musical Excerpt from William Tell Overture |

4
(1)

| | |
| --- | --- |
| | Story Sequence Activity Page |

5
(1)
6
(1)
7
(6)

| | |
| --- | --- |
| | Lesson Plan (recognizing fast, happy, and lively music) |

7
(1)

| | |
| --- | --- |
| | Story of Eine Kleine Nacht Musik |

8
(1)

| | |
| --- | --- |
| | Musical Excerpt from Eine Kleine Nacht Musik |

9
(1)

| | |
| --- | --- |
| | Listening Examples of Fast/Slow |

10
(1)

| | |
| --- | --- |
| | Listening Examples of Sad/Happy |

11
(1)

| | |
| --- | --- |
| | Tempo & Mood Listening Activity Page |

12
(1)
13
(4)

| | |
| --- | --- |
| | Lesson Plan (recognizing and performing long and short rhythms XXX, XXX) |

13
(1)

| | |
| --- | --- |
| | Story of The "Surprise" Symphony |

14
(1)

| | |
| --- | --- |
| | Musical Excerpt from The "Surprise" Symphony |

15
(1)

| | |
| --- | --- |
| | Count & Play Rhythm Activity Page |

16
(1)
17
(4)

| | |
| --- | --- |
| | Lesson Plan (recognizing and performing long and short rhythms XXX, XXX) |

17
(1)
18
(1)

| | |
| --- | --- |
| | Musical Excerpt from Fire Bird |

19
(1)
20
(1)
21
(4)

| | |
| --- | --- |
| | Lesson Plan (recognizing and performing the tempo of slow) |

21
(1)
22
(1)

| | |
| --- | --- |
| | Musical Excerpt from Don Giovanni |

23
(1)

| | |
| --- | --- |
| | Don Giovanni Dot-to-Dot Activity Page |

24
(1)

| | |
| --- | --- |
| | CLASSIC TUNES LEVEL I CHECK-UP |

25
(3)

| | |
| --- | --- |
| | Tune Cards (reproducible) |

26
(1)

| | |
| --- | --- |
| | Tune Cards (reproducible) |

27
(1)
28
(5)

| | |
| --- | --- |
| | Lesson Plan (performing and identifying musical phrases) |

28
(1)

| | |
| --- | --- |
| | Story of Ode to Joy, Symphony No. 9 |

29
(1)

| | |
| --- | --- |
| | Musical Excerpt from Ode to Joy |

30
(1)

| | |
| --- | --- |
| | Musical Phrases Activity Page |

31
(1)
32
(1)
33
(5)

| | |
| --- | --- |
| | Lesson Plan (recognizing the term and tempo "adagio") |

33
(1)
34
(1)

| | |
| --- | --- |
| | Musical Excerpt from Adagio, Symphony No. 1 |

35
(1)

| | |
| --- | --- |
| | Adagio Listening Examples |

36
(1)

| | |
| --- | --- |
| | Adagio Tempo Activity Page |

37
(1)
38
(5)

| | |
| --- | --- |
| | Lesson Plan (recognizing the difference between Major and Minor) |

38
(1)
39
(1)

| | |
| --- | --- |
| | Musical Excerpt from Swan Lake |

40
(1)

| | |
| --- | --- |
| | Swan Lake Bright/Dark Examples |

41
(1)

| | |
| --- | --- |
| | Major/Minor Listening Activity Page |

42
(1)
43
(4)

| | |
| --- | --- |
| | Lesson Plan (distinguishing low and high melodic direction) |

43
(1)

| | |
| --- | --- |
| | Story of Peer Gynt (Suite No. 1) |

44
(1)

| | |
| --- | --- |
| | Musical Excerpt from Peer Gynt, Suite No. 1, "Morning" |

45
(1)

| | |
| --- | --- |
| | High and Low Listening Activity Page |

46
(1)
47
(4)

| | |
| --- | --- |
| | Lesson Plan (reading and performing meter in 3) |

47
(1)
48
(1)

| | |
| --- | --- |
| | Musical Excerpt from Little Minuet |

49
(1)
50
(1)

| | |
| --- | --- |
| | CLASSIC TUNES LEVEL I TEST |

51
(2)

| | |
| --- | --- |
| | Classic Tunes Level I Tunes Test Directions |

51
(1)

| | |
| --- | --- |
| | Classic Tunes Level I Tunes Test Activity Page |

52
(1)
LEVEL II (Grade Levels: 2-3)
53
(62)
54
(9)

| | |
| --- | --- |
| | Lesson Plan (learning steps and skips in music) |

54
(1)
55
(1)

| | |
| --- | --- |
| | Musical Excerpt from The Trout |

56
(1)
57
(1)
58
(1)
59
(1)
60
(1)
61
(1)

| | |
| --- | --- |
| | Steps and Skips Activity Page |

62
(1)
63
(5)

| | |
| --- | --- |
| | Lesson Plan (recognizing the trumpet as a brass instrument) |

63
(1)

| | |
| --- | --- |
| | Story of Trumpet Voluntary |

64
(1)

| | |
| --- | --- |
| | Musical Excerpt from Trumpet Voluntary |

65
(1)

| | |
| --- | --- |
| | Trumpet/Brass Family Activity Page |

66
(1)
67
(1)
68
(4)

| | |
| --- | --- |
| | Lesson Plan (learning first and second endings XXX) |

68
(1)
69
(1)

| | |
| --- | --- |
| | Musical Excerpt from Happy Farmer |

70
(1)

| | |
| --- | --- |
| | First and Second Endings Activity Page |

71
(1)
72
(6)

| | |
| --- | --- |
| | Lesson Plan (learning the instrument families of the symphony orchestra) |

72
(1)

| | |
| --- | --- |
| | Story of the Fifth Symphony |

73
(1)

| | |
| --- | --- |
| | Musical Excerpt from the Fifth Symphony |

74
(1)

| | |
| --- | --- |
| | Instrument Families Activity Page |

75
(1)
76
(1)
77
(1)
78
(6)

| | |
| --- | --- |
| | Lesson Plan (learning to read and perform dynamics) |

78
(1)
79
(1)

| | |
| --- | --- |
| | Musical Excerpt from Symphony No. 2 |

80
(1)
81
(1)
82
(1)

| | |
| --- | --- |
| | Loud and Soft Activity Page |

83
(1)

| | |
| --- | --- |
| | CLASSIC TUNES LEVEL II LISTENING QUIZ (Teacher's Edition) |

84
(1)

| | |
| --- | --- |
| | CLASSIC TUNES LEVEL II LISTENING QUIZ ACTIVITY PAGE |

85
(1)
86
(4)

| | |
| --- | --- |
| | Lesson Plan (learning to perform a canon through use of a repeat sign XXX) |

86
(1)
87
(1)

| | |
| --- | --- |
| | Musical Excerpt from Canon in D |

88
(1)
89
(1)
90
(5)

| | |
| --- | --- |
| | Lesson Plan (performing the rhythms XXX) |

90
(1)
91
(1)

| | |
| --- | --- |
| | Musical Excerpt from Rodeo (Hoedown) |

92
(1)
93
(1)
94
(1)
95
(4)

| | |
| --- | --- |
| | Lesson Plan (learning the music and concepts of the ballet) |

95
(1)
96
(1)

| | |
| --- | --- |
| | Musical Excerpt from The Nutcracker |

97
(1)

| | |
| --- | --- |
| | The Ballets Activity Page |

98
(1)
99
(6)

| | |
| --- | --- |
| | Lesson Plan (learning the note values whole note, half note, and quarter note) |

99
(1)

| | |
| --- | --- |
| | Story of Fantasie-Impromptu |

100
(1)

| | |
| --- | --- |
| | Musical Excerpt from Fantasie-Impromptu |

101
(1)
102
(1)
103
(1)

| | |
| --- | --- |
| | Note Values Activity Page |

104
(1)
105
(8)

| | |
| --- | --- |
| | Lesson Plan (learning the tempo of largo) |

105
(1)
106
(1)

| | |
| --- | --- |
| | Musical Excerpt from "Largo," New World Symphony No. 9 |

107
(1)
108
(1)
109
(1)

| | |
| --- | --- |
| | Music Crossword Puzzle Answer Key |

110
(1)

| | |
| --- | --- |
| | Classic Tunes & Tales Composers Wordsearch No. 1 |

111
(1)

| | |
| --- | --- |
| | Classic Tunes & Tales Composers Wordsearch No. 1 Answer Key |

112
(1)

| | |
| --- | --- |
| | CLASSIC TUNES LEVEL II TEST |

113
(2)

| | |
| --- | --- |
| | Level II TUNES Test Activity Page |

114
(1)
LEVEL III (Grade Levels 3-4)
115
(54)
116
(6)

| | |
| --- | --- |
| | Lesson Plan (learning to read tonal notation) |

116
(1)

| | |
| --- | --- |
| | Story of the Hallelujah Chorus |

117
(1)

| | |
| --- | --- |
| | Musical Excerpt from Hallelujah Chorus |

118
(1)
119
(1)

| | |
| --- | --- |
| | Letter Names Activity Page |

120
(1)
121
(1)

| | |
| --- | --- |
| | Lesson Plan (learning to recognize the tempo "allegro" and the terms "ritardando" and "a tempo") |

122
(1)

| | |
| --- | --- |
| | Story of The Four Seasons |

123
(1)

| | |
| --- | --- |
| | Musical Excerpt from The Four Seasons |

124
(1)
125
(1)
126
(1)
127
(1)

| | |
| --- | --- |
| | Ritardando/A Tempo Activity Page |

128
(1)
129
(4)

| | |
| --- | --- |
| | Lesson Plan (identifying and performing the term and tempo of moderato) |

129
(1)
130
(1)

| | |
| --- | --- |
| | Musical Excerpt from Rigoletto |

131
(1)
132
(1)
133
(5)

| | |
| --- | --- |
| | Lesson Plan (identifying the tempo of presto) |

133
(1)
134
(1)

| | |
| --- | --- |
| | Musical Excerpt from Can-Can |

135
(1)
136
(1)
137
(1)
138
(4)

| | |
| --- | --- |
| | Lesson Plan (learning the term concerto) |

138
(1)

| | |
| --- | --- |
| | Story of Concerto in E Minor |

139
(1)

| | |
| --- | --- |
| | Musical Excerpt from Concerto in E Minor |

140
(1)
141
(1)

| | |
| --- | --- |
| | CLASSIC TUNES LEVEL III QUIZ |

142
(1)
143
(5)

| | |
| --- | --- |
| | Lesson Plan (recognizing 4/4 meter) |

143
(1)

| | |
| --- | --- |
| | Story of the Toreador Song |

144
(1)

| | |
| --- | --- |
| | Musical Excerpt from the Toreader Song |

145
(1)
146
(1)

| | |
| --- | --- |
| | Meter/Time Signature Activity Page |

147
(1)

| | |
| --- | --- |
| | STARS AND STRIPES FOREVER |

148
(5)

| | |
| --- | --- |
| | Lesson Plan (recognizing and naming a sharp XXX) |

148
(1)

| | |
| --- | --- |
| | Story of Stars and Stripes Forever |

149
(1)

| | |
| --- | --- |
| | Musical Excerpt from Stars and Stripes Forever |

150
(1)

| | |
| --- | --- |
| | Sharp-Flat-Natural Cards Page |

151
(1)
152
(1)
153
(5)

| | |
| --- | --- |
| | Lesson Plan (demonstrating a sharp on a keyboard) |

153
(1)
154
(1)

| | |
| --- | --- |
| | Musical Excerpt from Scheherazade |

155
(1)

| | |
| --- | --- |
| | Keyboard Activity Page (Teacher's Edition) |

156
(1)
157
(1)
158
(4)

| | |
| --- | --- |
| | Lesson Plan (learning the symbols flat XXX and natural XXX) |

158
(1)

| | |
| --- | --- |
| | Story of Till Eulenspiegel |

159
(1)

| | |
| --- | --- |
| | Musical Excerpt from Till Eulenspiegel |

160
(1)

| | |
| --- | --- |
| | Playing the Keyboard Activity Page |

161
(1)
162
(5)

| | |
| --- | --- |
| | Lesson Plan (learning the articulations slur, staccato, and legato) |

162
(1)

| | |
| --- | --- |
| | Story of Symphonie-Fantastique |

163
(1)

| | |
| --- | --- |
| | Musical Excerpt from Symphonie-Fantastique |

164
(1)
165
(1)

| | |
| --- | --- |
| | Articulation Activity Page |

166
(1)

| | |
| --- | --- |
| | CLASSIC TUNES LEVEL III TEST |

167
(2)
LEVEL IV (Grade Levels 4-8)
169
(62)
170
(6)

| | |
| --- | --- |
| | Lesson Plan (learning to differentiate between Major and Minor) |

170
(1)
171
(1)

| | |
| --- | --- |
| | Musical Excerpt from Little Fugue in G Minor |

172
(1)
173
(1)

| | |
| --- | --- |
| | Major/Minor Activity Page |

174
(1)

| | |
| --- | --- |
| | Major/Minor Tonality Listening Page |

175
(1)
176
(5)

| | |
| --- | --- |
| | Lesson Plan (learning the rhythm XXX, XXX) |

176
(1)

| | |
| --- | --- |
| | Story of the Emperor's String Quartet |

177
(1)

| | |
| --- | --- |
| | Musical Excerpt from Emperor's String Quartet |

178
(1)
179
(1)
180
(1)
181
(5)

| | |
| --- | --- |
| | Lesson Plan (learning the rhythm XXX) |

181
(1)
182
(1)

| | |
| --- | --- |
| | Musical Excerpt from Finlandia |

183
(1)
184
(1)
185
(1)
186
(6)

| | |
| --- | --- |
| | Lesson Plan (identifying composers with their country) |

186
(1)

| | |
| --- | --- |
| | Story of Rhapsody in Blue |

187
(1)

| | |
| --- | --- |
| | Musical Excerpt from Rhapsody in Blue |

188
(1)
189
(1)
190
(1)

| | |
| --- | --- |
| | Map of the U.S. and Europe |

191
(1)
192
(5)

| | |
| --- | --- |
| | Lesson Plan (learning the musical form minuet) |

192
(1)
193
(1)

| | |
| --- | --- |
| | Musical Excerpt from Minuet in G |

194
(1)
195
(1)
196
(1)

| | |
| --- | --- |
| | CLASSIC TUNES LEVEL IV QUIZ |

197
(1)
198
(6)

| | |
| --- | --- |
| | Lesson Plan (learning terms and parts of an opera) |

198
(1)

| | |
| --- | --- |
| | Story of The Barber of Seville |

199
(1)

| | |
| --- | --- |
| | Musical Excerpt from The Barber of Seville |

200
(1)
201
(1)
202
(1)

| | |
| --- | --- |
| | Opera Terms Activity Page |

203
(1)
204
(6)

| | |
| --- | --- |
| | Lesson Plan (learning the rhythm XXX) |

204
(1)
205
(1)

| | |
| --- | --- |
| | Musical Excerpt from Wedding Chorus (Lohengrin) |

206
(1)
207
(1)

| | |
| --- | --- |
| | Rhythm Activity Page (Teacher's Edition) |

208
(1)
209
(1)
210
(5)

| | |
| --- | --- |
| | Lesson Plan (learning the different voice ranges and terms) |

210
(1)
211
(1)

| | |
| --- | --- |
| | Musical Excerpt from Il Trovatore |

212
(1)

| | |
| --- | --- |
| | Voice Page (Voices and Terms) |

213
(1)

| | |
| --- | --- |
| | Voice Terms Activity Page |

214
(1)
215
(5)

| | |
| --- | --- |
| | Lesson Plan (learning the triplet rhythm XXX) |

215
(1)
216
(1)

| | |
| --- | --- |
| | Musical Excerpt from Aida (Triumphal March) |

217
(1)
218
(1)

| | |
| --- | --- |
| | Triplet Rhythm Activity Page |

219
(1)
220
(8)

| | |
| --- | --- |
| | Lesson Plan (learning the dotted note concept) |

220
(1)
221
(1)

| | |
| --- | --- |
| | Musical Except from Symphony No. 40 |

222
(1)
223
(1)

| | |
| --- | --- |
| | Dotted-Note Rhythm Card Page |

224
(1)

| | |
| --- | --- |
| | Dotted-Note Activity Page |

225
(1)
226
(1)

| | |
| --- | --- |
| | Opera Wordsearch Answer Key |

227
(1)

| | |
| --- | --- |
| | CLASSIC TUNES LEVEL IV TEST (Teacher's Edition) |

228
(1)

| | |
| --- | --- |
| | CLASSIC TUNES LEVEL IV TEST |

229
(2)
LEVEL V (Grade Levels 5-8)
231
(82)
232
(4)

| | |
| --- | --- |
| | Lesson Plan (identifying the pick-up note) |

232
(1)

| | |
| --- | --- |
| | Story of La Gioconda (Dance of the Hours) |

233
(1)

| | |
| --- | --- |
| | Musical Excerpt from La Gioconda |

234
(1)

| | |
| --- | --- |
| | Pick-Up Note Activity Page |

235
(1)
236
(14)

| | |
| --- | --- |
| | Lesson Plan (learning the terms for music forms: nocturne, serenade, rondo, fugue, theme and variations, and suite) |

236
(1)
237
(1)

| | |
| --- | --- |
| | Musical Excerpt from Liebestraum |

238
(1)
239
(1)
240
(1)
241
(1)
242
(1)

| | |
| --- | --- |
| | Form Page: Theme and Variations |

243
(1)
244
(1)

| | |
| --- | --- |
| | Form Shape Page: Triangle |

245
(1)
246
(1)
247
(1)
248
(1)

| | |
| --- | --- |
| | Music Forms Activity Page |

249
(1)
250
(5)

| | |
| --- | --- |
| | Lesson Plan (learning the quarter note triplet XXX) |

250
(1)

| | |
| --- | --- |
| | Story of Meditation (Thais) |

251
(1)

| | |
| --- | --- |
| | Musical Excerpt from Meditation |

252
(1)

| | |
| --- | --- |
| | Rhythm Card: Quarter Note Triplet |

253
(1)

| | |
| --- | --- |
| | Quarter-Note Triplet Activity Page |

254
(1)
255
(10)

| | |
| --- | --- |
| | Lesson Plan (learning the meter of 6/8) |

255
(1)
256
(1)

| | |
| --- | --- |
| | Musical Excerpt from The Moldau (My Fatherland) |

257
(1)
258
(1)

| | |
| --- | --- |
| | Rhythm Card: Dotted Quarter Rest |

259
(1)

| | |
| --- | --- |
| | Rhythm Card: Quarter Rest |

260
(1)

| | |
| --- | --- |
| | Rhythm Card: Eighth-Note Triplet |

261
(1)
262
(1)
263
(1)
264
(1)

| | |
| --- | --- |
| | TALES FROM THE VIENNA WOODS |

265
(5)

| | |
| --- | --- |
| | Lesson Plan (learning 3/8 meter) |

265
(1)

| | |
| --- | --- |
| | Story of Tales from the Vienna Woods |

266
(1)

| | |
| --- | --- |
| | Musical Excerpt from Tales from the Vienna Woods |

267
(1)
268
(1)
269
(1)

| | |
| --- | --- |
| | CLASSIC TUNES LEVEL V QUIZ (Teacher's Edition) |

270
(1)

| | |
| --- | --- |
| | CLASSIC TUNES LEVEL V QUIZ |

271
(1)
272
(5)

| | |
| --- | --- |
| | Lesson Plan (learning duple, triple and compound meters) |

272
(1)

| | |
| --- | --- |
| | Story of the Unfinished Symphony |

273
(1)

| | |
| --- | --- |
| | Musical Excerpt from the Unfinished Symphony (No. 8) |

274
(1)
275
(1)
276
(1)
277
(7)

| | |
| --- | --- |
| | Lesson Plan (learning about the Baroque and Renaissance Periods of music) |

277
(1)

| | |
| --- | --- |
| | Story of the Water Music Suite |

278
(1)

| | |
| --- | --- |
| | Musical Excerpt from the Water Music Suite |

279
(1)
280
(1)
281
(1)
282
(1)

| | |
| --- | --- |
| | Music Periods Activity Page |

283
(1)
284
(7)

| | |
| --- | --- |
| | Lesson Plan (learning about the Classical and Romantic periods) |

284
(1)

| | |
| --- | --- |
| | Story of La Traviata (The Wayward Woman) |

285
(1)

| | |
| --- | --- |
| | Musical Excerpt from La Traviata |

286
(1)
287
(1)
288
(1)

| | |
| --- | --- |
| | Classical and Romantic Periods Comparison |

289
(1)
290
(1)
291
(5)

| | |
| --- | --- |
| | Lesson Plan (learning about the Impressionist and Modern/Contemporary Periods) |

291
(1)
292
(1)

| | |
| --- | --- |
| | Musical Excerpt from Bolero |

293
(1)

| | |
| --- | --- |
| | Impressionist/Modern Facts Page |

294
(1)

| | |
| --- | --- |
| | Music Period Descriptions |

295
(1)
296
(15)

| | |
| --- | --- |
| | Lesson Plan (recognizing key signatures) |

296
(1)

| | |
| --- | --- |
| | Story of Grand Canyon Suite |

297
(1)

| | |
| --- | --- |
| | Musical Excerpt from Grand Canyon Suite |

298
(1)
299
(1)
300
(1)

| | |
| --- | --- |
| | Key Signature Cards: D and G |

301
(1)

| | |
| --- | --- |
| | Key Signature Cards: A and E |

302
(1)
303
(1)
304
(1)

| | |
| --- | --- |
| | Key Signature Cards: F and B(b) |

305
(1)

| | |
| --- | --- |
| | Key Signature Cards: E(b) and A(b) |

306
(1)
307
(1)
308
(1)
309
(1)

| | |
| --- | --- |
| | Key Signatures Song Search Page |

310
(1)

| | |
| --- | --- |
| | CLASSIC TUNES LEVEL V TEST (Teacher's Edition) |

311
(1)

| | |
| --- | --- |
| | CLASSIC TUNES LEVEL V TEST |

312
(1)
SUPPLEMENTARY MATERIALS
313
(28)

| | |
| --- | --- |
| | CLASSIC TUNES FOR THE RECORDER |

314
(2)

| | |
| --- | --- |
| | "Surprise" Symphony, Ode to Joy, Fire Bird, Trumpet Voluntary |

314
(1)

| | |
| --- | --- |
| | The Trout, Canon, Fantasie-Impromptu, Largo |

315
(1)

| | |
| --- | --- |
| | CLASSIC TUNES & TALES GAMES |

316
(2)
316
(1)
316
(1)

| | |
| --- | --- |
| | Classic Tune Detective Agency |

316
(1)
317
(1)

| | |
| --- | --- |
| | CLASSIC TUNES & TALES GAME SHOW |

318
(4)

| | |
| --- | --- |
| | Sample Game Show Questions |

319
(1)
320
(1)

| | |
| --- | --- |
| | Game Show Blank Question Grid |

321
(1)

| | |
| --- | --- |
| | CLASSIC TUNES & TALES WORDSEARCH |

322
(12)

| | |
| --- | --- |
| | Classic Tunes Ballet Wordsearch |

322
(1)

| | |
| --- | --- |
| | Classic Tunes Ballet Wordsearch Answer Key |

323
(1)

| | |
| --- | --- |
| | Classic Tunes & Tales Composers Wordsearch No. 2 |

324
(1)

| | |
| --- | --- |
| | Classic Tunes & Tales Composers Wordsearch No. 2 Answer Key |

325
(1)

| | |
| --- | --- |
| | Classic Tunes & Tales Composers Wordsearch No. 3 |

326
(1)

| | |
| --- | --- |
| | Classic Tunes & Tales Composers Wordsearch No. 3 Answer Key |

327
(1)

| | |
| --- | --- |
| | Classic Tunes Music Forms Wordsearch |

328
(1)

| | |
| --- | --- |
| | Classic Tunes Music Forms Wordsearch Answer Key |

329
(1)

| | |
| --- | --- |
| | Classic Tunes Instruments Wordsearch |

330
(1)

| | |
| --- | --- |
| | Classic Tunes Instruments Wordsearch Answer Key |

331
(1)

| | |
| --- | --- |
| | Musical Terms & Symbols Wordsearch |

332
(1)

| | |
| --- | --- |
| | Musical Terms & Symbols Wordsearch Answer Key |

333
(1)

| | |
| --- | --- |
| | CLASSIC TUNES DECORATE-AND-COLOR PAGES |

334
(3)

| | |
| --- | --- |
| | Decorate and Color Page (Notes) |

334
(1)

| | |
| --- | --- |
| | Decorate and Color Page (Notes and Symbols) |

335
(1)

| | |
| --- | --- |
| | Dot-to-Dot and Color Page |

336
(1)

| | |
| --- | --- |
| | CLASSIC TUNES & TALES HISTORICAL TIMELINE |

337
(1)

| | |
| --- | --- |
| | CLASSIC TUNES BULLETIN BOARD PLANS |

338
(3)

| | |
| --- | --- |
| | 1. Composers and Their Music (Display #1) |

339
(1)

| | |
| --- | --- |
| | 2. Symbols in Music (Display #2) |

339
(1)

| | |
| --- | --- |
| | 3. Fifth Graders Writing About Mozart (Display #3) |

339
(1)

| | |
| --- | --- |
| | 4. Music Taking Form (Display #4) |

339
(1)

| | |
| --- | --- |
| | 5. Who Composed This? (Display #5) |

340
(1)

| | |
| --- | --- |
| | 6. Music in History (Display #6) |

340
(1)

| | |
| --- | --- |
| | 7. Composers Around the World (Display 7) |

340
(1)

| | |
| --- | --- |
| | 8. Who's Who? (Display #8) |

340
(1)
CLASSIC TUNES & TALES LESSON OBJECTIVES/REFERENCE PAGE
341