Note: Supplemental materials are not guaranteed with Rental or Used book purchases.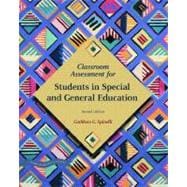 Questions About This Book?
Why should I rent this book?
Renting is easy, fast, and cheap! Renting from eCampus.com can save you hundreds of dollars compared to the cost of new or used books each semester. At the end of the semester, simply ship the book back to us with a free UPS shipping label! No need to worry about selling it back.
How do rental returns work?
Returning books is as easy as possible. As your rental due date approaches, we will email you several courtesy reminders. When you are ready to return, you can print a free UPS shipping label from our website at any time. Then, just return the book to your UPS driver or any staffed UPS location. You can even use the same box we shipped it in!
What version or edition is this?
This is the 2nd edition with a publication date of 1/1/2006.
What is included with this book?
The Used copy of this book is not guaranteed to include any supplemental materials. Typically, only the book itself is included.
The Rental copy of this book is not guaranteed to include any supplemental materials. You may receive a brand new copy, but typically, only the book itself.
Related Products
Summary
Written for future teachers and experienced educators, Classroom Assessment for Students in Special and General Education, second edition provides the skills needed to effectively use assessment, particularly informal assessment, in understanding the needs of the whole student. The primary book on classroom assessment procedures is now revised with the latest in authentic, curriculum and performance-based assessment measures with direct connections to instruction, IEP development, and reporting to parents. The focus is on providing teachers with a variety of assessment procedures, the why, what and how of testing, directions on how to construct, administer, score, interpret, graph, monitor, write, and report assessment results. General K-12 Inservice Teachers.
Table of Contents
| | |
| --- | --- |
| | PART 1 Overview of the Assessment Process |

1
(120)

| | |
| --- | --- |
| | The Process of Assessment: The Role of the Teacher |

2
(42)

| | |
| --- | --- |
| | Introduction to the Process of Assessment |

4
(2)

| | |
| --- | --- |
| | Section 1: The Prereferral Process |

6
(7)
6
(1)

| | |
| --- | --- |
| | Individual Screening Procedures |

6
(1)

| | |
| --- | --- |
| | Group Screening Procedures |

7
(1)

| | |
| --- | --- |
| | Preschool and Kindergarten Screening for Students ``At-Risk'' |

7
(1)

| | |
| --- | --- |
| | Early Intervening Services |

7
(3)

| | |
| --- | --- |
| | Section 504 of the Rehabilitation Act |

10
(3)

| | |
| --- | --- |
| | Section 2: The Referral and Classification Process |

13
(14)

| | |
| --- | --- |
| | Initiating the Referral Process |

13
(1)

| | |
| --- | --- |
| | Parental Safeguards and Protections |

14
(1)

| | |
| --- | --- |
| | Gathering Information for the Referral |

15
(2)
17
(1)
17
(2)

| | |
| --- | --- |
| | IDEA Requirements for Eligibility Evaluation |

19
(1)

| | |
| --- | --- |
| | IEP Multidisciplinary Team Membership |

19
(1)

| | |
| --- | --- |
| | Classification Eligibility |

19
(8)

| | |
| --- | --- |
| | Section 3: IEP Development and Evaluation Process |

27
(5)

| | |
| --- | --- |
| | Developing of the Individualized Education Plan |

27
(1)

| | |
| --- | --- |
| | Information Required in the IEP |

27
(4)

| | |
| --- | --- |
| | Coordinating Assessment Results in IEP Development |

31
(1)

| | |
| --- | --- |
| | Section 4: Placement and Service Determination Process |

32
(4)
32
(3)

| | |
| --- | --- |
| | Related Services Determination |

35
(1)

| | |
| --- | --- |
| | Assistive Technology Services and Devices |

35
(1)

| | |
| --- | --- |
| | Section 5: The Program Review Process |

36
(2)
36
(1)
36
(1)
37
(1)

| | |
| --- | --- |
| | Mediation and Due Process |

38
(1)
38
(1)
39
(1)

| | |
| --- | --- |
| | Practical Application Assessment Activities |

40
(1)

| | |
| --- | --- |
| | Connection Between CEC, PRAXIS, and INTASC Standards and Chapter 1 |

41
(3)

| | |
| --- | --- |
| | Standardized Assessment: Types, Scores, Reporting |

44
(32)

| | |
| --- | --- |
| | Introduction to Standardized Assessment |

46
(1)

| | |
| --- | --- |
| | Section 1: Types of Formal Assessments |

46
(4)
47
(1)
47
(1)
47
(3)

| | |
| --- | --- |
| | Criterion-Referenced Tests |

50
(1)

| | |
| --- | --- |
| | Section 2: Choosing the Type of Test to Use |

50
(6)

| | |
| --- | --- |
| | Determining Which Type of Test Is Appropriate |

51
(3)

| | |
| --- | --- |
| | Determining How Testing Should Be Administered |

54
(1)

| | |
| --- | --- |
| | Determining Whether to Use Norm-Referenced or Criterion-Referenced Tests |

55
(1)

| | |
| --- | --- |
| | Section 3: Administering Standardized Tests |

56
(3)
57
(1)

| | |
| --- | --- |
| | Determining Exact Chronological Age |

57
(1)
58
(1)
58
(1)
58
(1)
59
(1)

| | |
| --- | --- |
| | Section 4: Scoring and Interpreting Standardized Tests |

59
(7)
59
(2)

| | |
| --- | --- |
| | Correct/Incorrect Possible Score |

61
(1)
61
(1)
62
(1)
62
(1)

| | |
| --- | --- |
| | Standard Error of Measurement |

63
(1)
63
(1)

| | |
| --- | --- |
| | Grade and Age Equivalent Score |

64
(2)

| | |
| --- | --- |
| | Section 5: Technology---Computerized Assessments |

66
(3)

| | |
| --- | --- |
| | Types of Assistive Technologies |

67
(1)

| | |
| --- | --- |
| | Pros and Cons of Using Technology in Assessments |

67
(1)

| | |
| --- | --- |
| | Assessment Computer Systems |

67
(2)

| | |
| --- | --- |
| | Section 6: Writing and Reporting Test Results |

69
(2)
69
(1)
69
(2)
71
(1)
72
(1)

| | |
| --- | --- |
| | Practical Application Assessment Activities |

72
(1)

| | |
| --- | --- |
| | Connection Between CEC, PRAXIS, and INTASC Standards and Chapter 2 |

73
(3)

| | |
| --- | --- |
| | Informal Assessment: Selecting, Scoring, Reporting |

76
(45)

| | |
| --- | --- |
| | Introduction to Informal Assessments |

78
(3)

| | |
| --- | --- |
| | Section 1: Types of Achievement Assessment Measures |

81
(18)

| | |
| --- | --- |
| | Informal (Nontraditional) Assessments |

81
(18)

| | |
| --- | --- |
| | Section 2: Types of Informal Scoring Procedures |

99
(7)
99
(1)
100
(1)
101
(1)

| | |
| --- | --- |
| | Selecting Existing Rubrics |

102
(1)

| | |
| --- | --- |
| | Adapting Existing Rubrics |

103
(1)
103
(1)
104
(2)

| | |
| --- | --- |
| | Section 3: Planning, Constructing, and Administrating Scoring Procedures |

106
(3)

| | |
| --- | --- |
| | How and Why to Use a Rubric |

106
(1)
106
(1)
107
(2)
109
(1)

| | |
| --- | --- |
| | Section 4: Grading and Progress Reporting to Parents |

109
(6)

| | |
| --- | --- |
| | Special Education Law Mandates |

109
(1)

| | |
| --- | --- |
| | Monitoring, Graphing, and Reporting Academic Progress |

110
(1)

| | |
| --- | --- |
| | Coordinating Portfolio Criteria with Grading Standards |

111
(2)

| | |
| --- | --- |
| | Progress Reporting Systems |

113
(2)
115
(2)
117
(1)

| | |
| --- | --- |
| | Practical Application Assessment Activities |

117
(1)

| | |
| --- | --- |
| | Connection Between CEC, PRAXIS, and INTASC Standards and Chapter 3 |

118
(3)

| | |
| --- | --- |
| | PART 2 Preliminary Assessment Issues |

121
(56)

| | |
| --- | --- |
| | Accountability, Accommodations, and Alternate Assessment |

122
(28)

| | |
| --- | --- |
| | Introduction to Accountability, Accommodations, Alternate Assessments |

124
(1)

| | |
| --- | --- |
| | Section 1: IDEA-2604: Mandates for Assessment and Accountability |

125
(2)
125
(2)

| | |
| --- | --- |
| | Section 2: Issues of Accountability |

127
(3)

| | |
| --- | --- |
| | Variations in Assessment Among States and Districts |

128
(1)

| | |
| --- | --- |
| | Determining Student Participation |

128
(1)

| | |
| --- | --- |
| | Deciding Which Students Need Accommodations |

129
(1)

| | |
| --- | --- |
| | Section 3: Testing Accommodations and Modifications |

130
(10)
131
(1)

| | |
| --- | --- |
| | Guidelines for Providing Accommodations |

132
(1)

| | |
| --- | --- |
| | Categories of Accommodations |

133
(3)
136
(1)

| | |
| --- | --- |
| | Correlating Accommodations with Specific Learning Characteristics |

137
(3)

| | |
| --- | --- |
| | Section 4: Alternate Assessments |

140
(5)
140
(1)

| | |
| --- | --- |
| | Criteria for Alternate Assessments |

141
(4)

| | |
| --- | --- |
| | Section 5: Assessment Accommodations and Modifications for Students with Physical and Special Health Needs |

145
(1)
146
(1)
146
(1)

| | |
| --- | --- |
| | Practice Application Assessment Activities |

147
(1)

| | |
| --- | --- |
| | Connection Between CEC, PRAXIS, and INTASC Standards and Chapter 4 |

147
(3)

| | |
| --- | --- |
| | Gathering Preliminary Assessment Data |

150
(27)

| | |
| --- | --- |
| | Introduction to Preliminary Assessment Data Collection |

152
(1)

| | |
| --- | --- |
| | Section 1: Teacher Interview |

152
(3)

| | |
| --- | --- |
| | Section 2: Parent Interview |

155
(3)
158
(3)
158
(1)
158
(3)
161
(1)

| | |
| --- | --- |
| | Section 4: Work-Sample Analysis |

161
(1)

| | |
| --- | --- |
| | Section 5: Student Observation |

162
(9)

| | |
| --- | --- |
| | Observations in Group Settings |

166
(1)

| | |
| --- | --- |
| | Observations During the Testing Session |

167
(1)

| | |
| --- | --- |
| | Characteristics of Visual and Auditory Acuity to Observe |

168
(2)

| | |
| --- | --- |
| | Visual and Auditory Processing or Perceptual Problems |

170
(1)

| | |
| --- | --- |
| | Analysis of the Classroom Environment |

171
(1)

| | |
| --- | --- |
| | Section 6: Student Interview |

171
(2)
173
(1)
174
(1)

| | |
| --- | --- |
| | Practical Application Assessment Activities |

174
(1)

| | |
| --- | --- |
| | Connection Between CEC, PRAXIS, and INTASC Standards and Chapter 5 |

175
(2)

| | |
| --- | --- |
| | PART 3 Basic Skills and Content-Subject Assessment |

177
(268)

| | |
| --- | --- |
| | Oral and English Language Learner/Bilingual Assessment |

178
(40)

| | |
| --- | --- |
| | Introduction to Speech and Oral Language Assessment |

180
(6)

| | |
| --- | --- |
| | Section 1: Speech Assessment |

186
(2)

| | |
| --- | --- |
| | Types of Speech Disorders |

186
(2)

| | |
| --- | --- |
| | Section 2: Language Assessment |

188
(6)

| | |
| --- | --- |
| | Receptive and Expressive Language Assessment |

188
(1)

| | |
| --- | --- |
| | Assessing Language Samples |

188
(1)

| | |
| --- | --- |
| | Testing Rapid Automized Naming |

189
(1)

| | |
| --- | --- |
| | Assessing Language Content, Form, and Use |

190
(4)

| | |
| --- | --- |
| | Section 3: Assessment of Students with Cultural or Linguistic Diversity |

194
(10)

| | |
| --- | --- |
| | IDEA Requirements for Assessing CLD Students |

196
(1)

| | |
| --- | --- |
| | Assessment Issues: Language Disorders vs. Differences |

197
(1)

| | |
| --- | --- |
| | Identifying the Second-Language-Acquisition Phenomena |

198
(1)

| | |
| --- | --- |
| | Distinguishing Between Social and Academic Language Proficiency |

199
(3)

| | |
| --- | --- |
| | Assessing Language Proficiency |

202
(2)

| | |
| --- | --- |
| | Section 4: English Language Learner and Bilingual Assessment |

204
(9)

| | |
| --- | --- |
| | Traditional CLD Assessment Measures |

204
(1)

| | |
| --- | --- |
| | Informal Authentic Assessment Measures |

204
(2)

| | |
| --- | --- |
| | Parental Contribution to the Assessment Process |

206
(1)

| | |
| --- | --- |
| | Observational Assessment Procedures |

207
(1)

| | |
| --- | --- |
| | Types of Authentic Assessments |

208
(3)

| | |
| --- | --- |
| | Criteria for Evaluators of ELLs and Bilingual Students |

211
(1)

| | |
| --- | --- |
| | Issues to Consider When Making Test Accommodations for Students with CLD |

212
(1)

| | |
| --- | --- |
| | Adaptations to Test Administration and Test Accommadations for Students with CLD |

212
(1)
213
(2)
215
(1)

| | |
| --- | --- |
| | Practical Application Assessment Activities |

215
(1)

| | |
| --- | --- |
| | Connection Between CEC, PRAXIS, and INTASC Standards and Chapter 6 |

216
(2)
218
(66)

| | |
| --- | --- |
| | Introduction to Reading Assessment |

220
(1)

| | |
| --- | --- |
| | Section 1: Emergent Literacy Assessment |

221
(6)
222
(1)
222
(1)
223
(2)

| | |
| --- | --- |
| | Knowledge of the Alphabet |

225
(2)

| | |
| --- | --- |
| | Section 2: Phonics Assessment |

227
(1)
227
(1)
227
(1)

| | |
| --- | --- |
| | Section 3: Vocabulary Assessment |

228
(14)
231
(1)
232
(3)
235
(1)

| | |
| --- | --- |
| | Reading Error Pattern Analysis |

236
(6)

| | |
| --- | --- |
| | Section 4: Reading Fluency Assessment |

242
(7)
243
(6)

| | |
| --- | --- |
| | Section 5: Reading Comprehension Assessment |

249
(10)

| | |
| --- | --- |
| | Components of Reading Comprehension |

249
(1)
250
(2)

| | |
| --- | --- |
| | Explicit, Implicit and Critical Comprehension |

252
(1)
253
(2)
255
(1)
256
(1)
256
(2)
258
(1)

| | |
| --- | --- |
| | Section 6: General Reading Assessment Measures |

259
(18)
259
(10)
269
(1)

| | |
| --- | --- |
| | Curriculum-Based Measurement |

269
(5)

| | |
| --- | --- |
| | Performance-Based Assessment |

274
(3)
277
(1)
277
(1)

| | |
| --- | --- |
| | Practical Application Assessment Activities |

278
(1)

| | |
| --- | --- |
| | Connection Between CEC, PRAXIS, and INTASC Standards and Chapter 7 |

278
(6)

| | |
| --- | --- |
| | Written Language Assessment |

284
(62)

| | |
| --- | --- |
| | Introduction to Written Language |

286
(1)

| | |
| --- | --- |
| | Section 1: Written Language Assessment Procedures |

287
(7)
287
(1)

| | |
| --- | --- |
| | Analyzing the Classroom Writing Environment |

288
(6)

| | |
| --- | --- |
| | Section 2: Written Expression Assessment |

294
(8)

| | |
| --- | --- |
| | Assessing the Writing Process |

294
(1)

| | |
| --- | --- |
| | Written Expression Error Analysis |

294
(2)

| | |
| --- | --- |
| | Portfolio Assessment of Written Expression |

296
(1)

| | |
| --- | --- |
| | Written Expression Curriculum-Based Measurement |

297
(5)

| | |
| --- | --- |
| | Performance-Based Assessment |

302
(1)
302
(1)

| | |
| --- | --- |
| | Section 3: Spelling Assessment |

302
(15)
305
(1)
306
(1)
307
(1)

| | |
| --- | --- |
| | Informal Spelling Inventory |

307
(1)
308
(5)

| | |
| --- | --- |
| | Performance Spelling Assessment |

313
(2)

| | |
| --- | --- |
| | Phonemic Awareness Spelling Assessment |

315
(2)

| | |
| --- | --- |
| | Inventory of Word Knowledge |

317
(1)

| | |
| --- | --- |
| | Spelling Word Test: Flow List |

317
(1)

| | |
| --- | --- |
| | Section 4: Handwriting Assessment |

317
(10)

| | |
| --- | --- |
| | Handwriting Sample Assessment |

319
(2)

| | |
| --- | --- |
| | Curriculum-Based Measurement: Handwriting Probes |

321
(1)

| | |
| --- | --- |
| | Handwriting Error Analysis |

321
(1)
322
(2)

| | |
| --- | --- |
| | Zaner-Bloser Evaluation Scale |

324
(3)

| | |
| --- | --- |
| | Section 5: Written Language Scoring-Rating Methods |

327
(12)
327
(2)
329
(10)
339
(1)
339
(1)

| | |
| --- | --- |
| | Practical Application Assessment Activities |

339
(1)

| | |
| --- | --- |
| | Connection Between CEC, PRAXIS, and INTASC Standards and Chapter 8 |

340
(6)
346
(54)

| | |
| --- | --- |
| | Introduction to Mathematical Assessment |

348
(3)

| | |
| --- | --- |
| | Section 1: Mathematical Procedures |

351
(6)

| | |
| --- | --- |
| | Interviews: Teachers, Parents and Students |

351
(2)

| | |
| --- | --- |
| | Analysis of Math Work Samples |

353
(1)

| | |
| --- | --- |
| | Observation During Math Activities |

353
(1)
354
(2)
356
(1)

| | |
| --- | --- |
| | Section 2: Assessment of Common Mathematical Problem Areas |

357
(7)

| | |
| --- | --- |
| | Mathematical Language Assessment |

357
(1)

| | |
| --- | --- |
| | Cultural and Language Differences |

358
(1)
359
(1)

| | |
| --- | --- |
| | Attitudes Toward Math and Emotional Factors |

359
(1)
360
(1)

| | |
| --- | --- |
| | Poor Abstract or Symbolic Thinking |

361
(1)
361
(1)

| | |
| --- | --- |
| | Failure To Use Common Sense in Mathematics |

361
(1)

| | |
| --- | --- |
| | Information Processing Problems |

362
(2)

| | |
| --- | --- |
| | Section 3: Mathematical Assessment Measures |

364
(25)

| | |
| --- | --- |
| | Mathematics Curriculum-Based Measurement |

364
(1)

| | |
| --- | --- |
| | Curriculum-Based Math Probes |

365
(2)

| | |
| --- | --- |
| | Graphing Math Probe Results |

367
(1)

| | |
| --- | --- |
| | Mathematical Error Analysis |

368
(9)
377
(2)
379
(3)
382
(1)
382
(1)

| | |
| --- | --- |
| | Mathematical Journal Writing |

383
(1)

| | |
| --- | --- |
| | Performance-Based Assessment |

384
(2)
386
(1)
387
(2)

| | |
| --- | --- |
| | Section 4: Mathematical Scoring-Rating Procedures |

389
(5)

| | |
| --- | --- |
| | Mathematical Holistic and Analytic Scoring |

389
(1)
389
(1)

| | |
| --- | --- |
| | Mathematical Rating Scales |

389
(5)
394
(1)
394
(1)

| | |
| --- | --- |
| | Practical Application Assessment Activities |

394
(1)

| | |
| --- | --- |
| | Connection Between CEC, PRAXIS, and INTASC Standards and Chapter 9 |

395
(5)

| | |
| --- | --- |
| | Content Area and Related Arts Assessment |

400
(45)

| | |
| --- | --- |
| | Introduction to Content Area Subjects: Science and Social Studies |

402
(1)

| | |
| --- | --- |
| | Section 1: The Process of Content Area Assessment |

403
(3)

| | |
| --- | --- |
| | Evaluating Instruction in Relation to Student Needs |

403
(3)

| | |
| --- | --- |
| | Section 2: Content Area Subject Assessment Procedures |

406
(6)

| | |
| --- | --- |
| | Observation and Interview in the Content Area |

406
(1)

| | |
| --- | --- |
| | Student Self-Assessment Reflection |

406
(3)
409
(1)

| | |
| --- | --- |
| | Learning Logs and Journals |

409
(3)

| | |
| --- | --- |
| | Section 3: Content Area Subject Assessment Measures |

412
(8)

| | |
| --- | --- |
| | Performance-Based Assessment |

412
(1)

| | |
| --- | --- |
| | Content Area Subject Curriculum-Based Measures |

413
(2)
415
(1)
416
(2)

| | |
| --- | --- |
| | Content Area Oral Interview |

418
(1)

| | |
| --- | --- |
| | Content Area Subject Portfolio Assessment |

418
(1)

| | |
| --- | --- |
| | Checklist for Content Area Subjects |

419
(1)

| | |
| --- | --- |
| | Section 4: Textbook Evaluation |

420
(4)

| | |
| --- | --- |
| | Section 5: Related Arts: The Assessment Process |

424
(3)

| | |
| --- | --- |
| | Physical Education: The Related Arts Subject |

424
(1)

| | |
| --- | --- |
| | Adaptive Physical Education: The Special Service |

424
(2)
426
(1)

| | |
| --- | --- |
| | Computer and Library Research Education |

427
(1)

| | |
| --- | --- |
| | Section 6: Related Arts Assessment Procedures |

427
(5)

| | |
| --- | --- |
| | Cognitive Assessment of Performance Skills |

427
(2)
429
(1)

| | |
| --- | --- |
| | Self and Peer Assessment Activities |

429
(1)
429
(1)

| | |
| --- | --- |
| | Related Arts Journals or Activity Log |

430
(1)

| | |
| --- | --- |
| | Observations and Interviews in Related Arts Activities |

431
(1)

| | |
| --- | --- |
| | Motor Skills Screening Tests |

431
(1)

| | |
| --- | --- |
| | Section 7: Content Area and Related Arts Scoring and Grading Measures |

432
(1)
433
(2)
435
(1)

| | |
| --- | --- |
| | Practical Application Assessment Activities |

436
(1)

| | |
| --- | --- |
| | Connection Between CEC, PRAXIS, and INTASC Standards and Chapter 10 |

436
(9)

| | |
| --- | --- |
| | Part 4 Special Focus Assessment |

445

| | |
| --- | --- |
| | Study Skills Assessment and Test-Taking Skills |

446
(22)

| | |
| --- | --- |
| | Introduction to Study and Test-Taking Skill Assessment |

448
(1)

| | |
| --- | --- |
| | Section 1: Work-Study Skill Assessment Strategies |

448
(8)

| | |
| --- | --- |
| | Listening Skills: Attention |

449
(1)

| | |
| --- | --- |
| | Retention and Recall: Memory Skills |

449
(2)

| | |
| --- | --- |
| | Time Management and Organizational Skills |

451
(1)
451
(1)
452
(1)
453
(2)
455
(1)

| | |
| --- | --- |
| | Section 2: Factors Influencing Test-Taking Performance |

456
(4)
456
(2)
458
(2)

| | |
| --- | --- |
| | Attitude and Motivational Factors |

460
(1)

| | |
| --- | --- |
| | Appropriate Accommodations |

460
(1)

| | |
| --- | --- |
| | Section 3: Test Taking Skills Techniques |

460
(3)

| | |
| --- | --- |
| | Helping Students to Become ``Test Wise'' |

460
(3)
463
(1)
464
(1)

| | |
| --- | --- |
| | Practical Application Assessment Activities |

464
(1)

| | |
| --- | --- |
| | Connection Between CEC, PRAXIS, and INTASC Standards and Chapter 11 |

464
(4)

| | |
| --- | --- |
| | Emotional, Social, and Character Education |

468
(32)

| | |
| --- | --- |
| | Introduction to Emotional, Social, and Character Assessment |

470
(1)

| | |
| --- | --- |
| | Section 1: Emotional and Behavioral Disorders |

470
(1)

| | |
| --- | --- |
| | Section 2: Behavioral Analysis Procedures |

471
(2)

| | |
| --- | --- |
| | Section 3: General and Direct Observation and Interview Procedures |

473
(1)

| | |
| --- | --- |
| | General Observation Interview |

473
(1)

| | |
| --- | --- |
| | Section 4: Types or Direct Observation |

474
(6)
474
(1)
475
(1)
475
(1)
476
(1)
477
(1)
478
(2)
480
(1)

| | |
| --- | --- |
| | Section 5: Functional Behavioral Assessment |

480
(2)

| | |
| --- | --- |
| | Categories of Functional Assessment |

482
(1)

| | |
| --- | --- |
| | Section 6: Character Education Assessment |

482
(4)

| | |
| --- | --- |
| | Section 7: Social Skill Assessment |

486
(9)

| | |
| --- | --- |
| | Social Skills Development |

486
(5)
491
(4)
495
(1)
495
(1)
496
(1)

| | |
| --- | --- |
| | Practical Application Assessment Activities |

496
(1)

| | |
| --- | --- |
| | Connection Between CEC, PRAXIS, and INTASC Standards and Chapter 12 |

497
(3)

| | |
| --- | --- |
| | Transition Assessment: Across the Ages |

500

| | |
| --- | --- |
| | Introduction to Transition Assessment from Early Childhood to Postsecondary School |

502
(1)

| | |
| --- | --- |
| | Section 1: Transition Legislation |

503
(5)

| | |
| --- | --- |
| | Early Childhood Transition Legislation |

504
(2)

| | |
| --- | --- |
| | Secondary-Level Transition Legislation |

506
(1)

| | |
| --- | --- |
| | Comprehensive Data Collection |

506
(2)

| | |
| --- | --- |
| | Section 2: Transition from Preschool to the Primary Grades |

508
(5)

| | |
| --- | --- |
| | Early Childhood Assessment |

508
(3)

| | |
| --- | --- |
| | Components of Early Childhood Assessment |

511
(1)
512
(1)

| | |
| --- | --- |
| | Section 3: Transition During the Middle Years: Elementary to Middle to High School |

513
(1)

| | |
| --- | --- |
| | Transition from Elementary to Middle School |

513
(1)

| | |
| --- | --- |
| | Transition from Middle to High School |

513
(1)

| | |
| --- | --- |
| | Section 4: Transition from Special Education to General Education and from Hospital/Home to School |

514
(2)

| | |
| --- | --- |
| | The Transition from Special to Regular Education |

514
(1)

| | |
| --- | --- |
| | The Transition from Hospital/Rehabilitation/Home to School |

515
(1)

| | |
| --- | --- |
| | Section 5: Secondary to Postsecondary Transition |

516
(3)

| | |
| --- | --- |
| | From Assessment to Transition Planning |

516
(1)

| | |
| --- | --- |
| | Components of Secondary Transitions |

516
(2)

| | |
| --- | --- |
| | Reasonable Accommodations for Postsecondary Settings |

518
(1)

| | |
| --- | --- |
| | Section 6: The Secondary-Level Assessment Process |

519
(2)

| | |
| --- | --- |
| | Section 7: Assessments at the Critical Transition Points: Preschool to Elementary School |

521
(10)

| | |
| --- | --- |
| | Early Childhood Standardized Tests |

521
(1)

| | |
| --- | --- |
| | Preschool to Elementary School Informal Assessment Procedures |

522
(1)
522
(1)
523
(1)
524
(1)
525
(1)
526
(1)

| | |
| --- | --- |
| | Curriculum-Based Assessment |

526
(2)

| | |
| --- | --- |
| | Specific Skill Checklists |

528
(3)

| | |
| --- | --- |
| | Videotape, Audiotape, and Photographic Recordings |

531
(1)

| | |
| --- | --- |
| | Section 8: Assessments at the Critical Transition Points: Middle School through the Secondary School Years |

531
(17)
531
(1)
532
(1)
533
(1)
533
(1)
533
(8)

| | |
| --- | --- |
| | Self Determination Assessment |

541
(2)

| | |
| --- | --- |
| | Checklists and Rating Scales |

543
(1)
543
(1)
543
(1)

| | |
| --- | --- |
| | Curriculum-Based Vocational Assessment |

543
(5)
548
(1)
548
(1)

| | |
| --- | --- |
| | Practical Application Assessment Activities |

549
(1)

| | |
| --- | --- |
| | Connection Between CEC, PRAXIS, and INTASC Standards and Chapter 13 |

549
References
1
(1)
Index
1