Note: Supplemental materials are not guaranteed with Rental or Used book purchases.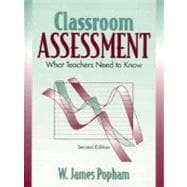 Classroom Assessment : What Teachers Need to Know
ISBN13:
9780205276929
by
Popham, W. James
Summary
Serves as a brief, practical guide to the topic of assessment. Offers strong coverage of both traditional and alternative assessments. Contains new chapter (12) on linking assessment to instruction. Includes new Parent Talk sections in each chapter. Written in a humorous, engaging style.
Table of Contents
To the Reader
ix

| | |
| --- | --- |
| | 1 Why Do Teachers Need to Know about Assessment? |

1
(22)

| | |
| --- | --- |
| | Assessment versus Testing |

2
(2)

| | |
| --- | --- |
| | Why Should Teachers Know about Assessment? Yesteryear's Answers |

4
(4)

| | |
| --- | --- |
| | Why Should Teachers Know about Assessment? Today's Answers |

8
(5)

| | |
| --- | --- |
| | What Do Classroom Teachers Really Need to Know about Assessment? |

13
(3)
16
(2)
18
(5)

| | |
| --- | --- |
| | 2 Reliability of Assessment |

23
(18)
24
(3)

| | |
| --- | --- |
| | Alternate-Form Reliability |

27
(2)

| | |
| --- | --- |
| | Internal Consistency Reliability |

29
(2)

| | |
| --- | --- |
| | Three Coins in the Reliability Fountain |

31
(1)

| | |
| --- | --- |
| | The Standard Error of Measurement |

31
(3)

| | |
| --- | --- |
| | What Do Classroom Teachers Really Need to Know about Reliability? |

34
(1)
35
(6)
41
(26)

| | |
| --- | --- |
| | A Quest for Defensible Inferences |

41
(3)
44
(3)

| | |
| --- | --- |
| | Content-Related Evidence of Validity |

47
(6)

| | |
| --- | --- |
| | Criterion-Related Evidence of Validity |

53
(3)

| | |
| --- | --- |
| | Construct-Related Evidence of Validity |

56
(3)

| | |
| --- | --- |
| | Sanctioned and Unsanctioned Forms of Validity Evidence |

59
(1)

| | |
| --- | --- |
| | The Relationship between Reliability and Validity |

60
(1)

| | |
| --- | --- |
| | What Do Classroom Teachers Really Need to Know about Validity? |

61
(1)
61
(6)
67
(18)

| | |
| --- | --- |
| | The Nature of Assessment Bias |

67
(4)

| | |
| --- | --- |
| | Disparate Impact and Assessment Bias |

71
(1)
72
(3)
75
(1)

| | |
| --- | --- |
| | Bias Detection in the Classroom |

75
(3)

| | |
| --- | --- |
| | What Do Classroom Teachers Really Need to Know about Absence-of-Bias? |

78
(1)
79
(6)

| | |
| --- | --- |
| | 5 Deciding What to Assess and How to Assess It |

85
(26)
85
(13)
98
(6)

| | |
| --- | --- |
| | What Do Classroom Teachers Really Need to Know about What to Assess and How to Assess It? |

104
(1)
105
(6)

| | |
| --- | --- |
| | 6 Selected-Response Tests |

111
(24)

| | |
| --- | --- |
| | Ten (Divided by Two) Item-Writing Commandments |

112
(3)
115
(3)

| | |
| --- | --- |
| | Multiple Binary-Choice Items |

118
(2)
120
(6)
126
(3)

| | |
| --- | --- |
| | What Do Classroom Teachers Really Need to Know about Selected-Response Tests? |

129
(1)
130
(5)

| | |
| --- | --- |
| | 7 Constructed-Response Tests |

135
(22)
136
(3)
139
(5)

| | |
| --- | --- |
| | Essay Items: Scoring Students' Responses |

144
(7)

| | |
| --- | --- |
| | What Do Classroom Teachers Really Need to Know about Constructed-Response Tests? |

151
(1)
151
(6)
157
(24)

| | |
| --- | --- |
| | What Is a Performance Test? |

157
(3)

| | |
| --- | --- |
| | Why Performance Assessment? |

160
(1)

| | |
| --- | --- |
| | Identifying Suitable Tasks for Performance Assessment |

161
(5)

| | |
| --- | --- |
| | Identifying Scoring Criteria |

166
(2)

| | |
| --- | --- |
| | Two Illustrative Performance-Test Tasks and a Scoring System |

168
(3)
171
(4)

| | |
| --- | --- |
| | Sources of Error in Scoring Student Performances |

175
(2)

| | |
| --- | --- |
| | What Do Classroom Teachers Really Need to Know about Performance Assessment? |

177
(1)
177
(4)
181
(18)

| | |
| --- | --- |
| | Classroom Portfolio Assessment versus Large-Scale Portfolio Assessment |

181
(4)

| | |
| --- | --- |
| | Key Ingredients in Classroom Portfolio Assessment |

185
(6)

| | |
| --- | --- |
| | The Pros and Cons of Portfolio Assessment |

191
(2)

| | |
| --- | --- |
| | What Do Classroom Teachers Really Need to Know about Portfolio Assessment? |

193
(1)
194
(5)
199
(18)
199
(3)

| | |
| --- | --- |
| | The Other Side of the Argument |

202
(1)

| | |
| --- | --- |
| | Which Affective Variables Should Be Assessed? |

203
(2)

| | |
| --- | --- |
| | How Should Affect Be Assessed in Classrooms? |

205
(6)

| | |
| --- | --- |
| | What Kind of Inferences Are at Stake in Affective Assessment? |

211
(1)

| | |
| --- | --- |
| | What Do Classroom Teachers Really Need to Know about Affective Assessment? |

212
(1)
212
(5)

| | |
| --- | --- |
| | 11 Improving Teacher-Developed Assessments |

217
(18)

| | |
| --- | --- |
| | Judgmentally Based Improvement Procedures |

218
(4)

| | |
| --- | --- |
| | Empirically Based Improvement Procedures |

222
(8)

| | |
| --- | --- |
| | What Do Classroom Teachers Really Need to Know about Improving Their Assessments? |

230
(1)
230
(5)

| | |
| --- | --- |
| | 12 Instructionally Oriented Assessment |

235
(28)

| | |
| --- | --- |
| | Instructional Decisions and Assessment Results |

236
(6)

| | |
| --- | --- |
| | Planning Instruction to Achieve Assessment-Operationalized Objectives |

242
(16)

| | |
| --- | --- |
| | What Do Classroom Teachers Really Need to Know about Instructionally Oriented Assessment? |

258
(1)
259
(4)

| | |
| --- | --- |
| | 13 Making Sense Out of Standardized Test Scores |

263
(20)
264
(1)

| | |
| --- | --- |
| | Group-Focused Test Interpretation |

265
(2)

| | |
| --- | --- |
| | Individual Student Test Interpretation |

267
(11)

| | |
| --- | --- |
| | What Do Classroom Teachers Really Need to Know about Interpreting Standardized Test Scores? |

278
(1)
279
(4)

| | |
| --- | --- |
| | 14 Appropriate and Inappropriate Test-Preparation Practices |

283
(14)

| | |
| --- | --- |
| | High-Stakes Assessment Arrives |

283
(2)

| | |
| --- | --- |
| | Assessment Results as Inference Illuminators |

285
(1)
286
(3)

| | |
| --- | --- |
| | Five Test-Preparation Practices |

289
(1)

| | |
| --- | --- |
| | Applying the Two Standards |

290
(2)

| | |
| --- | --- |
| | What Do Classroom Teachers Really Need to Know about Test-Preparation Practices? |

292
(1)
292
(5)

| | |
| --- | --- |
| | 15 Evaluating Teaching and Grading Students |

297
(25)
297
(1)

| | |
| --- | --- |
| | Evaluation of Teaching and the Use of Assessment Data |

298
(4)
302
(9)

| | |
| --- | --- |
| | What Do Classroom Teachers Really Need to Know about Assessment-Based Evaluation of Teaching and Grading of Students? |

311
(1)
311
(4)

| | |
| --- | --- |
| | Appendix: Standardized Test Scores: Do They Really Show How Good Schools Are? |

315
(7)
Index
322