Note: Supplemental materials are not guaranteed with Rental or Used book purchases.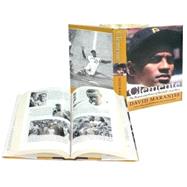 Clemente : The Passion and Grace of Baseball's Last Hero
ISBN13:
9780743217811
by
David Maraniss
Summary
On New Year's Eve 1972, following eighteen magnificent seasons in the major leagues, Roberto Clemente died a hero's death, killed in a plane crash as he attempted to deliver food and medical supplies to Nicaragua after a devastating earthquake. David Mara
Author Biography
David Maraniss is an associate editor at The Washington Post.
Table of Contents
Memory and Myth
1
(2)

| | |
| --- | --- |
| | Something That Never Ends |

3
(14)
17
(22)
39
(20)
59
(28)
87
(18)
105
(32)
137
(26)
163
(24)
187
(26)
213
(28)
241
(28)
269
(18)
287
(22)
309
(12)
321
(18)
339
(14)
Myth and Memory
353
(2)
Acknowledgments
355
(4)
Notes
359
(24)
Appendix
383
(2)
Selected Bibliography
385
(4)
Index
389
Excerpts
Memory and Myth The familiar sounds of modern baseball, pings of aluminum bats punctuating the steady drone of a crowd, can be heard from the street a half-block away. It is late on a Sunday afternoon in February, overcast and drizzly in Carolina, Puerto Rico. Inside the stadium, there is a game going on, the Escuela de Deportiva against Bayamon. Nothing special, just teenage boys playing ball, the way they do every afternoon, and then the right fielder from Deportiva scoops up a base hit and fires to second, his throw a bullet -- low, hard, right on the bag. Groups of men huddle in the stands, talking, laughing, playing cards, barely paying attention, or so it seems until the throw. It elicits a murmur of recognition, and suddenly they come alive, stirred by communal memory. All fires are one fire, the novelist Julio Cortazar once wrote. And all arms are one arm. The throw from right field reminds them of the original, the unsurpassable arm of the man for whom the stadium is named, Roberto Clemente.Beyond the stadium, closer to the street, stands a cenotaph thirty feet long and seven and a half feet high. It is the nearest thing to a headstone for Carolina's favorite son. On its three panels the sculptor Jose Buscaglia has etched the stations of the cross of Roberto Clemente's thirty-eight years on this earth. In the far left panel, Roberto is a babe, held in the arms of his mother in the barrio of San Anton, and his father is seen working in the nearby cane fields. In the far right panel, Clemente passes from greatness into legend; first he is being honored for his three-thousandth hit, then his spirit is received by a figure of death in the Atlantic's watery grave, and finally his widow holds the plaque for his induction into the National Baseball Hall of Fame. But the center panel is the most telling. There, between scenes of Clemente batting, running, fielding, throwing, visiting hospitals, and consoling the sick and the poor, he is depicted standing regal and alone, holding a lamb.Memory and myth are entwined in the Clemente story. He has been dead for more than three decades, yet he remains vivid in the sporting consciousness while other athletes come and go, and this despite the fact that he played his entire career in relative obscurity, away from the mythmakers of New York and Los Angeles. Forty public schools, two hospitals, and more than two hundred parks and ballfields bear his name, from Carolina, Puerto Rico, where he was born, to Pittsburgh, Pennsylvania, where he played, to far-off Mannheim, Germany. In the world of memorabilia, the demand for anything Clemente is second only to Mickey Mantle, and far greater than Willie Mays, Hank Aaron, Juan Marichal, or any other black or Latin players. Extraordinary as he was, Clemente was not the greatest who ever played the game, yet there was something about him that elevated him into his own realm. Much of it had to do with the way he died. He was young. He went down in a plane crash. His body was lost to the sea, never found. He was on a mission of mercy, leaving his family on New Year's Eve to come to the aid of strangers. In Spanish, Clemente means merciful. Some of it had to do with the way he looked and played on the ball field, No. 21, perfectly cut in his Pirates uniform, a portrait of solemn beauty, with his defiant jaw and soulful eyes. And much of it had to do with the way he lived. In sainthood, his people put a lamb in his arms, but he was no saint, and certainly not docile. He was agitated, beautiful, sentimental, unsettled, sweet, serious, selfless, haunted, sensitive, contradictory, and intensely proud of everything about his native land, including himself. To borrow the words of the Puerto Rican poet Enrique Zorrilla, what burned in the cheeks of Roberto Clemente was "the fire of dignity." Copyright 2006 by David Maraniss