Note: Supplemental materials are not guaranteed with Rental or Used book purchases.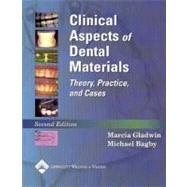 Related Products
Summary
Written by a dental hygiene educator and biomaterials scientist, the fully updated Second Edition of this unique text examines the clinical aspects of dental materials and materials science--including the composition of dental materials and their proper use and handling in laboratory and clinical applications. The clearly organized text is presented in outline format with numerous illustrations, radiographs, and procedural techniques. For this edition, board review questions have been added to the end of each chapter to facilitate self-paced learning. Readers will also find new learning activities, more definitions for key terms, and new laboratory and clinical evaluation competency criteria.
Table of Contents
Preface
p. vii
Contributors
p. ix
Acknowledgments
p. xi
Theoretical Perspectives
p. 1
Introduction
p. 3
Materials Science and Dentistry
p. 21
Physical and Mechanical Properties of Dental Materials
p. 33
Adhesive Materials
p. 47
Direct Polymeric Restorative Materials
p. 59
Amalgam and Other Direct Metallic Restorative Materials
p. 79
Dental Cements
p. 93
Impression Materials
p. 109
Gypsum Materials
p. 127
Materials for Fixed Indirect Restorations and Prostheses
p. 137
Removable Prostheses and Acrylic Resins
p. 153
Dental Implants
p. 165
Specialty Materials
p. 173
Clinical Detection and Management of Dental Restorative Materials During Scaling and Polishing
p. 185
Radiographic Appearance of Dental Tissues and Materials
p. 193
Polishing Materials and Abrasion
p. 203
Tooth Whitening
p. 215
Oral Appliances
p. 225
Instruments as Dental Materials--Care and Maintenance
p. 235
Infection Control and Safety in the Dental Office
p. 243
Disinfection of Impressions, Dentures, and Other Appliances and Materials
p. 265
General Rules for Handling Dental Materials
p. 271
Laboratory and Clinical Applications
p. 275
Mixing Liners, Bases, and Cements
p. 277
Application and Removal of the Rubber Dam
p. 287
Pit and Fissure Sealants
p. 293
Amalgam Finishing and Polishing
p. 299
Taking Alginate Impressions
p. 309
Fabrication and Trimming of Study Models
p. 317
Fabrication of a Custom Impression Tray
p. 331
Elastomeric Impressions
p. 339
Vital Tooth Whitening: Patient-Applied, Professionally Supervised Clinical and Laboratory Procedures
p. 343
Debonding Orthodontic Resins
p. 351
Placement of the Periodontal Dressing
p. 357
Removal of the Periodontal Dressing and Sutures
p. 363
Temporary Crowns
p. 369
Case Studies
p. 375
Case 1
p. 377
Case 2
p. 378
Case 3
p. 380
Case 4
p. 382
Answers and Justifications to Review Questions and Case Studies
p. 385
Skill Performance Evaluations
p. 399
Index
p. 417
Table of Contents provided by Rittenhouse. All Rights Reserved.