Note: Supplemental materials are not guaranteed with Rental or Used book purchases.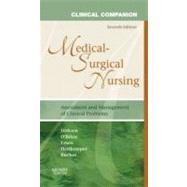 Clinical Companion to Medical-Surgical Nursing
ISBN13:
9780323036894
by
O'Brien, Patricia Graber
Elsevier Science Health Science div
Summary
Putting essential information at your fingertips, this handy guide describes 200 commonly encountered medical-surgical disorders and procedures. Numerous illustrations and summary tables are used to clarify key information. It focuses on the information you need to know, emphasizing the procedures and treatments in which the nurse plays a major role. Part 1: Disorders includes the following information for each profile: Definition/Description Pathophysiology Clinical Manifestations Complications Diagnostic Studies Collaborative Care (including drug therapy) Nursing Management Goals Nursing Diagnoses (using current NANDA terminology) Nursing Interventions Patient Teaching Part 2: Treatments and Procedures includes information you need to know about common medical-surgical treatments and procedures such as CPR, tube feeding, and artificial airway management. Part 3: Reference Appendix features key reference information commonly used in nursing practice, including laboratory values, commonly used formulas, and Spanish translations of key phrases. Patient teaching content is highlighted with a special icon, identifying information that patients and families need to know about the care of various conditions. A portable format makes this book easy to carry in the clinical setting. Cross-references to Lewis: Medical-Surgical Nursing, 7th Edition make it easy to find background information.
Table of Contents
Disorders
Abdominal Pain
Acute
Acute Coronary Syndrome
Acute Respiratory Distress Syndrome
Addisons Disease
Alzheimers Disease
Amyotrophic Lateral Sclerosis
Anemia
Anemia, Aplastic
Anemia, Cobalamin Deficiency
Anemia, Folic Acid Deficiency
Anemia, Iron Deficiency
Aneurysm
Angina, Chronic Stable
Angina, Prinzmetals
Angina, Unstable (See Acute Coronary Syndrome)
Ankylosing Spondylitis
Anorectal Abscess
Aortic Dissection
Appendicitis
Asthma
Bells Palsy
Benign Prostatic Hyperplasia
Bladder Cancer
Bone Cancer
Brain Tumors
Breast Cancer
Burns
Cardiomyopathy
Carpal Tunnel Syndrome
Cataract
Celiac Disease (Sprue)
Cervical Cancer
Chlamydial Infection
Cholelithiasis/Cholecystitis
Chronic Fatigue Syndrome
Chronic Obstructive Pulmonary Disease: Emphysema and Chronic Bronchitis
Cirrhosis
Colorectal Cancer
Conjunctivitis
Constipation
Cor Pulmonale
Coronary Artery Disease
Crohns Disease
Cushing Syndrome
Cystic Fibrosis
Diabetes Insipidus
Diabetes Mellitus
Diarrhea
Dislocation and Subluxation
Disseminated Intravascular Coagulation
Diverticulitis/Diverticulosis
Dysmenorrhea
Dysrhythmias
Encephalitis
Endocarditis, Infective
Endometrial Cancer
Endometriosis
Esophageal Cancer
Fibrocystic Breast Changes
Fibromyalgia Syndrome
Flail Chest
Fracture
Fracture, Hip
Fracture, Humerus
Fracture, Pelvis
Fracture, Mandible
Gastric Cancer
Gastritis
Gastroenteritis
Gastroesophageal Reflux Disease
Glaucoma
Glomerulonephritis
Glomerulonephritis, Acute Poststreptococcal
Glomerulonephritis, Chronic
Gonorrhea
Gout
Guillain-BarrT Syndrome
Head Injury
Head and Neck Cancer
Headache
Heart Failure
Hemophilia
Hemorrhoids
Hepatitis, Viral
Hernia
Herniated Intervertebral Disk (See Intervertebral Lumbar Disk Damage)
Herpes, Genital
Hiatal Hernia
Hodgkins Lymphoma (Hodgkins Disease)
Human Immunodeficiency Virus Infection
Huntingtons Disease
Hyperparathyroidism
Hypertension
Hyperthyroidism
Hypoparathyroidism
Hypothyroidism
Increased Intracranial Pressure
Inflammatory Bowel Disease
Interstitial Cystitis
Intervertebral Lumbar Disk Damage
Intestinal Obstruction
Irritable Bowel Syndrome
Kidney Cancer
Kidney Disease, Chronic
Lactase Deficiency
Leiomyomas
Leukemia
Liver Cancer
Low Back Pain, Acute
Low Back Pain, Chronic
Lung Cancer
Lyme Disease
Macular Degeneration, Age-Related
Malabsorption Syndrome
Malignant Melanoma
Malnutrition
MFniTres Disease
Meningitis
Metabolic Syndrome
Multiple
Myeloma
Multiple Sclerosis
Muscular Dystrophy
Myasthenia Gravis
Myocardial Infarction (see Acute Coronary Syndrome)
Myocarditis
Nausea and Vomiting
Nephrotic Syndrome
Non-Hodgkins Lymphoma
Obesity
Oral Cancer
Osteoarthritis
Osteomalacia
Osteomyelitis
Osteoporosis
Ovarian Cancer
Pagets Disease
Pancreatic Cancer
Pancreatitis, Acute
Pancreatitis, Chronic
Parkinsons Disease
Pelvic Inflammatory Disease
Peptic Ulcer Disease
Pericarditis, Acute
Peripheral Arterial Disease (Lower Extremities)
Peritonitis
Pneumonia
Pneumothorax
Polycystic Kidney Disease
Polycythemia
Pressure Ulcer
Prostate Cancer
Pulmonary Embolism
Pulmonary Hypertension
Pyelonephritis
Raynauds Phenomenon
Reactive Arthritis
Refractive Errors
Reiter Syndrome (See Reactive Arthritis)
Renal Failure, Acute
Respiratory Failure, Acute
Restless Legs Syndrome
Retinal Detachment
Rheumatic Fever and Heart Disease
Rheumatoid Arthritis
Seizure Disorders
Sexually Transmitted Diseases
Shock
Sickle Cell Disease
Sjwgren Syndrome
Spinal Cord Injury
Spinal Cord Tumors
Spleen Disorders
Stroke
Syndrome of Inappropriate Antidiuretic Hormone
Syphilis
Systemic Inflammatory Response
Syndrome and Multiple Organ Dysfunction
Systemic Lupus Erythematosus
Systemic Sclerosis (Scleroderma)
Testicular Cancer
Table of Contents provided by Publisher. All Rights Reserved.