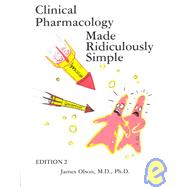 Clinical Pharmacology Made Ridiculously Simple
by
Olson, James
Questions About This Book?
What version or edition is this?
This is the 2nd edition with a publication date of 7/1/2001.
What is included with this book?
The New copy of this book will include any supplemental materials advertised. Please check the title of the book to determine if it should include any CDs, lab manuals, study guides, etc.
Related Products
Summary
Provides general principles of pharmacology. Includes tables to compare different agents within a given class of drugs. For use as a review for Boards, self-testing, or reference. Previous edition: c1997. Softcover.
Table of Contents
| | |
| --- | --- |
| | Principles of Pharmacology |

1
(12)

| | |
| --- | --- |
| | Routes of Drug Administration |

| | |
| --- | --- |
| | Pharmacology at the Cellular Level |

| | |
| --- | --- |
| | Pharmacology at the Organism Level |

| | |
| --- | --- |
| | Pharmacology at the Population Level |

| | |
| --- | --- |
| | Tolerance, Dependence and Withdrawal |

| | |
| --- | --- |
| | Peripheral Nervous System |

13
(21)

| | |
| --- | --- |
| | Peripheral Presynaptic Anti-adrenergics |

| | |
| --- | --- |
| | Peripheral Postsynaptic Anti-adrenergics |

| | |
| --- | --- |
| | Direct Cholinergic Agonists |

| | |
| --- | --- |
| | Cholinesterase Inhibitors |

| | |
| --- | --- |
| | Neuromuscular Transmission and Blockade |

| | |
| --- | --- |
| | Reversing Neuromuscular Blockade |

34
(23)

| | |
| --- | --- |
| | Neurotransmitters of the Brain |

| | |
| --- | --- |
| | 5-Hydroxytryptamine (5-HT, Serotonin) |

| | |
| --- | --- |
| | Gamma-amino butyric acid (GABA) |

| | |
| --- | --- |
| | Excitatory Amino Acids (EAA) |

| | |
| --- | --- |
| | Undesirable Neurologic Effects |

| | |
| --- | --- |
| | Types of Seizures and Drugs of Choice |

| | |
| --- | --- |
| | Principles of Anticonvulsant Therapy |

| | |
| --- | --- |
| | Cardiovascular and Hematology Drugs |

57
(28)

| | |
| --- | --- |
| | Anticoagulants, Antithrombotics and Thrombolytics |

85
(6)
91
(6)

| | |
| --- | --- |
| | Drugs Used to Treat Constipation |

97
(24)

| | |
| --- | --- |
| | Basic Strategies of Antimicrobial Therapy |

| | |
| --- | --- |
| | The Enemies: Gram Positive Cocci |

| | |
| --- | --- |
| | The Enemies: Gram-negative Pathogens |

| | |
| --- | --- |
| | Bacterial Cell Wall Inhibitors |

| | |
| --- | --- |
| | Penicillins (β-lactam drugs) |

| | |
| --- | --- |
| | Intracellular Antibiotics |

| | |
| --- | --- |
| | Quinolones and DNA Inhibitors |

| | |
| --- | --- |
| | Sulfonamides and Antimetabolites |

| | |
| --- | --- |
| | Protein Synthesis Inhibitors |

| | |
| --- | --- |
| | The Enemies: Mycobacteria |

| | |
| --- | --- |
| | The Enemies: Protozoans and Helminths |

121
(12)

| | |
| --- | --- |
| | Principles of Cancer Chemotherapy |

| | |
| --- | --- |
| | Resistance and Recurrence |

| | |
| --- | --- |
| | Toxicity of Anticancer Drugs |

| | |
| --- | --- |
| | Antibiotic Anticancer Agents |

| | |
| --- | --- |
| | Anti-inflammatory and Immunomodulating Agents |

133
(10)
143

| | |
| --- | --- |
| | Anterior Pituitary Hormones |

| | |
| --- | --- |
| | Posterior Pituitary Hormones |

| | |
| --- | --- |
| | Progestin Only ``Minipills'' |

| | |
| --- | --- |
| | Levonorgestrel Implants (Norplant®) |

| | |
| --- | --- |
| | Oxytocin and Other OB/Gyn Drugs |

| | |
| --- | --- |
| | Adrenocorticosteroid Hypersecretion |

| | |
| --- | --- |
| | Mineralocorticoids & Androgens |

| | |
| --- | --- |
| | Hyperthyroidism (thyrotoxicosis) |