Note: Supplemental materials are not guaranteed with Rental or Used book purchases.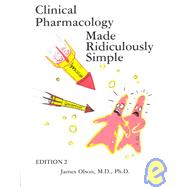 Clinical Pharmacology Made Ridiculously Simple
ISBN13:
9780940780507
by
Olson, James
Related Products
Summary
Provides general principles of pharmacology. Includes tables to compare different agents within a given class of drugs. For use as a review for Boards, self-testing, or reference. Previous edition: c1997. Softcover.
Table of Contents
| | |
| --- | --- |
| | Principles of Pharmacology |

1
(12)

| | |
| --- | --- |
| | Routes of Drug Administration |

| | |
| --- | --- |
| | Pharmacology at the Cellular Level |

| | |
| --- | --- |
| | Pharmacology at the Organism Level |

| | |
| --- | --- |
| | Pharmacology at the Population Level |

| | |
| --- | --- |
| | Tolerance, Dependence and Withdrawal |

| | |
| --- | --- |
| | Peripheral Nervous System |

13
(21)

| | |
| --- | --- |
| | Peripheral Presynaptic Anti-adrenergics |

| | |
| --- | --- |
| | Peripheral Postsynaptic Anti-adrenergics |

| | |
| --- | --- |
| | Direct Cholinergic Agonists |

| | |
| --- | --- |
| | Cholinesterase Inhibitors |

| | |
| --- | --- |
| | Neuromuscular Transmission and Blockade |

| | |
| --- | --- |
| | Reversing Neuromuscular Blockade |

34
(23)

| | |
| --- | --- |
| | Neurotransmitters of the Brain |

| | |
| --- | --- |
| | 5-Hydroxytryptamine (5-HT, Serotonin) |

| | |
| --- | --- |
| | Gamma-amino butyric acid (GABA) |

| | |
| --- | --- |
| | Excitatory Amino Acids (EAA) |

| | |
| --- | --- |
| | Undesirable Neurologic Effects |

| | |
| --- | --- |
| | Types of Seizures and Drugs of Choice |

| | |
| --- | --- |
| | Principles of Anticonvulsant Therapy |

| | |
| --- | --- |
| | Cardiovascular and Hematology Drugs |

57
(28)

| | |
| --- | --- |
| | Anticoagulants, Antithrombotics and Thrombolytics |

85
(6)
91
(6)

| | |
| --- | --- |
| | Drugs Used to Treat Constipation |

97
(24)

| | |
| --- | --- |
| | Basic Strategies of Antimicrobial Therapy |

| | |
| --- | --- |
| | The Enemies: Gram Positive Cocci |

| | |
| --- | --- |
| | The Enemies: Gram-negative Pathogens |

| | |
| --- | --- |
| | Bacterial Cell Wall Inhibitors |

| | |
| --- | --- |
| | Penicillins (β-lactam drugs) |

| | |
| --- | --- |
| | Intracellular Antibiotics |

| | |
| --- | --- |
| | Quinolones and DNA Inhibitors |

| | |
| --- | --- |
| | Sulfonamides and Antimetabolites |

| | |
| --- | --- |
| | Protein Synthesis Inhibitors |

| | |
| --- | --- |
| | The Enemies: Mycobacteria |

| | |
| --- | --- |
| | The Enemies: Protozoans and Helminths |

121
(12)

| | |
| --- | --- |
| | Principles of Cancer Chemotherapy |

| | |
| --- | --- |
| | Resistance and Recurrence |

| | |
| --- | --- |
| | Toxicity of Anticancer Drugs |

| | |
| --- | --- |
| | Antibiotic Anticancer Agents |

| | |
| --- | --- |
| | Anti-inflammatory and Immunomodulating Agents |

133
(10)
143

| | |
| --- | --- |
| | Anterior Pituitary Hormones |

| | |
| --- | --- |
| | Posterior Pituitary Hormones |

| | |
| --- | --- |
| | Progestin Only ``Minipills'' |

| | |
| --- | --- |
| | Levonorgestrel Implants (Norplant®) |

| | |
| --- | --- |
| | Oxytocin and Other OB/Gyn Drugs |

| | |
| --- | --- |
| | Adrenocorticosteroid Hypersecretion |

| | |
| --- | --- |
| | Mineralocorticoids & Androgens |

| | |
| --- | --- |
| | Hyperthyroidism (thyrotoxicosis) |