Note: Supplemental materials are not guaranteed with Rental or Used book purchases.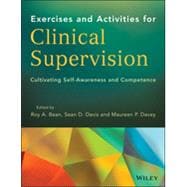 Questions About This Book?
What version or edition is this?
This is the edition with a publication date of 4/7/2014.
What is included with this book?
The New copy of this book will include any supplemental materials advertised. Please check the title of the book to determine if it should include any CDs, lab manuals, study guides, etc.
The eBook copy of this book is not guaranteed to include any supplemental materials. Typically only the book itself is included.
Summary
The contributing authors are drawn from a variety of disciplines within mental health, including marriage and family therapy, counseling psychology, counselor education, social work, nursing, human development, education, etc. The activities will be organized into two sections--core clinical competence and awareness and Diversity Focused Competence and Awareness. The chapters help mental health professionals develop integral skills that are difficult to observe such as overcoming personal biases, perspective taking, developing empathy, and cultivating intuition.
Table of Contents
Part 1: Core Clinical Competence and Self-Awareness
Chapter 1 Facilitating Clinician Development Using Themes of Personal Issues
Karni Kissil, Alba Niño, and Harry J. Aponte,
Chapter 2 Exploring the Person-of-the-Therapist for Better Joining, Assessment, and Intervention
Alba Niño, Karni Kissil, and Harry Aponte,
Chapter 3 The Empathy Game
Trent S. Parker and Kristyn M. Blackburn
Chapter 4 Seeing Through the Eyes of the Other Using Process Recordings
Dana A. Schneider, Elizabeth Rodriguez-Keyes, and Elizabeth King Keenan
Chapter 5 Discovering Acceptance and Nonjudgment through Mindfulness
Jaclyn D. Cravens and Jason B. Whiting,
Chapter 6 Encouraging Self-Reflection in the Reflective Listening Process
Paul Burke and Melinda Hohman
Chapter 7 Enhancing Self-Awareness Using Feedback Reflection
Elisabeth Esmiol and Rebecca Partridge
Chapter 8 Exploring Personal Roles and Themes in Clinical Training
Alyssa Banford, and Rachel Tambling
Chapter 9 Addressing Resistance to Behavior Change
Rebecca Mirick
Chapter 10 Teaching Self-Compassion to Decrease Performance Anxiety in Clinicians
Anna I. Bohlinger, Jeni L.Wahlig, and Stephanie Trudeau-Hern,
Chapter 11 Reconnecting with the Motivation to Become a Clinician
Bob Gillespie and Julia O'Reilly
Chapter 12 Giving a Voice to the Clinician-in-Training about Their Concerns
Yudum Akyil, Binh Pham, and Norja Cunningham
Chapter 13 A New Experience with the Family of Origin
Sean D. Davis and Armando Gonzalez-Cort
Chapter 14 Exploring Conflict and Its Importance to Clinician Development
Bridget Roberts-Pittman and Anna M. Viviani
Chapter 15 Examining the Source of Negative Self-Beliefs
Larry D. Williams and Andrae Banks
Chapter 16 Creating a Safe Learning Environment for Clinicians Through Group Discussion and Supervision
J. Christopher Hall
Chapter 17 Increasing Competence for Working with International and National Disasters
Noah Hass-Cohen, Thomas Veeman, Karina A. Chandler-Ziegler, and Andrew Brimhall
Chapter 18 Developing Supervision Skills for Resiliency and Decreased Vicarious Trauma
Noah Hass-Cohen andKarina A. Chandler-Ziegler, M.A.
Chapter 19 Dealing with Trauma Using Self-Awareness and Self-Care
Kami L. Schwerdtfeger
Chapter 20 Aligning Organizational and Individual Culture and Values
Sue Steiner and Kathy Cox
Chapter 21 Collaborative Reflective Training for Mental Health Clinicians in Medical Settings
Barbara Couden Hernandez and Lana Kim
Chapter 22 Using Medical Genograms in Clinical Supervision
Tai Justin Mendenhall and Stephanie Trudeau-Hern
Part 2: Diversity Focused Competence and Self-Awareness
Chapter 23 Increasing Awareness of Multicultural Issues in Therapy and Supervision
Karen L. Caldwell and Shari Galiardi
Chapter 24 Exploring Other Perspectives of Gender and Ethnicity
Roy A. Bean, Alexander L. Hsieh, and Adam M. Clark
Chapter 25 Understanding Power Imbalances in the Clinical Encounter
Kimberly A. E. Carter, Jayme R. Swanke, and Venessa A. Brown, Ph.D.
Chapter 26 Inviting a Better Understanding Privilege and Disadvantage
Peggy McIntosh
Chapter 27 Re-examining Social Class, Ethnicity, and Available Resources
Kerri E. Newman, Haley V. Pettigrew, Cecily R. Trujillo, and Sara A. Smock Jordan
Chapter 28 Experiencing Poverty Through a Large Group Role-Play
Andrae Banks and Larry D. Williams
Chapter 29 Fostering Awareness of Ability and Disability through Group Inclusion and Exclusion
Kathleen Nash
Chapter 30 Enhancing Self-Awareness for Working with Deaf Clients
Mary C. Hufnell
Chapter 31Preparing Clinicians to Work with Co-occuring Disabilities and Substance Abuse
Ally DeGraff, Phillip Sorenson, Alane Atchley, and Sara Smock Jordan
Chapter 32 Empowering Clinicians to Work with African Immigrants Through Game Playing
Tohoro Francis Akakpo
Chapter 33 Group Role Plays and the Immigrant Experience
Chandra Lasley
Chapter 34 Supervising Foreign-Born Clinicians in the United States
Senem Zeytinoglu, Yudum Akyil, and Karni Kissil
Chapter 35 Challenging Heterosexual and Cisgender Privilege in Clinical Supervision
Monique D. Walker and Ana Hernandez
Chapter 36 Exploring Perceptions of LGBTQ Individuals and Couples
Bethany Luna, Cody Heath, Anna Andrews, Sara A. Smock Jordan, and Monica Higgins
Chapter 37 Discovering Compassion for Victims of Domestic Violence
Lisa Vallie Merchant and Jason B. Whiting
Chapter 38 Developing Empathy for Co-victims of Rape
Karen Rich
Chapter 39 Increasing Awareness for Working with Overweight Clients
Keeley J. Pratt and Jaclyn D. Craven
Chapter 40 Dealing with Addiction and Recovery
Fred Piercy and Manjushree Palit
Chapter 41 Experiencing the Addiction Recovery Process
Angela B. Bradford, Scott A. Ketring, PhD, and Thomas A. Smith, PhD,
Chapter 42 Increasing Sensitivity to Ageism
Lori Cluff Schade
Chapter 43 Helping Clinicians Develop End-of-Life Awareness
Michael N. Humble, Melinda W. Pilkinton, Kilolo Brodie, and Jennifer L. Johnson