Note: Supplemental materials are not guaranteed with Rental or Used book purchases.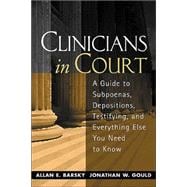 Related Products
Summary
Mental health professionals are often called on to give evidence or expert testimony in a range of circumstances, including family law and child welfare trials, mental health hearings, malpractice lawsuits, criminal trials, government hearings, and private arbitration.This volume provides practical information and proven guidelines to help clinicians from any background understand their role in legal proceedings--and participate effectively, ethically, and with minimal stress. Including case examples that illustrate each stage of the legal process, the book describes how to respond to subpoenas or contacts from lawyers; what to do to prepare for particular court actions or adjudicative proceedings; and how to ensure that all documentation is complete and legally admissible and confidentiality requirements are met. Also presented is valuable advice on avoiding legal pitfalls and coping with challenging situations on and off the witness stand. Special features include helpful checklists; samples of affidavits, retainer agreements, and other materials that can be adapted for use in the reader's own practice; and a glossary of relevant legal terms.
Author Biography
Allan E. Barsky, JD, MSW, PhD, is Professor of Social Work at Florida Atlantic University in Boca Raton, where he teaches graduate courses in conflict resolution, professional ethics, and substance abuse. Dr. Barsky has practiced social work and mediation in legal settings that include the criminal court in New York and the family courts in New York, Toronto, and Ft. Lauderdale, Florida. He is a past president of the Ontario Association for Family Mediation and former National Board Member of the Network for Conflict Resolution Canada. The author of several books and numerous articles, he has presented his research at conferences around the world.

Jonathan W. Gould, PhD, is in private practice in Charlotte, North Carolina, where he is a principal in the Charlotte Psychotherapy and Consultation Group. The author of two books and numerous articles, Dr. Gould has presented numerous workshops and seminars for clinical and legal audiences. His interests focus on developing more scientific approaches to child custody evaluations, defining role boundaries between clinical and forensic treatment, and applying forensic methods and procedures to child custody evaluations.

Table of Contents
Prologue
1
(4)
5
(19)
11
(1)

| | |
| --- | --- |
| | Court and Other Adjudicative Hearings |

12
(1)

| | |
| --- | --- |
| | Concepts of Justice and Procedural Fairness |

13
(2)
15
(2)
17
(1)
18
(1)
19
(1)
20
(1)
21
(2)
23
(1)
24
(18)

| | |
| --- | --- |
| | Experiences, Attitudes, and Triggers |

25
(1)
26
(2)

| | |
| --- | --- |
| | Commonalities, Conflicts, and Moving Beyond |

28
(13)
41
(1)
42
(29)

| | |
| --- | --- |
| | Contacted to Be a Witness or to Provide Information |

42
(7)
49
(2)
51
(2)

| | |
| --- | --- |
| | Confidentiality Privilege, and Exceptions |

53
(16)
69
(2)

| | |
| --- | --- |
| | Preparation for Legal Proceedings |

71
(35)
72
(6)
78
(1)

| | |
| --- | --- |
| | The Decision to Call You as a Witness |

79
(2)
81
(1)
82
(18)
100
(1)
101
(5)

| | |
| --- | --- |
| | Oral Testimony at an Adjudication |

106
(26)
107
(2)
109
(9)
118
(10)

| | |
| --- | --- |
| | Hearings without Attorneys |

128
(1)

| | |
| --- | --- |
| | Technology and Providing Evidence |

128
(1)
129
(3)
132
(15)

| | |
| --- | --- |
| | The Organization of Records |

133
(4)
137
(3)
140
(1)

| | |
| --- | --- |
| | Using Records at a Hearing |

141
(2)
143
(4)
147
(41)
148
(6)

| | |
| --- | --- |
| | Admitting Expert Evidence |

154
(6)
160
(3)
163
(6)
169
(8)
177
(6)
183
(5)
188
(13)

| | |
| --- | --- |
| | Types of Documentary Evidence |

189
(3)
192
(5)
197
(1)
198
(3)

| | |
| --- | --- |
| | Claims against Clinicians |

201
(9)
202
(2)
204
(1)

| | |
| --- | --- |
| | Avoiding Malpractice Actions |

205
(2)
207
(1)
208
(1)
208
(2)

| | |
| --- | --- |
| | Alternatives to Adjudication |

210
(10)
210
(5)

| | |
| --- | --- |
| | Pretrial Settlement Conferences |

215
(1)
215
(2)
217
(1)
218
(2)
220
(3)
Epilogue
223
(2)
Glossary
225
(6)
Appendices
231
(16)

| | |
| --- | --- |
| | A. Service Agreement for an Expert Witness for Review/Rebuttal Services |

232
(1)

| | |
| --- | --- |
| | B. Fee Arrangement for an Expert Witness Who Is Called to Testify |

233
(1)

| | |
| --- | --- |
| | C. Informed Consent to Participate in a Forensic Psychological Evaluation |

234
(7)

| | |
| --- | --- |
| | D. Initial Letter to Attorneys after an Appointment Order |

241
(2)
243
(4)
References
247
(6)
Index
253