Note: Supplemental materials are not guaranteed with Rental or Used book purchases.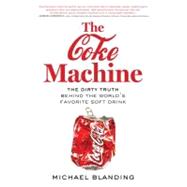 The Coke Machine The Dirty Truth Behind the World's Favorite Soft Drink
ISBN13:
9781583334065
by
Blanding, Michael
Summary
The Coke Machinetakes readers deep inside the Coca-Cola Company and its international franchisees to reveal how they became the number one brand in the world, and just how far they'll go to stay there. Ever since its "I'd like to teach the world to sing" commercials from the 1970s, Coca-Cola has billed itself as the world's beverage, uniting all colors and cultures in a mutual love of its caramel-sweet sugar water. The formula has worked incredibly well-making it one of the most profitable companies on the planet and "Coca-Cola" the world's second- most recognized word after "hello." However, as the company expands its reach into both domestic and foreign markets, an increasing number of the world's citizens are finding the taste of Coke more bitter than sweet. Journalist Michael Blanding's The Coke Machineprobes shocking accusations about the company's global impact, including: ¿ Coca-Cola's history of winning at any cost, even if it meant that its franchisees were making deals with the Nazis and Guatemalan paramilitary squads ¿ How Coke has harmed children's health and contributed to an obesity epidemic through exclusive soda contracts in schools ¿ The horrific environmental impact of Coke bottling plants in India and Mexico, where water supplies have been decimated while toxic pollution has escalated ¿ That Coke bottlers stand accused of conspiring with paramilitaries to threaten, kidnap, and murder union leaders in their bottling plants in Colombia A disturbing portrait drawn from an award-winning journalist's daring, in-depth research, The Coke Machineis the first comprehensive probe of the company and its secret formula for greed. COKE is a registered trademark of The Coca-Cola Company. This book is not authorized by or endorsed by The Coca-Cola Company.
Author Biography
Michael Blanding is an award-winning magazine writer whose investigative journalism has taken him around the world. Based in Boston, he has written for The Nation, The New Republic, salon.com, The Boston Globe, Cond+¬ Nast Traveler, and Boston magazine, where he is a contributing editor.
Table of Contents
Introduction
p. 1
"All that America Stands for"
A Brief History of Coke
p. 9
Building the Brand
p. 33
Biggering and Biggering
p. 63
The Battle for Schools
p. 89
The Bottled Water Lie
p. 118
Teaching the World to Sing
"¡Toma lo Bueno!"
p. 145
"Syrup in the Veins"
p. 171
The Full Force of the Law
p. 201
All the Water in India
p. 227
The Case Against "Killer Coke"
p. 260
Acknowledgments
p. 293
Notes
p. 295
Bibliography
p. 359
Index
p. 369
Table of Contents provided by Ingram. All Rights Reserved.