Note: Supplemental materials are not guaranteed with Rental or Used book purchases.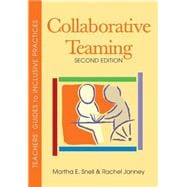 Collaborative Teaming: Teachers' Guides To Inclusive Practices
ISBN13:
9781557667113
by
Snell, Martha E.
Summary
Collaborative teaming is the glue that holds an inclusive school together, but most teachers don't get the training they need to put this critical process to work. Schools can fulfill that need with the new edition of this book, an easy-to-use guide to forming effective collaborative teams that help stimulate students' academic progress and social behavior in general education. Educators will learn how to, select team members, facilitate smooth communication during team meetings, define the team's purpose and focus, and schedule and preserve time for teaming. Teachers will also get new and expanded information to help them identify problems, decide on solutions, and create action plans; work cooperatively with family members and paraprofessionals; co-teach with other professionals; and avoid or resolve conflict. Filled with vignettes that show the strategies and suggestions in action, this guidebook will increase teacher motivation, bring about better decisions and outcomes, and facilitate the active involvement and learning of all students.
Author Biography
Martha E. Snell, Ph.D., is Professor, Curry School of Education, University of Virginia, Charlottesville, Virginia Rachel Janney, Ph.D., is Professor, Special Education Department, Radford University, Radford, Virginia
Table of Contents
About the Authors
vii
Acknowledgments
ix

| | |
| --- | --- |
| | Overview of Collaborative Teaming |

1
(16)

| | |
| --- | --- |
| | Delivering Special Education Support |

| | |
| --- | --- |
| | Components of Collaborative Teamwork |

| | |
| --- | --- |
| | Benefits and Challenges of Collaborative Teaming |

17
(20)

| | |
| --- | --- |
| | Administrative Leadership and Negative Staff Attitudes |

| | |
| --- | --- |
| | Phases of Policy Development and Administrative Support for Teams |

| | |
| --- | --- |
| | Define Team Purpose and Focus |

| | |
| --- | --- |
| | Establish Team Membership |

| | |
| --- | --- |
| | Time Needed for Teams to Meet |

| | |
| --- | --- |
| | Support Teams and Teamwork |

37
(24)

| | |
| --- | --- |
| | Listening and Interacting Well |

| | |
| --- | --- |
| | Establishing Shared Values |

| | |
| --- | --- |
| | Defining Roles and Responsibilities |

| | |
| --- | --- |
| | Establishing a Team Meeting Process and Schedule |

| | |
| --- | --- |
| | Preparing for and Conducting Team Meetings |

| | |
| --- | --- |
| | Giving and Receiving Information |

| | |
| --- | --- |
| | Making Decisions by Consensus |

| | |
| --- | --- |
| | Teaming Effectively On-the-Fly |

| | |
| --- | --- |
| | Reflecting on the Team Process |

| | |
| --- | --- |
| | Problem-Solving and Action Planning |

61
(24)

| | |
| --- | --- |
| | Step 1: Identify the Problem |

| | |
| --- | --- |
| | Step 2: Brainstorm Possible Solutions |

| | |
| --- | --- |
| | Step 3: Evaluate the Possible Solutions |

| | |
| --- | --- |
| | Step 4: Choose a Solution |

| | |
| --- | --- |
| | Step 5: Write an Action Plan |

| | |
| --- | --- |
| | Step 6: Evaluate the Plan and Make Needed Changes |

| | |
| --- | --- |
| | Problem-Solving Approaches Used by Adult Teams |

| | |
| --- | --- |
| | Simpler Problem-Solving Approaches Used by Peers |

| | |
| --- | --- |
| | Common Problem-Solving Issues |

| | |
| --- | --- |
| | Revising Team Action Plans |

85
(14)

| | |
| --- | --- |
| | Organizing Support Options with Staff Schedules and Training |

| | |
| --- | --- |
| | Coordinating Across Team Members |

99
(22)

| | |
| --- | --- |
| | Rationale for Cooperative Teaching |

| | |
| --- | --- |
| | Collaborative Teaching Approaches |

| | |
| --- | --- |
| | Planning at the School Level |

| | |
| --- | --- |
| | Complementary Instruction |

| | |
| --- | --- |
| | Supportive Learning Activities |

| | |
| --- | --- |
| | Variations for Teaming Across Grade Levels |

| | |
| --- | --- |
| | Planning Between Collaborative Teachers |

| | |
| --- | --- |
| | Improving Communication and Handling Conflict |

121
(20)

| | |
| --- | --- |
| | Promoting Accurate and Unambiguous Communication |

| | |
| --- | --- |
| | Being Sensitive to Diversity and Avoiding Stereotyping |

| | |
| --- | --- |
| | Fostering Positive Staff--Family Interactions |

| | |
| --- | --- |
| | Resolving Conflict Constructively |

141
(8)
149
(6)

| | |
| --- | --- |
| | Issue-Action Planning Form |

| | |
| --- | --- |
| | Collaborative Team Meeting Worksheet |

Index
155